In today's article, we're going to jump straight into the world of a specific grill fuel — that's right, we're talking about briquettes.
Before we look at the best brands, we're going to learn what makes some briquettes superior to others. We're also going to distinguish the difference between lump charcoal and briquettes — and why you may want to pick one above the other.
As you may already know, most briquettes aren't entirely natural, making them a long process of mixing various ingredients.
So, to ensure you get the best charcoal briquettes for your grill, it's essential to know what to look for, and we're going to guide you.
Bottom Line up Front: The Best Charcoal Briquettes Reviewed in this Guide
The above links take you to current prices, customer reviews, and further information on Amazon.
Characteristics of GOOD Charcoal Briquettes
Briquettes might all look alike, but underneath the perfectly-shaped, black surface, they couldn't be more different. And with that, it's safe to say that some briquettes are superior to others.
Quality briquettes should hold their shape, whether in the bag or the firebox. One of the main advantages of using briquettes is that they're easy to stack due to uniform shapes and sizes. This makes them ideal for multi-zoned cooking, controlled burns, and more.
Additionally, a good briquette will burn for long without leaving too much ash behind. Ash isn't something you want in excessive amounts — it's quite nasty as it gets into the vents and clogs them up; it hardens when moist, and it's a mess to get rid of.
Excessive amounts of ash can also smother the fire, which isn't something you want when grilling. In saying that, briquettes do tend to leave more ash compared to hardwood lump charcoal — that's a fact we'll get more into in a minute.
When it comes to briquettes, the closer it is to 100 percent charcoal, the better! However, pure charcoal won't be able to stick together and form a briquette; therefore, manufacturers add a binder, such as tapioca or corn starch.
Here's where problems arise; some manufacturers add way too many unnecessary ingredients simply to add weight. In fact, a seemingly regular briquette can produce ash that contains up to 10 percent limestone, clay, sand, and other substances.
Knowing which brands use the least amount of additives can be challenging — the manufacturers aren't known for disclosing all ingredients.
Lucky for consumers, backyard detectives are on the case — home grillers continually test out briquettes to get a better picture of what they actually contain. We're going to reveal what we discovered in our review section further down.
To quickly sum this section up: briquettes have to catch fire, that's all they have to do. Therefore, when you stumble upon a charcoal briquette brand that ignites quickly and easily, you're sure to enjoy using them.
But what makes briquettes light easily? We'll get more into that now.
Buying the Best Charcoal Briquettes: Do's and Don'ts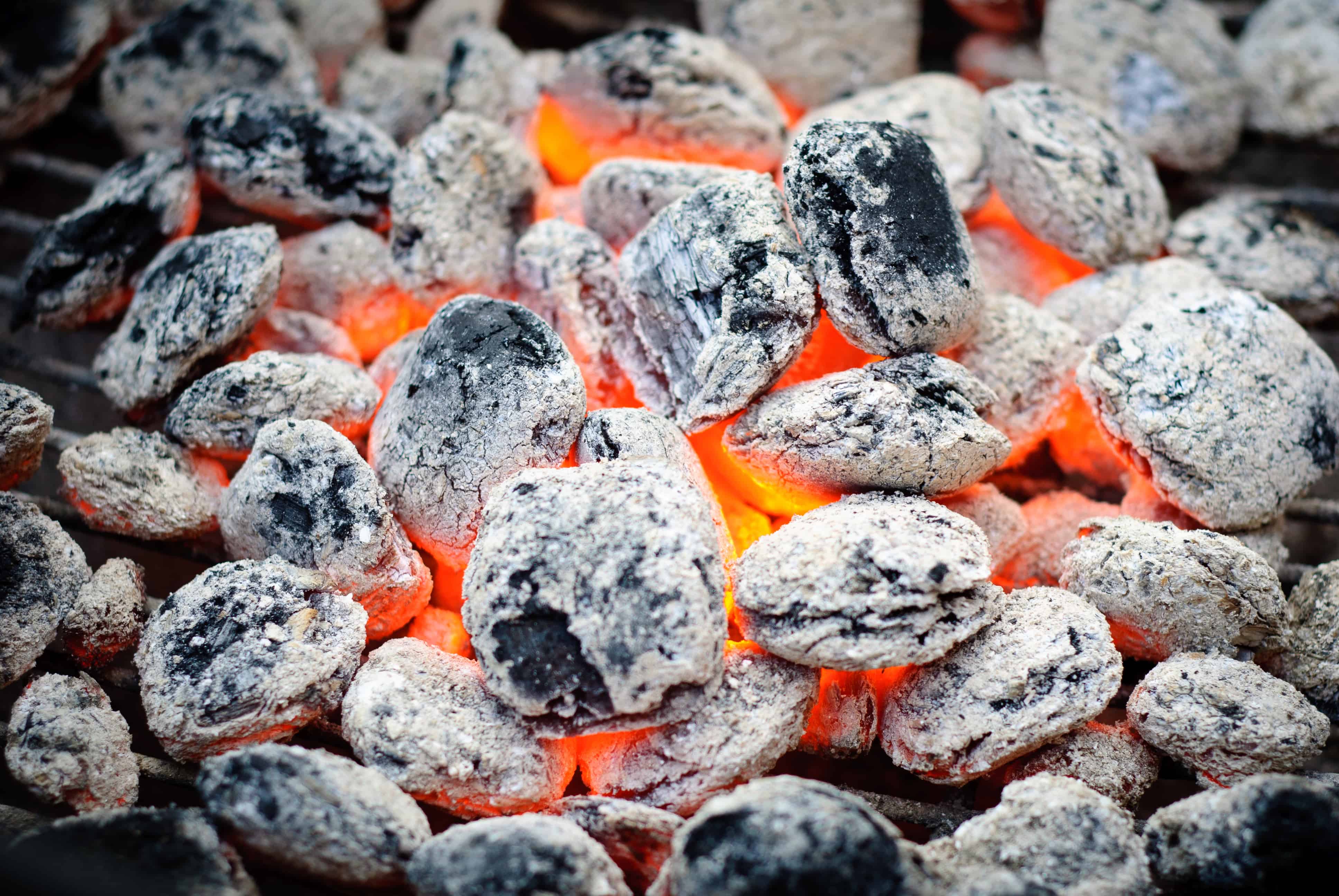 Before we get into our reviews, we're going to share some of the key factors we look at when picking good briquettes:
DO look for:
Briquettes that are uniform in shape
Thinner edges that will be easier to light
Less fillers for minimal ash
Briquettes made of hardwood charcoal; these have a cleaner burn
A bag with minimal debris at the bottom indicates that the briquettes are shaped well and won't crumble.
DON'T go for:
Bags with lighter fluid included. Lighter fluid shouldn't be used when grilling as it will impart a bitter and sometimes chemically taste to your food
Briquettes made with softwood fillers (such as pine), these can release a bitter resin
Briquettes with excessive wood fillers as these will result in excessive ash
Briquettes containing chemical binders as opposed to natural ones like corn starch.
Good quality briquettes will often be marked as "100% hardwood." However, this doesn't mean they're made of only hardwood, it only means the charcoal isn't sourced from pallets, sawdust, or other scrap materials.
It also means the briquettes aren't mixed with anthracite coal, usually used in cheaper briquettes.
Self-lighting briquettes might seem like a convenient thing, but these are a huge no-no.
Self-lighting briquettes are actually treated with mineral spirits or other petroleum products. They smell like jet fuel and can impart an unappetizing chemical flavor in your food as you're cooking.
Why anyone ever thought they would be a good idea, I'll never understand. Sure, they light quickly, but they're sure to ruin your cookout — and maybe your health.
All-Natural Lump vs. Briquettes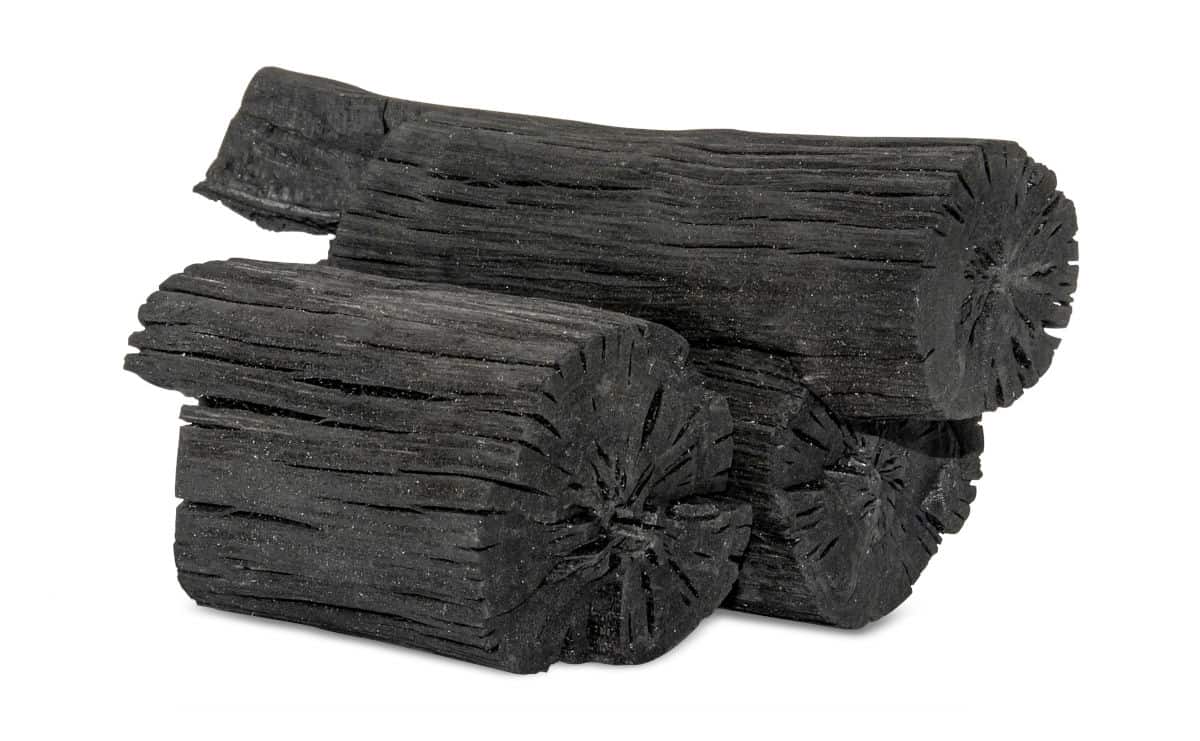 Although many people think of charcoal as a one-type thing, there are actually significant differences between briquettes and lump.
In short: Lump charcoal is made of only charcoal — it doesn't contain any additives.
Lump charcoal is created by burning wood in an environment free of oxygen. The lack of oxygen removes volatile gases and moisture, so what you're left with is pure carbon.
Lump charcoal isn't shaped perfectly as briquettes are — instead, they keep the same shape as the wood was pre-burn.
There are no two charcoal bags that consist of the same size pieces, unlike briquettes that are uniform.
Lump charcoal also burns hotter and faster compared to briquettes. But, lump is pure and natural, free of any additives, whereas briquettes are made up of a mixture of ingredients.
One thing with lump is that it does require more practice and experience to get it right. It's also essential to monitor the grill or smoker.
On the other hand, briquettes are easier to control temperature-wise, and they'll give you a much more consistent burn.
Do all Natural Briquettes Exist?
Yes, they do!
"All-Natural Briquettes" is a term that is becoming more and more prominent on labels. But why is that?
To be honest, "all-natural" is a buzz-term when it comes to marketing. When consumers see this term, it instantly makes them feel more at ease about their use in their grill.
It's important to understand that the term refers to man-made or synthetic vs. natural ingredients.
Agencies such as the FDA and FTC focus more on cosmetic ingredients and labeling when a brand makes all-natural claims. When it comes to charcoal, however, there's not much guidance.
The all-natural label refers to the fact that the briquettes don't contain any synthetic materials or chemicals.
These are generally made up of wood, carbon and coal, then bound with some form of starch or borax. These are natural ingredients and not made in a lab.
Before the term "all-natural" became so prevalent, already natural brands never used it as it wasn't necessary.
Eco-friendly products will always score higher in our book, as we don't want harmful chemicals anywhere near our favorite grilled meals.
In saying that, labeling briquettes as all-natural does seem like a marketing ploy.
Although it's not deceptive, it also doesn't say much about the briquettes' quality since virtually any briquette other than self-lighting is "all-natural."
Best Charcoal Briquettes: Top 5 Products on the Market Today
Now that we have a better idea of what briquettes are and what sets them apart from lump charcoal — it's time to learn more about some of the briquette brands we highly recommend.
With so many different brands available, it can be challenging to know which ones are worth trying.
The ones featured on our list were chosen because they're high-rated, easily accessible, and high-quality. Other smaller brands make excellent briquettes also, but these can sometimes have an inconsistent supply.
But, to help you out in your search for the best briquettes, here are five of our favorites.
Cowboy all-Natural Hardwood Briquets
Top Pick
There are lots of grillers who swear by briquets. And why not? They burn great, and they stack perfectly, thanks to their consistent shape.
Not all briquets are created equally, however. Cowboy's All-Natural Hardwood Briquets are definitely a cut above much of the competition.
Many low-cost briquets use some charcoal and some filler (including coal, anthracite, or limestone) plus nasty chemical binders and lighter fluid.
The smoke they produce can ruin the taste of your food. These Cowboy briquets are 95% hardwood and just 5% plant-based binder to hold the charcoal together. Most importantly, there's no lighter fluid, which you should always avoid.
Molded in the classic "pillow" shape, they're easy to stack and arrange in your grill, and they burn hot and evenly.
They're made with a blend of classic hardwoods, so the smoke flavor is mild and compatible with almost anything you'd care to grill. Put it all together, and you've got an easy, user-friendly way to inject a bit of smoky goodness into your grilling.
Pros
95% all-natural hardwood (+5% plant-based binder)
No artificial fillers, binders, or coal
No lighter fluid
Save by buying two bags
14-pound bags are easier to carry and store than 20-pounders
Cons
Generic "smoke" flavor
Lights more slowly than lump charcoal
If you love your charcoal grill, you owe it to yourself to invest in quality briquets – and save a bit of money!
Stubb's all Natural Bar-B-Q Briquets
Runner Up
Stubb's might be a household brand known for its delicious rubs and sauces, but there's so much more to it than flavoring.
These briquettes are some of the best on the market — they light quickly and burn much hotter than most other briquettes out there, meaning you can sear up a storm on the grill! The briquettes will also burn for much longer and leave less ash behind for you to clean up.
When you open up a Stubb's briquette, all you get is pure hardwood charcoal. No coal, sawdust, limestone or chemicals.
The only other ingredient added is a vegetable-based binder that helps to keep the briquettes together. This is why they perform well and are popular among grillers, but it's also why they're pricier than other brands containing fillers.
It's tough to beat Stubb's if you want a pure, clean smoke and a real taste of wood — many grillers swear by this brand.
Availability is a common issue with this brand, probably due to the natural ingredients, so you might want to grab an extra bag when available.
Pros
No additives such as coal, sawdust or chemicals
Good for your food and the environment
Adds a nice wood-grilled flavor to the food
Burns very hot
Offers a good burn time
Cons
Smaller briquettes than average
Availability fluctuates
It's a little pricier than other brands, but you also get a little more for your money. The briquettes are more natural in the sense that there are no fillers. They burn super hot for longer and produce less ash.
If it suits your budget, it's worth a try — you certainly won't regret it.
Kingsford Original Charcoal Briquettes
Budget Pick
Two 7.7 pound bags of Charcoal Briquettes
Ready to cook in about 15 minutes, 25% faster as compared to other nationally available charcoal brands
Sure Fire Grooves help coals light faster
More edges for quick, easy lighting as compared to other nationally available charcoal brands
Made in the USA with 100% natural North American ingredients and real wood
Kingsford is a company started by the one and only Henry Ford. Ford looked for a way to get rid of lumber scraps left by the production of the Model T. Kingsford is the best-selling charcoal company in North America, with its Original formula being the most popular choice among grillers.
Now, Kingsford isn't a 'premium' brand, despite its prestigious name. The brand does add cost-reducing fillers in its briquette formula, but all ingredients are natural. All components are sourced within North America, and there are no harmful chemicals or lighter fluid used in the briquettes.
Each briquette is fitted with twin grooves that run down the two faces of the charcoal. The grooves essentially help the briquettes light quicker due to the thin edges, and they improve airflow between stacked briquettes, giving you a more even burn.
One downside is that they won't burn as long or hot as premium briquettes, but they're more than enough for any backyard BBQ fiesta.
Pros
Grooved for improved airflow
Easier lighting thanks to the grooves
Every ingredient is sourced from North America
Cons
Consists of more ingredients than other brands, although all are natural
Burns slightly cooler than others, but they do exceed 800 degrees Fahrenheit
Burns for a shorter period compared to other brands, but the low price makes them a better economical choice
Kingsford is the number one choice for most grillers for a reason — the brand offers high-quality briquettes at an affordable price. What more can you ask for?
There are a few fillers in the formula, but as long as they're free of chemicals and other harmful substances, we're not complaining.
Weber Charcoal Briquettes
Recommended
There are few brands as well-known in the barbecue world than mighty Weber. But, most people know the company by its grills, not charcoal briquettes. However, if you're looking to fill your grill with some Weber, you've chosen wisely.
Weber produces premium briquettes, meaning they're free of chemicals. Each briquette is made of all-natural hardwood charcoal, and Weber even claims that every ingredient is sourced with the environment in mind.
The first thing you'll notice about the Weber briquettes is that they're significantly larger than other brands — this is only a plus since you won't have to use as many to fill up your grill.
Another plus is that the briquettes burn very hot for an extended period — some grillers even claim them to be among the longest burning briquettes on the market.
Everything has been thought through carefully, even the packaging. Each bundle of briquettes is packaged in a resealable, weather-resistant bag that keeps the briquettes dry and fresh.
Some users have commented that they found it difficult to pour from the bag, but we honestly don't mind the minor flaw as long as the briquettes are kept safe.
Pros
Trusted brand
Contains a minimal amount of fillers for a cleaner burn
Resealable, weather-proof bag
Cons
No ridges or edges for improved airflow or easier lighting
Only available in a large 20-pound bag, which is great for home but might be too heavy for travel
The quality of these briquettes is something you can trust as they're produced by a brand that knows everything about grilling.
The natural formula and the durable, resealable bag make the Weber briquettes a winner in our book. They aren't the most affordable option, but you get good value for money.
Royal Oak Ridge Briquettes
Recommended
This next brand isn't as well-known as others on the list, but it's consistently at the top of briquette reviews.
Royal Oak manufacturers superior briquettes made of only hardwood charcoal, giving you a cleaner burn. The briquettes burn hotter and longer than to most other brands, enabling you to either sear or smoke low n slow-style.
Each briquette is designed with a ridge around the middle. These ridges will help you to get a quick light every time. Furthermore, they'll reach a high temperature very quickly, meaning you can spend less time waiting and more cooking!
These briquettes consist of only American hardwood charcoal, there's no coal and only very few other ingredients. They produce a subtle, natural smoke flavor that works great with most foods.
Pros
The ridge improves airflow and is easier to light
Burns significantly hotter than most other brands
No coal added
Mainly hickory and oak
Cons
The official website lacks information, but you can find plenty on the brand's Facebook page
Produces significantly more ash compared to other brands
Royal Oak briquettes might not look like your average briquette, but these are, in fact, of premium quality and an excellent choice for anyone with the budget.
They aren't as affordable as others on our list, but you get what you pay for — the briquettes are easy to light, quick to heat, hot and burn for longer.
Greeneco Coconut Shell Charcoal
Recommended
If you're concerned about your eco-impact, here's a fresh idea you need to check out. Whereas traditional charcoal is made from tree wood, GreenEco charcoal is made from discarded coconut shells. How is that better if they're both naturally sourced?
Trees are a renewable resource in the sense that we can grow more trees. But, it takes a long time to grow an oak or maple large enough to be useful as a source of wood.
Coconuts, however, are harvested without hurting the tree. The tree stays put and keeps producing coconuts, making this a truly sustainable resource.
Normally, once the coconut water and meat are harvested, the shell becomes waste. It turns out you can convert the woody shells into a very effective, efficient charcoal.
Like all quality briquets, there are no fillers in GreenEco Coconut Shell Charcoal; no coal, no limestone, and no chemical binders. There's no lighter fluid, either, since it lights easily just the way it is.
You don't get a lot in a box, but it burns efficiently, so you should use less of it than traditional briquets. Be aware that it does not produce much smoke, though the aroma is pleasant. That being the case, be ready with flavored wood chips if you want to add a smoky taste to your food.
Pros
Turns waste coconut shells into something useful
Burns longer and hotter than many traditional briquets
100% renewable source
No chemical additives or filler
Cons
Low smoke output – need to pair with wood chips for flavor
Only 5.5 pounds in a box
No one likes waste, and we think this is a clever solution to an obvious problem.
Give it a try and brag to your friends about your reduced environmental impact, and the quality of your grilling.
Coshell Charcoal Coconut Briquettes
Recommended
If you'd like something completely different from the ordinary North American hardwood briquettes, you might find these interesting.
Instead of hardwood, these briquettes are made of coconut shell charcoal. With the popularity of coconut products, such as oil, milk, and water, there's bound to be quite a lot of shells leftover.
And since coconut shells are basically wood, why not turn them into charcoal?
These coconut briquettes are all-natural, made up of only the shell, and bound with tapioca. There are no additives, fillers or chemicals involved.
As you can imagine, the briquettes burn very clean, and we can only imagine that they're better for the environment as well.
One downside is that you won't get a lot of smoke despite the high temperatures the briquettes can reach. You won't get much of that smokey flavor, which is a shame since that's a significant part of grilling!
On the other hand, for food-lovers who prefer a subtle smokey taste, this is ideal — so it comes down to personal preferences.
If you also have a garden to care for when you're finished grilling, you're going to love this part. According to the manufacturer, the ashes can be spread throughout your garden and used as a natural fertilizer!
Pros
Eco-friendly and sustainable product
Use the ashes as a natural fertilizer in your garden
Burns very hot for longer compared to most standard briquettes
Natural formula
Cons
Each bag is quite small, but they're easy to handle
Very subtle smokey flavor
Coshell Charcoal Coconut Briquettes isn't traditional charcoal, but it might just be the charcoal of the future!
The briquettes are eco-friendly and sustainable, which is something we highly appreciate. You'll get a subtle smoke, but if you're after a full-on smoke session for your brisket or ribs, you might need to add some wood.
A little disclaimer: Despite being made of coconut, there's surprisingly no coconut smell or taste imparted on your food. Depending on your expectations, this might be a pro or a con — you can decide on that one.
How are Briquettes Made?
Charcoal briquettes are manufactured products containing mostly charcoal and a few other ingredients.
Carbon and other ingredients are mixed into a thick paste, poured into rolling molds and compressed to form these uniform bricks.
Various ingredients can be found in a briquette, depending on the manufacturer. Typically, a briquette contains a combination of sawdust, coal, woodchips, borax, peat, starch, or sodium nitrate.
These additives are added as a binder to keep the briquette in shape or as a helpful assistant to keep the brick burning.
Briquettes have to be dry, and before they're bagged, they go into a drying tunnel where the moisture content is lowered to around 5 percent.
Due to the uniform shape and size, briquettes will burn very consistently. This makes them ideal choices for many grilling and smoking applications. But, if intense heat is what you're aiming for, lump charcoal is the only choice.
A downside of briquettes is the excessive amount of ashes they produce compared to lump charcoal. In fact, the ash produced can make up to 10 percent of the briquette's original weight.
In some grills, the excess ash might not be an issue, but in grills such as the Kamado Joe or Big Green Egg, the ash will build up quickly and could begin to clog the lower fire grate.
Briquettes are often made up of waste from sawmills, which makes them a good eco-friendly solution as they're using materials that would otherwise end in a landfill. Additionally, since they aren't pure carbon, briquettes are also more economical for manufacturers.
What is the Burn Time of Briquettes?
How long they burn varies between brands and the types.
Some manufacturers claim the briquettes can burn up to three hours or even more, but on average, briquettes will burn anywhere from one to two hours.
How long they burn depends on the ingredients and fillers used (and how much of the filler is used). It'll also depend on how high your grill or smoker will be running.
From personal experience, estimating a two-hour burn for a pile of lit briquettes is a good figure. Most brands will deliver this burn time.
However, if you plan to try out the Minion method or set up a charcoal snake for a low n slow session, you should be able to get a good 12 hours or more burn time.
Keep in mind, with these techniques, the grill will be packed with unlit briquettes that are ignited as they come in contact with lit ones.
How Hot do Briquettes Burn?
How hot briquettes will burn depends on how much oxygen is available and their concentration.
As an example, the afterburner method involves cooking directly above a charcoal chimney starter — here, you can easily hit 1,000 degrees Fahrenheit because of the concentration.
Alternatively, set up your charcoal on one side of your grill and cook your food on the opposite side for a lower temperature of around 250 degrees Fahrenheit.
In saying that, you can expect to average a temperature at around 500 degrees Fahrenheit or more without any issues. Simply flip the lid, and the oxygen will do its thing.
Overall, it's you who determines the temperature your briquettes will burn at by controlling oxygen levels.
Conclusion
When it comes to the world of charcoal, there are lots to learn.
Charcoal briquettes and lump charcoal might serve the same purpose in the grill, but they couldn't be more different.
For starters, lump charcoal is very simple, pure, and naturally made of burnt wood — whereas briquettes are made up of various ingredients.
When choosing the best charcoal briquettes, it's difficult to go wrong if you know what to look for. They should light quickly, burn hot for long and be all-natural, meaning they're free of harmful chemicals.
We hope this guide and mini-reviews helped give you a better idea of what fuel is best for your grill.
As always, do share this article with other grill-enthusiasts, and don't shy away from leaving a comment or question in the section below.