Are you struggling with getting your charcoal grill or smoker started? Cooking over a bed of charcoal isn't as easy as gas, pellet or electric grills — they require more time for prep before, during, and after a cooking session.
Luckily, you can make the task of starting the grill a little easier by using the right tools. The best charcoal chimney starter will help you to get the grill started safely and up to cooking temps in under 15 minutes, compared to 45 minutes without!.
Some grillers use electric charcoal starters; however, these can become dangerously hot, not to mention challenging to handle.
More old-fashioned grillers use matches to light the briquettes, but don't even get us started on the hassle they bring on.
Make the job easier for yourself and take a good look through our guide below, where we uncover what a charcoal chimney actually is, why you need one, and how to find the right for you.
Are you feeling eager to get the grill going? Let's get started!
Bottom Line up Front: The Best Grill Baskets Reviewed in this Guide
The above links take you to current prices, customer reviews, and further information on Amazon.
Guide To Charcoal Chimney Starters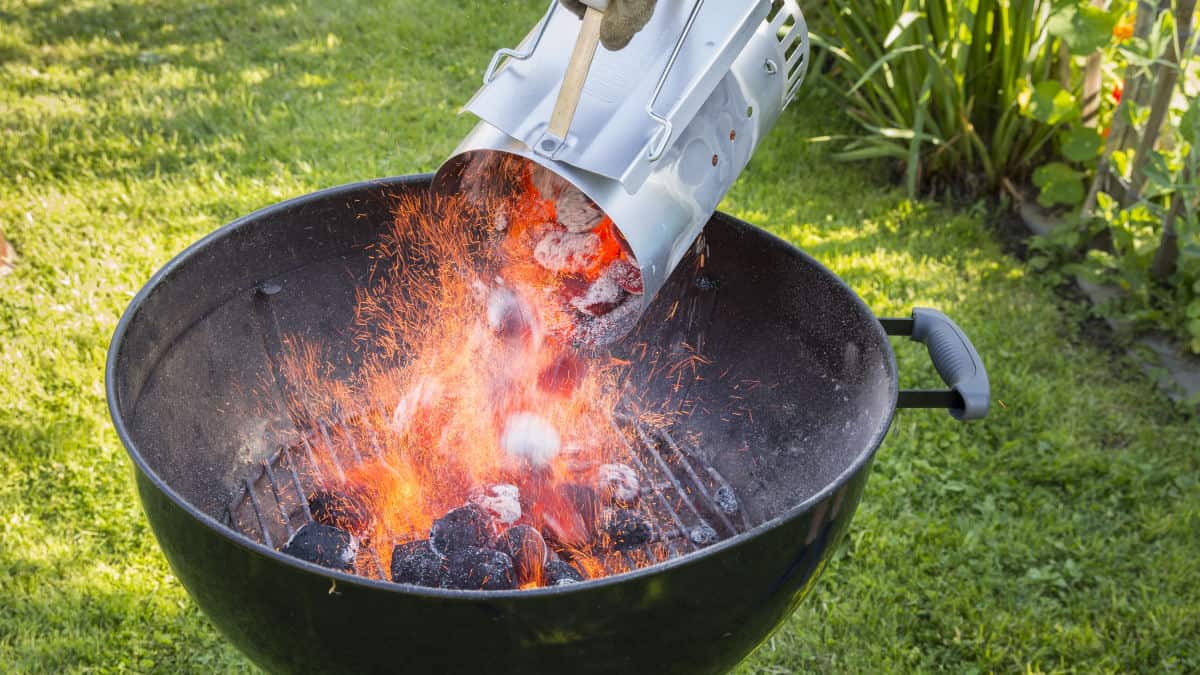 When you hear the word chimney, the first thing that pops into mind is the vertical pipe that removes smoke from the house — and of course, Santa Claus.
In this first part, we're going to take a closer look at what a chimney starter is, and we're also going to take a quick look at how you can use one.
What Does a Charcoal Chimney Starter Do?
All in all, a charcoal chimney starter is a large cylinder fitted with a handle on the side and several perforations in the base.
A grate is fitted near the bottom inside the cylinder; this separates the fire starter from the charcoal.
Chimney charcoal starters are simple to use and efficient when it comes to igniting charcoal. If you don't have one already, it's sure to become your new favorite grilling item.
How to Use A Charcoal Chimney Starter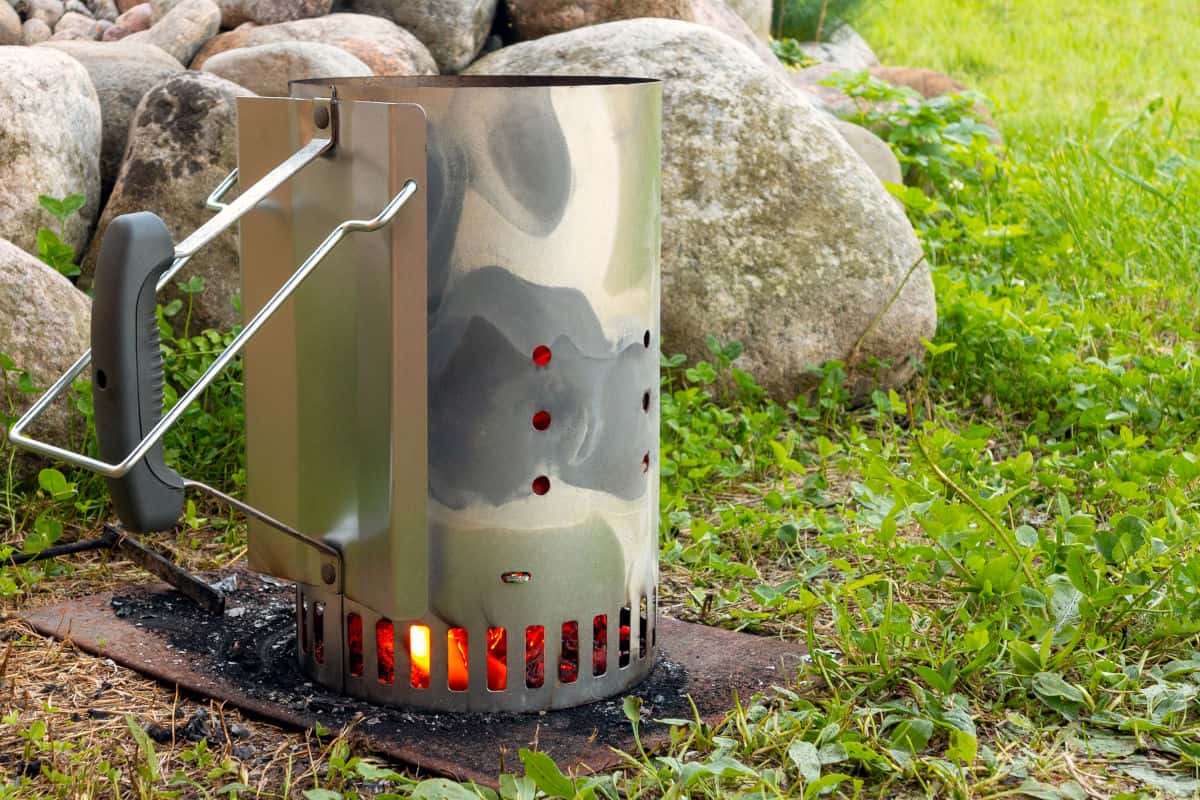 Using a charcoal chimney isn't difficult at all, and although there are more detailed steps you can follow, we're going to give you a quick guide here:
Step 1: Remove the grate from your grill or smoker.
Step 2: Roll up some newspaper and add it to the bottom section of the chimney starter — avoid packing it too tightly as it will take longer to burn. If you don't have newspaper, you can use a natural firelighter instead.
Step 3: Place the charcoal starter in the bottom of your grill or on another fire-safe surface, like a different cooker.
Step 4: Add charcoal briquettes to the top section of the chimney starter and ignite the paper through one of the holes around the starter's bottom.
Step 5: Give it 15 minutes to get started — the fire will quickly reach the top of the charcoal pile, leaving the briquettes gray in color. Once the charcoal looks gray, grab the chimney by the handle (carefully) and pour the briquettes into the bottom of your grill.
A Charcoal Chimney Starter Is a Must-Have for Grilling!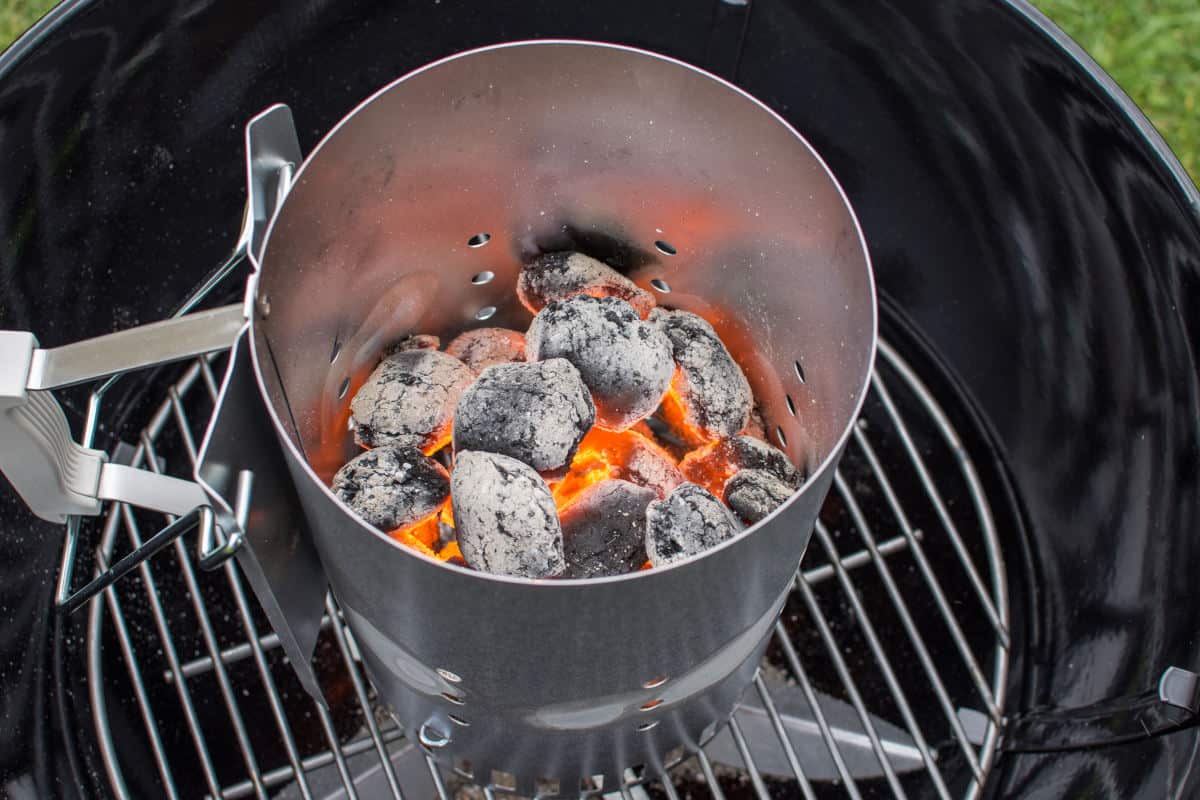 Everyone knows that charcoal grills can be time-consuming and challenging to start, which is why many grillers opt for gas, pellet, or electric grills instead.
Another major plus for chimney charcoal starters is that all they require is newspaper and a match or lighter — there's no need for lighter fluid or other chemicals to get the fire going.
A different paper will do too, you can also use starter cubes if you have them at hand.
The hot coals will be ready in no time with minimal effort and expense.
Features To Consider When Buying the Best Charcoal Chimney Starter
Capacity
The chimney should be able to hold enough charcoal to fill your grill in one load.
If that's not possible, you can add additional charcoal to the ignited pile in the grill or keep a few burning briquettes in the starter and add new coals.
The charcoal at the bottom of your cooker will be nice and hot, any new charcoal added will ignite rapidly.
There are different sizes of chimney starters to choose from. Which one you should choose depends on the size of your cooker.
If you have a large grill, go for a larger chimney that can ignite more charcoal in one go — if you're camping or tailgating, a small starter is ideal since it will be compact for travel and fit enough charcoal for a portable grill.
Safe Handle
Charcoal chimney starters will get hot, so you don't want your hand or fingers anywhere near the cylinder when the content inside is burning.
A solid handle placed at a distance from the chimney is ideal — a heat shield is also a good feature that will protect your hand.
You can use BBQ mitts or other protective gloves if you want to be safe. If you choose to wear mitts or gloves, ensure you purchase a chimney with a large handle that can accommodate the glove.
Avoid wood handles, if possible. Although the handle should be at a distance from the fire, it still raises the risk of burning.
Vent Holes
Fire needs oxygen to survive; therefore, make sure the chimney starter you're considering has plenty of vent holes at the base.
There should also be vent holes up and down the cylinder's body to ensure the fire has a good source of oxygen.
Avoid Painted Chimneys
Because the exterior of the chimney starter gets very hot, most models are unpainted. Regular paint can't hold up to the high temperatures and will peel or melt off.
In saying that, there are specialized high-temperature paints available; however, these will add unnecessary costs to the price.
A Word of Caution
We've already mentioned that charcoal chimney starters get very hot a few times, but we think it's important to warn you.
Always keep the chimney starter far away from children, especially when ignited! Never let a child handle the starter when ignited.
You should also keep it far away from flammable objects, such as patio furniture, cushions, leaf piles, wooden decks, and pets.
Use caution when handling the chimney as you pour the hot coals into your grill. We recommend that you ignite the chimney as close to the grill as possible — if not inside the BBQ itself — this will minimize the risk of accidents.
Make sure you have a secure place to put the chimney starter down where it can cool. Again, this should be far away from children, pets, and flammable objects.
Best Charcoal Chimney Starters: Our Recommendations
Now for the fun part!
We've listed four of our favorite charcoal chimney starters for you to look at — maybe you'll find your new starter among the choices on our list?
Without further introduction, let's look at the starters:
Weber 7416 Rapidfire Chimney Starter
Top Pick
Weber is one of the more trusted and best-known manufacturers in the outdoor cooking industry. The brand has been going strong since its start back in 1893, making and selling 'cues since the 1950s.
The Rapidfire chimney starter is a very basic model, but boy, does it work!
It features a simple aluminized-steel cylinder body with minimal decorations other than the Weber logo that's emblazoned into a heat shield fitted on the handle.
There's no paint that could flake or discolor, it should also be rust-resistant, giving it's made of aluminized-steel.
It features ample ventilation throughout the bottom section, enabling you to get a fire started in no time. Moreover, it allows you to light it easily without having to pick it up.
Inside the chimney is a conical grate that separates the charcoal from the fire. The shape draws the fire through the chimney faster, igniting the charcoal quicker than other models. Furthermore, it will ignite more briquettes simultaneously, again, getting your fire going quicker.
The handle will remain cool as it's made of thermoplastic. It also features a heat shield that adds extra protection for your hand — there's a second handle that gives you better control over the chimney as you move it to and from the grill.
A slight downside is the chimney's size — measuring only 7.5 inches in diameter, this isn't the biggest, and many grillers found they couldn't fit enough briquettes for their grill and had to light in batches.
With that said, you can leave some of the lit coals in the chimney, then add new ones for quick ignition.
Pros
Basic design that just works.
Features a heat shield.
Stay-cool thermoplastic handle.
Additional handle for added control.
Conical grate ignites the coals faster.
Well ventilated.
Trusted name.
Cons
Small size.
Top dumping isn't the easiest to control.
The Weber Rapidfire chimney starter is an excellent option for beginners and experienced grillers. It works well and fast, enabling you to have the grill ready in no time and with little effort.
The size is on the smaller side, so you likely have to ignite the coal in batches, especially if you have a large grill.
Char-Griller Charcoal Chimney Starter with Release
Runner Up
CHIMNEY STYLE CHARCOAL STARTER – Quickly produce hot coals for grilling and cooking in under 15 minutes, holds the perfect amount of charcoal for optimal performance
START GRILLING FASTER – This fire starter bbq grill accessory is the key to getting your charcoal started faster without using lighter fluid by creating a vortex that funnels air and traps heat
USE WITH ALL CHARCOAL BBQ GRILLS – Perfect charcoal grill accessory and specially designed to fit the Char-Griller AKORN Grill fuel loading opening. Great gift for Charcoal Grill Owners and Outdoor Cooking Enthusiasts!
CHIMNEY STARTER FEATURES – Ergonomic E-Z dump handle with protective heat shield, patented trigger release, air vents, and durable zinc coated galvanized steel construction.
DIMENSIONS – 7.6"L x 12"W x 12"H, 5lbs
Char-Griller is another well-established brand in the outdoor cooking industry that prides itself on quality products — and this chimney starter is no different.
It's made of zinc-coated steel without any paint or decorations that could flake, peel or even melt off.
It features ventilation holes around the cylinder's bottom and body, ensuring good ventilation for quicker lighting. Additionally, you can easily reach the ignition material with a match or lighter.
The large handle is made of ABS plastic, featuring a heat shield for added protection. It was designed to fit into the opening of Char-Griller's Akorn Center Fuel Loading Opening, so if you already have this item, the chimney is an ideal choice. However, you can still use it without it.
Similar to the Weber Rapidfire, this one is also on the smaller side, measuring 7.75 inches in diameter and 12 inches tall.
The one feature that makes this chimney stand out from the rest is the quick-release lever fitted in front of the handle. When pulled, the bottom of the chimney will open, unloading the charcoal quickly into the bottom of your grill.
Using a top-dumping chimney isn't always easy, and there's a slightly higher risk of burning yourself.
We do have some concerns regarding the release lever — it's hard to say how long it will work and it might break off or malfunction before you know it.
Pros
Unpainted.
Built-in heat shield.
Durable handle.
Bottom release function with a lever.
Compatible with the Akorn system.
Well vented.
Cons
Works ideally with the Akorn system.
Bottom dumping won't leave the hottest briquettes in the chimney, making it slightly harder to quickly light new coals.
Moving parts have a bigger chance of malfunctioning.
It's hard to find anything wrong with this chimney starter — it works very well and is durably-made.
In saying that, it does work best along with the Akorn system, which of course, not every griller is going to have.
But, if you're searching for a bottom-dumping starter, this is an excellent option.
Weber 7447 Compact Rapidfire Chimney Starter
Best Travel
Lights coals in under 15 minutes. Dimensions : 8 H x 5.8 W x 10.4 D inches
Place with coals on Weber Lighter Cubes or crumpled newspaper and light
Compact design makes it ideal for smaller grills or shorter grilling sessions
Fits perfectly on Smokey Joe and Jumbo Joe charcoal grills
Individual Carton Dimensions 8 H x 5.8 W x 10.4 D (Inches)
If you're a frequent camper or enjoy tailgating with your mates, you need a chimney starter that can come with you no matter where you go without taking up too much space.
This Weber Rapidfire is similar to the larger one we reviewed above, but it measures only 5.75 inches in diameter with a height of 8 inches.
It's an excellent option for smaller grills or when you're cooking away from home.
It features loads of vent holes around the base of the body, a plastic handle and heat shield for added protection. However, it doesn't have the additional handle, but given the smaller size, it really isn't necessary.
The aesthetics of this smaller model is rather pleasing, it looks similar to a metal beer mug!
We do have to say that the handle tends to get rather hot, so if you have a pair of good grilling gloves, wear them to protect your hand.
The chimney's small opening isn't suitable for lump charcoal, so opt for smaller briquettes instead. Still, buying a small bag of briquettes isn't a hassle.
It is ideal for its intended purpose, providing fuel for small grills on special occasions.
Pros
Basic, simple design.
Features a heat shield.
Easy to handle.
Ideal size for traveling and smaller grills.
Lots of vents.
Trusted brand.
Cons
Isn't suitable for lump charcoal.
The handle tends to heat up slightly.
Not suitable for large or standard grills.
If you have a small grill on your patio or you're going camping, this little chimney is an ideal choice.
It's compact, well-built, and works just like it's big brother.
Keep in mind, it won't hold enough charcoal to light a standard grill, so unless you have a small or portable 'cue, opt for the bigger model.
Char-Broil Half-Time Charcoal Starter
Recommended
Overpacking for a camping trip is an issue many struggles with — I know I do! That's why I like to opt for any essential equipment that comes in travel-size options — and this Char-Broil chimney is perfect.
It fires up briquettes in no time but is far more compact and suitable for portable grills than regular-sized chimneys.
Although it's a travel-sized charcoal chimney, it measures 8 inches in diameter, enabling you to easily fit either briquettes or lump charcoal.
The chimney features an abundance of vent holes around the base and up the body, helping it to fire up quicker than most other starters on the market. A slight issue is in the height, it's 8 inches tall, making it as tall as it's wide.
We prefer our chimney starters without paint or unnecessary decor — the Char-Broil chimney isn't painted, but it does feature a logo cut-out by the top, but we aren't mad about it. The entire cylinder is made of aluminized steel, making it durable and resistant to rust.
The handle is made of plastic, featuring a molded shape, helping you to get a secure grip, even when wearing gloves.
Now, if you have a standard or large grill, this chimney won't do you much good. It's ideal for camping, traveling, tailgating, and other away-from-home cookouts.
According to videos from the manufacturer, the Half-Time chimney will have your charcoal ready in a matter of 15 minutes.
Pros
Durable material.
Includes a heat shield.
Molded handle for a better grip.
Perfect size for traveling or smaller grills.
Multiple vents for improved airflow.
Trusted brand name.
Extra-wide opening.
Cons
Top dumping can be tricky to handle.
Not suitable for standard grills
This chimney is an excellent choice for frequent campers, tailgaters or those who have a small grill on the patio. It works well and fast, plus the material is durable and resistant to rust.
BBQ Dragon Chimney of Insanity Charcoal Starter
Recommended
Fast and Easy to Operate- The Innovative design allow coals to be lit in as little as three minute.
90 Degree Elbow- Open at the side of chimney, Turbo effect and draw more air than any other chimney.
Unique Side Hole- It allows lighting your coal without lifting the chimney or using lighter fluid.
Durable - Made by thick gauge galvanized steel with thick heat shield & heat resistant nylon handle.
For Optimum Performance - Use with Bbq Dragon fan,which turns it into insane charcoal blast furnace!
And the award for Best BBQ Accessory Name EVER goes to: the BBQ Dragon Chimney of Insanity. Oh, and it's a heck of charcoal starter, too!
One of the difficulties with charcoal chimneys is the need to insert starter fuel under the cylinder. If you run out before the coals are lit, you have to carefully lift the chimney, replace the fuel, and set it down again. The Chimney of Insanity features a vent pipe with a 90-degree bend. You can side-load fuel into the pipe and light it without touching the chimney.
Of course, you can't get as much fuel into the pipe as under a standard chimney. But, the fire creates a suction effect, which the pipe amplifies. It's a bit like a jet engine, and it gets the coals burning faster.
For the maximum effect, though, you'll want to purchase the BBQ Dragon blower. It fits neatly into the pipe and forces air up through the chimney. The blast of air takes the charcoal from smoldering to raging in only a few minutes.
If you leave the blower on long enough, flames will shoot out of the chimney. Why would you do this? Because you can buy a grate to cover the top of the chimney and sear steaks using the "afterburner method." Awesome.
Pros
Made of thick galvanized steel
Lights coals in just a few minutes
Heat shield and nylon handle to protect your hands
Side-load fuel instead of lifting up the chimney for safer use
Pipe creates a "turbo" effect to speed up lighting
Coupled with the BBQ Dragon fan, you can blast flames out the top


Cons
You won't get the full effect unless you buy the fan separately
Holds less charcoal than other models we've seen
A charcoal chimney is essential gear for anyone who grills with charcoal.
The BBQ Dragon Chimney of Insanity may seem gimmicky. We think it's the perfect application of physics to solve a problem. And it's really cool.
Conclusion
Feeling eager to get a charcoal chimney starter now?
As you can see, chimney starters are incredibly convenient and efficient, helping you to get your charcoal grill started in a matter of minutes without much effort and completely free of chemicals such as lighter fluid.
Getting the right size is important for you to get the most use out of your chimney — if you have a standard or large grill, make sure the chimney can hold enough coal for you to get a good base in the bottom of your BBQ.
There are lots of choices available, including excellent travel-sized chimneys that make the ideal option for campers or tailgaters.
Our top pick for the best charcoal chimney starter is the Weber 7416 Rapidfire. It's high-quality, works perfectly, and gets your grill going in no time.
Leave us a hello or question in the section below and let us know which chimney starter is your favorite and how you used to start your charcoal grill.