Charcoal smokers aren't easy to use, but they will produce some of the best results, giving you an aromatic smokiness and a depth of flavor hard to match otherwise.
However, charcoal smokers aren't for every cook — they require more attention, time, and effort than electric, gas or pellet smokers.
This begs the question, is a charcoal smoker right for you?
We'll help you figure out if this is the way to go by comparing different types of charcoal smokers and guiding you to the right one. By the end of the article, you will know if this type of smoker is right for you.
We also have a few recommendations lined up for you as well as the best charcoal smoker that will help you smoke like a pro.
Let's get started!
Bottom Line up Front: The Best Charcoal Smokers Reviewed in this Guide
The above links take you to current prices, customer reviews, and further information on Amazon.
Things to Consider When Buying a Charcoal Smoker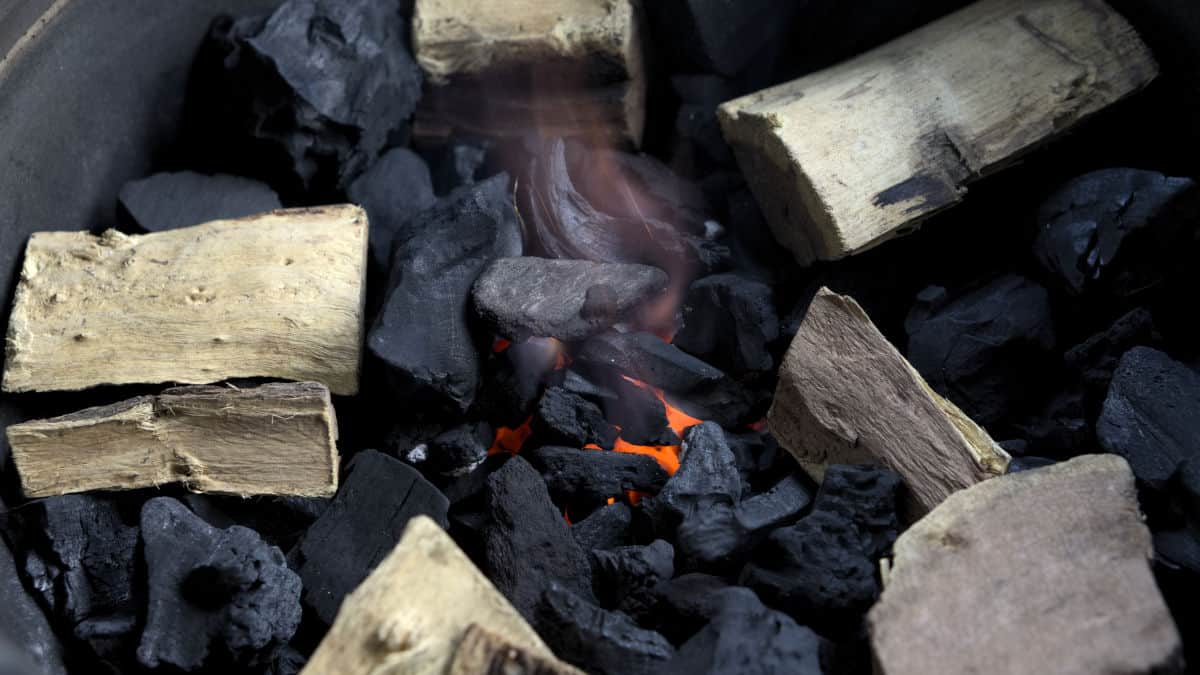 There are five essential things to consider before settling on any type of charcoal smoker:
Smoker Type
There are two main types of charcoal smokers: vertical and horizontal.
Vertical: The fire is located at the bottom of the smoker, allowing the heat and smoke to go straight from the bottom through the meat and out the top, like a big chimney.
There are different vertical charcoal smokers, including the water/bullet smoker, cabinet-style, and Kamado-style smokers.
Vertical smokers are excellent in smaller spaces since the footprint is generally quite compact. Despite the small footprint, most are able to fit lots of food; however, you might need to cut large pieces of meat.
Horizontal: These look more like traditional grills, but with the firebox attached to the side.
The design allows the smoke and heat to circulate the cooking chamber before going out of the smokestack. This style typically features one or more doors, giving you easy access to the meat and fire.
Horizontal units give you ample cooking area — enabling you to lay out several racks of ribs without the need to roll, cut or hang them. On the other hand, they require significantly more free space.
Build Quality
Build quality is important in a smoker since you want it to hold the heat and smoke. However, lower-quality models are usually made of thin materials, poor insulation, and no seal to keep the chamber's heat and smoke.
Unfortunately, this will make it harder for you to maintain a steady temperature, and it's likely to cook your food unevenly.
Higher-end smokers will have thicker walls, vents, and tighter seams, so you don't have to worry about the smoke and heat leaking.
We recommend that you look for thicker steel, which will keep the heat steady throughout the cook. It also won't be affected by weather conditions as much.
You should also look for sturdy handles, gaskets, and locks that will help to improve your experience.
Although higher-end smokers do come with a matching price, it's worth it if you're a serious smoker.
Low-quality smokers might need a few upgrades or drilled holes for better temperature gauge; however, good-quality models don't need to be messed around with.
Efficiency
If your smoker leaks heat and smoke, it's likely to burn through fuel much quicker, decreasing its efficiency.
One of the most fuel-efficient smokers available is the Kamado-style. These feature a lid gasket that seals it tight, ensuring the heat and smoke won't escape while prolonging burn time.
They also feature two vents, one at the bottom and one at the top, enabling you to control the airflow and temperature.
The more seams, openings, and screw holes a smoker has, the more likely it is to leak. This is a prevalent issue in cheap offset smokers. You can modify these issues by adding gasket materials to seal any holes or openings.
Improving the efficiency of a smoker doesn't have to cost much. In saying that, if you cook in colder temperatures, it's essential to have a smoker with good insulation — you might also want to add an insulation or welding blanket to improve efficiency despite the cold weather.
Longevity
Buying a charcoal smoker is an investment, and you want it to last at least a few years, not just a single season.
Consider how often you're smoking, whether it's all-year-round or only during the warmer months, how much food you'll be cooking in one time, and whether you want to grill on your smoker.
Make sure the unit you choose can hold the amount of food you want to cook — if you often host family gatherings, 4th of July, or game nights with your friends, you may want to consider a larger smoker to accommodate the extra food.
A Kamado or kettle grill is an excellent option if you want to smoke and grill. Kamado grills look very sleek but are more expensive, so if you don't have the budget, go for a kettle or bullet smoker instead.
An offset smoker is best suited if you're only smoking (whether hot or cold), they also have a larger capacity, making them the ideal option for those who cook for larger groups frequently.
By anticipating your needs, you can avoid the hassle of spending extra time and money on buying another grill on the side.
If you want more versatility, make sure the unit has the right racks, probe ports, and accessories to suit your needs.
Choosing the Right Smoker for You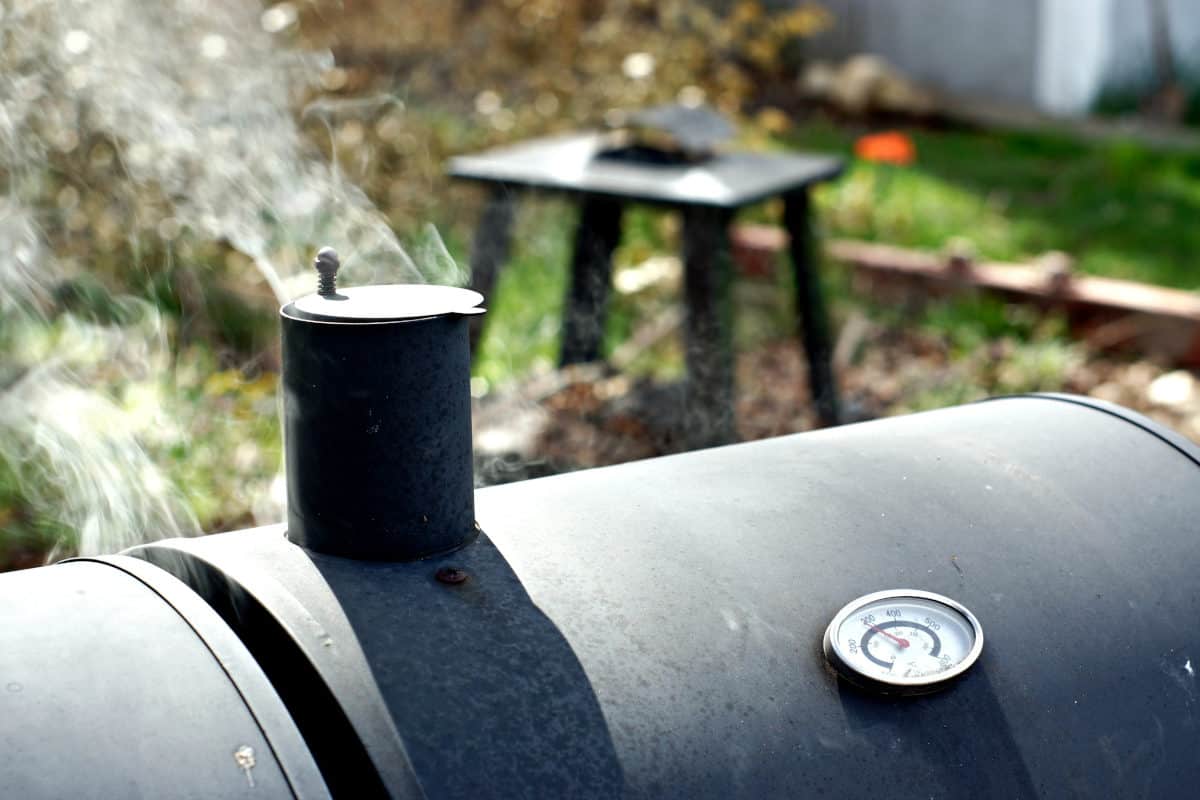 Do You Want to Smoke and Grill?
If you enjoy grilling as much as smoking, you might want to go for a combination smoker that allows you to do both. This will spare you from purchasing another grill on the side, saving you money and space.
Maybe you already have a good grill and only want a smoker on the side? In this case, there's no need to spend big bucks on a do-it-all Kamado or kettle grill unless that's what you set your mind to.
How Much Food Are You Planning to Cook?
As we mentioned above, anticipating your needs is essential. If your house is where the party's at every other weekend, consider a slightly larger capacity to accommodate the extra food when needed.
However, if you and your partner or a small family are only you, you can easily save some money by going for a smaller capacity.
Which Type Would Suit You the Best
This decision relies on your capacity needs, budget, and available space. Consider which type would suit these factors best.
Your Budget
As we discussed above, there's a significant difference between cheap and expensive smokers – particularly when it comes to cheap offset smokers – but that doesn't mean a hefty price tag is the only way to go.
If you're new to smoking and still feel unsure whether it's right for you, you're likely feeling apprehensive about spending large sums on a smoker that might not be used?
In this case, we recommend going for a more affordable option that you can use to learn how to smoke, and then upgrade it when you feel ready in a year or two.
On the other hand, if you're more sure about smoking, spending money on the best charcoal smoker you can afford will pay off since it will last you years to come.
We do recommend that you buy the best you can afford since cheaper models require modifications to give you consistent results, which can be frustrating.
Best Charcoal Smoker – Top 5 Reviewed
We are listing four of our favorite smokers on the market, who knows, you might just fall for one on our list.
Kamado Joe Classic Version III
Top Pick
Premium 18″ ceramic grill with heavy-duty galvanized steel rolling cart with locking wheels.
Patent pending SlōRoller Hyperbolic Smoke Chamber - The first of its kind, the revolutionary SlōRoller leverages Harvard science that transforms a Kamado Joe into one of the world's most optimal smokers. By distributing smoke and heat in rolling,...
3-Tier Divide & Conquer - Divide & Conquer Flexible Cooking System transforms the humble grill grate into the most powerful cooking tool in your arsenal. The revolutionary multi-level, half-moon design frees you to cook different foods in different...
Kontrol Tower Top Vent - Maintains consistent air setting for precise airflow management during dome opening and closing. Constructed of powder coated cast aluminum, the patent pending dual-adjustment top vent is rain and mold-resistant and allows you to...
Patented Air Lift Hinge – Reduce dome weight by 96% with the Patented Air Lift Hinge. The grill dome can be lifted with a single finger giving the most comfortable grilling experience there is. W/ 3 Tier Divide & Conquer- 510 square inches
The Kamado Joe has a unique look that you can recognize from miles away — that bright red glossy ceramic style is hard to confuse with others. We like Kamado Joe smokers for two simple reasons:
They look incredible, unlike other "regular" grills and smokers.
They're versatile and enable you to grill, smoke, roast, and bake — although they're expensive, you get your money's worth.
The Kamado Joe Classic III takes ease and efficiency to a whole new level, which is why we've chosen this model as our top pick.
What's so great about the Classic III is that you get everything you need to cook up a storm, whether you're smoking, grilling, roasting or baking. It comes with everything from a galvanized steel cart and flip-up side tables to Kamado Joe's Divide and Conquer system and the patented slo-roller system.
You get an ash tool and grate gripper that makes it easy to lift the hot grates out of the grill to access the fire pit for more ease.
If you don't want the cart, there is a standalone version available as well, but you'll have to place it on or inside a table.
Assembling the mighty Classic III isn't a single-person job. Due to the thick ceramic construction, this thing is heavy, weighing in at 252.6 pounds and measuring 46.5 by 50.5 by 30 inches.
It comes with one set of heavy-duty stainless steel grates, but you can expand it to three sets, which will increase the cooking surface to 510 square inches in total.
One of the most significant advantages of Kamado Joe grills is efficiency. The thick ceramic walls provide top-notch insulation for the cooking chamber, keeping it almost completely sealed, which helps the grill to hold a consistent temp for hours.
Not only does this result in even and consistent results with every cook, but it also means you'll save on fuel.
You control the airflow by adjusting the top and bottom vent. The lid and bottom of the grill feature fiberglass seals that will prevent leaks while the thick material provides excellent insulation in any weather conditions.
Let's look closer at the special features you get with the Classic III:
Slo-roller system: This Harvard-designed insert creates a re-circulating wave of smoke and heat throughout the cooking chamber, ensuring your food is cooked and smoked evenly for optimal flavor. It also eliminates hot spots.
Air-lift hinge: Enables you to open the heavy ceramic lid with a single finger effortlessly.
Multi-piece firebox: This prevents cracking, which is a common complaint of other kamado grills as the single-piece firebox swells and contracts due to the heat.
There's also a whole line of available accessories that enable you to do so much more with your Joe, including a pizza stone, cast-iron griddle, soapstone, ceramic beer can chicken holder, grill expander, rib rack, wok, a rotisserie cleverly named 'Joetisserie,' and much more.
Pros
Very fuel-efficient.
Easy to use.
Versatile.
Sleek red finish.
You get many of the innovative Kamado Joe features, such as the slo-roller and divide and conquer systems.
Heavy-duty cart with large, lockable casters.
There's a range of accessories that further future-proofs this smoker.
Cons
Expensive.
You only get 18 inches in diameter of cooking surface, or you need to buy additional grates.
Yes, this smoker/grill combo is expensive, but you get your money's worth when you consider all the added features and overall quality.
We like the bright red exterior, it might not look like your average grill, but it's sure to turn heads.
This smoker is the ultimate choice if you want to do more than smoke a brisket on the weekends — you can technically do all your cooking outdoors, whether it's baking, roasting, or grilling.
EFFORTLESS: Whether you're new to outdoor cooking or an expert trying to perfect your craft, cook perfectly every time with the Pit Barrel's 360º All-Round Heat Dynamics. Our vertical barrel cooker technology produces consistently great-tasting,...
VERSATILE: The cooking possibilities are endless. For the perfect smoked meat, grill or hang ribs and brisket using the hooks and steel grill grate or use our custom GrillGrate for sear-marks and to smoke everything from burgers to desserts
DURABLE: Each Pit Barrel Cooker is made with a superior-grade porcelain enamel finish that looks great and is designed to withstand everything from the internal heat to weather conditions
PORTABLE: Our cookers are made to be lightweight and compact to fit in most vans, SUVs, and truck beds. Use the handles on the side to easily lift and transport to wherever your grilling skills are in demand. Easily fits 8 Racks of Ribs, 2-3 Pork...
THE COMPLETE SMOKER STARTER: Everything you will need to get started: The barrel (33" tall, including the lid and stand, and 21.25" wide, including the side handles), 2 Hanging Rods, 8 Stainless Steel Hooks, Standard Grill Grate, Charcoal Basket, and...
The Pit Barrel Cooker is one of the easiest-to-use smokers on the market thanks to its simplistic design. It's made out of a 30-gallon barrel that's just the right fit for any backyard, patio, or even balcony. It has a durable porcelain-enamel finish that's easy to maintain and doesn't require seasoning.
The manual will instruct you on what to do when you first get started, making it an excellent option for smoking-newbies. Simply adjust the vents as instructed, start the charcoal, add the food, and you're good to go.
It measures 36 inches tall and 25 inches across, giving you 255 square inches of cooking area — and that's only if you opt for a grate. You can also use a kit to hang meat inside the barrel, giving you much more room than you would on a grate — excellent for ribs, butts and briskets.
The most you'll do to assemble the smoker is fit the real horseshoe onto the lid using a screwdriver — everything else fits into place and doesn't require screws or tools.
Here's what's included:
A metal stand
Steel charcoal basket
Cooking grates
Two metal rods with eight hooks
Two packages of seasoning; one all-purpose rub and one beef and game rub
You also get a tool to help you lift the hanging rods out of the cooker.
If you feel like this isn't enough, the brand also offers a whole range of accessories, including things like a lift-out ash pan, hinged grate, high-carbon steel basket, turkey hangers, mountable bottle opener, and more.
It's also very fuel-efficient — a basket full of briquettes burning at 300 degrees Fahrenheit can give you six to eight hours of cooking time.
Due to the single-layer steel construction, it can be affected by very cold conditions. In saying that, you can adjust the vents to compensate.
Pros
Affordable.
Highly efficient, charcoal lasts for long.
You can either hang or cook meat on a grate.
Cons
Not the best-looking barrel.
You have to modify it if you want to add a temperature gauge.
It's not easy to clean as you have to tip the whole thing over to empty the ash pan or use a shop vac.
If you're on a budget and want a smoker that produces excellent results with little effort, this barrel is certainly a good option. It's super simple to operate and give you options as to how you'd like to smoke your meat (hanging or lying on the grates).
It's an old-style barrel smoker, so it's very simplistic in design, but unlike many other drums, this one can hold up against cold weather conditions.
Weber Summit Charcoal Smoker and Grill
Premium Pick
Experience the evolution of the iconic Kettle where charcoal grilling meets low &-slow smoking. With a push of a button, coals are lit & the smell of barbecue will soon embrace the neighborhood. Whether smoking, grilling, or even baking, The Summit...
Cooking area = 452 Square inches. Gourmet BBQ system Stainless steel hinged cooking grate. Stainless Steel hinged diffuser plate
Two position fuel grate. Snap-jet gas ignition system
Air-insulated double-walled porcelain-enameled lid and bowl
Stainless Steel one-touch cleaning system. Removable, high-capacity, Aluminum ash catcher
One of the biggest barriers to getting into charcoal cooking is what a pain lighting the coals can be. It's why many casual grillers opt for gas grills, even though they have to give up the smoky flavor of "real" barbecue charcoal delivers. The Weber Summit Charcoal Grilling Center has a solution.
Load up the fuel grate (nicely divided for direct or indirect heat) with charcoal and then turn the knob for snap-on propane fire to light it up. No starter cubes, no charcoal chimney, nothing. It really is the best of both worlds.
Speaking of which, this grill is designed from the ground up for both smoking and grilling.
With the stainless steel diffuser plate in place, you'll get indirect heat swirling about inside the porcelain-enamelled bowl and lid. Use the upper and lower vents and dampers to control your temperature for classing smoking or roasting.
With the diffuser out, it's easy to sear and grill over direct heat. Honestly, if you get bored with this grill, it's probably because you're boring.
The Grilling Center includes a sturdy cart with four wheels, including two locking casters. Just park it anywhere you care to grill. There's a ton of workspace, too, on the stainless steel counter. Do all your prep grill-side, and wipe clean with ease when you're done.
Pros
Smoke and grill on the same cooker
Gas ignition for easy, mess-free start
Big 24" grill – 452 square inches of cooking space
Large stainless steel prep and work surface
4 wheels for easy maneuvering
Durable porcelain-enamelled bowl and lid
Cons
Tool hooks are very close to the hot bowl
Would have preferred a cast iron grate
This is a gorgeous grill that makes kamado-style cooking more accessible than ever.
If you're looking to upgrade your existing charcoal grill, or you've been wanting to make the switch from gas, you need to give the Weber Summit Charcoal Grilling Center a look:
Material Type: Steel
The Weber Smokey Mountain charcoal smoker helps you achieve an authentic smokehouse flavor at home
It can accommodate a whole turkey and an entire ham at the same time. Item weight- 39.1 pounds
Made of porcelain-enameled steel, this smoker comes with 2 nickel-plated 18-1/2-inch-wide cooking grates
Includes a water pan, thermometer, individual vents on bowl and lid, and heat-resistant nylon handle
The Weber Smokey Mountain is a classic bullet smoker known and loved by many — it's also one of the most commonly-used smokers in competitions across the country.
It comes in different sizes, with the largest measuring 22 inches in diameter. Weighing in at 68 pounds, it's light and easy to move when needed. You get 481 square inches of cooking space divided over two nickel-plated grates, plenty for when the extended family comes over for some quality-smoked meat.
Everything you need to get the smoker up and running is included in the box, such as the three sections of the smoker, water pan, fire ring, cooking grates, charcoal grate, manual, cover and handles, legs, and mounting hardware.
A small issue with the WSM is how narrow it is. When cooking ribs, you'll need to skewer, roll or smoke them upright. We also think the door is slightly flimsy, and there's a small leakage issue, which many fix by adding a gasket.
The legs are on the shorter side, meaning it's closer to the ground. If you place it on a wooden deck, remember to use a grill mat.
With all that said, it's super easy to use and produces excellent smoked food with little effort. There's a massive community of WSM-enthusiasts at online forums and on social media, not to mention it's the go-to smoker for competitors.
If you ever find yourself struggling or have a few unanswered questions, it's easy to find advice, answers, and support online.
It's also incredibly fuel-efficient, giving you a good 10 to 14 hours of cooking time at 225 degrees Fahrenheit.
The electric rotisserie is one of our favorite available accessories, enabling you to roast a whole chicken evenly.
Since this is Weber, you get a range of available accessories to help make your experience easier. You can find anything from mitts to aprons.
Pros
Compact and portable.
Includes two racks for extra capacity.
Easy to use.
Cons
Leakage issues with the door and it will need to be modified.
Although there's a built-in thermometer, it isn't reliable.
Whether you're a beginner or experienced smoker, the Weber Smokey Mountain smoker is an excellent choice. It's easy to use yet produces top-notch, delicious results and can burn for long hours with the right charcoal setup.
If you ever feel stuck, advice and support is only a click away, so take advantage of the online community.
Oklahoma Joe's Highland Reverse Flow Smoker
Recommended
900 total Square inch cooking surface- 619 Square inches in main chamber, 281 Square inches in firebox chamber
Reverse-flow smoker employs a Series of 4 baffles to guide heat and smoke through the main chamber delivering an even and delicious result
Removable baffles and optional smokestack locations for a customizable setup
Firebox chamber features large stainless Steel fuel basket and clean-out door for easy ash removal
Heavy-gauge all-steel construction, porcelain-coated cooking grates and multiple dampers for easy heat and smoke control
The Oklahoma Joe is one of the heaviest contenders on our list, weighing in at 196 pounds — lucky for you and your joints, it features steel wheels on one end to help you move it around.
Because it's an offset smoker, it's quite large, measuring in at 57 by 33.5 by 53 inches. But this also means you'll be able to cook for large gatherings without having to cook in batches.
The firebox's top is flat, enabling you to heat a pot of delicious sauce, beans, or other dishes while the meat cooks.
Assembly isn't the easiest, like the Kamado Joe, the weight makes it a challenge, so ensure you have an additional set of strong hands to help you. There are many parts and fasteners you need to put together, most are individually wrapped and stored within the smoking chamber.
The smoker utilizes four baffles that direct smoke and heat across the cooking area to the other side, giving you even and consistent results.
You can place the smokestack on whichever side you prefer. We like that you can easily refill the charcoal without disturbing the smoke or heat. Moreover, you can use the firebox as a grill to sear a few steaks while you wait for the brisket to finish.
Between the legs is a metal shelf for additional storage space, it also includes a large stainless steel charcoal basket and a clean-out door to help you get the ashes out quickly and easily. In addition to all of this, the smoker comes with a two-year warranty.
Although we enjoy the Oklahoma Joe, it has a few leak problems that you need to modify — luckily, this is easily done by sealing the door with a gasket material and fixing the remaining holes with a high-temperature sealant. This will also enable the smoker to withstand cold temperatures and windy days better.
Pros
The baffle plates double as grease catchers, plus they're easy to remove for cleaning.
You get ample cooking space and we like the addition of the warming shelf.
Holds the temperature very well.
Cons
Users have found that the paint on the firebox tends to peel rather quickly.
Requires fire bricks n the firebox for longevity.
You have to seal the door, holes and gaps to stop leaks.
If you need to cook for a crowd, this smoker is a no-brainer. The large size gives you ample cooking space while enabling you to heat your sides on top.
It does require a few modifications for a flawless cook, but most offset smokers do. In saying that, it's hard to fault it — it looks good, large size, and good fuel efficiency.
What Is a Charcoal Smoker?
A charcoal smoker is designed to smoke food at low temperatures for an extended period. It's fueled by charcoal, either lump or briquettes, with added wood chips or chunks for more flavor.
The temperature generally ranges between 225 and 275 degrees Fahrenheit (93 to 121 degrees Celsius). The low temp cooks the meat slowly, enabling it to break down and tenderize connective tissues and make the meat nice and juicy.
Different types of smokers run on various fuels, including propane, wood pellets and electricity. In saying that, charcoal smokers tend to be the favorite method as it adds an authentic smokey flavor that other smokers just don't provide.
Many smoking-enthusiasts choose to build their own smoker out of oil drums and even refrigerators.
Unless you're very handy, it can be tricky to build a good-quality smoker. Therefore, we recommend that you use a commercial model instead for consistent, reliable results.
What Is The Difference Between a Smoker and a Grill?
The foremost difference between smoking and grilling, is how a grill and smoker heats.
A grill is designed to cook food over direct, high heat, which is what gives the food that nice sear. A smoker uses indirect heat, which allows the meat to cook over a low temperature for longer. The food and the fire are entirely separated in a smoker, sometimes by a second chamber.
Grilling is usually done at around 500 degrees Fahrenheit (260 degrees Celsius) or above. At this temp, your steak will be ready in under 10 minutes.
On the other hand, smokers can take more than 12 hours to finish certain cuts of meat, so planning ahead is crucial.
You can also cold-smoke on a smoker — ideal for certain fish such as salmon and cheeses. Cold-smoking is usually done at temperatures around 160 degrees Fahrenheit (71 degrees Celsius).
As we saw in our review and buyer's guide above, there are plenty of options for those who want a smoker/grill combo. These are able to reach high temperatures ideal for searing as well as low temps for smoking.
You can also transform your grill into a smoker by creating a two-zone fire; however, it's crucial to keep an eye on your meat to ensure it doesn't cook too quickly.
Final Thoughts
With so many great charcoal smokers available, it becomes so hard to choose just one. Different types suit different needs and budgets.
We recommend the Weber Smokey Mountain for beginners since it's easy to figure out and produces delicious food from the first cook.
If you have more room and need a larger smoker, go for the Oklahoma Joe's Highland smoker or the Pit Barrel Cooker.
The Kamado Joe Classic III will always have a special place in our hearts — it's just so versatile, easy to use, and good-looking, which is why it's our pick for the best charcoal smoker. However, it requires a larger budget.
Which one do you would you pick? Let us know in the comments!