In today's article, we will look at six different smokers and reveal what we consider to be the best gas smoker on the market.
We'll also take you through a quick buyer's guide to explain what things you should look for to find the right smoker for you.
Do you want to smoke food but don't want to deal with messy charcoal?
Then a gas smoker might be right up your alley. Gas smokers can be incredibly versatile and easy to use — ideal for smoking newbies.
So, if you want to cook brisket, ribs, and more without dealing with a raging fire and messy ashes, let's get started!
Bottom Line up Front: The Best Gas Smokers Reviewed in this Guide
The above links take you to current prices, customer reviews, and further information on Amazon.
What is a Propane Gas Smoker?
A vertical gas smoker looks similar to a large gym locker. It's a solid construction with one or two doors and wire racks to hold the food.
What's great about vertical smokers is that they take up much less space compared to horizontal smokers or grills.
The vertical construction ensures all food gets smoked evenly as the smoke rises from the bottom to the top.
A typical design will feature a gas burner at the bottom of the box, fitted with a pan for the wood above.
Next, you'll find the water pan that helps adds moisture and helps to stabilize the temperature. To top it all off, multiple racks hold the meat as it cooks.
Like charcoal smokers, gas smokers will usually feature dampers/vents that enable you to control the airflow and smoke.
Finding the Best Gas Smoker for You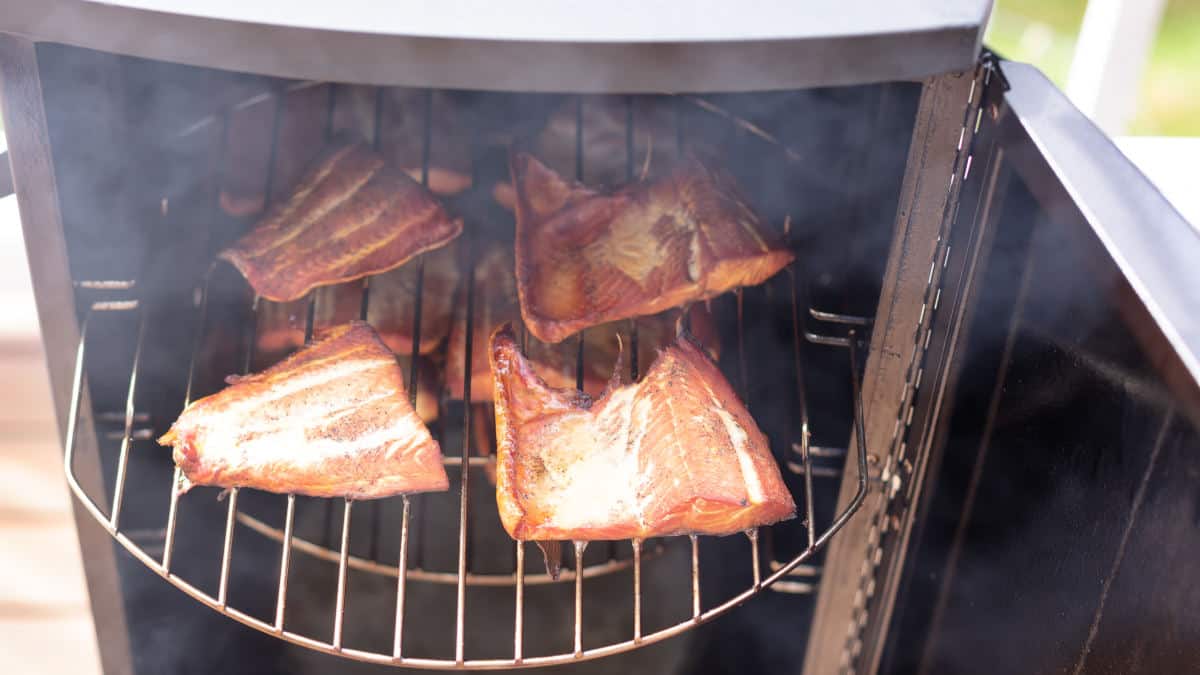 We'll keep this section short and straight to the point with a few key criteria you should consider when shopping for a new gas smoker:
Size – You want a smoker that can fit large cuts of meat such as shoulder, brisket, and ribs. If it's too small, you'll have to compromise and cut the meat into smaller portions. We like to look for a smoker with broad and deep shelves that can accommodate ribs.
Temperature – Vertical smokers can reach incredibly high temperatures, some even hotter than charcoal smokers. However, we highly recommend that you choose a smoker with the ability to smoke at low temperatures. This will give you more versatility and the chance to cold smoke.
Loading – Look for front-loading instead of top-loading. Loading from the front is easier accessible and more convenient.
Adjustable Shelves – This will enable you to cook a variety of foods in different sizes without much trouble.
Door Access – For convenience, we recommend a smoker with two doors instead of one. Giving you quick access to the water and wood pans without disturbing the meat and vice versa.
Stability – Due to the tall, vertical construction, these smokers are more vulnerable and less sturdy. We recommend that you choose a smoker with splayed legs for added stability.
Overall: We recommend setting a budget for yourself and then finding the best smoker within your set budget.
It should be able to maintain a consistent temperature of around 225 degrees Fahrenheit and have adjustable shelves.
Advantages of Propane Smokers
Here are some advantages of choosing a vertical propane smoker:
Affordable: Vertical propane smokers are generally more affordable than most other smokers, including pellet, electric, and charcoal smokers.
Portable: They're easily portable due to the lighter weight compared to other types. However, you might still need another set of hands and muscles to tow it around effortlessly.
Cleaner: Propane is a much cleaner fuel than charcoal. It doesn't produce soot that will eventually build up inside the smoker or produce ashes that are a mess to clean up.
Easy to use: Many propane smokers can be turned on using electronic ignition. Simply press a button, and the fire will start. You can also quickly fire it with a match of the battery is dead.
Minor learning curve: Mastering a propane smoker is relatively easy. Once you know how yours work by adjusting the vents, you're good to go. Propane smokers don't need as many adjustments throughout the cook as charcoal smokers.
Compact size: Although they can fit a large amount of food, propane smokers are compact, excellent for small spaces, and storage. In fact, even some of the largest smokers will have a smaller footprint than a refrigerator.
Disadvantages of Propane Smokers
With all good comes a little bad — here are some disadvantages of propane smokers:
Prone to damage: To keep the smoker light, manufacturers often use thinner gauge steel; however, this makes them prone to bends and dents.
Less sealing: One common issue with propane smokers is that the door isn't always airtight, allowing smoke and heat to escape and making it trickier for you to regulate the temp. You can fix this by purchasing a high-temperature sealant for any holes and doors — it's extra work but easily done.
Narrow: Most propane smokers can't hold an entire rack of ribs flat unless they're cut into smaller pieces. However, this isn't a gas-smoker-only problem, electric smokers have a similar issue as do other cabinet-style smokers.
Limited burn time: Because the smoker runs on a tank of propane gas, the time will be limited before it runs out. This means, during long low n slow cooks, you'll have to change tanks, so make sure you have one at hand. With time, you'll learn approximately how long a tank lasts in your smoker; then, you can time the exchange precisely never to lose heat or smoke.
Reviews of the Best Gas Smokers Available Today
We did our best to feature only dedicated gas smokers, not gas grill/smoker combos, as these are a whole other category. We will say though, gas smokers do a far better job than grill/smoker combos.
Enough small talk, here are our choices for the best gas smokers:
Top Pick – Masterbuilt Smoke Hollow Propane Gas Smoker
Top Pick
6. 5 cubic feet of cooking area capacity to easily handle enough food for LARGEST gatherings
5 cooking grids: 2-standard cooking grids, 2-jerky grids, 1-rib rack 1-sausage hanger
Dual door design with tempered glass viewing window
Dual stainless steel burners operated independently for optimum performance and temperature control
Large porcelain coated water pan
This 44-inch smoker from Masterbuilt is the largest in the line and is one of our favorite gas smokers.
It measures 24.5 x 60 x 33 inches in total and has ample room and cooking space for large families or those pitmasters cooking for big crowds.
It's fitted with dual 10,000 BTU burners and features a double porcelain-coated wood tray. The smoker offers incredible versatility as you can use both or just one burner to suit cold or hot smoking. It can burn as low as 125 degrees Fahrenheit, ideal for cold smoking salmon or even cheese.
A popular method is to use one side of the tray at a time, so you switch to the other side as one stops producing smoke.
You get three cooking grates, a reversible rib rack that doubles as a regular rack, two jerky trays, and sausage hooks. All of this enables you to smoke sausages on top, chickens below (that are getting beasted by the sausage drippings), and smoke a brisket at the lowest rack — invite everyone you know!
The smoker comes equipped with two dampers on each side, and you have the option of replacing the solid door with glass, enabling you to see how your meat is cooking.
It's relatively easy to assemble — all you need is a Phillips head screwdriver and 40 minutes of your day.
Overall, this smoker gives you good value for money. It offers lots of room, various racks, and settings to accommodate different foods that you can cook all at once.
The controls are well-built and offer precise temperature control. It can easily hold a steady temperature for more than 10 hours without the need for adjustments.
In saying that, it's a heavy model — weighing in at 100 pounds. It does feature splayed legs, improving its stability, but we would have liked to see some wheels to improve mobility.
Pros
It features double doors, which comes in handy when you need to refill the wood or water pan.
Ample cooking space enables you to cook whole ribs instead of cutting them into pieces.
Cool-to-the-touch spring handles.
The doors are locked tightly with the latches.
Cons
The thermometer is useless and only there as a decorative item.
Although the latches work correctly, the door sealant is not up to par. It tends to leak smoke and heat.
We might be picky, but we would like some wheels.
Whether you're a beginner or experienced smoker, the Masterbuilt 44-Inch Smoker is an excellent choice. With its ample cooking space yet compact footprint, you can easily cook for a large crowd or gathering.
The large internal space enables you to cook an entire rack of ribs laying flat without touching the sides. It offers an excellent temperature range, allowing you to cold smoke or hot smoke a variety of foods and meats.
There's a slight leakage issue, but it's easily fixable by sealing the doors.
Runner Up – Pit Boss 77435 3-Series Vertical Propane Smoker
Runner Up
Smoked meat at the push of a button? Yes, please!
Ok, maybe it's not that easy – but it isn't far off. A single push of the igniter is all it should take to start up the Pit Boss 3-Series vertical propane smoker. From there, simply adjust the analog dial until you hit your target temperature. If you find charcoal intimidating, Pit Boss has you covered.
There are twin vents on the back of the unit for enhanced control over temperature and especially smoke flavor. Using these, you can literally dial in the amount of smoke you want in your meat.
This attractive unit features a 12,500 BTU burner and four adjustable racks. That's a total of 884 square inches of cooking space. Impressive! For large cuts or whole poultry, you can quickly move or remove racks as needed.
We love the easy-access wood chip box; just pull the handle and slide it out, without opening the main door. Similarly, there's a slide-out grease tray at the bottom for easy clean-up.
Versatility is the name of the game, with a temperature range of 100 to 350F. That means you're almost into cold smoking range, so you should be able to smoke cheese, nuts, and certainly fish. At the upper end, you'll have the option to roast meat and even bake desserts. Talk about broadening your horizons!
Pros
Front window for easy visual monitoring without opening the door and losing heat
Huge amount of cooking space on the racks
Four adjustable racks for versatility
Rear wheels for easy repositioning
Push-button ignition
Great looking painted exterior
Cons
Glass doors require a lot of extra maintenance
Having vents on the back may make access difficult
Have to be sure you always have propane ready
Solid and attractive, there is a lot to love about the Pit Boss 3-Series Vertical Propane Smoker. It's a great buy as a first smoker or even as a simpler alternative to traditional wood & charcoal smokers.
Take a zoomed-in look and review your ordering and shipping details at the link below:
Char-Broil Vertical Gas Smoker
Recommended
The Char-Broil Gas Smoker is a lightweight and compact unit. It measures in total 19.5 x 21.5 x 45.5 inches and weighs a mere 25 pounds due to the thin steel material.
The smoker includes four chrome-plated racks and features six insert positions. This gives you a combined cooking space of 595 square inches. You can move the racks around to suit large cuts of meat or fit a significant amount of food.
There are two doors in the smoker — one for the smoking chamber and the other is a drawer-like opening, giving you direct access to the water and chip tray. We highly prefer two-way access; this enables you to easily check on the water/chip pan without disturbing the smoke and heat in the main chamber.
Now, the Char-Broil water/chip pan isn't like anything we've ever seen. It's a seemingly regular chip tray fitted with a steel bowl in the middle to hold the water. It's a smart design as it saves significant space, but any little bump or shake will cause the water to spill over the bowl, extinguishing the wood chips.
A feature we do like is the round rack fitted above the vent at the top. It enables you to keep a saucepan or other object warm using residual heat.
Like the Masterbuilt above, there's a slight leakage issue, although the handles work to keep the door shut. You can fix the leakage by adding a gasket material around the door.
Pros
Two-way access.
Includes four racks and six insert points.
Warming rack at the top for pots and saucepans.
Large cooking space.
Cons
Narrow design, not enough to hold an entire rack of spare ribs.
Water can easily spill from the steel bowl, although it saves space, it isn't the smartest design.
Inaccurate door thermometer, don't trust it — invest in a good digital thermometer instead.
We love the affordability yet good quality this Char-Broil smoker offers. It's a light unit and easy to use, making it a great option for beginners and experts. You get more than enough internal space to fit a large amount of food, but it isn't quite wide enough to fit a whole rack of ribs.
We found that the combo wood/water tray is way too messy and a potential headache if it keeps extinguishing the wood chips. You're better off adding your own water tray above the wood tray — this will prevent a disaster.
There are minor alterations to be made, but they aren't dealbreakers in our book. It offers a variety of features and capabilities for a fair price.
Dyna-Glo 36" Vertical Gas Smoker
Recommended
A total of 784-square inch of cooking space for smoked flavored foods. 4 adjustable steel wire racks
A 15,000 btu cast iron burner with an electronic push button ignition, and a large control dial
Porcelain enameled steel wood chip box with handles and lid for choice of wood chips and porcelain enameled steel water bowl
An easy to use double-door design (upper/lower) for greater heating/smoking, cooking control, sliding air dampers on top and sides for the choice of smoked/cooking heat control options, and a nice decorative temperature gauge with decor ring
The idea of "entry-level" anything has a bad reputation. Usually, the term is synonymous with "cheap crap." Here's a vertical smoker that might make you think otherwise.
One of the barriers to getting into smoking is all the fussing with lighting charcoal and keeping your fire going. The Dyna-Glo 36" vertical gas smoker takes care of most of that for you.
Because it burns propane, you won't need a chimney starter or other contraption to get your coals lit. Just fill the smoker box with wood, put it in position, and push the igniter button to start the smoke.
There's a damper on the top of the smoker and one on the side. You can use these to fine-tune your temperature and smoke level if you want.
It's a great stepping stone towards perhaps owning a wood-burning or charcoal smoker in the future.
Inside, you'll find four adjustable steel wire racks. That's 784 square inches of cooking space, each capable of holding up to 25 pounds of food.
Load up all the racks for stacks of ribs, or remove one or two for multiple briskets, roasts, or even whole poultry. The 15,000 BTU cast iron burner can handle it.
Pros
Made of cast iron for durability and heat retention
Four adjustable racks provide versatility for different food options
No fussing with vents to control the temperature
Easy push-button, electronic lighter for a quick, mess-free start
Two access doors for minimal heat loss when reloading chips or adding liquid
Porcelain-enameled steel water bowl for added moisture and flavor, plus collection and recirculation of condensation and grease
Cons
Does not come with hooks for hanging sausages
Need to have enough propane on hand at all times
Anyone looking to get into low and slow cooking, whether as a start to more serious smoking in the future or as a casual hobby, should give the Dyna-Glo 36" Vertical Smoker a look.
The combination of value pricing and ease of use makes it a perfect first step into a delicious world.
Camp Chef 24-Inch Smoke Vault with Adjustable Shelves and Stainless Door
Recommended
This heavy-duty gas smoker looks similar to a safe with its solid stainless steel door and combination lock-style door thermometer. It measures 24 x 16 x 30 inches in total and weighs 75 pounds. Furthermore, it features splayed legs for extra stability.
The thermometer can read temperatures between 50 and 550 degrees Fahrenheit, allowing you to see where the internal temp is at quickly.
The smokebox includes two cooking racks as well as a jerky rack and five adjustment points. There are also three vents in total — one at the top and one on each side. This improves control over the temperature and smoke.
You get ample cooking space and opportunity with the adjustable shelves. They enable you to easily cook a chicken at the top rack while smoking ribs on the lower rack.
We will say, though, the cooking space is rather narrow. If you choose to cook two chickens simultaneously, make sure you move them around once in a while as they cook, or else the legs will be touching and they won't cook evenly.
Furthermore, we recommend that you invest in some rib racks if you're a rib-lover.
There are two pans included, one for water and one for wood chips. The wood tray is made of heavy-gauge steel, making it durable and long-lasting — the water pan is porcelain-coated.
The pans protect the burner from wind, helping the fire to burn without trouble. It's super simple to start using the electronic ignition, and the smoker can maintain temperatures between 160 and 400 degrees Fahrenheit. You should keep an eye on it to ensure it stays within your target temperature.
If you feel that natural gas is more convenient, this smoker does offer a conversion kit. This is an ideal smoker if you already have natural gas heating in your home — simply draw a line to the smoker, and you'll have endless fuel.
Pros
Durable construction and easy assembly.
Sleek look with the stainless steel door and large thermometer.
The compact size makes it simple to store.
Available conversion kit for natural gas usage.
Cons
A significant smoke leakage around the door. It's fixable with a gasket kit.
Although the thermometer is a nice detail, it isn't reliable and usually way off.
Again, we would like to see some wheels.
If you want to smoke but don't have room for a grand-smoker, this is an ideal choice. The small size allow it to fit in any space, and make it easier to store.
It comes at an affordable price that fits most budgets, and you do get good value for money with the various features, rack settings and two pans. We also really like that it's possible to convert it from propane-fueled to natural gas-fueled, making it the ideal option for any natural gas-run home.
Although the door thermometer looks sleek and expensive, it's not worth a penny — it's inaccurate and, therefore, useless. We recommend that you purchase a good BBQ/meat combo thermometer instead.
Masterbuilt GS30D Propane Smoker
Recommended
This slightly smaller Masterbuilt measures 21.4 x 21.1 x 43.5 inches overall and weighs a reasonable 57 pounds. It's a great option for any outdoor enthusiast with a good taste for BBQ.
It includes four chrome-plated racks, giving you a total of 717 square inches of cooking space. It's also wide enough for whole racks of ribs and other large cuts of meat, and it's super simple to get started and requires only a push of a button.
Through the bottom door, you can access the two trays that hold water and wood chips — both pans are porcelain coated and durable.
The top door gives you straight access to the meat and smoking chamber above. The two doors enable you to easily check on the water or wood without letting smoke and heat escape.
The water pan could be slightly bigger, but it's okay for most smoking sessions. We'd also like a better seal on the doors, as there's a slight smoke leakage when cooking — but as with the other smokers, this is easily fixed.
One thing you can't fix is the lack of vents — there's only one at the top.
There's also a thermometer included, but as with the others on this list, it isn't very accurate and, in fact, pretty useless.
Now for the power — it can burn extremely hot thanks to the 15,400 BTU stainless steel burner. This does cause it to run quite high, so you have to figure out how to adjust the vent to keep it at a steady temp.
The high heat, unfortunately, also causes the water pan to dry out quickly — hence why we think it should be bigger.
We do like the fact that the cool-touch handles actually stay cool. We also enjoy the locking doors and inner lining that help to keep smoke and heat inside. The smoke does leak slightly through the door, but it isn't as bad as other units on the list.
Pros
Improved temperature control.
Two-way access keeps the cooking chamber heated while you refill chips or water.
Easy electronic ignition.
Durable stainless steel burner.
Cons
It runs very hot and it can be tricky to keep the temperature below 250.
The door leaks slightly, but you can fix this with wood stove insulation tape.
Some users have reported rust issues.
This 30-inch Masterbuilt smoker is an excellent option for anyone who doesn't have room for the 44-inch monster above. Although it's slightly smaller, it can still room almost the same amount of food as the larger model.
It does require some slight modifications, such as sealing the doors and the small opening underneath the burner. Apart from the minor issues, it's a great smoker that's super easy to use and gives you good versatility.
How to Use a Gas Smoker
A vertical smoker looks significantly different from offset or horizontal models, but the principle is about the same. You simply stack the food on wire racks as opposed to arrange them above the fire pit.
Here's a quick step-by-step:
Step #1. Prepare the Water Pan
You can fill it with water or substitute it with another liquid like beer or cider (these will add more flavor and scent). The water pan should be placed above the wood chip tray.
Step #2. Connect the Tank
Always use an approved hose to connect the propane tank to the smoker. Use soapy water to check the connections, if there are any bubbles present, it indicates a leak and you should turn the tank off and reconnect it.
Open the door, turn the valve on, and light it as instructed by the manufacturer. If the burner doesn't light immediately, turn the gas and control knob off. Give the gas a couple of minutes to clear before you give it another go.
Step #3. Set the Temperature
This can be tricky depending on the model, as some will only have three settings: high, medium, low. In this case, you will have to guess where to set it to hit 225 degrees Fahrenheit. This is where it's good to have a good digital thermometer at hand.
Step #4. Pre-Heat
Allow the smoker to pre-heat. You can play around with the dampers to figure out how to achieve a steady temperature.
Step #5. Prepare the Wood
As the smoker reaches the correct temperature, start adding your choice of wood chips to the tray and insert it in the smoker. The wood chips will slowly begin to smolder and produce aromatic smoke. Now you're almost ready!
Step #6. Start Cooking
Place your seasoned meat directly on the racks inside the smoker. Close the door and set your timer. You can take a break now and relax with a cold one, but you may want to check on the temperature ever so often to ensure it doesn't go too high or low.
You should also check on the water and wood chip tray to make sure they aren't;t running low. We recommend checking every hour; however, this depends on the size of the smoker and the cooking temperature.
Step #7. Unhook the Gas
Once the meat is done, make sure you disconnect the gas and close the tank properly. Then, proceed to clean the smoker, so it's ready for the next session.
How to Season a Gas Smoker
Seasoning your smoker is essential before the first use. This will help protect it against rust and corrosion, and it will remove any chemical residue from the manufacturing process.
Some manufacturers will be so kind as to include instructions on how to season the smoker. If you didn't get any directions, here's a quick run-through.
You start by wiping the internal parts of the smoker with cooking oil. Next, you let it burn on high heat for about 20 minutes (the smoke has to stop).
Allow the smoker to cool and then finish it off by wiping it down with a towel — this will remove any residue and make it safe and ready to cook in.
Conclusion
Gas smokers are both easy to use and easy to assemble, but we did find that the Masterbuilt Smoke Hollow Propane Gas Smoker has a slight edge over the rest, which is why it's our choice for the best gas smoker.
There's a good range of choices available on the market with various sizes to choose from, making it simple for anyone to find a suitable smoker.
We recommend that you consider the capacity and temperature range of the smoker you're looking at. There should be two doors for easy access and adjustable shelves to accommodate any type of meat.
Do you have a favorite gas smoker? Let us know in the section below.