Having a good grill brush to clean your grates is essential for anyone who owns a grill.
Burnt grease and grime can give your grilled food an off-taste as well as expose you and your loved ones to bacteria.
In today's article, we'll be taking you through our thorough guide on how to find the best grill brush for you.
We'll also reveal my top recommendations to hopefully help you make the right choice for you and your particular type of grates.
Bottom Line up Front: The Best Grill Brushes Reviewed in this Guide
The above links take you to current prices, customer reviews, and further information on Amazon.
Why Cleaning Your Grill is Important
Cleaning your grill is as important as it is to wash your hands. Leftover grease and oil will turn rancid if left on the grates; this will give your food a bad taste and can even cause grill fires and flare-ups.
There's likely to be a build-up of a black crust on the grates after you're done grilling. This is burned-on carbon caused by fat, meat and sauce that sticks to the grates, and is not something you want on your beautifully-cooked steak.
If the above didn't scare you enough to scrub your grill, maybe the addition of ants and insects in your grill would be convincing?
Remember, leftover food will attract insects — and you don't want a side of ants with your weenie, right? So get a good grill cleaning brush and put it to use after every cook!
Types of Grill Cleaning Tools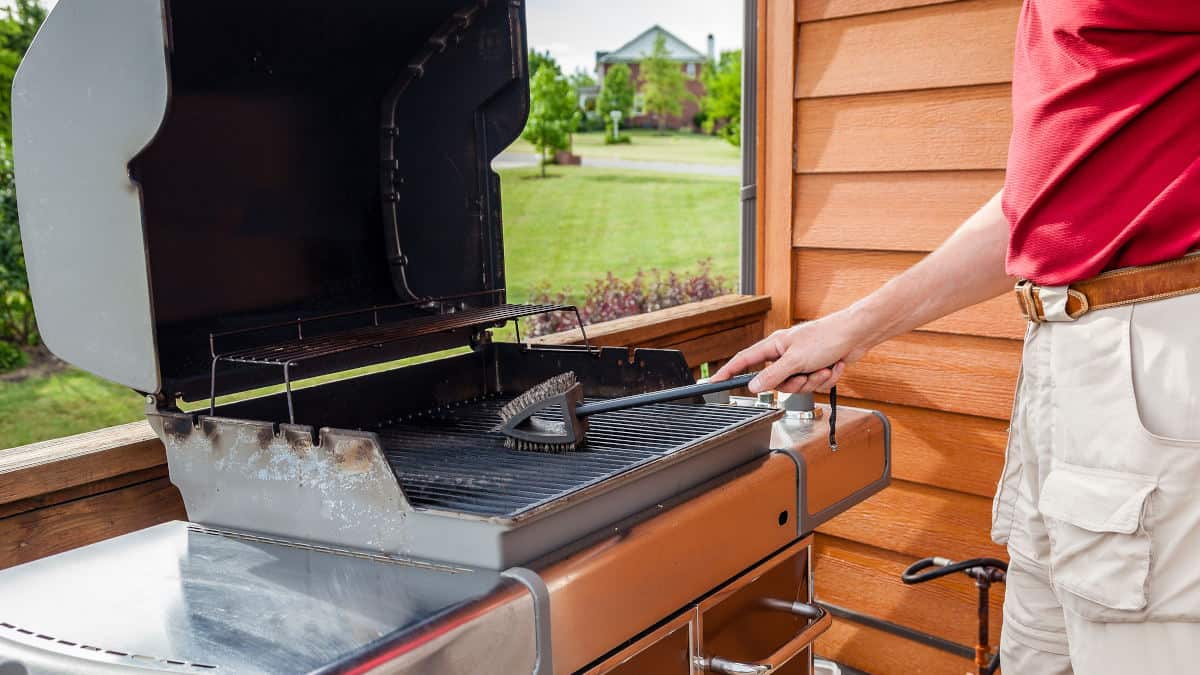 There are three common types of grill cleaning tools available:
Brushes
Most grillers will have a good grill brush at hand. A good grill brush should be of a high-quality or bristle-free — otherwise, you might end up with added steel to your steak.
A long handle is also a useful feature. A grill brush is often used while the grill is hot, so a short handle means you might risk a burn on your hand.
Scrapers
Scrapers are generally made of wood, particularly oak. It's important to note that wooden scrapers will need time to adjust to the grates — you'll notice their shape will change during the first uses, but it will morph to suit your grates perfectly.
An advantage to using a wooden scraper is that it's easy to remove any gunk stuck between the grates by turning it to the side.
Stones – For Griddles
Similar to wooden scrapers, grill stones will also adjust to the size of the grates with frequent use. Grill stones will also wear down with use, so there's no waste.
Cleaning a hot grill with a small stone is not optimal. Fortunately, there are grill stones available with long handles that look similar to a brush.
What to Look for in the Best Grill Brush
Several factors make a good grill brush; it's essential to consider these to determine whether the brush is worth it.
Get the Right Tool for Your Grates
The most common grate materials are either stainless steel or cast iron. These are durable and can be cleaned with any type of brush.
However, if you have a porcelain or enamel-coated grill, you'll need a more gentle brush, such as brass, so that it won't chip the coating.
If the coating were to chip, it would come off on your food as you're grilling — pretty gross. The grates will also loose their non-stick properties and begin to look worn.
Brush Material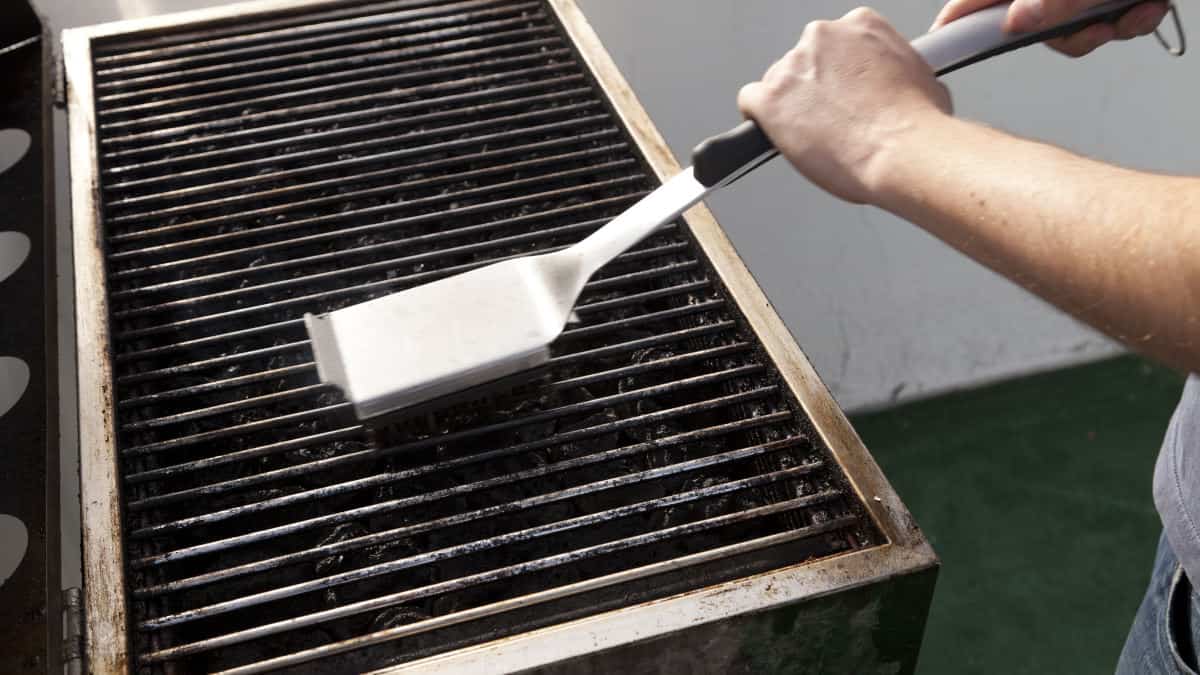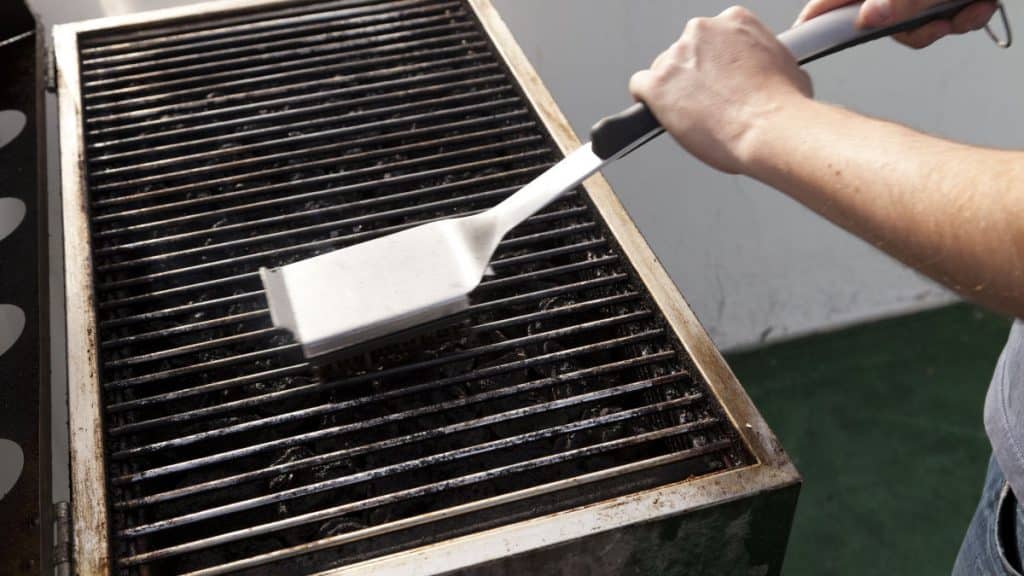 This is one of the most important factors in determining not only the effectiveness of the grill brush but its durability as well.
That said, some materials present unique qualities that you may ultimately favor over others even if they may not be the best at actually removing the char and fat from your grill.
This is often due to the fact that different types of grills will require different stiffnesses and abrasiveness of brush.
Nylon – This is the least stiff material used for a grill brush. As such, if the cleaning part of your brush is made out of nylon, you will ultimately have to spend more time and apply more force to get the same level of clean.
That said, this material general plays better with the different types of detergents that people use to help break up the gunk on the grates than metal does.
On top of that, some grills with protective coatings such as porcelain need the brush to be nylon or risk the coating coming off.
One thing to keep in mind is that nylon brushes are not appropriate for use with heat.
Brass – This is the next stiffest material used for grill brushes and serves as sort of a Goldilocks. It is not so stiff that it risks pulling a protective coating off of the grate or other surfaces, but it is generally firm enough to still remove stuck on gunk without having to apply too much force.
Unlike nylon, brass is more than capable of cleaning a grill with the use of heat to help break up some of the gunk.
The one issue with brass is this must be cleaned more often after use or else the metal will begin to corrode much quicker than with stainless steel.
Stainless Steel – This is generally seen as the best material to use with grill brushes. The brush itself will be far stiffer than with either brass or nylon–though you can get stainless steel brushes that are thin if you need a softer brush.
Because it is stiffer, this type of brush does carry the potential risk of stripping a protective coating if you are not careful.
That said, this is still one of the best brush materials primarily because of its use with heat and steam. This means you will not have to worry about using detergents which can be difficult to remove completely from the surface.
Stainless steel is also the most rust-resistant and second only to nylon for use with water.
Long Handle
Long handles might seem like an obvious choice, but you'd be surprised to see how many brushes have handles less than 6 inches long.
Grills are hot, and that's a fact. A long handle will keep your hand further from the heat and reduce the chance of burns.
A Hook or Loop to Hang it Up
The best way to store a grill brush is by hanging it. And luckily, most brushes come with a convenient hook to make it easier. Go for a sturdy metal loop or leather string to hang yours.
Bristle Free or Bristles That Won't Come Out
We've seen far too many incidents about people having to be hospitalized after ingesting metal bristles left on the grates.
You obviously don't want to risk yourself or your guests, so it's crucial to aim for a brush with sturdy bristles that won't come loose.
If the brush you choose has bristles, make sure you always check the grates before cooking to ensure there are no loose bristles.
Scraper Functionality
Forgetting to clean the grill after use occasionally is normal — I sure do once in a while.
When this happens, a solid, stubborn piece of crust is likely to stick to your grates — a brush won't be able to remove this. This is where the scraper comes into play.
Just as it sounds: a scraper is a solid tool that can be either sharp or curved to fit around the bars of the grate. You can use it to scrape hard, baked-on leftovers that the brush couldn't tackle alone.
You can find many brushes on today's market that feature a built-in scraper for just a few extra bucks. Trust me, these combos are handy!
Features of a Poor Grill Brush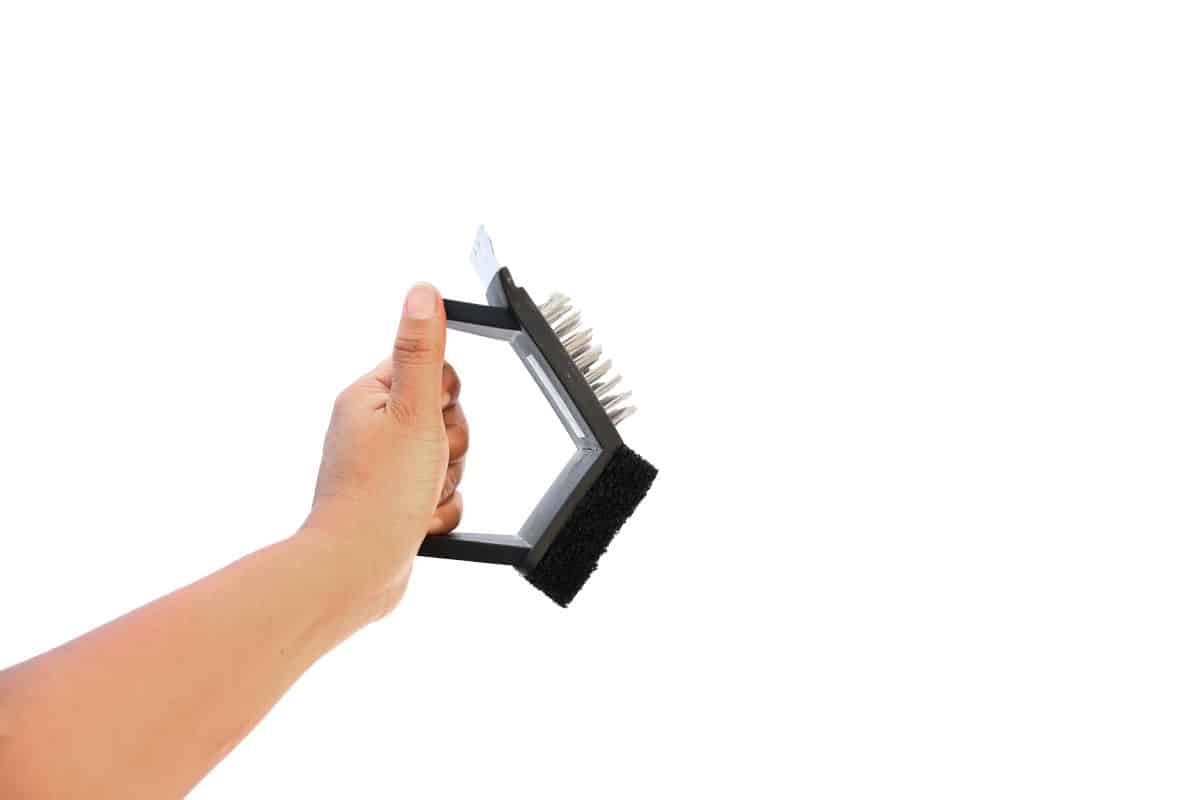 Above, we've discussed what makes the best grill brush, but certain things should be avoided:
Plastic Close to the Heat
Cheaper grill brushes will often feature plastic handles. Although plastic handles are fine, plastic features that run down the brush's shaft aren't good.
Plastic melts — another fun-fact! No matter how careful you are, it might accidentally touch the hot grill and parts of it will melt.
Melted plastic and hot dogs are not a nice combination!
Unnecessary Add-ons
Gimmicks are a huge part of today's market, and while some might be useful, others are just plain unnecessary and should be avoided.
Anything from "robot grill cleaners" to plastic brushes with an attached squirt bottle — should we do the math here? Bristles will rust from the water, plastic will melt from the hot grill and the water can freeze in the winter.
If anything seems like a hokey gimmick, avoid it! We can only recommend a built-in scraper; there's no gimmick in that.
Best Grill Brushes: Bristle Free, Scrapers, and Versions with Bristles
During recent years, there have been too many cases of loose bristles finding their way onto the grill and into the stomach of people who then require surgery.
But, by choosing high-end, top-quality grill brushes, this issue becomes less of a problem as a well-built brush won't have loose bristles. However, the same can't be said for lower quality products.
There are a few precautions to take, including wiping the grates with an oil-soaked towel as well as inspecting your grates to ensure they're bristle-free. In saying that, the safest way to clean your grates altogether is by avoiding bristles.
But having said that, some of us do still like bristles, and there are some good products out there.
So below, you will see our favorite bristle free brushes, scrapers, combination devices, and some brushes with bristles toward the end of this guide.
KONA 360 CLEAN, Bristle Free Grill Brush
Top Pick
Bristle free design for those who do not want to risk it!
Safe and correct to use on all grate mterials, including stainless steel, cast iron, and porcelain coated.
Will outlast the vast majority of 'bristled brushes'
Great length in the handle to keep your hands away from the hot surfaces.
5 year manufacturer warranty – Kona stands behind their products!
The Kona 360 clean grill brush is a bristle-free brush that's ideal for grillers who worry about loose bristles and want to avoid damaging their porcelain or ceramic-coated grates.
Instead of bristles, this brush consists of a continuous spiral of metal. This effectively makes its way in and around the grates effortlessly. It's also much gentler on coated grates.
The long handle and leather strap are nice details for ease of use and storage.
The manufacturer fails to disclose what material it's made of. We can say that if it isn't stainless steel, it can rust easily.
Pros
Long and sturdy handle.
Safe, bristle-free design.
Gentle on any grate surface.
Metal hook for easy storage.
10-year guarantee from the manufacturer.
GRILLART Grill Bristle Free Brush and Scraper
Runner Up
Bristle free design – No change of ingesting loose wires.
A wide scraper on top to hit those hard, baked on tough to clean spots.
Flexible deisgn, gets all around grill grates for a fuller clean
Built to last, and can be expected to outlast most bristled brushes by 25%
100% money back satisfaction guarantee
Bristles aren't always enough; therefore, many grill enthusiasts opt for grill brush and scraper combos. These are quick to get the job done, but finding the right one is important.
This grill brush and scraper form Grillart is the ideal choice for anyone wanting a combo. It's bristle-free, durable and made of hard-wired stainless steel.
Both the brush and scraper are broad and thick, enabling you to get greasy gunk off of the grill grates quickly. Another plus is the flexibility of the brush and scraper — as you're cleaning, they will ease their way between the grates.
You can easily use this cleaning duo on any type of grill and smoker. If appropriately used according to the manufacturer's instructions, they won't cause any damage.
The 18-inch long handle is made of durable plastic and won't melt. The length of the handle ensures your hand is far away from the hot grates at all times.
Grillart recommends preheating your grill before cleaning. Once it's warm, use the scraper to remove gunk and debris — dip the brush in water and finish off by scrubbing the grill grates.
Pros
Flexible brush and scraper combo.
Bristle free.
Thick and wide design for better coverage.
The 18-inch long handle.
Cons
Might not work as efficiently on wider grates.
If you're after a brush and scraper combo, this Gillart is an excellent choice. It's durable and lightweight and gets the job done quickly and effectively.
Grillinator Dual Direction Bristle Brush and Scraper
Premium Pick
The Grillinator barbecue grill brush and scraper combo is a high-quality product. It's made of durable materials and built to last — it has a replaceable head that you can change when needed so you won't have to buy a new brush.
It comes with a lifetime guarantee and stainless steel handles with a contoured grip for added comfort and security.
The bi-directional head is probably the most attractive part of this brush. It features two sets of bristles arranged in an upright design, as you stroke the grates, it cleans in two directions simultaneously. This will potentially enable you to cut cleaning time in half.
The bristles are tightly bound and very rarely come loose — it's still important to inspect the grill prior to cooking.
It features a long 18-inch handle that keeps your hand at a safe distance from the hot grates — it also has a built-in bottle opener — because why not?
At the tip of the brush is an effective scraper that removes baked-on gunk and residues.
Pros
Durable stainless steel design with a lifetime guarantee.
Cleans in two directions in one go, making it more effective.
Long handle reduces the risk of burns.
Contoured, comfortable grip handle with bottle opener.
Integrated scraper
Cons
None – it's hard to find anything bad to say, try it for yourself.
A&D BBQ Tools Rust Proof Grill Brush
Recommended
The 18-inch long handle is what drew me to this brush in the first place. But, the pros don't stop here: it also features stiff and secure wire bristles, it can be hung and features a metal handle.
It has a unique design with three brush heads. This effectively increases the surface area you're able to clean, potentially cutting cleanup time in half.
I have noticed a few flaws, though. One, the leather strap included appears to be a bit flimsy and it might not last for long. Additionally, the metal handle is neither galvanized nor stainless steel, so it might rust if left outdoors.
Pros
Long handle with metal feature.
Secure bristles that stay in place.
It can clean a large surface.
Cons
Flimsy leather strap may not last long.
Metal handle might rust.
Weber 6494 12-Inch 3-Sided Grill Brush
Recommended
Weber has been in the grill business since George Stephen invented the first Weber Kettle in 1952 — so we can't make a grill list without Weber!
This 12-inch 3-sided brush comes with stiff, sturdy bristles, a durable handle with a metal end as well as a hefty leather strap.
The unique design enables you to use three sides while cleaning, simply tilt the brush slightly to reach more difficult angles.
With all the pros comes a con — Weber claims the handle is 12 inches, but they mean the total length of the entire brush. This means the handle itself is slightly shorter than expected, so be careful not to get too close to the grill grates.
Due to the size of this brush, it might be better suited for a smaller travel grill. The short size makes it easy to pack and take with you.
Pros
Sturdy bristles.
End of handle is metal.
Durable leather strap.
Compact size ideal for camping.
Cons
The brush is on the shorter side, so be prepared and maybe wear grill gloves.
Best Wooden Scraper – Great Scrape Woody Paddle Grill Scraper
Recommended
Although wooden scrapers might seem outdated, they are still a prevalent tool for BBQs. This scraper from The Great Scrape is made of hardwood and equipped with a long handle that protects your hand and fingers as you clean.
Measuring a whopping 20 inches in length, this scraper is one of the longest options available. There are other widths and lengths available as well.
The length of the handle gives you ample room to use both hands as you're cleaning for a better grip.
What I highly appreciate about this scraper is the material. It's a blend of beech and red oak woods, topped with an all-natural mineral oil coating. The oil is free of toxins and perfectly safe to use around food. The material and coating make this scraper an excellent natural option.
As we explained in the guide above, wooden scrapers will mold itself to fit the grates of your grill — so don't be disappointed by the straight design. The extra thin tip will help to speed up the process of forming the grooves with the first use.
A slight downside to wooden scrapers is that at some point, you'll run out of material. Luckily, the manufacturer thought ahead and made the scraper slightly thicker further up the paddle. This will slow down the formation as you reach this point and you'll get more use out of the scraper.
Great Scrape recommends that you heat the grill until it becomes really hot. Begin to work in straight lines, back and forth while applying firm pressure to help the formation of grooves.
Repeat this multiple times — but make sure you align the grooves every time. If not aligned properly, it will form several grooves and the scraper simply won't work effectively.
Pros
Long handle gives you a better grip.
Long-lasting as the groove formation slows down further up the scraper.
Natural material and coating, safe around food.
Cons
The unique shape can be tricky at first.
It might not last for long if you're a frequent griller.
Wooden scrapers are great, and this Woody Paddle is even better. Once the grooves are in place, it will effectively remove gunk from your grill without leaving toxic residues behind.
Grill Daddy Pro Grill Brush
Recommended
MADE IN THE USA: Each of our BBQ accessories are made from recycled materials here in the U.S. Show your American spirit and get your grill on!
THE PRO DESIGN: We didn't invent grilling, just a mess free griddle. Our pro version of our popular original Grill Daddy steam brush grill cleaner is an invention from grill cooks who struggled with the same food and gunk you do, and now has a longer,...
USER FRIENDLY: Each grill brush has a safe bristle lock, dishwasher safe brush heads, and easy grip handle designed to protect your hands from the heat.
EASY FILL UP: Just open the top reservoir and add water. Our Grill Daddy steam cleaning brush is ready to clean up messes in seconds.
As the name suggests, Grill Daddy specializes in products made explicitly for the grill. This focus allows the company to provide the best products available, keeping in mind the specific needs of their consumers.
For the Grill Daddy Pro, this takes the form of the only steam cleaning brush that we saw.
Unlike literally every brush on this list and all the ones we could find, this is the only brush that comes with a built-in water reservoir.
This is important because the entire handle is hollow. Once you fill the reservoir, the water begins to drip through the brush and onto the grill's surface. If the grill is hot, this will cause the water to evaporate into steam which will ultimately help loosen the gunk on the surface of the grill and make it easier to clean.
Aside from serving as a reservoir for the water, the Grill Daddy Pro's handle is exceptional for a couple other reasons as well.
For one, this is one of the largest handles that we encounter which will help keep your hands a safe distance from the heat of the grill as you clean it.
On top of a good length, the Grill Daddy Pro also features a double-handled design which provides plenty of leverage, so you can really lean into the stroke to remove tough, baked-on grease and grime.
Pros
Uses steam to help clean
Double handle for better leverage
Long handle for quicker cleaning
Made of stainless steel
Dishwasher Safe
Safe for porcelain, cast iron, and steel
Cons
Not suited for infrared grills
Uses stainless steel bristles
More expensive than most
Grillbot Automatic Grill Scrubber
Recommended
World's First Automatic BBQ Grill Cleaner Brush - Say goodbye to the hassle of cleaning a dirty grill. Cook all you want and let our BBQ grill cleaning brush bristle free with Nylon brushes do all the dirty work for you! Use this grill brush for outdoor...
Get Rid of Stubborn Grease & Char – The Grillbot is a powerful grill scrubbing tool that features three brushes that spin simultaneously to provide thorough cleaning and scrubbing without the elbow grease. Get the gunk off and cook clean, healthy food...
The Perfect Gift for the Pit Master in Your Life – The Grillbot grill cleaning brush is an essential gift for BBQ lovers. An original gift idea for the men in your life. This holiday seasons gift the Grillbot to your father, grandpa, or brother. Ideal...
If you are looking to clean your grill but do not want to have to go through the hassle of actually cleaning it yourself, then you are in luck.
The Grillbot is the only automatic grill cleaner that we found. This is a bit surprising considering the product was released at the beginning of 2014.
That said, there are some serious considerations that need to be taken into account before you sign on to this grill brush.
Specifically, the Grillbot is not designed to handle heavy-duty cleaning. By that, we mean that the Grillbot will not be able to handle baked on char and gunk.
Instead, this grill brush is meant to be used immediately after the surface of the grill cools where the mess has not net hardened but the temperature has dropped.
In that instance, using the Grillbot is as easy as pushing a single button. It also has an LED indicator light to tell you when it is on and when it is running low on battery life.
Thankfully, the Grillbot uses a rechargeable lithium battery, so you do not have to worry about a continued, additional expense. The only potential problem with this is that the battery should be recharged fairly often.
Pros
Automatic grill brush
Easy to operate
Has built-in timer
Rechargeable lithium battery
Multiple cleaning cycles
Dishwasher safe
Cons
Most expensive brush reviewed
Not for heavy-duty cleaning
Small capacity battery
Conclusion
With so many grill cleaning tools available, it can be tricky to know what's best for you. This shortlist of the very best brushes on the market will hopefully help you in the right direction.
Always consider the size and shape of your grill grate when choosing a tool as well as how much of an effort you're willing to put into the job.
A grill must be maintained regularly to ensure it's clean and free of rancid grease and carbon. By using a quality cleaning tool or brush, you can keep your grill clean and ready for your next grilling adventure.
Of course, always consider the durability and safety of the tools you're buying. If there are bristles, make sure they're sturdy and won't come loose as you're cleaning.
Although I'd add any of the above tools to my deck, my overall favorites are the Kona Safe Barbecue Brush and the Grill Grubber Brush. These are the best grill brushes of this roundup.
Because they're bristle-free, there's zero chance for anything to come loose and make its way onto your food. The long and sturdy handles are also attractive and make them look more robust.
No matter your choice, any of the brushes and scrapers above are sure to do a thorough job in keeping your grill spotless!