In this article we review some of the best lump charcoal available to home smokers and grillers.
Hardwood lump charcoal is one of the most commonly used fuels in grills and smokers. We're going to see how it's produced, what other ingredients are involved and how it might affect your food, before recommending the best products for your own use.
You may not put as much effort and thought into the lump charcoal you buy for your grill, but we're here to change that.
Small details such as the charcoal you grill with will impact how your food cooks and its taste.
We've also created a detailed guide on finding the best lump charcoal for you and your next cookout by showing you what you should look for and what you should avoid when buying.
This is a guide to lump charcoal only. Check out our guide to the best charcoal briquettes if that's your preferred fuel, or you wish to see what's available on that side of the fuel fence.
Bottom Line up Front: The Best Lump Charcoal Reviewed in this Guide
The above links take you to current prices, customer reviews, and further information on Amazon.
What is Lump Charcoal?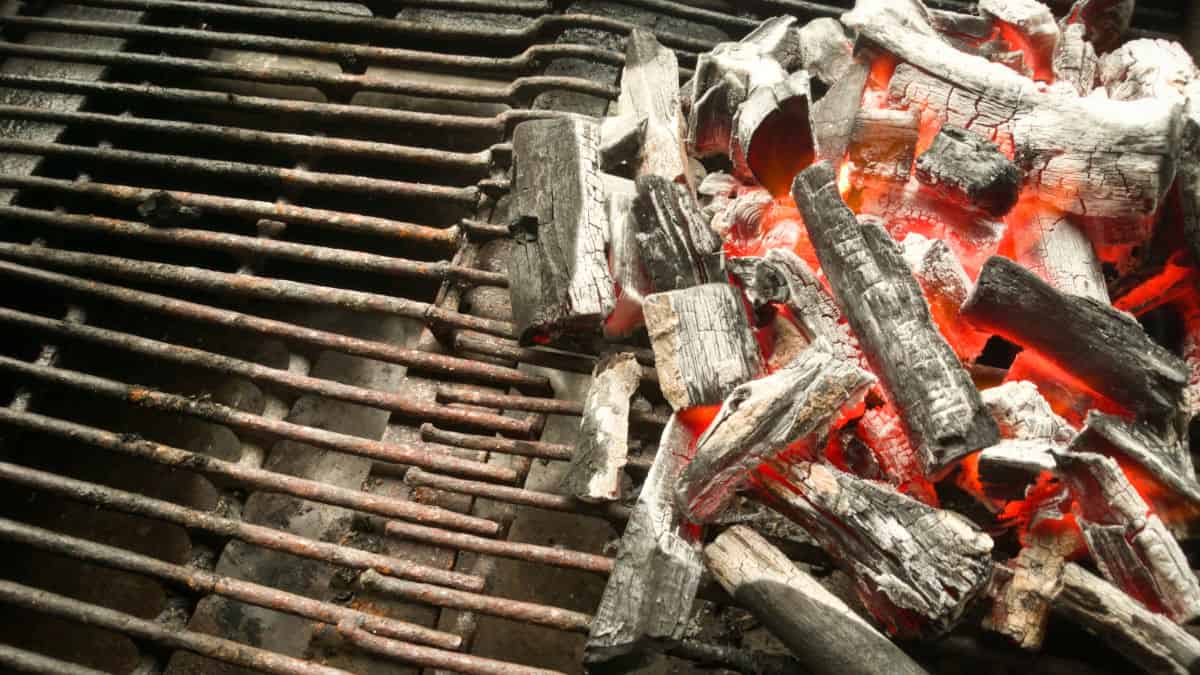 Charcoal is a natural product made of hardwoods. The wood is burnt slowly in an oxygen-free kiln to burn away all organic material, in an attempt to leave pure carbon.
Charcoal contains anything up to 90 percent carbon and looks similar to charred or burnt wood, unlike briquettes that are pressed into uniform shapes.
During the burning process, the wood is deprived of all impurities, including moisture, oils, sap, and volatile alcohol in the wood — leaving behind pure, black gold ready for the grill.
Although this might sound pretty simple, it's anything but.
The process of making the best lump charcoal is very labor-intensive and requires large amounts of wood. In fact, to make just ¼ ton of charcoal, manufacturers will burn 1½ tons of wood.
But, that's not to say that manufacturers cut down forests simply to fill your grill for the summer.
Manufacturers of natural hardwood lump charcoal will usually use tree limbs, scraps from sawmills, and short logs that can't be used elsewhere
For the grill, lump charcoal is the purest and most natural option as it doesn't contain any additives or fillers, making it the top choice for many grillers.
Why Use Lump Charcoal For Grilling
Lump charcoal is deprived of oxygen and other materials and is, therefore, highly responsive to oxygen when burnt. This makes the charcoals burn quickly and hot; they're very responsive to any changes you might make by adjusting the air vents in your smoker or grill, making it easier to control the temperature.
Furthermore, lump charcoal produces less ash compared to briquettes, but they will burn quicker. In saying that, lump charcoal is the ideal choice for anyone who wants to get the grill started quickly and have glowing coals in minutes.
When you want to achieve a beautiful sear on the outside and juicy center, lump charcoal is ideal as they give you that fast high-heat cook. Depending on the type of hardwood the charcoal is made of, the lumps can burn as high as 1200 degrees Fahrenheit.
What about smoking low n slow-style? Lump charcoal can easily be used to smoke pork chops, chicken, and even brisket — but it does require some finessing of the air vents to adjust the airflow and create a consistent temperature
You'll find that most grillers and pitmasters prefer lump charcoal to briquettes because it's 100 percent natural. The charcoal will add a nice smoky flavor to the meat, and it burns cleaner compared to briquettes that are filled with various ingredients.
Lump charcoal is excellent for any griller looking to add a natural smoky flavor to their meat or food. Raw wood chips or chunks can sometimes be too intense for certain foods, which is where lump charcoal has the upper hand.
What Makes Good Quality Lumpwood Charcoal?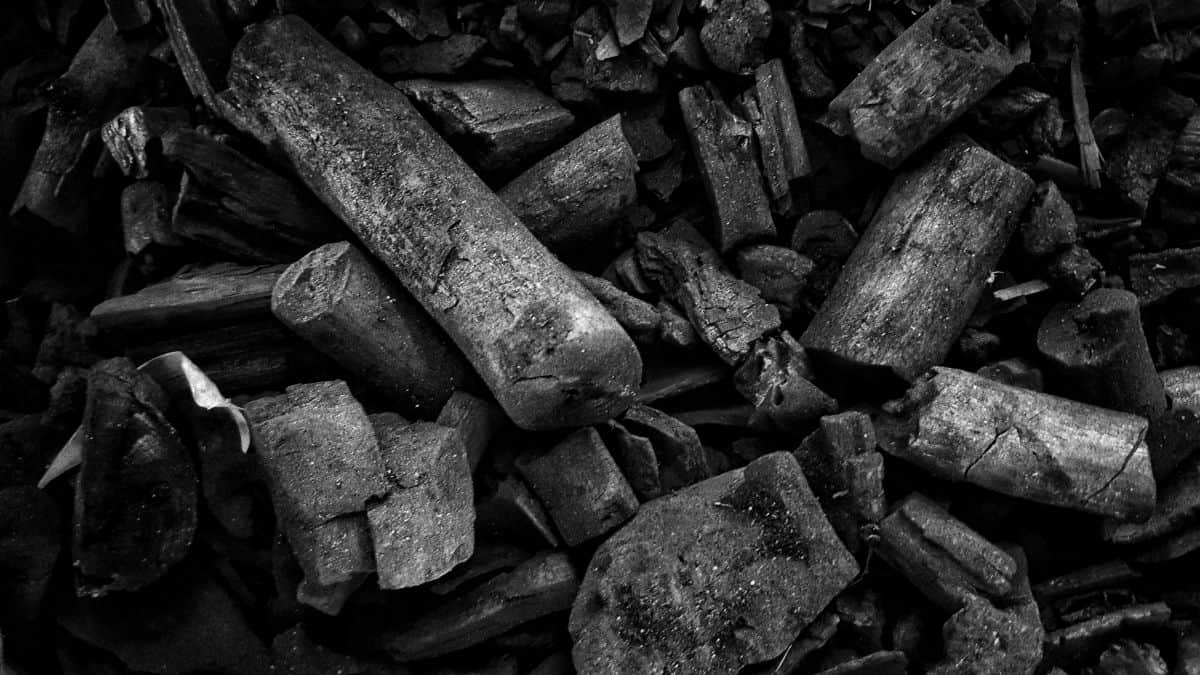 Lump charcoal should be made of all-natural hardwood and be 100 percent pure — that means free of chemicals, binders, fillers, and other additives.
Good quality lump charcoal will come in similar-sized pieces with little dust in the bag. Superior-quality lump charcoal comes in larger pieces that will burn for longer and produce small amounts of ash.
Because of where manufacturers sometimes source their wood, you might find pieces that look like they belong in a cabinet — that's simply because it probably was sourced from a sawmill. That's perfectly fine, unlike other manufacturers that depend on foreign sources and forests.
Sparking is another thing to look out for. Sure, a few sparks in the grill makes a great show for your guests on the 4th of July — but sparking in the grill isn't something you want as it can be dangerous.
Good-quality lump charcoal will have minimum sparking, meaning it's made of thicker wood that burns longer.
Poor-quality lump charcoal might also have a few unwanted items in the bag, such as dirt, raw wood and even nails.
Sustainably Sourced vs. Rainforest Destroying Lump Charcoal
When buying lump wood charcoal, it's crucial to consider where the brand sources most of its wood. In general, U.S manufacturers will use sustainable sources to help protect forests around the globe. However, the same can't be said for imported brands.
What you should look for is the FSC Certification, Rainforest Alliance or other local compliance regulations.
It's important only to buy locally-sourced lump or lump that's environmentally sustainable. This will help reduce illegal deforestation and protect not only forests around the world but also wildlife.
Burning Temperature Depends on Wood Type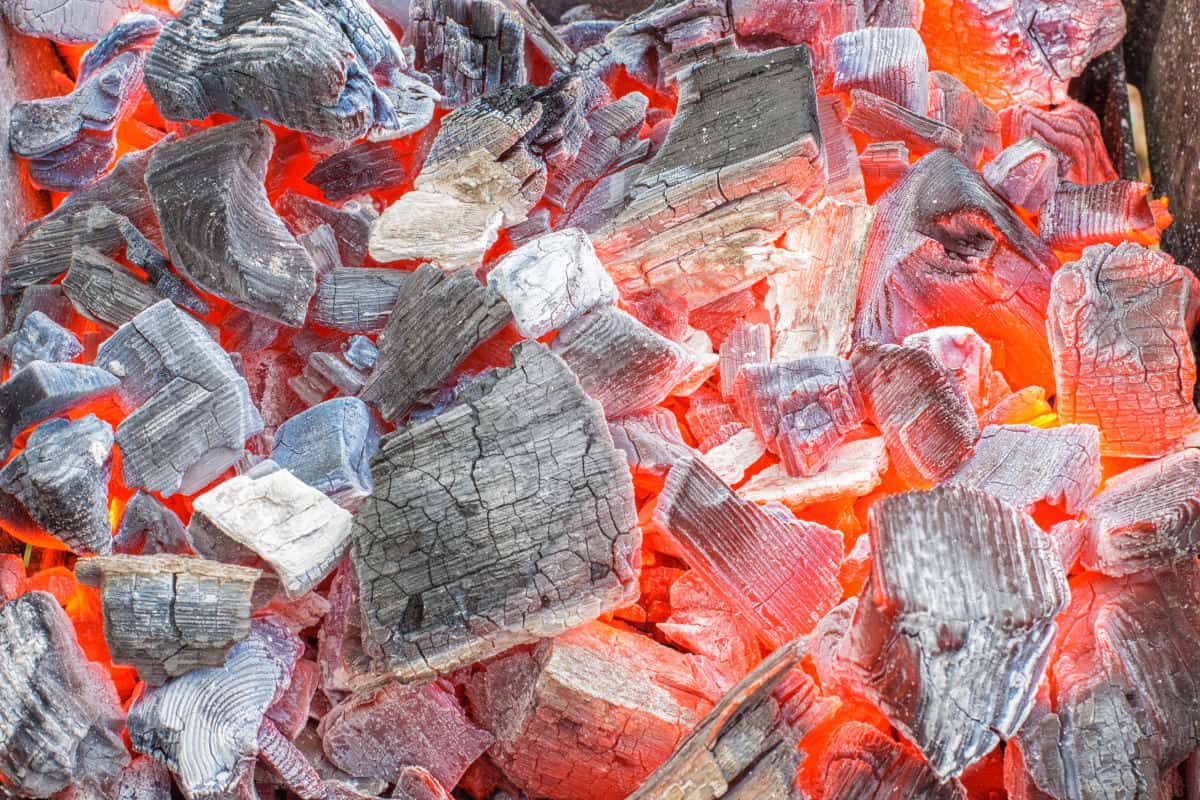 Even though most lump charcoal looks the same, they do vary depending on the wood. The Naked Whiz studied how the temperature ranges between different common lump species, here's what they concluded:
Maple – 1200 degrees Fahrenheit.
Apple – 1190 degrees Fahrenheit.
Cherry – 1099 degrees Fahrenheit.
This should be considered as you're setting up your grill. You might need to adjust the air vents when using different coals to get the same consistent temperature.
Mixed Hardwood Blends
You'll find that most lump charcoal is made of a mixture of hardwoods, which depend on what was readily available to the manufacturer.
The Cowboy brand claims to use "southern hardwoods" in its Southern Style Hardwood Blend charcoal. In the Southern U.S alone, around 41 species of hardwood trees are used in charcoal with 21 varieties of oak — meaning you'll find southern hardwoods in nearly every bag sold within the U.S.
Now, Southern Hardwood trees aren't the only ones used in charcoal — you can also find ash, fruit trees and hickory. Although, these trees are more often used in cabinetry and furniture, which is why you'll often find molded pieces in your bag of charcoal.
Go Look For Big Lumps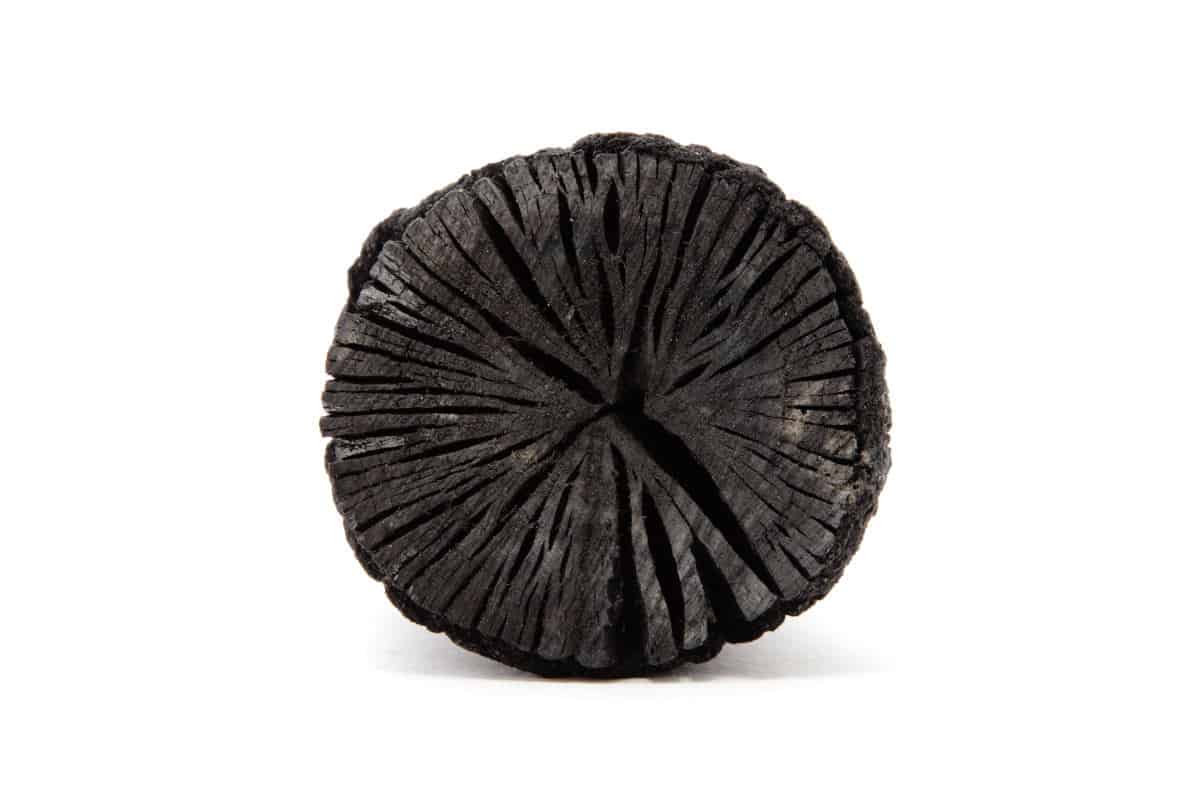 Larger pieces of lump charcoal will burn longer and hotter. Consider the consistency of the lump sizes in each bag, and in the future, choose the brand that provides the largest pieces.
You should also consider the amount of dust you'll find at the bottom of the bag. The dust is useless and can cause sparking when grilling and even clog the air vents in your grill.
What to Look for When Buying
Again, look for large chunks in uniform sizes. The bag should mention "100% Natural" or "Hardwood Lump Charcoal."
Authentic lump charcoal will look like black, charred, or burnt pieces of logs and branches — they should NOT look like nuggets.
Avoid brands that sell bags with excess dust or excessive amounts of small or broken pieces. This could indicate the bag was mishandled, or it simply means that the brand is selling low-quality charcoal.
If you're feeling unsure of which brand to choose, we've made a quick list of four of our favorite brands. These are high-quality and expert-tested.
The Best Lump Charcoal for Smoking and Grilling
We searched high and low to find four of the best lump charcoal brands available in the U.S. They're trusted brands that deliver good quality lump charcoal to grillers across the country.
Cowboy Hardwood Lump Charcoal – 20-Pound Bag
Top Pick
Cowboy charcoal is a relatively new kid on the block, and is rapidly rising in popularity getting rave reviews and becoming quite popular…for very good reason.
Made from a 100% hardwood blend, it's made from sustainably sourced oak, hickory and maple, three absolute classic hardwoods in the grilling and smoking world. The blend will add a nice and familiar smoky flavor to your food.
It's reportedly easy to light, and can reach cooking t6emperatures within 15 minutes. It burns clean and hot, and is suitable for both high heat grilling or low n slow smoking, suitable for kettle grills, kamados, any kind of charcoal smoker.
Some of you might like the fact it's made in the USA, is environmentally friendly and from renewable sources.
Buyers have praised the consistency in size and performance, though occasionally – as with all lump charcoals – a few have complained of too many small pieces.
But be aware this usually down to the shipping and the courier services, and these complaints have been few and far between.
Pros
100% natural, with zero chemicals or additives
Burns hot and clean for good searing temps, but also great and economical for smoking.
Lights quickly and reaches cooking temps in 15 minutes typically
Made from sustainable sources.
A hardwood blend of oak, hickory and maple.
Heat treated to ensure low moisture content, and to prohibit growth of fungi or any other nasties.
Cons
Burns faster than briquettes, so on high heat grilling will use more.
Not a distinct, individual flavor as made from a blend of hardwoods…and may actually vary.
Cowboy charcoal is rapidly rising in popularity, gets rave reviews and is a good choice for a mild flavored charcoal to grill and smoke with.
For current prices and more info, follow this link:
Royal Oak 100% All-Natural Hardwood Lump Charcoal
Budget Friendly
Royal Oak is a favorite among many grillers — the brand itself claims that all charcoal is sourced from renewable oak, maple, hickory and walnut hardwoods.
We did review a bag, and it seemed to have minimal dust, and it consisted of a mixture of medium, small and large pieces that work well in both ceramic and Kamado grills.
Royal Oak lists two brands on its site, 100% All Natural Hardwood Lump and Star Grill Lump. However, we did find it rather strange that both brands share the same description.
Apart from that, Royal Oak also packs a number of other brands, including Grill Time, Chuckwagon, Real Flavor (Wal-Mart), Big Green Egg, Nature-Glo and Best Choice.
Keep in mind that some of the brands don't carry the USA logo and could be sourced from Central America, meaning they aren't following sustainable practices.
Pros
Easy to light and get up to cooking temp.
Burns hot and fast for high heat grilling, has longevity for low n slow cooks.
Low amount of dust and chips.
Wallet-friendly
Cons
You get few large pieces but mostly small to medium-sized charcoal.
Rockwood Premium All-Natural Lump Charcoal
Runner Up
If you want to use locally-sourced charcoal, Rockwood hardwood lump charcoal is the go-to. The brand uses premium Missouri hickory, oak, and maple in its charcoal, and everything is sourced from Missouri exclusively.
We like this lump charcoal because it produces little ash, but burns for long — both dust and chips in the bag were below 5 percent, so we're happy about that.
A downside is that it's harder to light than other brands, so it takes a little longer to get the fire going. But, the smoke is very mild and subtle, ideal for fish or poultry.
Pros
You get mostly medium-sized pieces, but they are uniform in size.
Adds a nice flavor to food
Environmentally friendly.
Cons
Trickier to light than other brands, so you'll need a bit more paper in your chimney starter.
Some users complained of inconsistency in size – but often, this is the couriers fault.
Jealous Devil Lump Charcoal
Recommended
WATERPROOF & RE-SEALABLE BAG: Industry-leading waterproof / dustproof packaging with carry handle and zip top closure
100% NATURAL: Pure, ultra-dense South American hardwoods - no chemicals, fillers, or scrap material
PRO / RESTAURANT QUALITY: No sparking, no popping, and low ash - ideal for any grill, smoker, or kamado
SUPERIOR BURN: Twice the cook power (over 7000kcal/g), hotter temperatures (max over 1170F), and far longer burn time (4+ hours open grills / 20+ hours in smokers)
PURE FLAVOR: Mild flavor-enhancing aroma enhances flavor profiles without overpowering them, whether you're cooking whitefish or brisket - use alone or blend with your favorite wood
Jealous Devil all-natural hardwood lump charcoal is made from a tree known as Quebracho Blancho hardwood in Paraguay. It's an incredibly dense wood that's also commonly known as "ax breaker," I think you get why.
Because it's so dense, it heats to very high temperatures of up to 1172 degrees Fahrenheit, to be precise. This temperature is significantly higher than most other charcoal.
Another plus that Jealous Devil charcoal gets is that the coal doesn't spark or pop as it burns, unlike other hardwood types.
Jealous Devil mostly sells large 35-pound bags to restaurants, but it's possible to purchase smaller amounts online. You get a high percentage of medium-sized pieces, giving you a more consistent and long-lasting burn.
The smoke is a bit stronger compared to oak, which some people like, whereas others find it too overpowering.
Pros
Burns very hot.
Mild flavor, not at all overpowering
Custom packaging helps prevent pieces getting broken, and keeps them dry.
Cons
One of the pricier fuels on this list.
It can be trickier to light than some other brands.
FOGO Super Premium Hardwood Charcoal
Recommended
No products found.
If you're looking for a brand that provides larger charcoal pieces, Fogo is an excellent choice. Its wood is sourced from Central American oak woods and trimmings, and the manufacturer hand-picks the largest pieces for export.
In the bag, you'll find about 85 percent medium to large pieces, giving you a longer burn in any type of grill or smoker.
Fogo charcoal contains under 5 percent dust and chips, which is quite low compared to other brands and the reason why the brand is a popular choice among restaurants.
However, the charcoal does burn at a lower temperature of 859 degrees Fahrenheit — although it's lower than others, it's still plenty for most grilling and smoking purposes.
Pros
The density gives you a longer burn.
You get mostly medium to large pieces.
Cons
Package quality is inconsistent as some bags contain more dust and chips compared to others.
Kamado Joe Big Block Xl Lump Charcoal
Recommended
Owning a kamado grill is like belonging to an exclusive club. From there, it gets even more exclusive, with owners dividing themselves by manufacturer. For the ultimate exclusivity, you buy the charcoal that matches your grill. Kamado Joe owners, this bag is for you.
Actually, charcoal is charcoal; anyone can use it, whether they own a KJ or not. What's great about this charcoal is the size of the lumps. Inside the 20-pound bag is a mix of lump sizes, including some smaller bits for easy start-up and lots of huge chunks for long, steady burning. That's exactly what you need for an extended smoke session.
The wood used is sourced from Argentina – Guayacan, Guayaibi, Mistal, and White Quebracho. I've never heard of any of these trees, but they are purported to burn longer than typical charcoal woods. Importantly, it's not sourced from scrapped furniture or other sketchiness. This is 100% pure, natural hardwood.
Pros
100% natural hardwood sourced from trees, not scrap lumber
Burns long and clean for extended sessions
Size and variety are ideal for kamados and large charcoal grills
Saves you money long-term, since you'll use less charcoal
Cons
Made from wood unfamiliar to many grillers, so you may want flavor wood, too
Oversize lumps may be too big for smaller charcoal grills
Kamado owner or not, if you prefer natural lump charcoal to charcoal briquettes (and there are many reasons to do so), treat yourself to a bag of this stuff. Click the link to snag your bag:
Final Thoughts
Lump wood charcoal is the most natural way to grill your food — it's also the fastest and the hottest. We love lump charcoal as it gives a subtle and natural smokey flavor that complements various meats and vegetables very well.
When choosing a brand, it's essential to consider its sustainability. You don't want to accidentally support a brand that knowingly cuts down the rainforest or other endangered areas around the world.
Additionally, the brand should deliver consistent results — that include medium to large-sized pieces and little to no dust and chips.
If you feel like you learned something today, do pass this article along to friends and family. As always, leave a comment in the section below if you have any questions or suggestions.