In this article, we've found the best portable gas grills on the market, and share them with you after taking a look at what you should consider before settling on the right model for you.
Because if you want to enjoy grilled food on your next camping trip but don't want to deal with the mess of ash and charcoal, a portable gas grill is an ideal choice!
Gas grills are super easy to fire up, manage, and clean since there's no charcoal to worry about. Sure, you won't get the same taste as from a charcoal grill, but a few wood chips can change that in an instant.
If you're ready to get the grill started, let's go!
Bottom Line up Front: The Best Portable Gas Grills Reviewed in this Guide
The above links take you to current prices, customer reviews, and further information on Amazon.
Finding the Best Portable Gas Grill
With such a wide selection of portable grills available, it can be challenging to know which one is the right choice.
For this very reason, we've come up with some essential points one should consider while shopping for a new grill.
The grill has to be up to par — the last thing you want is having a grill that doesn't work when out camping or tailgating with your mates.
This guide discusses only smaller, portable grills. If you actually want a bigger grill to cook for larger parties, or as a permanent feature in your backyard, please check out our guide to the best full-sized gas grills.
Overall Build Quality
Sure, a portable gas grill is probably only used during the summer when camping or occasionally when needed — but that doesn't make build quality any less critical. In fact, when you're camping, you need a reliable grill — a flimsy 'cue ain't gonna cut it.
Here are a few essential things to add to your checklist:
Do the parts fit tightly?
Does the grill have any plastic parts that might not hold up?
Are the hinges solid?
Does the lid fit tightly? Is it lined up with the firebox?
Does it have sturdy handles/handle?
It's also worth looking into the availability of replacement parts. Things happen, maybe a bump in the road caused the grill to tumble over, or you dropped it by accident while carrying it from the car.
Build Materials
Low-grade materials will alter the grill's build quality; however, we also need to consider how the material affects the grill's overall weight.
Important parts of the grill such as the firebox and lid should be made of a thick material to retain heat, but also thin enough not to add too much weight. Cast aluminum is an excellent choice since it's lightweight yet thick and has good heat retention.
The grates are probably the part of the grill that takes the most beating during a cook; therefore, top-quality materials are essential.
We recommend you choose cast iron or stainless steel — both heavy-duty materials. Plated grates, on the other hand, won't hold up — as they chip or begin pitting, food will stick to them.
Latches and hinges should be made of a rust-resistant material since the grill is likely to be exposed to the camping elements.
Standard burner materials include brass and stainless steel — these materials are durable and resistant to corrosion. They also won't burn out. Aluminum burners are a no-go; they won't hold up and will burn out quickly.
How do You Light the Grill?
One of the biggest benefits of a gas grill is how easy it is to get going. Most grills in today's modern world feature automatic/electric, push and twist ignition or push-start.
If you're looking at a gas grill that requires matches or a lighter for manual lighting, keep looking.
BTUs and Heat Output
One common term you'll encounter when looking at gas grills is BTU, which stands for British Thermal Units. In the gas grill industry (even the gas stove industry), BTUs are used to determine how powerful the unit is.
However, this isn't wholly correct since BTUs is the amount of fuel burned, not generated heat.
Nevertheless, how hot a grill can get and the BTU rating is closely related, making it an effective way to determine the burner's power.
It's actually quite easy to figure out — the higher BTUs, the hotter the grill can go. It's also an implication of how fast the grill will heat up.
Portable grills generally don't have the same amount of power as regular, full-sized grills. However, we found that a BTU rating of 10,000 and above is excellent for any cooking without the grill using much fuel.
Controllability
Preferably, a gas grill should have a few settings for you to set a precise temperature. You should also be able to control just how hot it gets on the inside.
Two-zone grilling isn't always possible in a portable gas grill, considering most will have only one burner for the sake of compactness.
Cooking Surface Area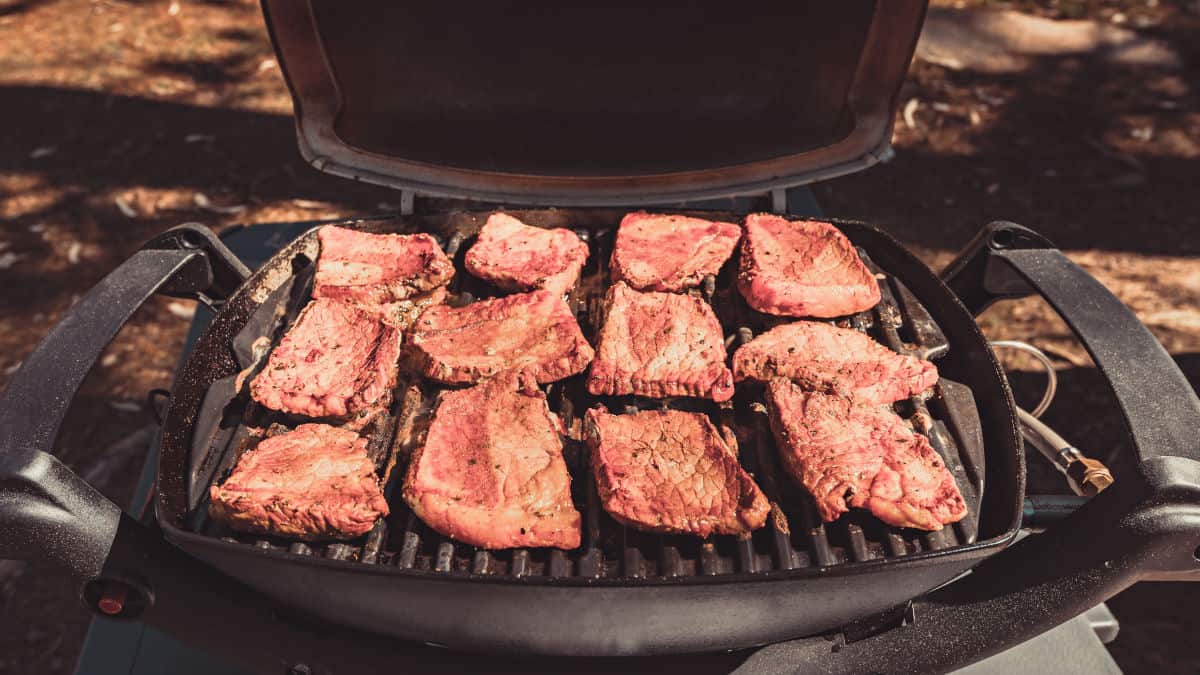 Portable grills are compact in size; otherwise, they wouldn't be portable. But, that doesn't mean you need to settle for a tiny grill that'll only hold a few burgers at a time.
Consider how many people you'll be cooking for. Is it just you and your partner? Or are the kids or your friends coming along for the trip as well?
Generally, 100 square inches of cooking space is enough to hold around six burger patties or three 10-ounce steaks.
Additionally, if you're planning on roasting a chicken or other meat in a similar size, lid depth will matter. A flat lid won't leave much room for anything on the grill; therefore, if you're going to cook larger items, look for a more rounded or squared lid that gives you a little more room.
Additional Workscapes
Side tables are super handy when grilling — use them to place your utensils, seasonings and more. But, due to the compact size of portable grills, side tables aren't always optional.
If you do find one with some workspace, make sure it can be detached or folded easily for transport or storage.
Another option you can look for is a grill with integrated hooks to hang tools, dishtowels, thermometers, and more. Hooks won't give you as much added space for work, but they can come in handy when you don't have a safe place to put your tools down, which is a common issue when camping.
Footprint
We've already covered cooking space, but it's also crucial to consider the grill's overall size.
There's no wrong or right answer here since it depends on your preference. How big of a grill are you willing to tow around? Consider how you're traveling and whether the grill will fit comfortably in your means of transport.
Compactness and Portability
As we covered above, build quality and material both play crucial roles in the grill's durability. But, how easy or challenging is it to transport the grill?
Features like lockable lid, telescopic or foldable legs, handles, detachable parts, and more will make it easier to pack and transport the grill.
Some portable grills will even come with a convenient carrying bag — excellent for when you need to walk from the car to the campsite!
If the grill has a lot of features and bits that stick out, it can be challenging to transport as you need to be careful not to break anything. Are the legs and handles integrated? Or simply screwed on and ready to fall off at any given moment?
Price Considerations
Portable grills are significantly cheaper than full-sized monsters, but the budget is still an essential consideration. It's always best to set your budget before beginning your search for the best portable gas grill.
How much are you willing to spend? Think about how often you will use the grill and if it's worth the amount.
Note, we don't recommend buying the cheapest model on the market. This will only end in frustration, broken parts, and no dinner.
On the other hand, it's certainly not necessary to grab the biggest and most expensive grill either — remember, a high price tag doesn't necessarily translate to a better grill, just saying.
The Best Portable Gas Grills of 2022
We're wasting no time jumping straight into some of our favorite portable gas grills.
The grills on our list are all hand-picked and should suit a range of needs and budgets, so you're sure to find a portable grill to your liking.
Best Overall – Coleman Road Trip
Top Pick
Portable propane grill ideal for tailgating, picnicking, and camping
Delivers 20,000 BTUs of heat across 285 square inches of grilling surface
Swaptop interchangeable cooktops allow you to switch grill grates out for griddle and stove grates (sold separately)
Instastart button ignites grill without the need for a match or lighter
Collapsible design is easy to transport and fits into most car trunks
Coleman was founded in 1900 in Oklahoma, making it an all-American brand that's loved and trusted by outdoor enthusiasts around the world.
The brand makes some of the best tents in the industry as well as coolers, lanterns and other essential outdoor gear. But, you can't camp without food — and what better way to prepare your meal than to cook it over a gas grill?
We picked this particular model due to its handy features that make it excellent for tailgating. First of all, it comes with a full-height stand integrated into the grill, and it has a handle and wheels for towing — only a few portable grills have these features. It's a heavy-duty grill that matches the tough reputation of Coleman products.
The grill measures 32 x 35 x 19 inches and weighs in at 44 pounds. It gives you 285 square inches of cooking space and comes with built-in hooks for tools. There are also small tables on each side that can be folded in when not in use.
Now, if you were disappointed by the single burners of the grills above, this is sure to excite you, this grill features two burners, each delivering 10,000 BTUs, so you get 20,000 in total. The two burners enable you to reach high temperatures or make two grilling zones for a more controlled cook, even if you only have a single propane tank.
Similar to the two grills above, the grates are made of porcelain-coated cast iron and provide you with an even heat distribution. We will say, though, the lid is low-profile, meaning you can't fit more than a hamburger or chicken legs with the top closed.
Again, this isn't a lightweight, backpacking grill. It's heavy but great for tailgating when you simply need to haul it to the camping site, parking lot or where you're going to cook.
Pros
Features a cart with wheels.
Folds pretty well for storage or transit.
Interchangeable cooking surfaces.
You get two burners.
Cons
Low-profile lid.
Heavy.
No thermometer.
If you're planning a cookout with your mates where you don't have to carry the grill for long distances, this is an excellent choice. However, if you want a grill that's light and easy to carry, this probably won't suit you.
In saying that, the Coleman Road Trip offer great value for money. It's very well-built and is sure to last you through years of use. We highly appreciate all the thought that went into the design, with the built-in wheeled cart, making it ideal for tailgating.
Weber is a house-hold name in the grilling industry, so it's hard to make a top-pick list without including at least one (or more) Webers.
It's a trustworthy brand, being in business since 1951 when the first charcoal kettle grill came to life. The brand has continued to give grill-enthusiasts reliable products and excellent customer support.
The Q2200 is one of four portable grills the brand has to offer, and it's safe to say one of our favorites. The grill comes with a single burner that generates 12,000 BTUs per hour — the burner has a unique pattern that loops around the entire bottom of the barbecue, giving you optimal heat distribution.
It's powered by a 14.1 or 16.4-ounce liquid propane tank and features electronic ignition that easily allows you to light it up with the push of a button. Additionally, you can control the heat using the variable control knob.
The grill body and lid are made of cast aluminum, making it durable with excellent heat retention. It measures a total of 25.1 x 51.4 x 26 inches and weighs 42 pounds, which isn't the lightest option. It does feature side tables, but these fold up and under the lid when not in use, minimizing the required storage space.
The grate area is divided into two sections, giving you a total of 280 square inches of cooking space, very impressive for a portable model. Furthermore, the grate is cast iron with a porcelain coat for increased durability.
It's not without handy features as the lid is fitted with a built-in thermometer, which isn't common on portable grills. It also features nylon legs and a low center of gravity for increased stability. There's also an optional cart for added height.
If you want a barbecue that can be used to cook all of your meals when camping, just get an optional griddle along with the grill. You can make breakfast pancakes, eggs, and more without worrying about it sliding down the grates — it can even be used for searing.
Pros
It features a built-in thermometer.
Extra space for prep.
Ample cooking space.
Durable construction.
Very stable.
Easy to use.
Cons
Steep price considering it's a portable.
Heavy.
Only one burner, so it's not possible to do two-zone grilling.
We must admit, this Weber grill might not be as portable as other options on the list. Nevertheless, it's excellent for car camping or tailgating where you don't have to carry the grill for long distances.
It's simple to set up and get started with the electronic ignition — it also offers ample cooking space to cook for a large group.
Most Compact – Cuisinart CGG-180T
Great Value
Portable gas grill with 145-square-inch grilling area and foldaway legs
Cooks 8 burgers, 8 steaks, 6 to 10 chicken breasts, or 4 pounds of fish
Powerful 5,500 BTU stainless-steel burner and even-heating porcelain-enameled grate
Aluminum legs and stabilizing feet set up in seconds; integrated lid lock keeps lid secure
Pronounced briefcase-style carrying handle; weighs 13.5 pounds
The grills we featured above are great options for the griller who doesn't want to compromise the cooking space for portability. But, if you value true portability, this is a better match. Maybe you're going backpacking or hiking and need a grill that can fit in a bag; this will certainly suit you.
The masters of kitchen gadgets have done it again, but this time made a super tiny and light grill!
The CGG-180T is built with portability in mind. It has folding legs that sit nicely underneath the grill's body, and there's an oversized handle that enables you to carry it similar to a briefcase.
It weighs only 13.5 pounds, making it a breeze to carry and the lightest option on our list. Most of its weight is probably due to the porcelain-coated cast iron grate, which we aren't complaining about. It's a heavy-duty grate that can hold up to frequent use.
As you might've figured, there's a limited cooking space on this grill, with a total of 145 square inches. It measures only 16 x 16.5 x 13 inches overall but is big enough to hold eight burgers at a time — although, we're going to guess they must be sliders and not full-on hamburger patties.
The grill is made of stamped steel, which isn't known for having good heat retention, but it works fine considering the size.
Another slight issue is the single 5,500 BTU burner, it's not the most powerful and might take a while to heat up. In saying that, it's sufficient for basic grilling and searing.
Pros
Light.
Heavy-duty grate.
Electric ignition.
Optimal portability.
Cons
Low on power.
Thin metal construction.
No thermometer.
Small cooking space.
If you want a super light portable grill that can do it all, this could be it. It's easy to pack and can fit in a bag if needed.
It might not have much room to offer or much power, but it's more than enough for tent trips or backpacking.
Modular grill-surface system. The panels securely connect to the grill, yet remove quickly and easily for cleaning and storage. Removable drip tray
12,000-BTU tabletop gas grill with stainless-steel burner
Twist-start ignition for easy start-ups; porcelain enamel-coated cast-iron cooking grate
Folding side shelves; temperature gauge; propane tank not included
Measures approximately 19-4/5 by 27-4/5 by 12-4/5 inches
It's tricky to find anyone these days who doesn't own some type of Cuisinart kitchen gadget — I mean, the brand is most famous for creating outstanding blenders and food processors. But, did you know that the brand also makes pretty decent grills?
The Cuisinart CGG-200 looks similar to a full-sized grill, giving you a total of 240 square inches of cooking space. It measures 15 x 18.5 x 42 inches overall and weighs in at 40 pounds, making it quite large but still manageable.
It features a sleek-looking stainless steel exterior finish and a large handle that runs the lid's entire width. Additionally, it comes with porcelain-coated cast-iron grates and a single stainless steel burner. Although there's only one burner, it covers the bottom of the grill well, giving you an even heat distribution.
The burner gives out 12,000 BTUs and is easily ignited by the twist of a knob. Similar to the Weber above, this one also features a built-in lid thermometer.
The grill is equipped with two side tables that can be removed when stored or in transport. The large side handles make it even easier to carry, despite the heavyweight.
There's a range of smart options available for this grill should you be interested. It works perfectly with the Versatile Modular Grill Surface, giving you a range of surfaces to cook with. There's also an available stand for when you want to leave it on the patio.
However, a few issues compromise its portability, such as the lid that can't be locked, the legs aren't foldable, and it's quite heavy.
Pros
Looks similar to a real grill.
Good heat retention and distribution.
Interchangeable grills.
Built-in thermometer.
Cons
The legs can't be folded.
Cumbersome.
The lid can't be locked in place.
Despite the large size and heavy weight, this grill has a lot to offer and is an excellent pick for anyone looking for a grill to use at home and camping.
It looks super sleek and gives you lots of room to cook for the whole family or your friends. It receives a ton of satisfied reviews online, which is also why we had to feature it on our list.
However, if you're looking for a truly lightweight portable grill, this isn't it.
Masterbuilt Smoke Hollow PT300B
Recommended
If you prefer the sleek look and durability of stainless steel, this Masterbuilt grill is sure to rock your boat.
This grill is built of stainless steel, making it easy to clean and long-lasting as it's resistant to rust and corrosion. It offers 288 square inches of cooking space and measures 32 x 19 x 33.5 inches. Furthermore, it weighs just shy of 21 pounds, making it large but light.
Other features that make it more portable include folding legs, large carry handle and locking lid. It packs easily and compactly.
It comes with a single 10,000 BTU burner that's ignited with a simple button. It also comes with a removable drip tray made of (you guessed it) stainless steel.
Although we like the stainless steel look, the material is on the thin side, making heat retention quite questionable, especially on cold or windy days. But other than that, it's lightweight and powerful.
Pros
Designed with portability in mind.
Electric ignition.
Durable stainless steel construction.
Cons
There's only one burner.
Thin materials.
Runs on small propane canisters (1 pound), it won't fit larger tanks.
It's hard to resist shiny stainless steel's look — it looks professional, what more can we say?
Now, apart from the slightly thin materials, this grill has a lot to offer with its lightweight and powerful burner. You get ample cooking space and a lot of handy features that make it more portable.
Learn more about this grill here:
Hitting the Road!
That was it! Our favorite portable grills and our pick for the best portable gas grill: Weber Q2200. It's a Weber; therefore, it's durable, powerful, and reliable, essential features of a good portable grill.
Portable gas grills aren't as light as charcoal grills, mainly due to the added burner or burners; however, it's certainly possible to get your hands on a light grill, such as the CGG-180T.
Before settling on a grill, consider how many people you'll be cooking for and how you're going to transport it. Do you want a grill that can be used at home but easily be taken on the road when needed? Go for a larger one such as the Coleman Road Trip. If you want a grill exclusively for travel, go for a lighter model that's easier to pack.
Are you a frequent camper? How do you prefer to cook when traveling? Let us know about your experience.