Today, we're going to take a close look at the best tabletop grills. We're going to take you through a guide on what to look for – and what to avoid – before revealing the top products on the market.
Because if you live in a small space, having a larger-than-life outdoor kitchen isn't an option.
But fortunately, there are boatloads of choices out there for anyone who likes to grill up a storm despite not having room for a regular-sized grill.
Now, when you hear 'tabletop grill,' you might be thinking 'small electric'? But that couldn't be farther from the truth!
Tabletop grills are available as gas and charcoal-fuelled, making them an excellent choice for any grill-enthusiast who won't let their small living space stop them from grilling.
If you feel this sounds like the perfect type of grill for you, let's get started!
Bottom Line up Front: The Best Tabletop Grills Reviewed in this Guide
The above links take you to current prices, customer reviews, and further information on Amazon.
Some Tabletop Grills are Better than Others
Tabletop grills may sound like a type of barbecue that can be used anywhere. However, as with regular grills, tabletop barbecues will get extremely hot — and although that's the purpose of grilling, it can make them unsafe to use on certain surfaces.
Metal is fine, so if you're often out tailgating, a tabletop grill will work perfectly. In general, wooden surfaces, such as a picnic table, will also withstand the grill's heat. It's best to put something underneath the barbecue, even if just to catch any grease that might be dripping down.
A tabletop grill should never be used on a plastic surface unless it was designed for grills.
Placing a hot grill on a plastic table will run the risk of the surface melting, which could ruin it. As the plastic melts, you also run the risk of releasing toxic chemicals into the air you breathe.
You should also remove any tablecloth from the table you're cooking on. The fabric could catch fire from the grill.
If there's no safe surface to put your grill, you can buy a table made explicitly for tabletop grills. These are portable and lightweight, so easy to move around or pack for storage.
What to Look for in the Best Tabletop Grills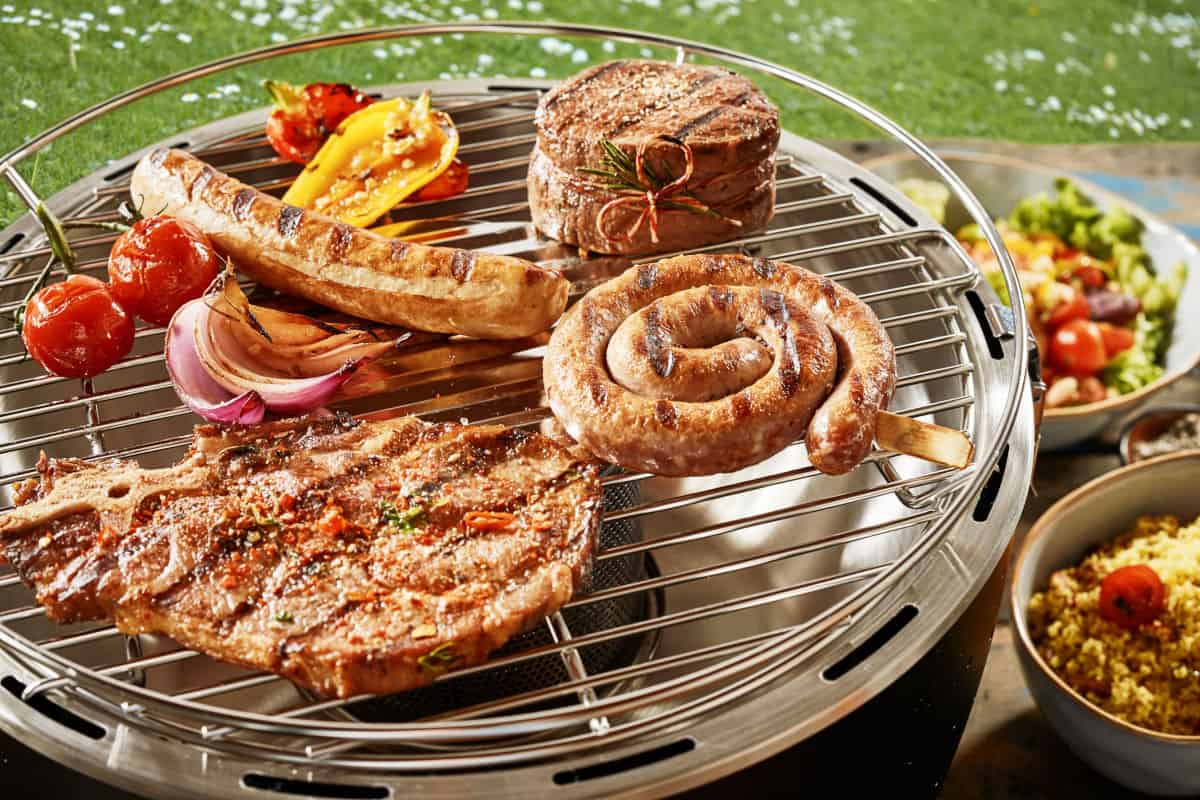 Before you head out to buy a tabletop grill, here are a few things you should look for:
What Fuel does it Use?
One of the main things anyone looking to buy a barbecue should consider is the fuel type. With tabletop grills, you basically get two options: charcoal or propane gas.
Each type has pros and cons, so consider how you plan to use your tabletop grill and which fuel type would suit you the best.
If you're often out camping or tailgating, a tabletop charcoal grill is easy since you bring what you need, it burns away as you cook, and so you won't have to pack it and carry it back. There are of course larger, full-sized charcoal grills, but for travel, a tabletop is easier to transport.
With a gas grill comes a propane tank. Larger, full sized gas grills may have a large tank, but smaller tabletop gas grills can be run from the 1lb tanks. However, you'll have to store it safely and carry it back home with you.
If you're only going to be grilling at home, a tabletop gas grill will fire up quicker than charcoal; you also won't have to deal with messy ashes.
There's no wrong answer here, so choose the type that suits your needs the best.
Compact and Folding for Travel
Folding legs may not be 100 percent necessary; but it can make camping, picnicking, or tailgating a lot easier.
Folding legs will enable you to pack the grill easier, making a significant difference if you're already short on space.
If the legs don't fold, make sure they do provide a sufficient clearance between the hot grill and the surface it's resting on.
Small and Light
Like the folding legs, the weight of the grill might only be an essential factor if you're going camping or away from home.
A heavy barbecue will only be a hassle when on the road — unless you're camping out of the car, you'll have to carry it to and from the campsite, which could take a toll on your back.
We can't tell what's too heavy for you, so you'll have to compare a few models and see what weight suits you best.
If you aren't going camping and need a grill for the patio or balcony, weight doesn't matter as much unless you're going to be moving it around a lot.
Keep in mind that a heavy grill will need a sturdy table or surface — a wobbly old table and a heavy, hot grill isn't a safe combination.
Handles for Carrying
A handle or handles are must-haves on a good tabletop grill to make it easier to carry.
If you're only going to move the barbecue from the kitchen to the patio or balcony, side handles will do just fine. However, for better portability, we prefer a top handle that's either briefcase- or lunchbox-style.
All handles should be securely attached. Carrying a hot grill when a handle suddenly gives in because it was only attached with tiny screws is no fun and can be dangerous.
A Lockable Lid
A locking lid is a helpful addition when taking your barbecue on the road — you don't want ash and other debris flying around the car as you drive.
Look for a solid lid that can lock shut when needed.
The Best Tabletop Grills Available Today
Top Pick – Weber Q2200 Propane Grill
Top Pick
Weber is probably the most well-known barbecue brand globally, and it's difficult to argue with its quality. You can find a wide variety of grill types by Weber — the brand manufacturers anything from kamado-style grills to full-size charcoal, gas, and electric monsters.
But, the grill we're going to be focusing on today is the Weber Q2200, which is a tabletop gas grill — and one of the best on the market if you ask us.
The Q2200 features a single stainless steel burner that goes around the entire bottom of the grill. It's rated at 12,000 BTU and powered by a standard 14.1 or 16.4-ounce liquid propane cylinder.
It features electronic ignition as well as an analog dial for easy control over the gas flow. The dial also enables you to set your desired temperature without having to guess.
You get a large 280 square inches of cooking space made with a cast iron grate that divides the surface into sections. Furthermore, the lid features a built-in thermometer, which is very uncommon in tabletop grills.
Now, stability is crucial when it comes to tabletop grills as you don't want it to tumble over while you're grilling. Luckily, the Q2200 is fitted with solid nylon legs and has a low center of gravity; therefore, it's difficult to knock over.
If you don't have a suitable table for the grill, Weber also offers a standalone cart and standalone table that you can purchase on the side.
Weber also offers a porcelain-enameled cast-iron griddle that fits all grills in the Q2000 range. The griddle enables you to cook things like pancakes and eggs on the grill — it could be an excellent addition to the barbecue if you're going camping.
When it comes to durability, the Q2200 doesn't disappoint. It's made of cast aluminum, making it resistant to rust. Aluminum also has excellent heat retention, so it heats up quickly, enabling you to get started sooner.
A slight downside is the grill's weight — it comes in at 42 pounds, making it quite heavy. The weight might not be an issue for anyone planning to use it at home; however, if you're going camping, consider whether it will be a problem.
Pros
Excellent quality.
Large cooking surface.
Built-in thermometer.
Added side tables.
With the optional griddle, you get great versatility.
Stable base
Cons
Because there's only one burner, you don't get the opportunity to create two or more heating zones.
Not budget-friendly. It's a Weber, and you do get what you pay for as this grill will last for years.
Heavy.
The Q2200 isn't the smallest, most portable tabletop grill on the market, but it's undoubtedly an excellent choice for anyone looking to grill at home.
The large cooking surface enables you to barbecue anything that fits; it also makes it easier to feed more people.
If you can handle the weight, it's also an excellent choice for campers and tailgaters as you can grill more food than the usual small, portable grills.
The price might seem a bit steep, but you certainly pay for a top-built, high-quality grill that'll last you for years, which is the reason why the Q2200 is our choice for the best tabletop grill.
Runner Up – Weber Go-Anywhere Grill
Runner Up
Holds up to six burgers made with a Weber burger press
Compact and lightweight for grilling on the go
Porcelain-enameled lid and base retain heat, and won't rust or peel
The lid locks for easy portability and dampers allow you to easily control the temperature inside your grill
Durable plated steel cooking grate retains heat and is easy to clean.Primary cooking area (square inches):160
If you're a simple griller with simple needs, you need a grill that's straight to the point — such as the Weber Go Anywhere tabletop charcoal grill.
It's lightweight, sturdy, reliable and it runs on charcoal, so you get that authentic feel and taste of the barbecue.
The 'Go-Anywhere' Weber grill is a foldable grill with plated steel legs that swivel up and around the lid, locking it in place simultaneously. When packed, the barbecue has a rectangular shape, making it easy to store and transport to any destination.
When in use, you swivel the legs back down underneath the grill where they latch together, giving the barbecue a stable base.
The lid is fitted with a glass-reinforced nylon handle along with a heat shield. The handle is easy to grab, giving you a secure grip when removing the cover while grilling.
The grill itself measures 12.2 x 21 x 14.5 inches and weighs 15 pounds. You get a good cooking surface with a plated steel grate that measures 160 square inches of cooking space. This is ample space for four steaks or up to eight pieces of chicken.
Because it's a charcoal grill, you won't be limited by a fixed number of burners, meaning you can easily create two heating zones — or indirect cooking. You can even add a chunk of wood to give a smokey flavor to your food.
The interior and exterior of this grill are porcelain enamel coated; this makes it resistant to rust and gives it good heat reflection.
Function-wise, this grill is similar to full-size charcoal barbecues. It features two lower vents, one on each side, and two three-hole vents in the lid. You can use the vents to control oxygen levels, airflow and the heat inside the grill for a more precise cook.
Although there's no ash pan, it's small enough to easily flip upside down for you to empty coals and ashes.
Unlike the larger Weber grill above, this one isn't suited to feed large crowds. In saying that, it's enough to cook for two to three people at a time.
Pros
Has many of the same abilities and features as full-size grills.
High-quality and excellent build.
Top and lower vents give you excellent control over the temperature.
Possible to cook at lower temperatures for roasting or smoking.
Compact foldable design.
Cons
Because the legs are directly underneath the grill, it can be knocked over by a stray ball or other impacts.
We wish it had an ash pan; it would make clean up so much easier.
The grates are a bit too close to the coals.
We love the build and quality of this "Go-Anywhere' grill, it's an effective, compact tabletop grill, and it runs on charcoal!
If you enjoy a charcoal grill's authentic taste but lack the space for a full-sized monster, this is a perfect option.
Despite the minor flaws, like the slight stability issue, it does score high in our book thanks to its simplicity and functionality.
Budget Pick – Cuisinart Ccg190rb 14-Inch Portable Charcoal Grill
Premium Pick
15 square inches of cooking space is great for a portable tabletop charcoal grill
Top and bottom vents allow precise control of cooking temperatures
Three locks ensure the lid stays firmly attached for travel
Only weighing 2lbs means it is extremely portable
Durable enamel coating means it's built to last
There's nothing quite like a real charcoal-grilled meal when you're enjoying the great outdoors. If lighting the grill when you're on the road is your game, this may be the new toy for you.
Cuisinart applied its considerable kitchen-gadget skills to this super-portable grill. It's loaded with convenient features, including a sturdy 4-leg stand for extra stability.
Considering how wonky picnic tables often are, that's a great asset. That's where you'll find the ash catch, as well, to protect your table and simplify clean-up.
The enameled lid and bowl are durable and attractive – and they'll stay that way, with the three clips holding the lid secure while you're toting it around.
150 square inches cooking space waits under the lid to accept your burgers and more – plan on cooking maybe 4 to 5 patties at a time, or a pair of steaks.
You'll find dampers in the lid and the bowl, allowing excellent control over airflow and, hence, temperature. This gives you options beyond simply searing meat over raging flames. Caught a fish? Put it on and dial down the dampers for delicate cooking.
Amazingly, this truly portable grill weighs just 2 pounds. You really can take it anywhere.
Pros
Sturdy 4-leg stand
Enamel coating for durability and easy cleaning
Large ash catch
Dual vents for better control
Three clips to lock lid during transport
Weighs only 2 pounds
Cons
Medium-quality chrome plated wire rack
Shallow lid limits food size
If size and weight are a concern for you, you ought to put the Cuisinart CCG190RB 14-Inch portable charcoal grill at the top of your consideration list.
If there's a lighter grill out there, I haven't seen it.
Giantex Tabletop Gas Grill
Recommended
There are 2 burners on this portable tabletop gas grill, enabling you to set up different temperature zones to cook different foods
Push and turn automatic ignition makes it easy to use and start up
A rectangular design, with foldable legs makes it easy to pack for travel
The locking lid also makes it perfect for travel, ensuring everything stays securely inside the grill
Serious grillers may not be too keen on purchasing a tabletop grill, but what if it offered the same versatility as a full-sized grill?
The Giantex propane tabletop gas grill is a strong contender and a barbecue that'll make any griller excited. It features two burners at 10,000 BTU each — that means you get a total of 20,000 BTU! In a tabletop grill!
One of the main attractions of the Giantex is the electronic ignition; it enables you to control the two burners independently.
Not only will the grill heat within a few minutes, but it also allows you to create two heat zones — ideal for when you need to start with a sear but finish off on a lower heat. It's as close to an authentic, full-size grill you can get.
The cooking surface isn't as large as the Weber we reviewed above, but you still get a good 266 square inches to cook on.
Furthermore, the dual-burner setup gives you lots of versatility when cooking, and you should be able to prepare for at least eight people at a time.
We like the material; it's made of 430 stainless steel, making it resistant to rust, corrosion, and incredibly durable.
It also comes equipped with a removable tray for the drippings. This makes cleaning up so much easier.
You might think the steel construction would make it heavy, but think again — it weighs only 26 pounds! Although it isn't the lightest grill on this list, it's still a good weight for campers who have to carry it to and from the campsite.
Additionally, the grill features fold-up legs and locking latches for the lid that makes it easy to store or transport as it becomes a cube-like shape.
The last few features we'd like to mention are the built-in thermometer in the lid and a 40-inch gas hose that gives you more freedom when it comes to the gas supply placement.
Pros
Two burners that work independently, giving you versatility when cooking.
Large cooking surface, enough to cook for medium-sized crowds.
Easy to store and transport thanks to the design, locking lid and folding legs.
Sleek stainless steel structure is durable and easy to clean.
Includes a drip tray.
Cons
There's a lack of fine temperature control, as some users mentioned it often resulted in a temperature that's not entirely right.
Grates are a bit too close to the burners, making searing trickier. Users found that it does require some practice to avoid burning the food.
We wish the stainless steel were thicker. Although it's meant to be a lightweight grill, a thicker material would give it a more 'premium' feel and probably make it last longer.
The main thing we enjoy about the Giantex tabletop grill is it combines both worlds. You get a compact, lightweight tabletop grill with the ability to create two heating zones and cook for a small crowd.
It's a great option for campers and tailgaters thanks to the compact size and weight.
If it sounds like a grill for you, it's worth a try. With the versatility it offers and the small size, you get an excellent tabletop grill.
Volcano Grills 3-Fuel Portable Camping Stove & Fire Pit
Recommended
3-Fuels: Propane, Charcoal, or Wood (connects to standard 20 pound propane tank, or adapter for portable bottles sold separately)
Portable: Collapses down to 5", fits in carrying case for easy storage and transportation. Sets up in just seconds.
Versatile: grill, Dutch oven, wok, bake, roast, fry, fire pit
Use for camping, tailgating, RV's, emergency preparedness, survival, and prepping
Safe and efficient: 19,500 BTU burner. efficient use of charcoal and wood in the patented cook chamber
My first thought when I saw this grill was, "What the hell?" That was also my second thought.
But, I was seriously intrigued, so I had to know more. Now, I'm seriously impressed. This is SO cool.
The Volcano Grills portable camping stove can burn wood, charcoal, or propane (it comes with a hook-up for 20-pound cylinders), depending on what you're doing. Now you have options for cooking, or for just enjoying some marshmallows roasted over a wood fire.
In propane mode, the single burner provides 19,500 BTUs of heat; that's more than enough for searing. An included heat deflector distributes heat evenly for superior cooking. Volcano sells an optional Dutch Oven and a reversible cast iron skillet/griddle custom-designed to fit this cooker to really expand your menu.
It's a smidge heavy at 25 pounds, largely because it's made of cold-rolled steel. But, it collapses in an instant to just 5 inches tall for easy stowing and going, and comes with a nylon storage and carrying bag.
Pros
Runs on almost anything
Collapses to just 5" tall for storage/transport
Super-hot 19,500 BTU burner
Legs keep it clear of the ground
Adjustable vent to control airflow/temperature
Includes heat deflector plate for even cooking
Cons
Pricier than many camp stoves/portable grills
Adaptor for smaller LPG cylinders sold separately
Cooking grate has no sides – make sure you're on a level surface if you're cooking hot dogs!
My mind is actually boggled by this very cool cooker.
If you're a big-time camper, I'd consider this essential gear. Do yourself a favor – click the link and watch the video.
Cuisinart Cgg-180t Petite Tabletop Gas Grill
Recommended
Portable gas grill with 145-square-inch grilling area and foldaway legs
Cooks 8 burgers, 8 steaks, 6 to 10 chicken breasts, or 4 pounds of fish
Powerful 5,500 BTU stainless-steel burner and even-heating porcelain-enameled grate
Aluminum legs and stabilizing feet set up in seconds; integrated lid lock keeps lid secure
Pronounced briefcase-style carrying handle; weighs 13.5 pounds
If you want a tabletop grill that's truly portable and can easily be brought on a picnic or camping trip. The Cuisinart CGG-180T is probably the easiest grill to transport and set up when away from home.
The legs can be folded completely for starters, and the lid can be locked in place, giving the entire grill a suitcase-feel that's easy to carry.
Additionally, it weighs only 13.5 pounds, excellent for picnics and camping.
As the name implies, this tabletop grill is petite, measuring only 18.6 x 17.6 x 11.8 inches, giving you a cooking surface of 145 square inches. This is far from what you get with the Giantex and Weber grills above, but it's plenty enough to cook for four people at a time.
Although Cuisinart claims the Petite can grill up to eight burger patties at a time, I can't imagine these to be anything but small. Aiming at four or six burgers is more realistic — it should also be able to cook a few steaks on one side and a couple of ears of corn on the other.
The grill features one burner that's 5,500 BTUs and made of stainless steel. 5,500 BTU might not sound like a lot, but it's sufficient for the small size of the grill itself.
It features wide legs, giving it a low center of gravity, which increases its stability. Furthermore, the legs are telescopic, enabling you to raise it to about waist height without the need for a table.
It's designed to run on disposable propane canisters, but there's an available kit that allows you to connect the grill to bigger cartridges as well.
Pros
Incredibly portable with the folding legs, lightweight and locking lid.
The large handle and compact size enable you to carry it similar to a briefcase.
Ideal size for small families or groups of four people.
Can be placed on a table or freestanding thanks to the telescopic legs.
Cons
It's very small, so you have to make sure it will be enough for your needs.
A lid thermometer would have been an excellent addition.
Cuisinart was a bit too optimistic when claiming the grill can hold up to eight burgers or steaks.
Although the telescopic legs are handy, they're only 29 inches when fully extended, making them quite low.
Anyone who enjoys hot food straight off the grill on a picnic or when camping, you're going to like this grill. It may not be able to feed a large crowd in one go, but it's ample for small groups or families.
It's easy to set up wherever you are due to the lightweight and size. Although we have to say that we don't recommend it for large backyard BBQ bashes — it's better suited for solo grillers and small families.
Blackstone 22-Inch Griddle
Recommended
330 square inches of cooking space make this suitable for cooking for many people at once
Two independent gas burners enable setting up different temperature zones for different cooks
Grease management system flows grease off the surface, away through rear channels and into a collection pot
Good shape for portability and travel
Yes, this is technically a griddle, not a grill, but before you begin to nag at me for adding this to a grill review, hear me out.
Griddles are an excellent tool for tabletop cooking and an even better tool for campers, tailgaters or RV travelers.
Because a griddle is solid, you can cook a variety of foods that you usually wouldn't cook on a grill. This includes breakfast items such as eggs and pancakes, small foods such as prawns, and cooking onions and other vegetables without worrying about anything falling through the grates.
If you like the idea of a good tabletop griddle, we highly recommend this one from Blackstone. It measures 22 x 15 inches and gives you a total of 330 square inches of cooking surface. This is very impressive for a tabletop griddle — it's more than enough to cook 12 burgers, 30 sausages or 16 eggs.
Inside the griddle are two H-shaped burners that are independently controlled by electric ignition. Because the two burners are controlled separately, it enables you to create two heating zones, similar to a grill!
The burners' shape also provides an even heat distribution throughout the griddle when set at the same temperatures. Additionally, each burner has an output of up to 12,000 BTUs, giving you 24,000 BTUs!
With the ability to create two heating zones, you can easily cook veggies slowly on one side while searing a juicy steak on the other — the possibilities are endless.
Another thing we like about the solid surface is that flare-ups are eliminated. This means it'll be safer and easier for you to cook fatty foods.
A few other mention-worthy features include knobs for gas controlling, enabling you to make small tweaks as needed. Furthermore, there's a channel within the griddle that ensures excess fat and grease is removed — it also features non-slip rubber feet.
Pros
Very powerful burners that provide fast high heat and even distribution throughout the griddle.
Great for big groups or crowds, thanks to the large cooking surface.
Grease and excess fat drain easily via the channel into an attached cup.
High-quality and good build.
Cons
No lid. This means the temperature will be at the mercy of the outdoor elements.
Tricky to transport as there are no handles.
For anyone looking for a tabletop grill that can do more than simply sear a steak, this griddle might be what you need.
We like the large cooking surface as well as the two H-shaped burners that give you much versatility as you cook.
We wish it had a lid! A cover would make outdoor cooking much easier, and it would be easier to store and transport.
Masterbuilt PT300B Tabletop Grill
Recommended
No products found.
The Masterbuilt PT300B propane tabletop gas grill is a durable, compact, lightweight and portable tabletop grill that would make an excellent addition to any camping trip.
It's made of stainless steel, making it resistant to rust. It also features a lockable lid, large carry handle and foldable legs — you can really see that it was made with portability in mind!
11b propane gas cylinders fuel the grill, and it features a single U-shaped stainless steel burner with an output of 10,000 BTUs. It's very powerful for such a small heater and will give you lots of heat to cook with.
You get a warming rack with a space of 100 square inches. This gives you an area to warm up food while using the main grate for cooking.
Now, because there's only one burner, you won't be able to create two heating zones, but the warming rack can be used to slow-cook various items if needed.
Another standout feature is the wide foldable legs; they give the grill a low center of gravity for increased stability.
The lid is fitted with a built-in thermometer to help you keep track of the barbecue while cooking. Furthermore, it's equipped with a stainless steel drip tray that collects drippings and grease from your food as it cooks.
Maintenance is a breeze because of the removable drip tray and stainless steel material.
Pros
Tough construction and easy to maintain due to the stainless steel material.
Ample cooking surface with the addition of the warming rack.
Easy to transport.
Cons
The single burner limits cooking methods.
We can't resist the sleek stainless steel design and durability of this grill — it looks professional, and it's easy to clean!
For campers and people who often cook away from home, this grill's portability is sure to be highly attractive. It packs very compactly, making it easy to store and transport.
Overall, this grill is well-built and offer you great value for money.
Cuisinart Cgg-200 Tabletop Gas Grill
Recommended
Modular grill-surface system. The panels securely connect to the grill, yet remove quickly and easily for cleaning and storage. Removable drip tray
12,000-BTU tabletop gas grill with stainless-steel burner
Twist-start ignition for easy start-ups; porcelain enamel-coated cast-iron cooking grate
Folding side shelves; temperature gauge; propane tank not included
Measures approximately 19-4/5 by 27-4/5 by 12-4/5 inches
If you want to grill up a storm at home or on the road, this Cuisinart CGG-200 is an excellent choice.
It offers you 240 square inches of cooking surface, making it one of the largest grills on this list. There's loads of room for you to cook for the entire family in one go or a large group of friends. It also weighs just shy of 38 pounds, so it's quite heavy.
To make it easier to transport, you can fold the stainless steel side shelves and carry it by the large handles.
One downside is that the lid doesn't lock in place, and the legs don't fold, so it can be tricky to transport in that sense.
The grill features a cast-iron grilling grate that's porcelain-enamel coated and comes pre-seasoned. It provides you with optimal heat retention and distribution.
Additionally, it's equipped with two stainless steel burners, each with an output of 12,000 BTU. The two burners enable the grill to reach searing-hot temperatures to give your steaks and burgers some nice grill marks.
Although there are two burners, they are controlled by the same control dial, meaning you can't create different heating zones.
Pros
Durable construction.
Optimal heat distribution and retention due to the porcelain coat.
Two burners provide scorching temperatures.
Large cooking surface.
Cons
Heavy and quite cumbersome as the legs don't fold.
A single knob controls the burners.
This Cuisinart grill is an excellent choice for any backyard griller looking to cook enough food for a large crowd. This grill might not be the most portable option on our list, but it's still a good option for RVs and tailgaters.
It's not without flaws, and we certainly wished it had another gas control dial, but we can look past this due to the high quality in materials and high heat it provides.
Conclusion
Although tabletop grills are smaller than regular barbecues, their abilities are endless, making them ideal for campers, tailgaters, RV'ers, and those living in small spaces.
Our choice for the best tabletop grill is the Weber Q2200 — you can't argue with the durability and quality of a Weber.
This grill isn't the most affordable, but it's certainly an investment that will last you through years of use. We award top spot for best of the tabletop gas grills.
If you want more cooking abilities, we highly recommend that you check out the Blackstone Griddle. Even though it's a griddle, you still get a lot of the same features as a full-sized grill, such as creating two heating zones.
Did you find a tabletop grill for you on our list? Do you have a favorite that wasn't featured on the list? Leave a comment in the section below.