Knowing the internal temp of the meat you're cooking is crucial to ensure it's safe to eat and cooked to your preferred doneness. But having to open the grill to check on the meat constantly can let heat out and give you an uneven cook.
Enter Bluetooth thermometers. These wireless thermometers enable you to check on your meat and your grill from your smartphone — that's right, you won't even have to open the grill.
The thermometer will let you know the grill's temperature, whether it's too high, too low or just right.
Simultaneously, it will keep track of your meat and how it's cooking — when the internal temperature reaches your desired doneness, the app will alert you that it's time to remove the meat from the grill.
The best Bluetooth BBQ thermometer will give you the ultimate hands-off grilling experience, enabling you to spend more time with your BBQ guests than in front of the grill.
Bottom Line up Front: The Best Bluetooth Thermometers Reviewed in this Guide
The above links take you to current prices, customer reviews, and further information on Amazon.
Bluetooth Thermometers – What are They?
The basics of Bluetooth technology is that it enables you to transfer data, broadcast information and stream audio between devices.
In thermometers, Bluetooth enables us to cut the wires and be free. The thermometer will collect information from the meat and the grill and then send that directly to your phone.
How Do They Work?
A Bluetooth grill thermometer consists of three main parts, including the probe, transmitter, and a cable.
As with any thermometer, the meat probes are inserted into the meat's thickest part away from the bone.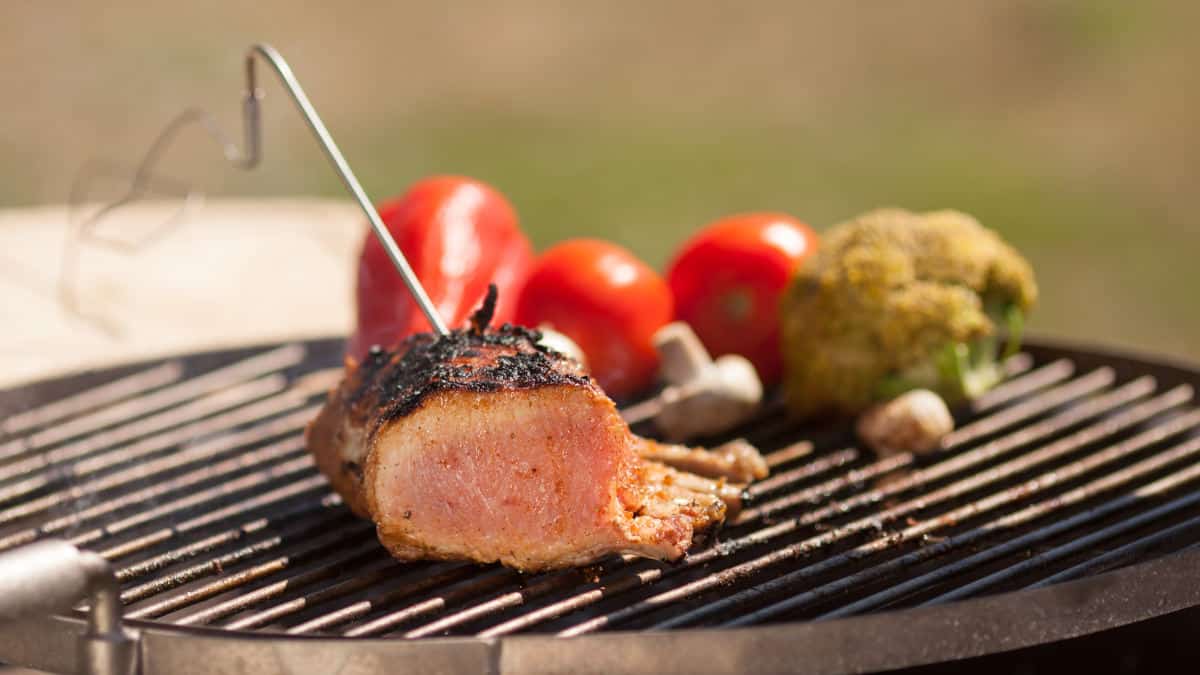 The sensor within the probe collects data and sends the information through the cable to the transmitter. The transmitter will then send the info to your phone, where you can monitor your meat as it cooks.
Most thermometers will display on the transmitter unit itself, enabling you to read the temperature when next to it.
Another smart thing about Bluetooth thermometers is that most will be connected to an app on your phone. Through the app, you can track your meat, set timers and alarms to suit the meat you're cooking.
Some apps will even let you change any settings on the thermometer through your phone — so you won't have to leave your guests to do it.
Pros and Cons of Bluetooth Thermometers
One of the smartest things about Bluetooth smoker thermometers are that they take advantage of an already existing and widespread technology: Bluetooth! This technology has been a basic feature of phones since the early 2000s.
Because of this, all you have to do is download an app, set up the thermometer, and your connection is already set.
Now, a common issue with Bluetooth is that it requires no obstacles for the best connection. In other words, trees, walls, or other devices can alter your signal.
Manufacturers will often try to impress buyers by advertising a range of up to 150 feet, or 328 as the GrillEye claims. Unless you live in an open field, you shouldn't expect to get the full claimed range.
How Does Bluetooth Compare to RF Thermometers?
Radiofrequency has a broad range of frequencies, starting from 3 kHz to a whopping 300 GHz. RF thermometers and WiFi units will have less interference and, substantially, a better range compared to Bluetooth thermometers.
Does that mean we should ditch Bluetooth and go for radiofrequency or WiFi instead?
Not entirely. It all depends on how far away from your grill you're planning to be. For example, if you're usually hanging out outdoors while grilling, Bluetooth range is sufficient, but if you'd like to hang out indoors, RF or WiFi might be a better choice.
The age of your phone also plays a role. New phones will have a stronger and better Bluetooth connection compared to models three or four years older. Often when you see poor reviews of a Bluetooth thermometer, it's because the owner's phone is older and less "compatible."
RF and WiFi thermometers come with both transmitter and receiver, which eliminates any doubt about compatibility.
How Does Bluetooth Compare to WiFi Thermometers
Bluetooth and WiFi both work at the same frequency, which is 2.4 GHz. Where the two differ is in their purpose and range.
Bluetooth is excellent for short-distance connectivity, whereas WiFi thermometers have a much greater range, and it connects your device to the internet.
Additionally, WiFi thermometers enable you to view readings on multiple devices by connecting to the same network as your computer, iPad or tablet.
Best Bluetooth BBQ Thermometers – Our Top Choices
We've gathered our six favorite Bluetooth BBQ thermometers to bring you the best. These are tried and tested thermometers that are loved by grillers across the country — so let's just dive in:
Truly wireless, not a single wire in sight
The ONLY thermometer that can be used with rotisserie without wires being tangled and knotted
Good for temperatures up to 527 F, so sufficient for low n slow smoking and searing
Easy to use
The app features 'guided cooking', where you select the cut and it alerts you when ready.
Estimates cooking time after the first few minutes of the cook, working it out from meat temp and pit temp
We can't make a list of the best Bluetooth BBQ thermometers without mentioning Meater. Meater was the first truly wireless meat thermometer — previous models would still need a wire between the probe and the transmitter.
Meater relies exclusively on Bluetooth to connect you with your grill and meat — there's not a single wire in sight, making this thermometer ideal for any type of grilling, smoking or rotisserie cooking.
The Meater probe looks similar to a stylus — you know that smartpen you can use on your smartphone. What's more, is that the probe is fitted with two sensors — one at each end. This allows you to track the meat temperature and the grill temperature simultaneously, without lifting the lid.
Another pro of the Meater being completely wireless is that setup is a breeze. You don't have to thread wires through holes, set up multiple probes or deal with kinked, overheated or damaged wires. With the Meater, you simply stick it in the meat and check your phone.
The kit includes a very stylish wooden charging block, which also works as the transmitter and holding the pen block.
To use the Meater, you have to install an app on your phone. The app includes various settings to help you improve your cooking experience and get the best results.
For instance, you get to select what kind of meat your grilling, which precise cut and your preferred doneness. The app will then customize the cooking and resting time to suit the meat you're cooking.
Furthermore, the app also saves your information from previous cooks that you can compare to see what works and what doesn't.
I bought the Meater mainly to use it for rotisserie cooking. A wired thermometer is not suitable for this type of cooking as the wire will wrap itself around as the motor rotates, or you have to stop the motor ever so often just to check — and this interferes with the cook.
Pros
Completely wireless.
Intuitive, accurate, and user-friendly.
All information is displayed on your phone, convenient as you're probably already carrying it around with you.
Fitted with a rechargeable battery, so you won't have to replace the battery, making it more eco-friendly.
Assists you through the cook, giving you time for cooking and resting the meat. Different alarms will alert you of any changes or when your meat is ready.
Cons
You get only one probe, meaning you can only track one piece of meat at a time.
You will need a smartphone, Alexa, computer or a tablet to connect and use the Meater.
The range is slightly shorter than some of the other thermometers on this list.
Although the battery is rechargeable, it isn't replaceable. But, it should be able to run for more than 1000 cycles.
The Meater is an impressive bit of kit — the price is rather hefty, but considering what you get for the price, we're not complaining.
Not only is the thermometer accurate, fast, intuitive, user-friendly and eco-friendly, it's also stylish — having this block of wood in your kitchen is something you want to show off when guests come over.
The obvious downside to the Meater is that you only get one probe. If you're grilling burgers and hot dogs, one probe won't do you much good. However, if you're grilling or smoking a large cut that requires a long time on the grill, the Meater is an excellent choice.
Inkbird IBT4XC Waterproof Bluetooth Meat Thermometer
Runner Up
Waterproof, so can be used outdoors, even if if raining
Rechargeable battery, which severely reduces ongoing running costs compared to many competitors
Magnetic backing makes it easy to attach to metal surfaces near to your grill or smoker
4x probes, so you can monitor your pit temp as well as up to 3 meats individually
This won't be the last time I write this: you must cook meat to temperature, not to time. Therefore, you need a good digital thermometer to get the best results.
This unit from Inkbird is a great choice for everyone from new grillers to old pros, and even smokers.
The Inkbird comes with four temperature probes, including three to measure meat temperature and one for ambient smoker temperature. You'll especially want that last one for smoking or slow roasting, when consistent temperatures are essential.
Having so many probes gives you the freedom to cook different cuts or types of meat or provide your guests' custom doneness levels.
Data from the probes transmit via Bluetooth to a free app for Apple or Android phones.
You can monitor your cook in the app, receive alerts when the temperature strays out of range, and when your food is ready. You don't even need to know the right temperature – just choose your meat and the doneness level you want, and Inkbird does the rest.
Thanks to its waterproof design, you don't have to worry if it starts to rain during an extended cook. The built-in lithium battery recharges via USB and is good for about 40 hours battery life per charge.
Thanks to the magnetic backing, you can use it practically anywhere. And each probe features an approximately five-foot probe wires, so you can keep the base unit safely away from the heat.
Pros
Allows remote monitoring from a smartphone
Waterproof design for bad weather cooking
Rechargeable battery to save you money
Comes with 4 probes
Magnetic backing for use on any metal surface
No WiFi required
Cons
Red-on-black LED base display may be hard to read in direct sunlight
The Inkbird IBT-4XC Waterproof Bluetooth thermometer is a great choice, especially for anyone who loves to grill different meats simultaneously. And if you live someplace where it rains a lot, it's basically a must-have.
Maverick ET-735 Bluetooth 4.0 Wireless Thermometer
Recommended
NEW Bluetooth Model w/App Turns Your iOS or Android Device Into Receiver & Remote - Capable of Bluetooth LE 4.0 & Above
Offers Food Presets, Timers, Stopwatch & Alerts You When Temperature Hit Range
Features 4 Probe Inputs for Simultaneous Monitoring of Any Combination of 4 Meats / Grills / Smokers/ Ovens
Extended 160' Wireless Range w/Loss-of-Signal Alert if Out of Range for >1 Minute
Includes Two 36" Waterproof Probes w/Heat-Resistant Wires Rated up to 572°F
Another favorite of ours is the Maverick ET-735 grill thermometer. It's wireless and connects via Bluetooth similar to the Meater, but includes an extra probe.
It comes with a white or black case and the thermometer itself sports a large backlit display that reads black on white.
There are two probes, both waterproof and measure 36 inches in length — both probes can resist temperatures of up to 572 degrees Fahrenheit. Furthermore, the thermometer requires two, non-included, AAA batteries.
Measuring only 0.8 x 2.5 x 4 inches, this thermometer is the perfect size to comfortably fit your hand. For easy storage, the thermometer is fitted with a wire stand that doubles as a hanger, enabling you to hang it.
To use the ET-735, you have to install a Redi-Check app, which you can find on Google Play and Apple App Store. The app will conveniently enable you to convert your phone into a remote data receiver, allowing you to track your meat, grill, or smoker.
Like the Meater app, you get a variety of settings to set cooking temperatures, timers and you get to track up to four probes at a time. As the cooking progresses, the app will alert you of any changes.
The app includes six preset temperatures of common types of meat and nine presets for various game meats. Additionally, it enables you to customize the temperature according to what you're cooking and set timers to suit your preferred doneness.
Pros
Preset temperatures for various types of meat, including game.
Can handle up to four probes.
Ability to choose between Fahrenheit and Celsius.
An alarm notifies you if the BBQ's temperature changes from the preset range.
Cons
The display tends to scroll through all the four-probe temperatures even if no probe is inserted.
The Bluetooth connection can be a bit weak at times.
If you're a busy griller in need of a thermometer that can keep up and keep track of more than one piece of meat, the ET-735 is ideal. The thermometer is accurate and quick, while the app is intuitive and very helpful.
Although the Bluetooth connection isn't as strong as the Meater, it's still excellent if you're planning on hanging out in the perimeter of the grill.
GrillEye Smart Grilling Thermometer
Recommended
300' Bluetooth range*: Bluetooth connection enables users to monitor grilling temperatures from up to a 300 foot distance, without experiencing disconnections.
6 Probe ports: GrillEye allows easy monitoring of up to 6 different temperature probes at the same time.
Dual temperature display: GrillEye displays, simultaneously, the current as well as the target temperature, using 2 different LED indicators.
2 in 1 Temperature Probes FDA approved for safe use with food. Includes 2 Pro-grade thermometer probes, made of space grade aluminum with flame-proof grip, and 2 clips for ambient temperature readings
A busy griller needs to be able to monitor multiple pieces of meat when grilling; therefore, you need a grill thermometer that can keep up.
The GrillEye comes with two probes but can plug in six in total, so can potentailly remove the need for multiple grill thermometers, enabling you to keep track of multiple meats and your grill simultaneously.
The overall design of the GrillEye is very stylish. It's bright red in color with a large round, black display — it looks similar to a mini speaker.
There are three probe ports on each side of the display, and each temperature will be shown on the screen. In saying that, you will have to purchase four extra probes on the side.
Apart from that, pretty much everything is included with the thermometer — you get the two required AA batteries, clips, and two probes.
The thermometer's size is relatively compact, measuring a total of 3.75 inches in width, 1 inch in depth, and 5 inches tall. The aluminum frame is durable, and it's equipped with a convenient bracket that can be used as a stand.
Now, the GrillEye isn't wireless. But, each probe includes a removable clip, and the wire end features a red bulb that gives you a secure grip.
Like the two previous models we reviewed, the GrillEye also comes with an app — available from Google Play and the App Store.
This app also has a range of settings for different kinds and cuts of meat, including beef, pork, poultry and fish. Simply select your meat on the app, and you'll get to choose your preferred doneness.
Leave your meat to cook on the grill, and once it hits the right temperature, an alarm will notify you that it's time to take it off.
The app also features different customizable settings, such as enabling you to add high/low temperatures on specific meat or probes you're using.
A slight downside of the GrillEye is that the probes are all identical, making it challenging to differentiate between them. If you're nifty, you can add a silicon sleeve, nail polish or any other creative way to help you distinguish between the probes.
Additionally, although GrillEye claims that the thermometer has a range of 100 meters (about 328 feet), it should be noted that this is measured in an area without obstacles.
In other words, if you have trees, furniture or even walls between you and the thermometer (who doesn't), don't expect to get the full range. In saying that, it's still pretty impressive.
You can watch here as the world-famous pitmaster, Malcom Reed tries it out.
Pros
You can connect up to 6 probes at a time.
Connects quickly to the app.
You get various presets to choose between.
One-year limited warranty
Cons
A mounting magnet would have been a nice addition.
Probes are identical and tricky to differentiate between.
The probes are not waterproof, so you have to clean them very carefully.
If you want to be able to monitor more than two pieces of meat simultaneously, the GrillEye might be for you as you can add four additional probes.
Increasing Bluetooth Performance in the Real World
An obstacle-free path is essential to get the best connection when using Bluetooth. This means you might have to find a comfy place to sit in your yard near the grill or place the phone in a hallway near the yard.
Remember to keep the phone in an area where you can hear any alarm that might go off.
Keep other working Bluetooth devices turned off while using the thermometer; this will prevent any other connection from interfering and increase your bluetooth range.
For the thermometer itself, it's crucial always to keep the probe clean. Anything on the probe, such as dirt or build-up of any kind, could give you a false reading — not to mention the risk of contamination.
Test the accuracy of your thermometer to ensure it's working correctly. You can do this by using the ice water method or the boiling water method. Probes and cables can wear out, so it's good to check the accuracy frequently.
Conclusion
If you're tired of babysitting the grill, a Bluetooth thermometer is what you need.
These allow you to take a step back from the grill while being able to keep track of the meat using your phone. Once your meat is at the correct internal temperature, an alarm will notify you.
Bluetooth might not give you the best range compared to RF or WiFi, but it's still highly effective.
Our top choice for the best Bluetooth thermometer is the Meater+. You can't get any more wireless than that, making it an ideal choice for any grilling style.
Our runner up is the Inkbird IBT-4 — it's versatile and enables you to connect additional probes, which is something you don't get from the Meater.
Which one would suit you the best depends on your needs — if you're going to be smoking large cuts of meat or cooking rotisserie, the single Meater+ probe is excellent.
But, if you often grill multiple pieces of meat at a time, a thermometer with multiple probes, such as the Inkbird or the GrillEye will give you better value.
Which thermometer would you go for? Do you have a favorite Bluetooth thermometer we didn't include? Let us know your opinions and thoughts in the section below.