In this guide, we've used our experience and knowledge to put together a list of the best wireless meat thermometers on the market today.
Feeling confident in your grilling style and the food you serve is essential — but how can you know if your meat is done or not without a thermometer?
A grill thermometer is an essential tool every griller should have close at hand when cooking to ensure your meat is properly cooked and keep your grill's temperature in check.
Having a wireless thermometer enables you to take a step back from the grill and spend more time with your guests while monitoring your meat from your phone, so you can cook to precision while spending maximum time with your guests.
If this sounds like a grilling style that's more up your alley, then let's get started!
Bottom Line up Front: The Best Wireless Meat Thermometers Reviewed in this Guide
The above links take you to current prices, customer reviews, and further information on Amazon.
Useful Features to Consider When Buying
Single Probe vs. Dual Probe
As the name implies, a single-probe smoker thermometer can only be used for one thing at a time.
This means you can check the grill or one piece of meat, but not simultaneously (although there is one thermometer that can do this, we'll get to it in the reviews section).
A dual-probe grill thermometer can measure the temperature of several items at the same time. Some dual-probe units will have the ability for you to add additional probes, although these are usually bought on the side. But, hey, the possibility is there.
Being able to check multiple meat pieces is very convenient if you often have friends over for BBQ, and you need to cook more meat in one go. Furthermore, it makes it even easier to cook your meat to your guests' preferred doneness.
But keep in mind that some second probes are made only to check the grill's ambient temperature — these can't be used to test the meat, so ensure you know what you need and what you buy.
Analog vs. Digital
Analog thermometers are basic and quite inaccurate at times.
Digital thermometers will give you a precise and accurate, easy-to-read answer.
Although they cost more, digital thermometers are worth it as you can feel confident in what you're serving.
Remote or Local Display?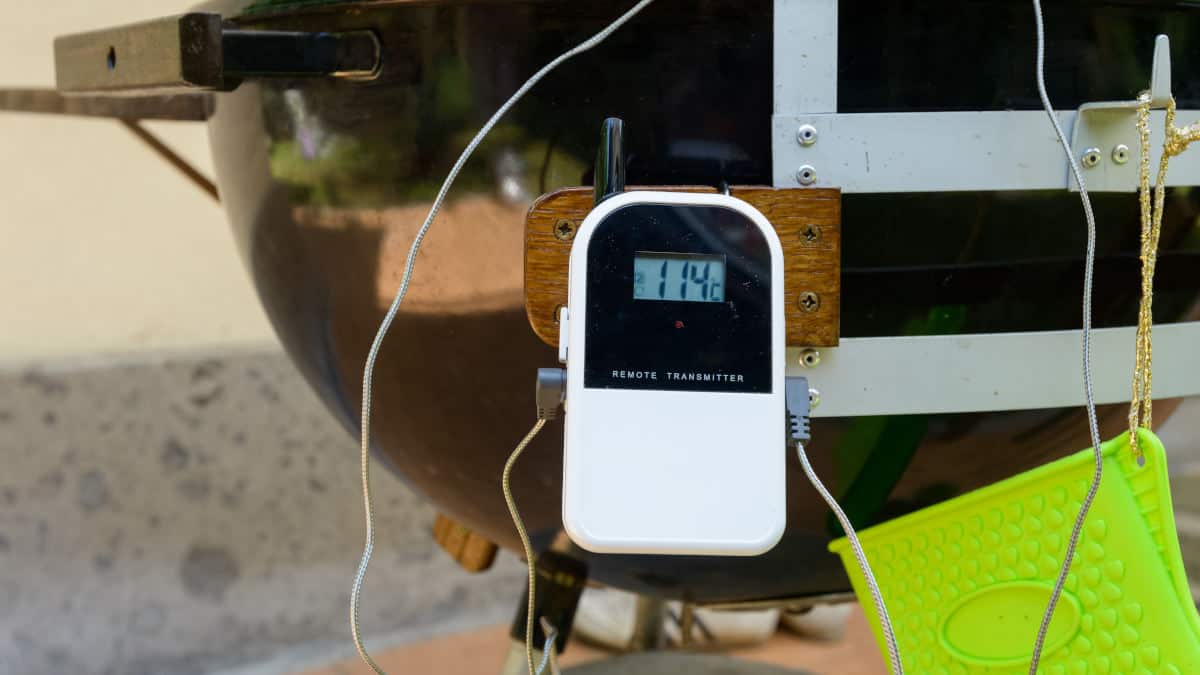 The basic design of a digital thermometer will have a display attached to the probe's end, such as can be seen on instant read thermometers.
However, this means you have to open the lid every time you need to check the meat — not only is this inconvenient, but it will also waste energy from the grill as the heat escapes.
Wired digital thermometers will have a probe that can sit in the meat throughout the cook. You thread a wire through a hole in your grill that attaches to the display.
This allows you to monitor your meat without lifting the lid, but you do have to stay close to the grill.
Do You Want Wireless?
If you're a busy griller but an even busier host, you probably don't want to be chained to your grill — especially if it's a hot day.
Wireless thermometers allow you to stay connected to your barbecue and meat but from a comfortable distance.
Generally, a wireless thermometer is connected to a remote receiver that will display the temperatures of a meat and pit probe on a handy display you can carry around with you.
Some work with an app on your smartphone, but these are discussed in depth in our guide to Bluetooth gilling thermometers, whereas we're only looking at wireless models here.
Then there's radio frequency, which is also useful, but it requires an additional monitor.
A Bluetooth meat thermometer has the shortest range of the three, but it's a technology you can use anywhere as long as you have your smartphone.
Radiofrequency and Wi-Fi are both practical and will give you a longer-range, but you will need to carry around a receiver as they do not display on your phone.
Best Wireless Barbecue and Grilling Thermometer Reviews
We've gathered and reviewed our five favorite wireless smoker thermometers and grill thermometers below to help you find the best wireless meat thermometer for you.
Let's start at the top with our choice for best overall:
Best Overall: ThermoPro TP20 Digital Thermometer
Top Pick
Up to 300 foot range, so you can monitor your cook from anywhere in all but the largest of houses and gardens
Auto-synch, so the receiver connects to the transmitter with no set up
Push-button set up for 9 types of meat, using USDA presets that can be tweaked to your desired doneness levels
Works in temperatures up to 716 degrees Fahrenheit
Durable stainless steel probes, with thinner ends for easier insertion
The Thermopro TP20 bbq thermometer is one of the most popular thermometers on the market, and for a good reason.
It's very durable, made of EVA plastic and soft inner foam, making it waterproof, shock-proof and dust-proof.
Not only is it tough, but it also feels very rugged when you're holding it — in other words, it doesn't feel like a cheap, flimsy thermometer.
Now we know the body of the unit is durable, but what about the probes?
The probes and wires are impressively robust and can resist temperatures of up to 716 degrees Fahrenheit. Additionally, the probes have a temperature range between 32 and 572 degrees Fahrenheit.
Because it's a dual-probe thermometer, you get to monitor your meat's temp and that of the grill simultaneously as you cook.
Thermopro has included helpful temperature guidelines for different types of meat straight from none other than the USDA.
Simply choose the preset that matches the meat you're cooking, and the thermometer knows precisely how it should be cooked. By pressing the 'Taste' button, you can select your desired doneness, and the thermometer will alarm you when it reaches that temp accordingly.
Now, the bright orange and black design might not be to everyone's taste, but I quite like it — it stands out, and you're less likely to lose it. The case is rubberized and gives off a feeling and look similar to a smartphone case.
The thermometer features a light grey screen and black writing, giving you a clear view of each temp. When it gets dark out, you can light up the display with a push of a button. Two ports enable you to connect two probes and keep track of both the grill and meat at the same time.
You get everything you need to get the thermometer started right away, including a receiver, transmitter, two probes, four AAAA batteries, and a helpful manual.
What makes this thermometer a favorite of many grillers is its user-friendliness. Simply set your temperatures for the grill and the meat, insert one probe into the meat and the other to the grill, and you're ready to go.
Thermopro claims the thermometer has a working distance of up to 300 feet, so you should be able to relax in your living room while keeping track of the grill.
Pros
Very easy to use and user-friendly.
Excellent range.
Various presets available for meat and doneness.
Durable design and feel, ready for extensive use through the years.
Cons
It's tough to find something wrong with this thermometer — I mean, it's accurate, fast, includes everything, is durable, user-friendly and affordable, what's not to like?
Of course, this thermometer doesn't connect to any app, which means you'll have to carry the receiver around with you. But honestly, it's not really necessary — you get all the presets, info and readings on the receiver.
Runner Up: Maverick ET733 Wireless Meat Thermometer
Runner Up
Large backlist LCD screen for easy reading of temps
15 preset temperatures for the most common types of meat – configurable to your liking
Up to 300 foot range which is excellent for remote monitoring around your home and garden
Works up to 716 degrees fahrenheit, great for monitoring even the hottest of searing temperatures
If you're looking for a thermometer that'll give you the freedom you need when grilling, the Maverick ET733 is it. With a range of 300 feet, it's the longest on our list.
Now, if you want this long range, you'll have to carry the red monitor around — on the bright side, it includes a clip that enables you to attach it to your belt or pocket conveniently. Furthermore, it alerts you if you've accidentally gone out of range.
Similar to the TP20 we reviewed above, this thermometer also comes with various presets to help you get the best cook every time. And if you're unsure about safe temperatures, you can feel more confident in that these presets are according to the USDA guidelines.
Additionally, it doesn't just include preset temperatures for your average meat types — in fact, you'll get preset temps for veal, lamb, deer, duck, elk, buffalo, and more.
With the help of the two probes, you can easily track your meat and the grill. It's crucial to cook using the correct temperature, as a low n slow smoking session simply can't be done using a scorching hot grill.
One slight downside is the lack of contrast in the display — it can be challenging to read at times, especially when it's sunny out. But, it does have an automatic built-in backlight that works when it's dark out.
Pros
Includes two hybrid probes that can measure the grill and the meat temperature.
Long-lasting batteries, ideal for long smoking sessions.
The longer range gives you even more freedom.
Temp alerts, meaning you won't have to check on the receiver as often.
Transmitter is rain-proof.
A pair of meat claws are included so you can pull pork!
Cons
You're limited to two pieces of meat at a time.
The receiver is rather bulky and can be difficult to carry around.
The convenient preset temperatures and long-range make this thermometer an excellent choice for newbies and more experienced grillers. No more doubting yourself or wasting time looking temps up on the internet.
Meater+ Long Range Smart Wireless Meat Thermometer
Premium Pick
Truly wireless, not a wire in sight. Great for rotisserie, as well as smokers and grills
Two sensors in one probe – extremely easy to use
The app guides you through cooks. Choose your meat type, then the cut, it will estimate cook time and tell you when to remove your meat, even taking into consideration carryover cooking
Bluetooth to your smartphone good for up to 165ft, but can be extended using MEATER Link and a WIFI connection
Recall when we mentioned there was a single probe thermometer that worked as a dual-probe? This is it!
The Meater is one of the first truly wireless meat thermometers, making it the ideal choice for rotisserie cooking.
Now, the original Meater didn't have the best range — you only got about 30 feet and it worked best on open grills. Meater+ is a different story, though — it has a new and improved range of up to 165 feet.
The probe itself contains two sensors, one at each end. The sharp end is inserted into the thickest part of the meat, while the black end will keep track of the grill's ambient temperature.
The probe will then send the collected info to a Bluetooth repeater that then ships it off to your phone, where you can see everything through an app.
The Bluetooth repeater isn't any old, boring piece of plastic — it's actually a very stylish wooden block that also doubles as a charger.
One thing we highly appreciate about the Meater+ is the app — it's highly intuitive and will help you achieve perfectly-cooked meat every time.
You can choose the exact meat and cut you're cooking and to which doneness you prefer — it even accounts for resting time.
The app will also save previous information that can help you figure out what worked and what didn't.
Pros
Truly wireless, no wire threading, kinked or damaged wires.
Ideal for rotisserie cooking.
Intuitive app that's easy to use.
Your smartphone is your receiver, so you won't have to carry any additional device around.
Will help you to achieve the perfect cook by customizing to the specific cut you're cooking.
Stylish look.
Cons
A little expensive considering that you can only monitor one piece of meat at a time.
The battery for the probe isn't replaceable, but it should work for up to 1000+ cycles.
The Meater+ is an excellent thermometer that works for some people.
If you're a busy griller who'd like to keep track of multiple pieces of meat simultaneously, the Meater won't do you much good.
But, if you're smoking large cuts one at a time or doing rotisserie grilling, the Meater is great!
WIRELESS - Monitor your grill and smoker temperatures from up to 300 feet away
PROGRAMMABLE ALERTS - The Maverick meat thermometer will alert you when your meat has reached the temperature you would like. The wireless receiver also alerts you when your BBQ or smoker is above or below the desired temperature range
BACKLIT SCREENS - Thermometer and receiver features back-lit screens so information is easy to read in darker conditions
FEATURES - Count up timer, countdown timer, belt clip and built-in stand
INCLUDED - This most perfect of grill accessories includes: remote receiver, remote transmitter, ambient probe, meat probe, ambient probe clip and 4 AAA batteries for out of box use
If you liked the Maverick ET733 but want something a little simpler, you're going to love the ET732. The two models look alike and share many of the same features, but the ET732 doesn't include preset temps.
Fewer features aren't always a bad thing — it makes the thermometer more straightforward to figure out and is substantially easier to use.
If you're struggling to remember the safe temperature of the meat you're cooking, it's only a Google search away.
The ET732 has the same long range as the 733, and it's just as accurate. It also comes with two probes, but unlike its big brother, these probes aren't hybrids. There's one probe for the meat and one for the grill.
Although the thermometer is highly accurate, it isn't the fastest. It requires a few seconds before the readings show up and stabilize, making it more ideal for larger cuts than thin cuts.
An instant-read thermometer is more suitable for thin or smaller cuts of meat.
Pros
Includes two probes, one for the ambient temperature and one for the meat.
Features countdown and count-up timers.
Water-resistant transmitter.
Cons
Limited to only one piece of meat at a time.
Short cables measuring only 3 feet.
The ET732 is ideal for any griller who knows their stuff and wants a thermometer that's straight to the point. The long range enables you to track your grill and meat from virtually anywhere.
ThermoPro TP08 Wireless Meat Thermometer
Recommended
Malfunctioning probes are frustrating to deal with, but the issue can become even more frustrating if the manufacturer isn't backing its product.
Fortunately, Thermopro isn't one of those lousy companies that make flimsy thermometers that break and malfunction with use. But if they do, Thermopro is sure to stand by their probes.
The TP08 is a fast and accurate thermometer that comes with a lifetime warranty on the probes — if one were to break, Thermopro will replace it for free and without questions.
The transmitter has to be placed closed to the grill, but to make it easier, it's fitted with a hook that enables you to hang it on the side. You can also set up a table, chair or any other object next to the grill where you can place the transmitter thanks to the built-in stand.
One slight inconvenience of the TP08 is the buttons and inputs — they aren't as intuitive as other thermometers we've reviewed. It's also not as easy to figure out, and you might catch yourself peeking at the manual more than a few times. But, as you get the hang of it, it's relatively easy to use.
Each probe has a specified input, unfortunately, they aren't marked. This is where I, and most other users, seemed to be struggling the most.
Pros
Includes a probe for the grill and one for the meat.
Countdown and count-up timers help you keep track of your meat.
The length of the meat probe makes it suitable for a range of cuts.
An alert notifies you when you're out of range so you'll never miss a beat.
Cons
It can only measure one piece of meat at a time.
The transmitter and receiver aren't waterproof, so you have to be extra careful if it's raining.
The power button is too sensitive and it often turns on or off by mistake.
For summer grillers who prefer to be out in perfect sunny conditions, this thermometer is excellent. But for any pitmaster who needs to be by the grill no matter the weather, the TP08 simply won't keep up.
The Importance of Meat Thermometers
Food safety is a priority of any cook — and serving undercooked meat is far from ideal.
According to the CDC, one in six Americans falls ill from foodborne illnesses. Here are a few guidelines from the CDC:
Thoroughly clean your hands and surfaces.
Keep raw meats separate from other foods.
Use a thermometer to make sure the meat is cooked to a safe temperature and your preferred doneness.
Refrigerate your food properly.
Apart from the safety a meat thermometer brings, it will also eliminate any guesswork. Hovering over the grill, pinching or pricking the meat to check how it's cooking will only waste your time and result in an uneven cook. With a thermometer, you can spend more time with your friends and family without checking on the meat every two seconds.
Most thermometers that are designed for the grill includes at least two probes. Generally, one is specifically designed to measure the grill's ambient heat and the other specifically designed to measure the meat.
When grilling, knowing the specific temperature of your grill is an essential start to any cooking session. Most ovens will beep once preheated, but a grill or smoker won't do that.
So, instead of putting your hand dangerously close to the inferno to check the temp, use your thermometer!
Knowing the temperature of your grill will essentially help you to become a better griller. It will help you achieve more consistent results, and as you evolve, you'll even begin to figure out how to set up your grill to suit what you're cooking.
Don't Rely on the Built-In Thermometer in Your Grill
A built-in lid thermometer seems to be a fun feature in many new grills, but these aren't known to be accurate.
The location of the thermometer alone is a red flag, as the domed lid is several inches off the grates (where you want to measure the temperature).
Because of this, they can actually be off several degrees, in some cases, between 10 and 30 degrees. But in more extreme cases, users have found the lid thermometer to be off by 50 degrees, which is pretty mind-blowing.
A digital thermometer will be better at telling you the exact temperature of the grates compared to the analog lid thermometer.
The slow speed of analog thermometers is also what makes them so inaccurate. You're waiting for what seems to be an eternity before the little dial finally stops at a reading.
On the other hand, a digital thermometer will generally settle on a temperature within a few seconds.
Conclusion
Spending your hard-earned money on a gorgeous cut of meat that eventually gets overcooked and dry is a disappointment. By using a thermometer, you can cook your meat to perfection every time.
Meat thermometers are available at varying price points, but you don't have to spend a fortune on getting a quality unit. Our pick for the best wireless meat thermometer is the Thermopro TP20 — it's affordable, fast, accurate, and highly durable.
Our runner up is the Maverick ET733, we just couldn't resist the convenience of the hybrid probes and the ultra-long range.
Which thermometer do you prefer? Would you be willing to try out the mighty Meater+? Give us a shout in the comment section below.