In this comprehensive buyer's guide, we're going to help you buy the best grilling gloves that are just right for you, no matter your needs and budget.
Grilling means dealing with very hot temperatures and often scorching equipment. Protecting yourself is crucial, so you don't end up sizzling your skin instead of the sausages!
The only item that can shield you from the heat of the 'cue is a pair of good-quality grilling gloves — and we've got some of the best grilling gloves lined up in our review.
A pair of suitable gloves will help you to handle the coals or hot grates with confidence. Furthermore, the gloves' length will help prevent any burnt arm hairs as you reach over the grill to flip the back's burgers.
Without further introduction, I think we should jump straight in!
Bottom Line up Front: The Best BBQ Gloves Reviewed in this Guide
The above links take you to current prices, customer reviews, and further information on Amazon.
Do You Really Need Grilling Gloves?
Using pot holders or even neatly-folded washcloths when cooking on a grill is far from ideal — these items do nothing to protect you from the heat of the grill.
Then there's the risk of the material catching on fire as it's exposed to an open flame — not even kitchen mitts can withstand these conditions.
Now, there's an evident difference between gloves and mitts — for starters, your fingers will be separate, giving you better mobility.
Mitts can feel awkward and don't allow you to get a good grip on items, increasing the risk of accidentally dropping something hot.
Another advantage with grilling gloves is how far up the arm they reach. Most grilling gloves will protect not only your hands but also your forearm and up to your elbows. The extra length will enable you to reach over the grill without burning your arm.
A pair of good grilling gloves will enable you to move freely around and over the grill when cooking. Without gloves, you'll find yourself withdrawing your hands repeatedly, making it challenging and frustrating to get anything done.
Can You not Use Kitchen Gloves??
Well, yes and no.
The biggest factor is that the gloves are highly heat-resistant, more so than kitchen oven mitts.
For example, you can get grilling gloves made of thick leather; however, these are made differently to the leather gloves you wear during the winter, despite being made of thick material.
Some pitmasters choose to use welding gloves when grilling. This type of glove is also made to resist high temperatures. Welding gloves are available in various materials, but suede has the highest heat resistance.
If you plan on touching the hot coals or grates, welding gloves are the best choice since they're designed to come into contact with hot metals. They're also designed to handle high temperatures, much better than any grilling gloves.
Need more convincing? They're cheaper too!
They Should be Loose – Surprisingly!
Finding the right fit isn't always easy — and people with smaller hands tend to find it more challenging. Grilling gloves are designed to fit larger and loosely for you to fling them off quickly if they soak up oil catch on fire.
If they fit tightly on your hands, you won't be able to get them off as quickly, increasing the risk of them burning through.
Learning to work while wearing loose, bulky gloves isn't easy, and it might take some practice before they feel comfortable.
If you have small hands, grab a pair with a thick lining. A thicker lining will accommodate your hands a little better, giving a more snug fit.
Knitted gloves can also give you a more snug fit due to the elasticity of the material. Leather will also shape itself around your hand, molding itself into place, if you will.
However, people with larger hands can also have trouble finding the right fit. Again, some materials will stretch to fit your hand; however, it shouldn't be too tight or it will be difficult to remove.
You should also consider the cuff length.
If you're only flipping burgers over small charcoal grills, the size of the cuff might not be as important.
However, if you're cooking using an egg grill, smoker or wood stove, you will need a longer cuff to protect you as you reach into the pit.
Are All Gloves for all Temperatures?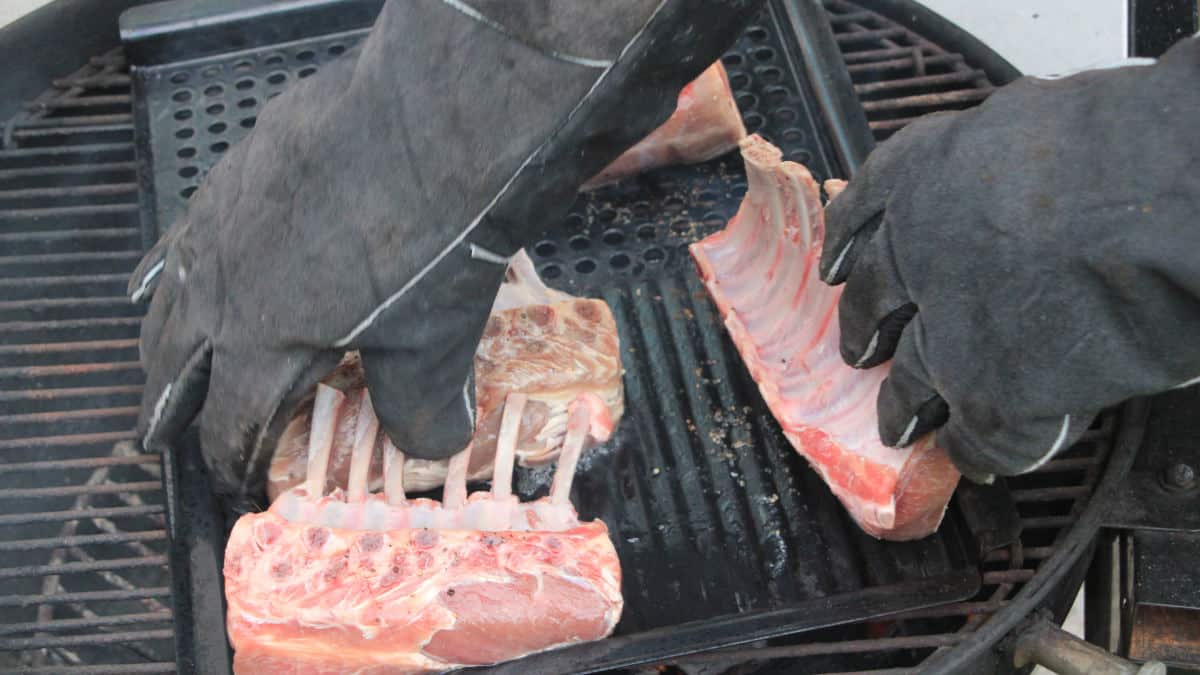 No, not all grilling gloves are designed the same.
Some are specifically designed to protect your arms and hands from the heat, whereas others are only meant to be used as potholders.
Most manufacturers will describe hot heat resistant the gloves are; for example, the gloves can withstand temperatures of up to 550 degrees Fahrenheit.
Depending on your grill or smoker, the grates are likely to reach higher temperatures than what the gloves are designed for.
Remember that not all gloves are meant to come into contact with hot charcoal, wood, or metal; others shouldn't be exposed to open flames.
Before purchasing a pair of gloves, make sure they suit your cooking style.
Why are Some Waterproof?
We're grilling, not handling boiling water! Despite this, having a pair of gloves with some degree of waterproofing is important.
You see, wet surfaces conduct heat much better than dry; therefore, if your gloves have absorbed moisture, they simply won't give you the same amount of heat resistance.
It might be a rainy day, and your gloves have gotten slightly wet, or they've absorbed grease or oil. In this case, some fabrics lose protection. In this case, you will get burned as the heat transfers through wet materials faster than dry.
On another note, woven or knitted gloves won't protect you from steam. Steam can quickly get through the tiny crevices of the weave and come in contact with your skin. If you're grilling in a damp environment or around wet heat such as steam, go for a non-fabric material that won't absorb moisture.
The same goes for oils, as these can also get through the crevices of a woven material. If it gets through, the oil will be trapped inside the glove, burning your skin. Similarly, hot oil can melt certain molded materials, so make sure you check the manufacturer's recommendations before choosing a pair.
Top 5 Best Grilling Gloves for 2022
Finding the right pair of grilling gloves isn't a straightforward task, especially with how many different gloves available. But, we're going to help you out by sorting the good from the bad. We've listed four of the best grilling gloves available, so let's take a closer look!
Artisan Griller Heat Resistant Gloves
Top Pick
Having full flexibility when working around the grill, smoker or hot oil is important. Furthermore, you need a material that can withstand that kind of heat — and fabric is not it.
However, one common issue with many waterproof gloves is how rigid they can feel. It's challenging to handle tools when your hands are trapped in thick plastic.
Luckily, this pair from Artisan Griller combines flexibility and waterproofness thanks to the neoprene exterior and soft, breathable cotton interior. Unlike silicone or rubber, neoprene offers more flexibility, enabling you to gain full control of the grill and your tools.
The soft lining prevents sweating and sticking, making them more comfortable to wear even for long periods. In saying that, they still allow you to fling them off quickly if needed. Additionally, they have a textured palm that improves grip, whether you're handling hot pots, pans or food.
Now, the manufacturer claims the material can handle temperatures of up to 500 degrees Fahrenheit.
However, I wouldn't use them to move hot coal or wood around — you might be able to quickly grab the hot grates, but not for an extended time.
Unfortunately, these aren't machine washable, but a little water and dish soap should get grease and oil off easily — just not as convenient as the machine.
We recommend cleaning your hands before putting the gloves on. The soft lining can be tricky to clean without creating moisture issues.
Pros
Can handle steam and hot oil.
Very versatile and can be used around the kitchen as well.
No risk of finding fuzz on your next meal.
Will protect your forearms.
Cons
Not machine washable.
Slightly looser fit.
Only available in large sizes.
Whether you're grilling up a storm or using the deep fryer in the kitchen, these gloves will protect you from a painful burn.
They can easily handle temperatures between 400 and 500 degrees Fahrenheit without leaving your hands feeling sweating.
You never think about how short your heat-resistant gloves are until you realize you've scorched off your arm hair reaching for the back of the grill.
That's not going to happen if you're wearing a pair of Geekhom grilling gloves.
I am a strikingly average-sized guy; at 13.7 inches long, these gloves will cover me to within a couple of inches of my elbow.
Made of waterproof silicone with a moisture-wicking cotton liner, the gloves are heat resistant up to 446F. That means your hands will be well-protected whether you're tending a smoked brisket, a roasting bird, or a searing steak.
They're good down to -107F, too. You know, in case you're planning a trip to the South Pole.
We really appreciate the textured pattern on the gloves.
Between the little nubbins and the silicone, it's easy to keep a grip on hot bowls and platter. You'll find the glove-style design makes it much easier to hang on to and use utensils than with mitts. Don't expect to do anything that requires fine dexterity, though. The material is too thick for that – and that's ok!
There's a large, convenient hanging loop at the end of the glove. That's perfect for hanging by the grill when not in use. You can also use it to hang the gloves to dry after washing. We love the fact we can toss them in the dishwasher for a thorough cleaning!
Another thing to love is the warranty. There's a full money-back guarantee for 60 days, and a 1-year replacement guarantee if anything goes wrong. Gotta love a risk-free investment!
Pros
BPA-free silicone construction
Heat-resistant to 446F – ideal for BBQ and oven temperatures
Non-slip material helps you keep a grip on bowls and more
1-year worry-free replacement guarantee
13.7 inches long, protecting wrists and forearms from burns
Dishwasher safe
Cons
May be snug on very large hands
Don't expect great dexterity, even with individual fingers
I know many of you probably just grab the oven mitts for working on the grill. Stop it. Buy these, instead. A great pair of gloves is essential for grilling, and these are some of the best we've seen.
Homemaxs BBQ Gloves 1472℉ Extreme Heat Resistant
Great Value
No products found.
Being able to move quickly when grilling can mean the difference between a perfectly-cooked sausage and a charred piece of lump. This pair of gloves with extreme heat resistance is just what any fast-moving griller needs.
They feel like regular gloves, but the material is thick. You can quickly move your fingers, as usual, enabling you to grasp smaller objects with ease.
The gloves come with a soft polyester cotton lining that feels comfortable against the skin. It's a knitted design made of a deyan aramid fiber, although it feels like fabric, it has high heat resistance.
The gloves feature a silicone layer that provides a non-slip grip as you pick things up — they can even help you to open stubborn jar lids as well.
One of the main points of these gloves is how well they handle hot metal. You can confidently use them as you're removing cast iron pans or Dutch ovens from the grill or oven.
They'll also help you to move things around without the need for tongs, so you can move coals around or even burning logs. Note, they're flame-resistant, not fireproof.
There are a few downsides to these gloves, however.
For starters, they won't handle a prolonged tight grip on any hot surface of over 650 degrees Fahrenheit — you'll feel the heat in less than a minute. Furthermore, due to the fabric material, they won't remain heat resistant if wet.
Pros
Comes in one-size-fits-all with a loose fit in case you need to get them off quickly.
Interchangeable, so you don't have to spend time figuring out which is left and which is right.
The lining creates a snug, comfortable fit on big or small hands.
Won't stick to your hands.
Available with longer cuffs for added protection.
Machine washable.
Cons
Steam and hot liquids can quickly penetrate the material and burn you.
Not waterproof.
These Homemaxs gloves are a great pick for the average griller or smoker. The snug interior gives you a comfortable fit while maintaining full mobility of all your fingers.
Use them around the grill, smoker, or oven! Just don't get them wet.
Weber Premium Barbecue Glove Set
Recommended
These gloves from Weber are on the thick side, however, you still get good maneuverability of your fingers.
They feature a snug wrist cuff with an elastic band that prevents them from sliding off as you're moving around. Yet, they can be flung off quickly if needed. In saying that, the tight cuff can feel bulky, especially if you're wearing thick sleeves underneath. Furthermore, the material retains heat, leaving your hands feeling sweaty.
However, we do like the length of the cuff as it gives your forearm good protection when you're reaching over the hot grates. They're also pliable, enabling you to stuff them into your pocket if needed — useful if you don't have a nearby surface to put the gloves down on.
The palm is lined with a silicone pattern for added grip — helping you grab slick handles or utensils. The pattern is just on one side of each glove, so they aren't interchangeable.
Keep in mind, if the gloves become damp, they won't protect you against the heat, making them ideal for use around dry heat. Be careful when moving hot liquids in case they spill on the gloves.
Pros
Flexible gloves.
Can fit small or large hands.
Compact and easy to store.
Cons
Not waterproof.
Can't handle hot objects for long.
Not interchangeable.
These gloves are comfortable to wear and good to use when you're reaching over the grill to catch that runaway sausage at the back.
However, they can't handle direct exposure to hot items, so make sure you have potholders ready.
Steven Raichlen Extra Long Suede Grill Gloves
Recommended
Grilling isn't about fashion, but if you can look good while searing a steak, we'd say that's a bonus! These suede gloves from Steven Raichlen score slightly higher on the fashion-meter compared to the others. It's a two-toned suede consisting of black and brown accents on the palm and inside the fingers.
Suede is a comfortable material that hugs your fingers while allowing you to easily grab the things you need. They give you excellent control over your tools since you can feel them better — just without the heat, of course.
These gloves have a heat resistance of up to 475 degrees Fahrenheit with cuffs extending just below the elbow. The wide fit allows air to circulate through the gloves, keeping sweating at a minimum.
They aren't designed for prolonged contact with hot metal, so you have to be careful when handling the hot grates or cast iron. I wouldn't move hot coals or logs with them either as the heat seems to travel through the material rather quickly when in direct contact.
Given the suede material, these aren't machine washable, which is kind of a bummer due to leather's porousness as it absorbs grease easily. As a result, you'll end up with impossible grease stains.
A little tip: Use a damp cloth to wipe off grease stains as soon as you notice them; that way, the leather won't have much time to absorb fully.
Pros
Sleek design.
Natural feel.
Protects your forearm.
The wide cuffs give better air circulation within the gloves. They can also be pulled over thick sleeves.
Cons
Not machine washable.
Absorbs grease.
Can't handle hot metal.
Although these gloves work well at protecting you against direct heat from the grill, they aren't good when you need to grab hot items. For this, you'll need some potholders at hand.
Follow the link for more information:
Conclusion
Grilling or smoking is made a lot easier when you know your hands are protected from potential burns.
It's important to find a pair with a good balance between flexibility, fit, comfort and heat resistance — and it's essential to remember that not all gloves are designed for direct, prolonged contact with hot metal and burning coal.
We prefer the Grill Heat Aid gloves as these offer a good balance overall. They're comfortable to wear and a breeze to put on or take off.
In addition to that, the cuffs give you a little added protection up to your forearm, which is good when you're reaching across the grill.
However, if you're often working with moist heat, the Artisan Griller gloves are ideal. The molded neoprene construction means so steam or hot oil can penetrate and leave you with a nasty burn.
Consider which glove would suit your grilling style the most, and feel free to leave a question below, and we'll get back to you.