Cooking with a charcoal grill isn't as straightforward as gas or pellet grills — it requires skills and practice to master. Using a charcoal grill is also more time consuming, as you have to start up the charcoal first, wait for the grill to heat, maintain the fire and clean up the ashes once you're done.
However, with all the effort, you'll certainly be rewarded — nothing beats the irresistible taste you get from a charcoal grill. Whether you're cooking over briquettes, lump charcoal or adding a few wood chips or chunks, you're sure to get mouthwatering results.
There's also something so rewarding about starting your own fire, nursing it to life and then using it for cooking your next meal — it's a primal feeling we all have inside.
Today, we'll be diving deep into the amazing world of charcoal grills. We're going to go through a quick guide on finding the right grill, various price points and pros and cons.
Make sure you stick around as we reveal our choice for the best charcoal grill on the market — we're also going to share a few other favorites that are sure to impress you as well.
Without further ado, let's get into it!
Bottom Line up Front: The Best Charcoal Grills Reviewed in this Guide
The above links take you to current prices, customer reviews, and further information on Amazon.
What to Consider in the Best Charcoal Grill for You
We've seen, tried and tested our fair share of charcoal grills, and let's just say, a hefty price tag doesn't necessarily mean a high-quality grill.
One of the greatest things about charcoal grills is that they're available at various price points, making it a breeze to find something that suits your budget without making too many compromises.
Below, we've listed the essential points you should consider before making a purchase. These will help you to find a grill that suits your needs and budget.
Keep in mind; we chose all the grills on our list based on the points below, so be sure you take a look at our top choices — who knows, you might just find the grill of your dreams!
Build Quality and Durability
A quality-built grill can withstand intense heat and frequent use for years to come, but it depends significantly on its material.
Thick materials are preferred, as these will hold up to heavy use without warping, cracking or breaking — materials such as cast iron, cast aluminum or heavy ceramic grills are preferred above all if you're looking for the best of the best.
On the other hand, if you want a quality grill but don't have the budget to match, look for porcelain-coated grills or even chrome-plated. However, since these materials are thinner, you shouldn't expect them to hold up like the heavier ones we mentioned above.
Consider how often you'll be using the grill as well. If used infrequently, you can easily get away with a thinner material that's more budget-friendly. However, if you're a frequent griller, you need a grill that can keep up; therefore, going for a thicker material is ideal.
Cooking Area and Footprint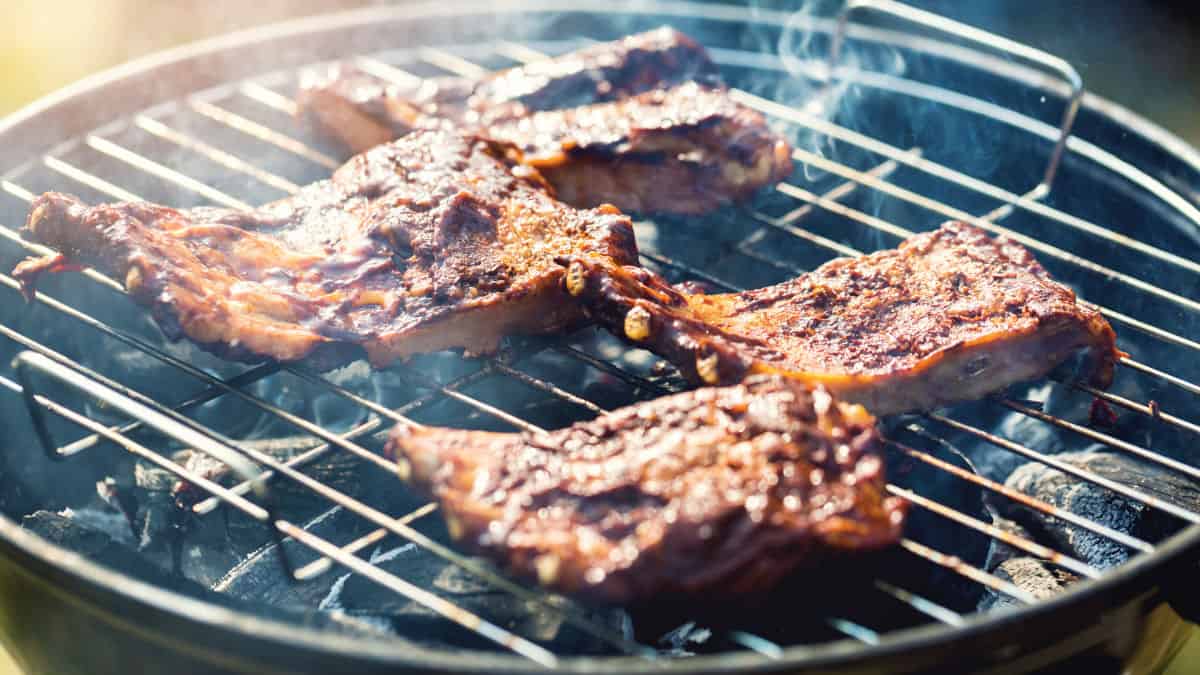 How massive of a grill do you need? This is where many grillers overdo it and buy an unnecessary whopper.
Consider who you're cooking for and how many you're cooking for. Maybe you enjoy having the whole family over during the weekend and need a grill that can cook for as many people as possible? Perhaps you're only grilling for yourself and your significant other and need a smaller grill.
Keep in mind that a large grill will need more fuel; therefore, choose a reasonably-sized grill that suits your needs.
Temperatures
Unlike gas, electric, and even pellet grills, charcoal barbecues don't have a specific temperature controller. Therefore, it can be tricky to control and maintain temperatures.
If you're already very familiar with charcoal grills, this might not be a concern for you as you already know how to tame the flame and handle temperature inconsistencies.
Now, simply because charcoal grills are slightly more "rural" than other types, a few features are designed to help maintain a consistent temperature, such as top and bottom vents to control airflow and hence temperature, and a built-in thermometer to monitor things.
Some grills will also respond quicker to changes made by you.
How Easy it is to Use
Grilling shouldn't be a challenge; otherwise, you'll eventually give up. Things like easily controllable vents, sturdy racks, easy to open hoods that can hang on the grill side may seem like small details, but they will make a significant difference when grilling.
A thoughtful design can make your grilling experience much smoother. This is where it can pay off to choose a well-established brand, such as Weber, with years of expertise under its wing.
Required Cleaning and Maintenance
Unfortunately, cleaning a charcoal grill after a major grill-sesh can be tough — there are ash, grease and vents that you need to clean.
Fortunately, many grills are designed with ease of cleaning in mind. It should be easy to disassemble when needed and feature large ash pans with levers that you can work back and forth to empty the ash without much trouble.
Cost and Your Budget
As we mentioned briefly above, charcoal grills are available at various price points, ranging between $50 and $2,000+. Safe to say that there's a grill for everyone out there; you just have to scope it out.
The most vital step is to set your budget — without a set budget, you might just get sucked into buying an expensive grill with features you simply don't need.
How often you're planning on grilling and how durable it needs to be will help you to set a reasonable budget.
Addons and Extras
Charcoal grills don't come without their fair share of bells and whistles — but what you get depends heavily on your budget.
In saying that, some nice features and extras are probe holes, ash catchers, drawers for charcoal, side tables, a cover and more. There are tons of grilling accessories available, and it can sometimes be hard to determine what is needed and what is simply "nice-to-have."
As with anything, it's essential to consider what's important to you. Don't like to deal with messy ashes? Go for an ash catcher. Want to be able to monitor your meat during the cook? Make sure the grill comes with integrated holes for probes from a good wireless thermometer.
Side tables, shelves and hooks are all handy features for grillers who like to keep equipment, sauces, ingredients and more close at hand. A weatherproof cover is essential if you plan on storing the grill outdoors where it could be exposed to moisture.
If you're lucky, perhaps you stumble upon a great deal where your new grill includes many of the extras we mentioned here.
Our Picks for Best Charcoal Grills for 2022
Weber Original Kettle Premium
Top Pick
Holds up to 13 burgers made with a Weber burger press; Built-in lid thermometer. Rust-resistant aluminum dampers
One-Touch cleaning system with high-capacity ash catcher provides hassle-free ash cleanup
Porcelain-enameled lid and bowl retain heat, and won't rust or peel
Use the lid hook to avoid placing the lid on the ground while grilling
Cooking grate is hinged for easily adding charcoal while grilling
The Weber Original Kettle is a classic and iconic grill that has become the staple-piece of backyard cooking in America.
Everything about this 'cue oozes simplicity — and great food! It's a breeze to assemble, produces consistent results and it's reliable.
In addition to that, it's also versatile. Set up you charcoal for low n slow cooking and add a handful of wood chips for aromatic smoke.
What makes the Kettle so unique is the specific spherical design that gives you top-notch heat convection — hence, why Weber hasn't changed the design much over the years.
Another smart design feature has to be the hinged grate. This feature allows you to get quick access to the charcoal whenever you need to refill, adjust or simply give those burning lumps a check. The exterior of the grill has that classic black, sleek Weber design — it's timeless and will look amazing in your yard for years to come.
Cleaning is as easy as it gets with the Kettle, it features a One-Touch Cleaning Lever that you work back and forth to shake ashes into an ash catcher — any leftover charcoal can be saved for the next use.
Using the Kettle is super simple, whether you're a beginner or experienced griller. The vents are simple to adjust and the grill responds quickly to any airflow changes to raise or lower the temperature. Once you're done cooking, simply close the vents to cut off airflow and the flame will quickly die. Since the fire dies out fast, it enables you to save unused coals for the next cook.
Despite all the pros concerning the design, we don't love the three-legged stand. First of all, having only three legs makes it unsteady — the two wheels make it easy to move around when needed, but it also makes it unsafe to use on uneven grounds.
You get a built-in thermometer that works great for regular grilling. However, if you're setting up for a two-zone grilling session, keep a digital thermometer at hand — the positioning of the thermometer means it will only measure the temperature where the coals are, not where the meat is.
Pros
Versatile, you're able to grill and smoke.
Excellent heat convection.
Easy to clean.
Great features, such as the hinged grate, ash catcher and ash cleanout.
Reacts swiftly to vent changes.
Cons
The three-legged design makes it unsteady.
The thermometer is located on the opposite side of the vents.
This black beauty is a favorite by many grillers for a reason.
It's a breeze to use, easy to clean and produces great results with minimum effort.
It has many excellent features packed into a compact design — not to mention you're able to turn it into a smoker whenever you feel like it.
The Original Pk Grill & Smoker
Runner Up
CHARCOAL GRILL AND SMOKER COMBO - PK Grills charcoal grill with smoker packs a unique capsule shape construction and 4 vents system that make it easy to grill hot and fast or low and slow.
CAST ALUMINUM CONSTRUCTION - Aluminum grills are rust-proof, durable, lightweight, and conduct heat 4x more efficiently than steel charcoal grills.
PORTABLE GRILL - This outdoor grill and smoker detaches easily from any of it's available stand options for transport. A great portable bbq grill for camping, tailgating grill, park grill, travel grill, fishing, hunting cabins, etc.
BUILT TO COOK - With 300 Square inches of cooking surface, this barbecue grill for outdoor cooking can handle everything from brats to a Thanksgiving Turkey.
BEST-IN-CLASS WORKSPACE – Grilling is about flavor. No other manufactured fuel, neither propane gas nor pellets, can provide the authentic grilled flavor of a charcoal-fired PK Grill and Smoker.
This is a heavy-duty, cast-aluminum grill made to impress in every way. It weighs in at 45 pounds and sports a cool retro design that goes perfectly in any backyard.
The grill has been heavily praised through the years, mainly due to its excellent heat retention, temperature and airflow control.
The entire barbecue is made of cast-aluminum, even the hinges! This makes it a trustworthy construction that isn't assembled with gimmicky plastic parts. Furthermore, aluminum is highly resistant to rust and corrosion, making it more durable, even if it's left outside.
It comes equipped with four vents that allow you to change between high and low heat when needed. You can quickly sear off a couple of steaks and then turn it down to a low n slow smoke with added wood chips in the pit.
The grill comes with a two-wheeled cart and a side table (also aluminum). However, you can easily lift the grill off the cart when needed, making it an excellent portable option!
Pros
Easy to set up for use
Class leading het retention and temperature control
Handy work surface table included
Portable enough to take away with you camping or tailgating
Cons
The lid could be better fitting
Electronic Touch-N-Go with Propane Gas powered ignition system (propane tank not included)
Dimensions - Lid Closed: 43.5"H x 48"W x 30"D | Weight: 91 lbs
22-inch diameter porcelain-enameled bowl and lid with a cooking area of 363 square inch
Aluminized steel One-Touch cleaning system with removable, high-capacity, aluminum ash catcher
Removable LCD cook timer and built-in lid thermometer
If you're new to charcoal grills and feeling a bit nervous about lighting, maintaining, controlling and cleaning up after — you're going to like this Weber.
The Weber Performer Deluxe was made to be as user-friendly as it gets, coming in with multiple built-in features that pretty much does everything for you — we're kind of surprised it doesn't flip the food as well!
With a quick peek, you will notice that it doesn't look like your regular ol' charcoal grill — it's a more modern, feature-filled hybrid grill.
First of all, you get a grill large enough to feed four to six people and an ample workstation right at your side. It features a painted metal tabletop that's ideal for keeping spices, sauces or utensils close at hand or use it to quickly wrap food in foil as it comes off the hot grates.
The cooking grates are hinged and can easily be removed along with the midsection for direct access to the charcoal — excellent for refilling or checking on the coals. Cleaning the grill is also super easy — it features a One-Touch cleaning system with a large removable aluminum ash catcher.
Other cool features include the built-in thermometer, removable LCD timer, charcoal storage and adjustable dampers that make the entire experience much smoother.
However, the smartest feature has to be the Touch'N'Go Igniter. This is something entirely new that we certainly haven't seen before. It turns this "regular" charcoal grill into somewhat of a hybrid — as it uses electronic ignition to spark life to the coals instantly. It eliminates the use of chimney starters, Looftlighters and the like.
Despite having so many convenient features, it's missing a hook on top of the domed lid — this is pretty standard with most grills in this style. There are also no markings to guide you on working the bottom vent slider — you're probably going to need the manual for the first few times.
Pros
Incredibly easy to use.
High-quality metal side table (not plastic).
Built-in thermometer, removable LCD and more excellent features.
Heavy-duty materials.
Cons
There's no hook on the lid, making it tricky to remove.
It can be challenging to work the bottom vent.
Hard to move around.
If you like convenience, then this grill is certainly a match for you. Packed full of top-notch Weber features, this grill allows you to focus more on your food and less on starting and maintaining a fire.
Now, if you prefer to grill the old fashioned way, this grill probably isn't for you. However, I'm sure we all appreciate the thought that went into all the details — everything is well thought out and made with high-quality materials that Weber is famous for.
Premium 18″ ceramic grill with heavy-duty galvanized steel rolling cart with locking wheels.
Patent pending SlōRoller Hyperbolic Smoke Chamber - The first of its kind, the revolutionary SlōRoller leverages Harvard science that transforms a Kamado Joe into one of the world's most optimal smokers. By distributing smoke and heat in rolling,...
3-Tier Divide & Conquer - Divide & Conquer Flexible Cooking System transforms the humble grill grate into the most powerful cooking tool in your arsenal. The revolutionary multi-level, half-moon design frees you to cook different foods in different...
Kontrol Tower Top Vent - Maintains consistent air setting for precise airflow management during dome opening and closing. Constructed of powder coated cast aluminum, the patent pending dual-adjustment top vent is rain and mold-resistant and allows you to...
Patented Air Lift Hinge – Reduce dome weight by 96% with the Patented Air Lift Hinge. The grill dome can be lifted with a single finger giving the most comfortable grilling experience there is. W/ 3 Tier Divide & Conquer- 510 square inches
The Kamado Joe really took the grill/barbecue world by storm with its cherry-red exterior and thick ceramic construction — it's an innovative and ground-breaking design.
With this grill, Kamado Joe combined craftsmanship and innovation — with features such as the Airlift Hinge and the Divide and Conquer Cooking System. Then there's the Kontrol Tower Top Vent that gives you the utmost precision and control over the temperature.
The Airlift Hinge is an excellent feature as it allows you to move the lid with no effort at all — perfect if you don't have any free hands to lift the heavy lid. The Divide and Conquer system gives you plenty of room to cook while allowing you to cook your food at various temperatures at the same time. Honestly? Once you've tried the Divide and Conquer system, it's hard to go back to regular grilling.
Now, this is Kamado Joe version 3, meaning there are some new features to look forward to — and if you're a smoker, you're sure to love this. This Kamado Joe version features something called the "slo-roller," a Harvard-engineered hyperbolic insert that improves heat and smoke circulation for optimal low n slow cooking.
It essentially circulates the heat and smoke inside the cooking chamber while eliminating hot spots that could ruin your cookout. All food inside the cooking chamber will be equally exposed to smoke and heat, giving you an even cook throughout, infused with aromatic smoke.
The Kamado Joe comes in various sizes, but we recommend the Classic 18-inch version three. The larger Big Joe 24-inch has the same features as the slightly smaller one but it might just be too large for most backyard grillers.
Versatility is the name of the game here — you can grill on high heat or do low n slow smoking. The fiberglass gasket and stainless steel latch seal the entire lid, meaning smoke and heat stays put for an optimal smokey flavor. Furthermore, you can easily bake and roast with the Kamado Joe as well.
Now, because of the thick ceramic material, this isn't the type of grill you quickly pull out of the garage when needed — it weighs 288 pounds! Find a good spot for it, and then leave it in place!
Another downside is the steep price tag. It's not going to fit every budget, but you do get so much for your money, not to mention a grill that's sure to last a lifetime.
Pros
Heavy-duty, thick materials.
Excellent features that improve your experience and food.
Versatile.
It can easily cook for a crowd.
Easy and fun to use.
If you like to grill, smoke, roast and do pretty much all of your cooking outdoors with a hint of smoke, this is the grill for you.
It's a fun little egg-shaped barbecue that hides so much underneath the bright red exterior.
We highly recommend the 18-inch over the 24-inch — sure, you get more room to cook with the Big Joe, but it's even heavier and more expensive. So, save your wallet and go for the 18-inch.
Holds up to six burgers made with a Weber burger press
Compact and lightweight for grilling on the go
Porcelain-enameled lid and base retain heat, and won't rust or peel
The lid locks for easy portability and dampers allow you to easily control the temperature inside your grill
Durable plated steel cooking grate retains heat and is easy to clean.Primary cooking area (square inches):160
If portability is important to you, the grills above aren't going to fly. Luckily, Weber has just the right solution. The Go Anywhere barbecue is the perfect choice for anyone who likes to take their grill on the road, whether for camping, tailgating or road-tripping.
The grill features a porcelain-enameled coating, 160 square inches of cooking space and adjustable dampers.
Overall, it's a very compact and lightweight grill that can be used at home as well as away from home. It weighs only 14 pounds, and the shape enables you to carry it using one hand only.
The legs pivot and lock the lid in place when not in use, making it easy to carry — or store it with unused coals. The handles are cool to touch throughout the cook and there are built-in lid hangers — great for when you're camping and don't have a clean place to put it down.
Although we like the compact design, there are a few issues to be aware of. First of all, the legs are relatively thin, making it slightly unstable if the ground is uneven. Furthermore, there's no ash pan! The ashes remain in the pit throughout the cook and it can be quite messy when you need to empty it. Innovative users have lined the bottom with heavy-duty foil, makes cleanup a bit easier.
Pros
Compact and lightweight design.
Pivoting legs locks the lid in place.
It features two dampers.
The porcelain-enameled coating protects the grill from rust.
No assembly is needed.
Cons
The thin legs are unstable.
Difficult to empty the ashes.
Long heating time.
If you have a tight budget or need a super grill for your next camping trip, this Weber is an excellent choice. The lightweight and small size make it a breeze to pack and carry to and from the campsite — lock the lid in place when transporting or storing it to keep everything in one place.
You don't get a vast cooking area, but it's sufficient for a small family or group traveling. Also, it doesn't use as much fuel because of the size, so you won't have to worry about stuffing the car with briquettes!
Dyna-Glo Dual Zone Premium Charcoal Grill
Recommended
Don't skip this simply because it's called Dyna-Glo — sure, it sounds like a glowstick, but it's actually a great, budget-friendly grill!
It's called Dual Zone for a reason, and this is because it consists of two separate chambers along with steel cranks that enable you to lower or raise the charcoal to suit your needs. Each charcoal chamber has its own door for easy access — this makes two-zone grilling a breeze!
If you don't want to cook using two-zone grilling, simply remove the firebox divider, and the two chambers become one.
You're getting 816 square inches of cooking surface — that's enough to fit 30 burgers! Plenty of room to cook for everyone coming over to watch the game — or feed your neighbors on the Fourth of July!
Despite the budget-friendly price tag, we're quite impressed by the materials used. It's made of a combo of stainless steel and porcelain-enameled cast iron, making it tough and resistant to rust.
Additionally, the grill comes with convenient features like the double-wall liner within the lid, side shelves, ash pan, smokestack with flu cap, thermometer, storage basket and a bottle opener — what more could you ask for?
Pros
Two fireboxes with removable divider allow for true dual zone grilling and easy temperature control
The removable ash pan makes clean up a breeze
The huge cooking space of 576 square inches allows cooking for large crowds with ease
Heavy duty stainless steel construction is built to last
Cons
It's not as tightly sealed as it could be
The warranty period is a little short compared to most
CHARCOAL GRILL - Barrel style BBQ Grill with heavy duty steel construction and powder coating finish, the perfect grilling solution for small decks, backyards, and patios
LARGE COOKING AREA - 250 square inch total cooking area delivers exceptional taste and charcoal flavor
BARBECUE GRILL FEATURES - Thick Cast Iron Cooking Grates, Bottom Storage Rack, Heavy-Duty Steel Construction, Side Air Vent, Stay Cool Wood Handle, Wheels for Easy Mobility, and Side Shelf Workstation with Barbecue Tool Storage Hooks
EASY TO ASSEMBLE & CLEAN - Assembles easily and quickly cleans up after use with the Easy Dump Ash Pan
DIMENSIONS - 21"L x 31"W x 44"H, 50 lbs (pairs with the Char-Griller 6060 Patio Pro Grill Cover, sold separately)
This classic-shaped grill gives you a total of 250 square inches of cooking space, ideal for families. But, despite the vast cooking area, it has a relatively compact footprint — measuring 31 x 21 x 44 inches in total. It can easily fit in small yards or patios.
The grill is made with heavy steel, and it features a cast-iron cooking grate. It's an overall heavy-duty grill that can easily handle tri-tip or other large cuts
It includes a removable ash pan and a wooden side shelf to place spices, rubs, sauces, utensils and more.
Sure, it might not look like a big bad wolf, but it performs exceptionally well and doesn't look too shabby either!
Pros
Compact, so you'll be able to use this even if your outdoor space is limited
Features a built-in side table for food prep
Has wheels for mobility
Cons
Very limited cooking space
Rusts easily
Overall cheap construction
Advantages of Charcoal Grills
Firing up a gas or electric grill is easy-peasy, but there's something about the way charcoal transforms your steak from delicious to absolutely mouthwatering. Here are some advantages of using a charcoal grill:
Flavor: Charcoal itself (whether you're using briquettes or lump) will add to the taste of your food. It gives it a deeper, purer and more authentic grilled-food flavor that we simply can't resist. Additionally, as the meat heats, it releases drippings — these are fats, proteins, oils and sugars that fall to the burning coals where they vaporize and infuse back into the meat, further improving the flavor.
High temperatures: Charcoal is pure carbon and is, therefore, able to reach scorching temperatures. This enables you to achieve that browned or caramelized exterior that gives a slight crunch as you bite into your food.
Affordable: Whether you have a tight budget or willing to spend a little extra cashish, there's a grill for you. Charcoal grills are available at a range of price points, just make sure you scope out the quality ones.
Portable: Depending on your grill's weight and size, you can easily bring it to any destination — there are no electricity needed or gas lines to take care of.Toss a charcoal bag into the trunk and load up the grill, head to the beach or lake for dinner.
Disadvantages of Charcoal Grills
Learning Curve
It requires some practice to master a charcoal grill. You have to set up the charcoal, light it; the fire must be managed and maintained throughout the cook. Then there are the vents; it can take a while before you figure out how to tweak them for the optimal airflow to achieve your desired temperature.
Using a charcoal grill isn't a set-it-and-forget-it kind of cooking — you frequently have to check the charcoal and make needed adjustments.
We will say, though, ones you learn to master your charcoal grill, there's no turning back. It doesn't just become a form of cooking, for many, it becomes a hobby.
Fire Management
Charcoal isn't as easy to deal with as propane — it's a combustible material that needs constant adjusting, arranging and replenishing.
Even if you're moving the coals, making adjustments or adding more, you still need to work the vents to maintain the correct temp for the food you're cooking. It ain't easy.
Patience Required
Turning on the gas grill with the touch of a button is a quick way to get dinner on the table — I'm not one to judge! I love gas grilling, especially when the kids are running low on patience.
However, those warm, lazy Sunday afternoons where you find yourself with a rack of ribs in your right hand and a cold one in the left, the charcoal is bound to be calling — and we're answering!
Charcoal grilling isn't for the busy individual — it takes time to get the fire started and the grill heated. Our advice: Consider your habits, routines and how much free time you have.
Dealing With Charcoal is Messy and Dirty
Charcoal turns to ashes, that's how it works. Is it clean? No, not at all. Even removing the charcoal from the bag can cause some dust and debris to fall out and make a mess before you get started.
Cleanup is also somewhat time-consuming, especially if your grill doesn't have those smart features that make cleaning a breeze. However, we find that the cleanup is worth the results — you get mouthwatering food to enjoy.
On the flipside, ashes make excellent fertilizer for your garden! So while you're scrubbing out the grill, at least you'll have some pretty flowers and plants to look at.
Final Thoughts
Charcoal grills take us back to the way our ancestors cooked: over a pit of fire — although today we add a cast-iron grate and amazing rubs, you get the point.
Learning how to use a charcoal grill isn't as straightforward as using a gas or electric 'cue, but you will get that authentic grilled flavor that we all crave, so it's worth the effort.
Charcoal barbecues are available in various sizes and shapes (looking at you Kamado Joe!), some are full-on with a variety of features, whereas others are simplistic. We hope our guide has helped you on your quest to find the best charcoal grill — no matter your budget, you're sure to find an excellent option, perhaps you fell for one on our list.
Do leave a comment down below if you have a question or simply want to say hi. Let us know what grill you ended up going for.