We'll help you find the best portable charcoal grill in today's article — and we have some pretty nice grills lined up, so make sure you stick around.
Before we get into our favorites, we'll share a few points to consider in our detailed buyer's guide that will hopefully help you find just the right grill for you.
Having a portable grill can be incredibly convenient. Not only can you bring it on your next camping trip, but you'll also be able to avoid those nasty public grills.
And with a good portable charcoal grill, you'll enjoy true grilling when on the road in your RV or camper, or tailgating with your mates. So if you're ready, let's get grilling!
Buying Guide – Finding the Best Portable Charcoal Grill for You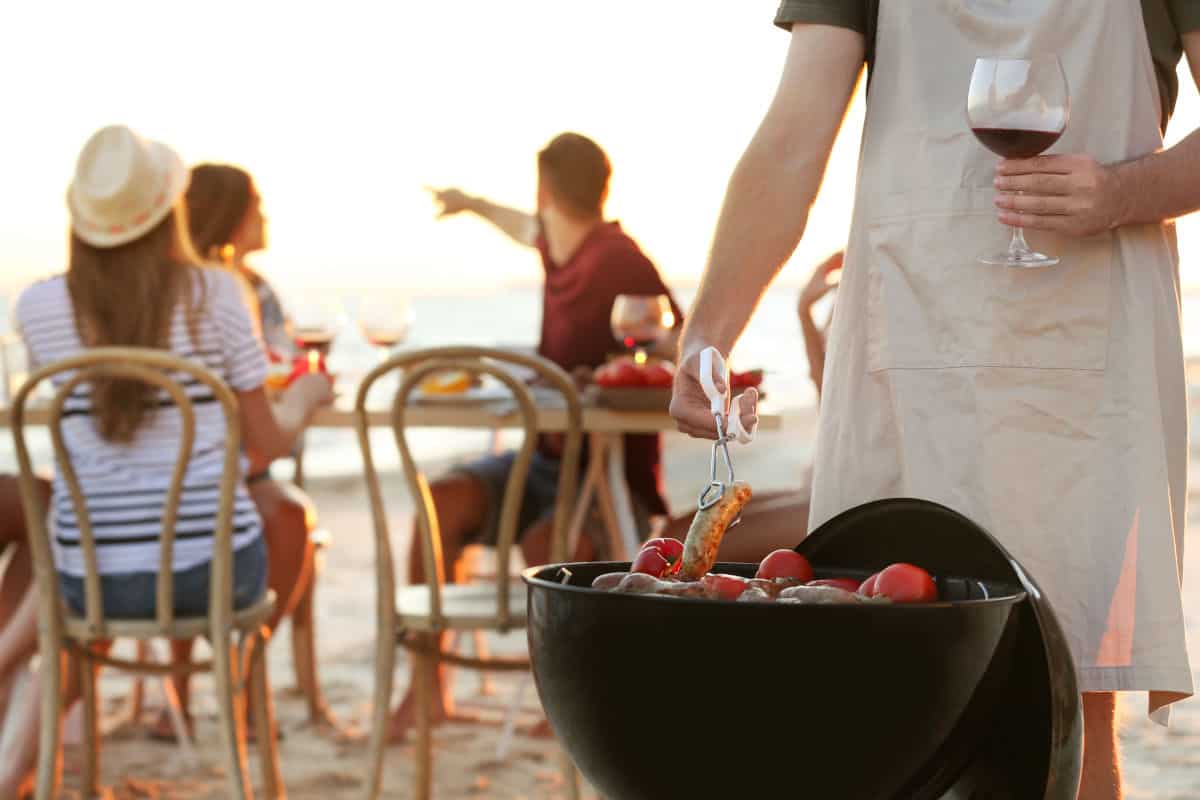 Finding the right grill is essential if you want to get the most out of it. The grill should suit your needs as well as having ample cooking space without compromising compactness.
The following points should help you to figure out which grill would suit you best.
In this article we only look at PORTABLE charcoal grills. If you want something bigger, to cook for larger crowds or as a permanent fixture in your yard, please check out our article on the best full size charcoal grills.
Size
For the sake of portability, most portable charcoal grills won't exceed 300 square inches. However, this is more than enough to cook for four people in one go.
How large of a grill you need depends on how many people you're cooking for. If you're only cooking for yourself and your significant other, a large grill isn't necessary.
Additionally, it's crucial to note that a bigger cooking space will result in a bigger, more cumbersome grill — this will compromise portability.
Compactness and Portability
A portable grill should be compact to make it easy to pack and bring to wherever you're going. A few features are good to look for that will increase portability — including foldable or removable legs, handles for easy carrying, and more.
The ideal portable grill is easy to pack and unpack — we don't want to have to spend hours assembling pr disassembling the grill. It should be quick and straightforward.
Compactness is also an essential factor — keep in mind, it should be able to easily fit in your car, RV, camper or any other way you're traveling.
Cleanliness
There are both round and rectangular grills available; each has its benefits and disadvantages when it comes to cleaning. But, features like charcoal or ash drawers can make cleaning significantly easier. A light grill can also easily be turned over to empty the ash and charcoal bin.
Design and Features
Drawers for charcoal, drip trays, vents, and dampers are important features of any charcoal grill, and we expect no less in a portable grill.
Vents and dampers are crucial for airflow and temperature control. If there are no vents, you'll only be able to cook on high temperatures — not ideal if you're planning on a roast dinner or adding some aromatic smoke to your meal.
Legs and handles should be sturdy — when camping or tailgating, a flat, even surface isn't always accessible, so the grill should be able to stay securely. Flimsy legs will increase the chance of the grill tumbling over; this will not only ruin your dinner but can also become a fire hazard.
The handle should be equally sturdy to ensure you won't accidentally drop it when carrying from one place to the other.
Durability
Don't confuse portable with disposable!
A portable grill should be able to last you a long time if cared for properly. Common materials include steel or cast iron — both of which are highly durable when cleaned, seasoned, and stored correctly.
Cooking Grates
There are different types of cooking grates on portable grills.
Common materials include cast iron, stainless steel, porcelain enamel, or a simple coated aluminum. The first three materials are the most durable and will be able to hold up against frequent use and even the use of heavy cookware, such as a Dutch oven.
The grates should rest well on the grill, not wobble as you cook. How much charcoal can it hold? How far will the food be from the open flame? The ability to modify the height of the cooking grates is also a helpful feature.
Lid
When cooking over low temperatures or smoking, having a tight-fitting lid is important as it will help keep the heat and smoke inside the grill.
If the lid doesn't fit well, it will allow smoke and heat to escape, and it will make it trickier to control the airflow inside the grill. Therefore, if you want optimal temperature control, the lid should fit snugly.
Being able to lock the lid in place can really come in handy when traveling. It also enables you to store items inside the grill, such as your tools, chimney starter, and fuel.
Ease of Storage
How much space does the grill need when stored? Should it be stored in the garage, closet or will it fit on a shelf?
Round grills don't pack as easily as square or rectangular ones. The latter usually have foldable handles and legs, making them easier to fit in trunks, travel bags, and more.
Accessories or Bonuses
Some portable grills include travel bags, covers, tables or tools for an added price or free of charge.
Tools, chimney starters, heat resistant gloves, and similar items can really come in handy. However, if you want a table or cover for the grill, look for ones made explicitly for that grill — third party tables or covers might not fit the grill properly.
Best Portable Charcoal Grill — Top 6 Favorites
After extensive research, we found five excellent portable grills that will suit a range of budgets and needs.
Best Portable Charcoal Grill: Cuisinart CCG-100 GrateLifter
Top Pick
Ultra-portable grill featuring unique lift system to access charcoal bed without touching cooking grate
Precision air flow system allows accurate temperature management; Convenient lid-mounted temperature gauge
240-square-inch cooking surface; Durable porcelain enamel cover
Large ash collection bin for easy cleaning; Sturdy base offers stability while grilling
World famous Cuisinart quality; Comes with 3-year warranty
Cuisinart might be best known for its top-quality blenders and food processors, but the brand surprisingly has designed one of the best portable grills on the market.
The CCG-100 GrateLifter is a robust, durable steel grill featuring sturdy legs. The porcelain-enameled lid has a lovely deep green color, and you get the option of purchasing a stand to bring it up to standing height.
It's a rectangular grill, measuring 15.4 x 18.5 x 17.7 inches and weighs just over 2 pounds, making it lightweight and easy to carry. You get a total of 240 square inches of cooking space, sufficient if you're cooking for a few people. The grates are porcelain-coated, highly durable, and easily fit up to 10 burger patties or eight steaks at a time.
What differs this grill from the rest is the GrateLifter feature. The cooking grates are attached to five pins inside the lid and are raised when the lid is opened. This gives you easy access to the charcoal.
The grill features a superb airflow system and built-in lid temperature gauge, so you can check on the temp easily. It's also fitted with a large ash bin, making cleanup less of a chore.
Pros
Lightweight.
Ample cooking space.
GrateLifter feature for easy access to the charcoal.
A breeze to clean.
User-friendly.
Cons
No color options.
You might need to tighten the pins that lift the grate.
Durable? Check. Nice-looking? Check. Easy to use? Check.
The CCG-100 pretty much checks all the boxes. It has an ample cooking space for most families, and it's incredibly durable, made with heavy-duty materials.
The rectangular shape and lightweight makes it super easy to bring wherever you go, and the airflow system gives you good control over the temperature.
Follow the link for more info:
Runner Up: Weber Go Anywhere Grill
Runner Up
Holds up to six burgers made with a Weber burger press
Compact and lightweight for grilling on the go
Porcelain-enameled lid and base retain heat, and won't rust or peel
The lid locks for easy portability and dampers allow you to easily control the temperature inside your grill
Durable plated steel cooking grate retains heat and is easy to clean.Primary cooking area (square inches):160
You can't talk about portability and not mention the Go Anywhere Grill! This grill was made to be taken to and from any destination without breaking a sweat. It features plated steel legs that conveniently swivel and secures to the lid when not in use.
It features a glass-reinforced nylon handle that gives you a secure grip when carrying. It measures 12.2 x 21 x 14.5 inches in total and weighs a little under 15 pounds. You get 160 square inches of cooking surface and a steel grate — it might not sound like much, but you should be able to cook six to eight steaks or chicken pieces simultaneously.
There are two three-hole dampers in the lid, which can be closed to cut off airflow completely, helping you to smother the coals quicker and saving them for the next session. It's coated inside and out with porcelain enamel, which helps to preserve the heat by reflecting radiating heat to the food. Furthermore, the porcelain enamel will also prevent the grill from rusting.
Unfortunately, there's no ash pan included, which means it can be trickier to empty the ash. However, due to the compact size and lightweight, you can easily turn it over. Additionally, there's no room for a drip pan either as there are less than 3 inches between the charcoal and grate.
You can easily line the bottom of the grill with heavy-duty foil before filling it with charcoal. This will make cleaning much easier.
Some grillers complained about the small distance between the grate and the charcoal, making it hard to regulate the cooking time. However, the grill is certainly large enough for two-zone grilling, so this should fix the slight issue.
Pros
Folds compactly.
Setup is a breeze.
Retains and distributes heat easily and evenly.
Cools down quickly.
Cons
Less than 3 inches between the food and the open flame.
It can be difficult to secure the legs to the lid.
For optimal portability, the Go Anywhere grill can literally go anywhere.
Fold it and pack it easily in the back of the car or RV and enjoy some grilled food when camping. The rectangular shape makes it look similar to a bread box when closed and folded.
Learn more about the grill and the latest price here:
Best Value: Weber Smokey Joe Premium Grill
Great Value
Grab the handle of your Smokey Joe Premium portable charcoal grill and throw a BBQ, tailgate, or grill lunch anywhere you go. Its lightweight design and carry handle make it easy to pack up your charcoal and grill wherever the day takes you.
Holds up to five burgers made with a Weber burger press
Compact and lightweight for grilling on the go
Porcelain-enameled lid and bowl retain heat, and won't rust or peel
The Tuck-N-Carry lid lock doubles as a lid holder to avoid placing lid on the ground
Dampers allow you to easily control the temperature inside your grill
When you buy a Weber, you buy a grill that's sure to last you through years and years of frequent use — so it's no surprise that a 10-year warranty covers this grill.
Now, let's talk more about the grill. First of all, it features the same glass-reinforced nylon handle as the Weber above; it's sturdy and cool to the touch. Furthermore, it features a large four-hole aluminum vent in the lid that helps you control the airflow.
It's a round grill, measuring 14.5 inches in diameter, featuring a nickel-plated grate with room enough for six burgers or three steaks. It measures 15.5 by 15.5 by 9 inches overall and weighs exactly 9.8 pounds.
Unlike the almost-identical Smokey Joe Silver grill, this one doesn't feature a bottom damper. This might sound like a loss, but it's actually rather fortunate since the Joe Silver grill has an issue with ash getting stuck in the dampers, clogging them up.
Like the Weber grill above, this one is also coated in porcelain enamel inside and out, giving it optimal heat retention and preventing rust.
Pros
Super simple to assemble.
Added side vents for improved heat control.
Locking handle.
Easy to clean.
Cons
Nothing wrong here, let us know if you have any faults you'd like to mention.
This compact round grill is excellent to bring a cross-country road trip with your mates where you grill up a few burgers while watching the sunset in the desert — or you could just bring it for the next tailgating cookout.
It's super simple to pack, and the sturdy handle makes it easy to carry as well. It might not have room enough to cook for a large crowd in one go, but it's sufficient to feed a small group of people.
Learn more here:
Quick Grill Original Stainless Steel Folding Grill
Recommended
Looking for the smallest grill possible? Your search has come to an end!
This Quick Grill Folding Grill is no bigger than a notebook when folded, measuring only 2.25 x 7.25 x 13.5 inches. When unfolded, it measures a total of 13 x 13 x 8.5 inches — and did we mention? It takes less than 60 seconds to "assemble" it.
You get a convenient nylon bag to carry it in when traveling — the light weight of 4.8 pounds further makes it super easy to carry or transport to any destination.
The grill is made from premium food-grade stainless steel, making durable and sturdy. However, it might not be able to hold a cast iron pan, but it can easily handle a Dutch oven.
It sports a unique funnel-shaped design, which might look odd at first glance, but the shape and the material intensify heat output.
You might only get 144 square inches of cooking space, but it's sufficient for 12 hot dogs or up to five burgers — it can also be used to heat water for your morning coffee.
Pros
Extremely lightweight and compact.
Handy travel bag with extra room for tools, plates and more.
Easy to clean and dishwasher-safe.
Good heat-retention.
Cons
It burns hot, so don't leave it unattended for too long.
The grate isn't secured, so it tends to slide when you're handling the food.
This is the type of grill you have lying in the car, ready for any quick road trip or maybe even picnic with your significant other. It can't hold much food in one go, but unless you're cooking for a large gathering, it's sufficient.
Learn more through the link here:
Adjustable fire grate:- Control the heat level at the cooking grate by placing your charcoal pan in one of several preset positions
Charcoal:- Powered by charcoal briquettes or lump charcoal
Lid-Mounted Temperature Gauge:- Keep track of pre-heat status and monitor the inside temperature of your grill. (Temperature gauge display may vary per model.)
Damper:- Control the grill temperature by opening and closing the dampers. To burn hotter keep the damper open, to lower the temperature, partially close it
Removable Ash Pan:- Convenient pull-out drawer catches ash for simple clean-ups when you're done cooking
As with Weber, we expect quality products from Char-Broil — it's a reputable brand with years in the industry. So, does this grill hold up? It certainly does.
The grill is made of steel and features a cast aluminum charcoal tray — it weighs in at 34 pounds, making it quite heavy, so it might not be ideal for hiking trips or any trip where you'd have to carry it for long distances.
It measures 16 x 15.8 x 24 inches with a 240 square-inch cooking surface. It can easily hold up to eight burgers simultaneously. It comes with a pre-seasoned adjustable grate, damper, ash drawer, and charcoal door in the front.
Pros
Built-in lid thermometer.
Quick access to ash pan.
Easy to refill.
Cons
It gets very hot, so make sure it's on a safe surface. It has been known to peel pain or even char surfaces.
Grease drippings come down the legs and can cause damage.
This is a heavy-duty portable grill that is sure to last you through many trips. It's not the lightest option, but for tailgating or car camping, it's excellent.
Click through here to learn more:
Cuisinart Ccg190 14-Inch Portable Charcoal Grill
Recommended
196-SQUARE-INCH CHROME PLATED GRATE: The 196-square-inch chrome plated cooking rack gives a spacious cooking surface is able accommodate lots of food at one time while still distributing heat evenly and efficiently.
DUAL VENTING SYSTEM: Features a Dual venting system, giving you the ultimate charcoal management and temperature control.
THREE SECURE LID LOCKS: The grill features three secure lid locks for easy and safe transport.
COMPACT ENOUGH TO TAKE ANYWHERE: The grill measures 14.5 x 14.5 x 15 inches and weighs only 2 lbs., making it easy for transport and ideal for decks, patios and balconies, camping, tailgating and more.
When it comes to grilling on the go, sometimes we have to accept a trade-off between quality and convenience.
But why, when this fabulous little grill is available? The Cuisinart CCG190 delivers an excellent grilling experience in a compact package.
Since it's a portable grill, let's start with the portability aspects.
First and foremost, the lid latches to the bowl in three places, ensuring it stays firmly in place in your trunk or trailer. The legs are fixed in place, but it only stands 15 inches tall, so no big deal. Plus, it weighs just 5 pounds, so it's easy to tote around by the top handle.
Boasting a top and bottom vent with adjustable damper, you can control the temperature under the lid with surprising accuracy. While you'll mostly use it for high-speed, high-temperature grilling of burgers and dogs, it's nice to know you could take on more ambitious meals.
One of the most prominent features is the oversized ashtray built into the stand. Not only does it enhance stability, but it also saves your table from ash, grease, and live embers.
Pros
Latching lid for safe transport
Dual vents for increased temperature control
Ash collection tray
Sturdy four-leg stand
Spacious 150 square inch cooking grate
Cons
Not enough room under the lid for anything larger than chicken pieces
Nowhere to hang the lid when not in use
If you believe good things come in small packages, add this grill to your tailgating or camping arsenal. In this price range, it's too good to pass up.
To see current pricing and availability, tap that link:
Conclusion
Going camping, tailgating or on a road trip is only made better when you have a portable charcoal grill in tow.
We tried to feature a variety of good grills on our list, some are large and give you more room to cook and others are lightweight and super compact.
We found that the best portable charcoal grill is the Cuisinart CCG-100 GrateLifter. It's lightweight and gives you well over 200 square inches of cooking space. It's an ideal choice for families or groups traveling.
Before settling on a grill, we highly recommend that you consider which size grill is best for you — do you need 240 square inches or would the Quick Grill Original Stainless Steel Folding Grill and its 144 square inches be enough?
You should also consider how you're traveling — if you're camping out of an RV and only need to pull the grill out of the camper, a large, heavy model might not be a big deal.
However, if you have to carry the grill for long distances, the weight will matter.
And while we have you, make sure to check out our articles on the best lump charcoal and best charcoal briquettes, so you can get the very best fuel for your impending purchase!
What dishes do you prefer to make when camping? Do share your all-time favorite recipes in the comments below.