We'll help you find the best portable charcoal grill in today's article — and we have some pretty nice grills lined up, so make sure you stick around.
Before we get into our favorites, we'll share a few points to consider in our detailed buyer's guide that will hopefully help you find just the right grill for you.
Having a portable grill can be incredibly convenient. Not only can you bring it on your next camping trip, but you'll also be able to avoid those nasty public grills.
And with a good portable charcoal grill, you'll enjoy true grilling when on the road in your RV or camper, or tailgating with your mates. So if you're ready, let's get grilling!
Buying Guide – Finding the Best Portable Charcoal Grill for You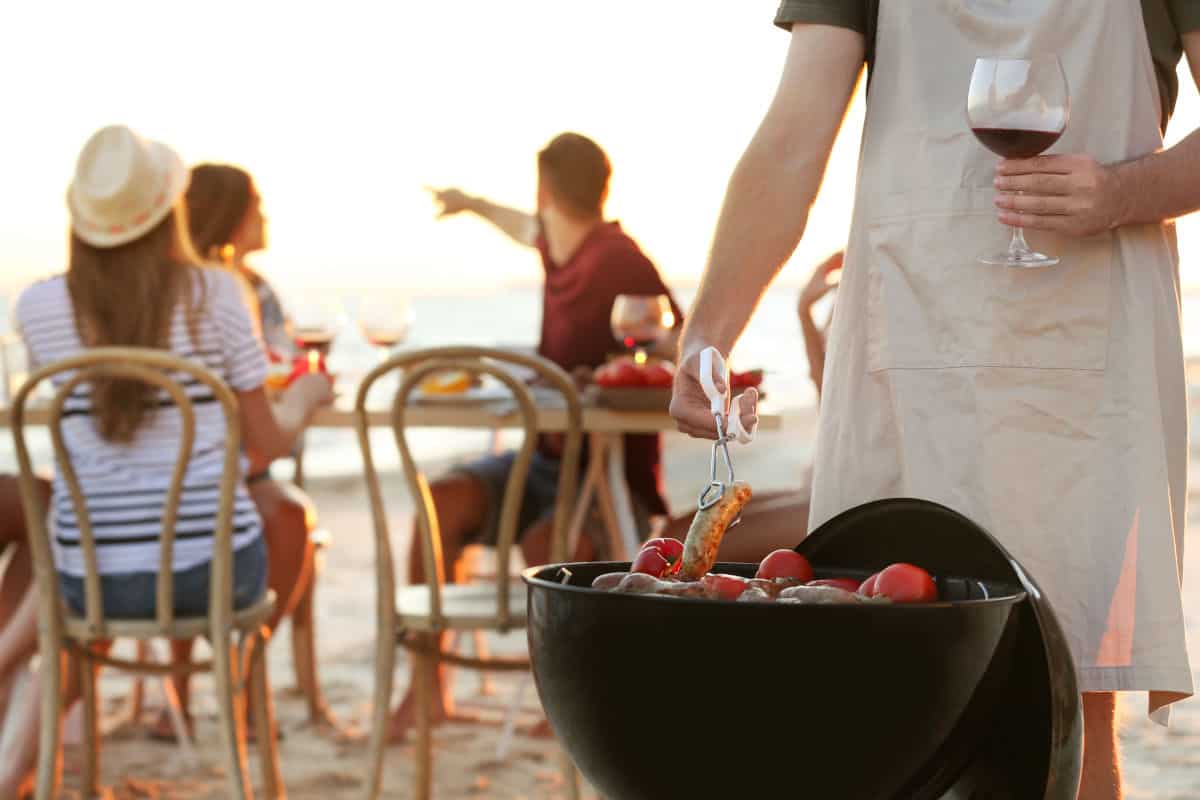 Finding the right grill is essential if you want to get the most out of it. The grill should suit your needs as well as having ample cooking space without compromising compactness.
The following points should help you to figure out which grill would suit you best.
In this article we only look at PORTABLE charcoal grills. If you want something bigger, to cook for larger crowds or as a permanent fixture in your yard, please check out our article on the best full size charcoal grills.
Size
For the sake of portability, most portable charcoal grills won't exceed 300 square inches. However, this is more than enough to cook for four people in one go.
How large of a grill you need depends on how many people you're cooking for. If you're only cooking for yourself and your significant other, a large grill isn't necessary.
Additionally, it's crucial to note that a bigger cooking space will result in a bigger, more cumbersome grill — this will compromise portability.
Compactness and Portability
A portable grill should be compact to make it easy to pack and bring to wherever you're going. A few features are good to look for that will increase portability — including foldable or removable legs, handles for easy carrying, and more.
The ideal portable grill is easy to pack and unpack — we don't want to have to spend hours assembling pr disassembling the grill. It should be quick and straightforward.
Compactness is also an essential factor — keep in mind, it should be able to easily fit in your car, RV, camper or any other way you're traveling.
Cleanliness
There are both round and rectangular grills available; each has its benefits and disadvantages when it comes to cleaning. But, features like charcoal or ash drawers can make cleaning significantly easier. A light grill can also easily be turned over to empty the ash and charcoal bin.
Design and Features
Drawers for charcoal, drip trays, vents, and dampers are important features of any charcoal grill, and we expect no less in a portable grill.
Vents and dampers are crucial for airflow and temperature control. If there are no vents, you'll only be able to cook on high temperatures — not ideal if you're planning on a roast dinner or adding some aromatic smoke to your meal.
Legs and handles should be sturdy — when camping or tailgating, a flat, even surface isn't always accessible, so the grill should be able to stay securely. Flimsy legs will increase the chance of the grill tumbling over; this will not only ruin your dinner but can also become a fire hazard.
The handle should be equally sturdy to ensure you won't accidentally drop it when carrying from one place to the other.
Durability
Don't confuse portable with disposable!
A portable grill should be able to last you a long time if cared for properly. Common materials include steel or cast iron — both of which are highly durable when cleaned, seasoned, and stored correctly.
Cooking Grates
There are different types of cooking grates on portable grills.
Common materials include cast iron, stainless steel, porcelain enamel, or a simple coated aluminum. The first three materials are the most durable and will be able to hold up against frequent use and even the use of heavy cookware, such as a Dutch oven.
The grates should rest well on the grill, not wobble as you cook. How much charcoal can it hold? How far will the food be from the open flame? The ability to modify the height of the cooking grates is also a helpful feature.
Lid
When cooking over low temperatures or smoking, having a tight-fitting lid is important as it will help keep the heat and smoke inside the grill.
If the lid doesn't fit well, it will allow smoke and heat to escape, and it will make it trickier to control the airflow inside the grill. Therefore, if you want optimal temperature control, the lid should fit snugly.
Being able to lock the lid in place can really come in handy when traveling. It also enables you to store items inside the grill, such as your tools, chimney starter, and fuel.
Ease of Storage
How much space does the grill need when stored? Should it be stored in the garage, closet or will it fit on a shelf?
Round grills don't pack as easily as square or rectangular ones. The latter usually have foldable handles and legs, making them easier to fit in trunks, travel bags, and more.
Accessories or Bonuses
Some portable grills include travel bags, covers, tables or tools for an added price or free of charge.
Tools, chimney starters, heat resistant gloves, and similar items can really come in handy. However, if you want a table or cover for the grill, look for ones made explicitly for that grill — third party tables or covers might not fit the grill properly.
Best Portable Charcoal Grill — Top 6 Favorites
After extensive research, we found five excellent portable grills that will suit a range of budgets and needs.
Conclusion
Going camping, tailgating or on a road trip is only made better when you have a portable charcoal grill in tow.
We tried to feature a variety of good grills on our list, some are large and give you more room to cook and others are lightweight and super compact.
We found that the best portable charcoal grill is the Cuisinart CCG-100 GrateLifter. It's lightweight and gives you well over 200 square inches of cooking space. It's an ideal choice for families or groups traveling.
Before settling on a grill, we highly recommend that you consider which size grill is best for you — do you need 240 square inches or would the Quick Grill Original Stainless Steel Folding Grill and its 144 square inches be enough?
You should also consider how you're traveling — if you're camping out of an RV and only need to pull the grill out of the camper, a large, heavy model might not be a big deal.
However, if you have to carry the grill for long distances, the weight will matter.
And while we have you, make sure to check out our articles on the best lump charcoal and best charcoal briquettes, so you can get the very best fuel for your impending purchase!
What dishes do you prefer to make when camping? Do share your all-time favorite recipes in the comments below.