The right set of grilling and BBQ tools should suit your individual needs, preferences and budget.
Purchasing that larger-than-life case with 19 cooking tools might not be the smartest choice considering half of these are never used corn-holders.
We'd say it's better to spend a little extra on a few high-quality tools that will not only last longer but also improve your grilling.
To help, we've created the only guide you need to find the best BBQ tools available on the market today.
Below, we'll share what you should be looking for when buying, in our ultimate guide to the best BBQ tools, before revealing our hand-picked favorites.
Bottom Line up Front: The BBQ Tools Reviewed in this Guide
Note: Clicking the above links will take you to further information, current prices and customer reviews on Amazon.
Choosing the Best Grill and BBQ Tools
Before you head out to buy a set of tools for grilling and BBQ, there are some essential points to consider.
There are perhaps 11 different types of barbecue tools. First of all, you need to know which tools are essential, which are nice to have, and which are just a plain waste of money.
You then want to consider things like durability, size and length, materials and more.
Let's take a look at the main things to consider.
Which Tools Are Essential?
Considering that many sets of BBQ tools available today include more than 15 pieces, three accessories might not sound like a lot. And larger sets can give you a good value for money considering the number of tools you get.
In saying that, larger sets might also include items that simply won't get used.
Basic tools such as a spatula, barbecue forks, and tongs will always be needed. The same can't be said for three versions of corn-holders unless you're grilling corn on the cob daily.
Consider what's included in the BBQ tool set. If there's a specific item in the set you KNOW you won't use, it certainly won't give you value for money.
First, do You Need a Carry Case?
Most BBQ tool sets will include some sort of carry case or bag. Depending on the set's price and quality, the case could just be a simple nylon or plastic material, or it could be a durable aluminum case.
If you're a frequent camper or often grilling away from home, a sturdy case can be essential. However, if you're grilling at home or have storage options in your outdoor kitchen, then a case might not be necessary at all.
If you do want a case, make sure it's both sturdy and weather-proof. Sharp tools can quickly cut through cheap materials such as nylon, allowing water to seep in and rust the tools.
Tongs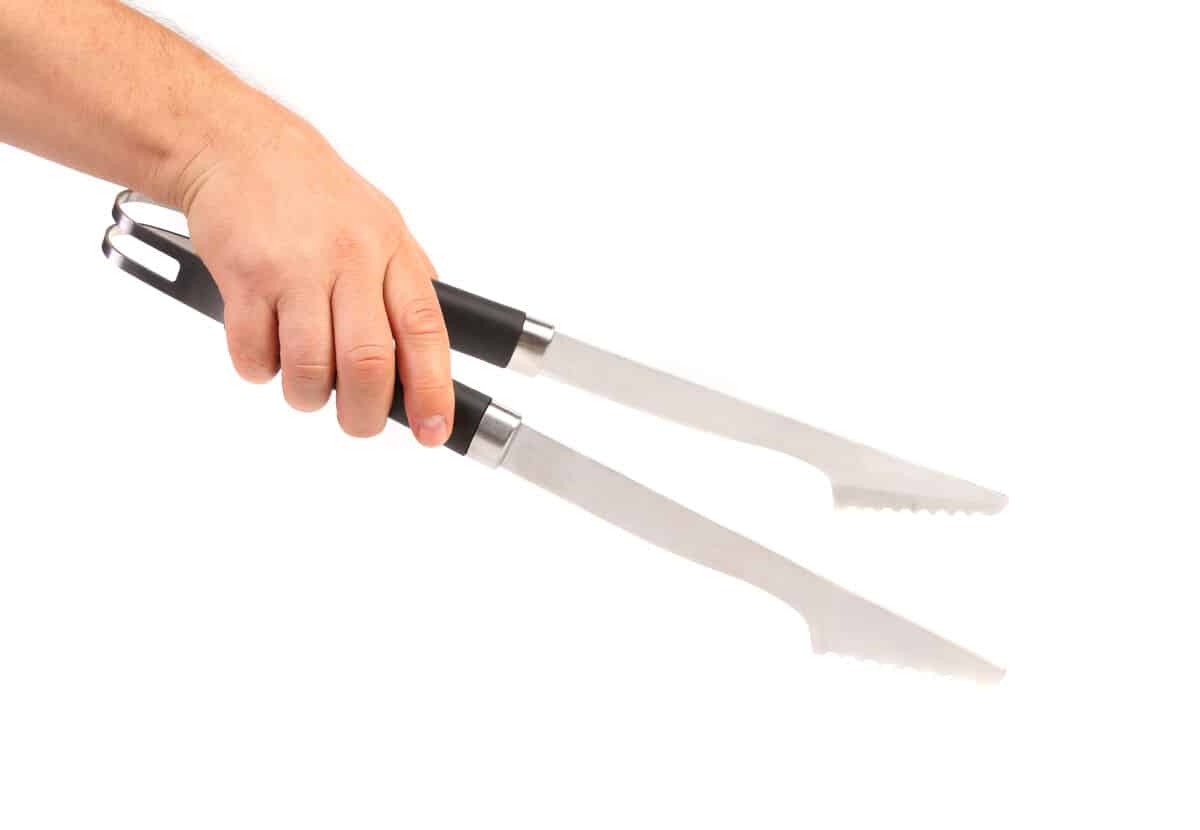 Tongs is the tool that handles the vast majority of grilling and is, therefore, the most basic and essential BBQ tool. You can use a pair of tongs for getting food on and off the grill, as well as turn the food as it cooks.
There are different types of tongs, but not all are worth using. Go for a soft, comfortable handle of either silicone or rubber, as this will give you a more comfortable grip. The tips should preferably be scalloped or beveled as well as wide to improve gripping and turning.
There are forked or slotted tips as well, but unless you're grilling big pieces of meat, these won't do you much good. They aren't as effective at grabbing smaller foods, like asparagus.
For ease of storage, a hanging loop and locking mechanism are preferred.
Spatula
Spatulas are essential for turning delicate fish or flipping burgers.
Choose a spatula with an offset handle. This will make lifting easier and put a few more inches between you and the flame.
A wide duck-foot shape works well with most foods — it should be thin and have a beveled edge to improve flexibility as you're easing your way under a piece of sticky chicken.
Width of 4 inches is sufficient — any wider, and you could have trouble maneuvering around a full grill.
Basting Brush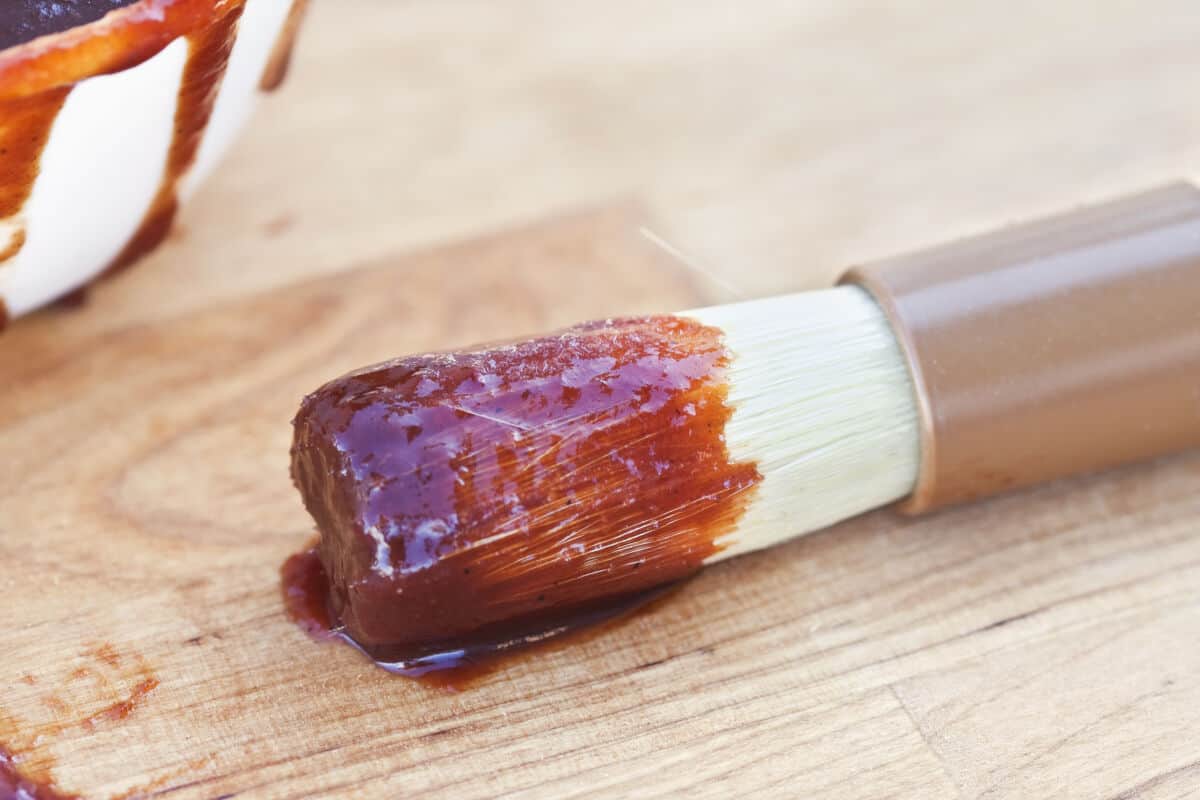 Basting is the application of marinade or sauce to the food as you're grilling — it produces layers of flavor and helps prevent your food from drying out as you're cooking.
There are two main types of basters for grilling: the traditional natural fiber mop or the silicone bristle brush.
Both types work effectively; however, which one you should grab depends on your grilling style.
The bottom line is: a traditional mop baster will hold a significant amount of sauce, which is ideal for slathering BBQ sauce on big pieces of meat.
But, if you're handling smaller pieces of meat, it can feel wasteful as the delicious sauce slops everywhere.
A silicone brush, on the other hand, provides you with a little more control as you're basting your meat — especially if you're handling smaller items.
We say most should go for a silicone brush with an angled shaft. This will help to keep your hand further from the heat.
However, if you're going to be slathering a large chunk of meat with sauce, the traditional mop is ideal.
Grill Brush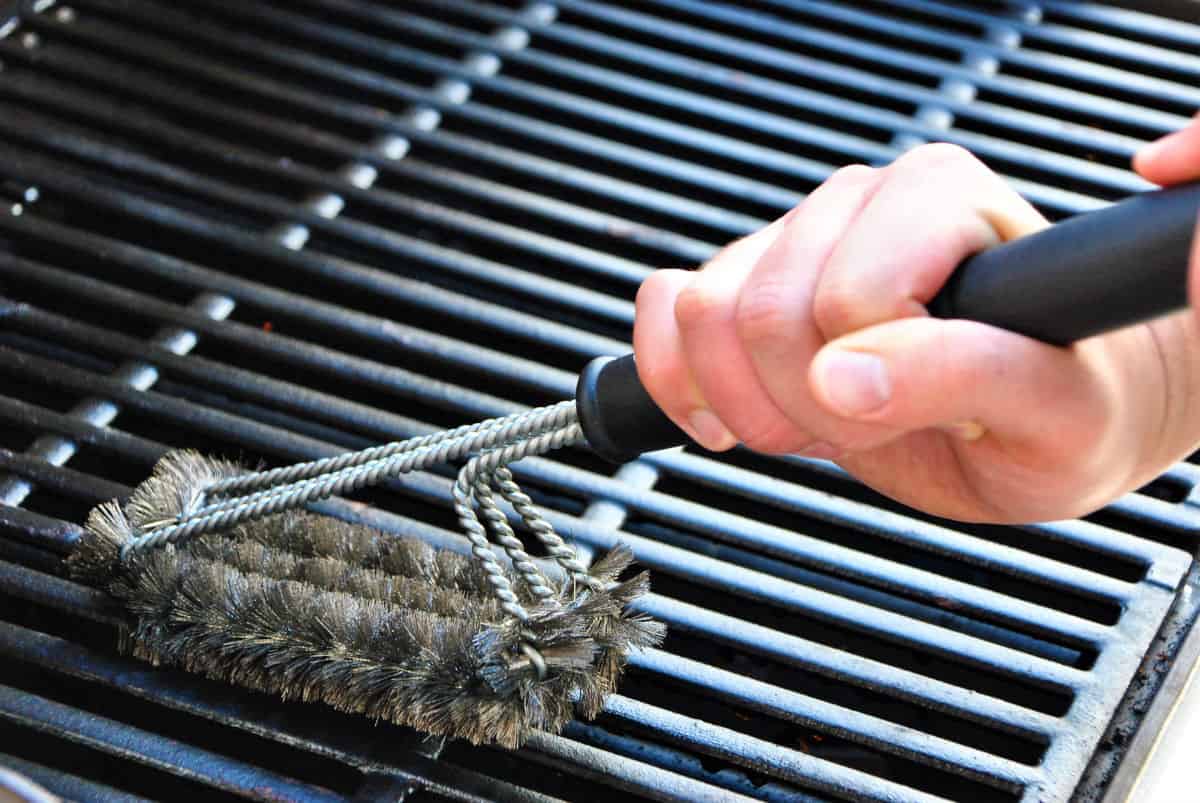 Food sticking to the grill is inevitable when grilling, but it's crucial to keep it clean to achieve tasty food. Removing burnt bits of food, sauces, or marinades is easier done while the grill is hot.
You want to choose a good grill brush to do the job since poor-quality brushes can leave small bristles on the grates that could make their way into your next meal. This should be avoided by any cost as it can lead to mouth, throat, stomach or even intestinal injuries.
A good grill brush should either be bristle free, or have sturdy stainless steel wire bristles that are anchored solidly into the shaft.
When it comes to construction, solid wood is the most durable option — plastic won't last as long, and it can be damaged from the hot grill.
Go for a notched scraper at the end of the brush if you can. This will help you to scrape off stubborn pieces, or if you're like me and don't always clean right away, it helps to work off the crud. The notched end will wrap around the grates for even easier cleanup.
Non-Essential But Useful Tools
The next tools we're going to reveal are often found in larger BBQ tools sets. However, it's important to consider whether you need them before spending the extra money.
Although these following pieces aren't essentials, they can be helpful — some might even add enjoyment to your outdoor grilling or show your guests who the true grill-master on the block is.
Corn Holders
There's nothing better than grilled corn on the cob — the easiest way to grill your corn is by using a corn-holder.
These consist of small metal handles that are inserted on each end of the cob, making it easy to grab when the corn is fresh off the grill.
Knives
A set of BBQ knives can really come in handy when you're camping or tailgating. You might already have a set of sharp kitchen knives, but, having a separate set for special occasions is useful.
Fork
A grilling fork is common to find in most BBQ toolsets. They can come in handy as you're moving food around or checking how your meat is cooking.
However, more experienced grillers and chefs aren't too keen on using BBQ forks. Piercing meat as it's cooking will allow the delicious juices to escape, essentially drying out the meat.
Kebab Rack With Skewers
If you're a frequent kebab-maker, buying a BBQ tool set with included skewers can save you money as they tend to be expensive when bought separately.
Skewers are generally made of stainless steel — this material won't char and, therefore, won't alter the flavor of the food, which wooden sticks tend to do.
A notched rack will help keep the skewers steady and raised a tad above the surface of the grill to prevent small pieces from burning.
Features to Look for
Look for these following features that make BBQ tools more durable for outdoor grilling.
Materials Used
BBQ tools are like your sword and armor as you're battling the fire-breathing grill; therefore, they have to be strong, tough, and ready for action.
A grill — whether gas or charcoal — will reach far higher temperatures than that of a stovetop, which is why durability is crucial.
So avoid rubber and plastic. They may be good for your kitchen, but not for outdoor cooking. Metal all the way with grill tools!
Length
As we mentioned, grills of all types will reach high temperatures — you don't want your hands anywhere near the hot flames. We much prefer grill marks on our steaks, not our hands! Tools that are shorter than 12 inches will force you to keep your hands too close to the grill as you're cooking.
On the other hand, if the tool is too long, it can be difficult to control, making your arm ache. It might even bend or break, especially if you're handling heavy cuts of meat.
16 inches is the ideal length for most grillers. This length allows you to reach the runaway sausage at the back of the grill.
The Importance of Good Handles
The right handles will not only improve the comfort of your tools but also enhance the look. Excellent handle-materials include wood, silicone and rubber — these will give you a good grip, even with thick gloves.
Stainless steel handles might look sleek and luxurious, but they can be trickier to grip if you're wearing gloves or your hands are oily. Furthermore, if they're left too close to the burning grill, they will become very hot.
Wood handles will also provide you with a sleek look, but, unfortunately, they can't go in the dishwasher.
If you often leave your tools outside with the grill, go for rubber, stainless steel or silicone. These materials are weatherproof and can hold up against Mother Nature.
Heat Resistant
The material must be heat-resistant to protect your hands from the hot grill. Low conducting metals will keep the handle cool for longer — high-quality rubber or plastic tools also offer good heat resistance. On the other hand, cheap plastic tools are likely to melt when exposed to high temperatures — they might even stick to your hand.
Stainless steel is among the top materials used in BBQ tools since it can withstand higher temperatures. Additionally, stainless steel is also resistant to rust, making it ideal for outdoor cooking in all weather conditions.
Hanging Loop for Storage
While cooking, BBQ tools will get very hot; therefore, you have to be careful of where you put them down. A handle with an eyelet is convenient as it enables you to hang the tool when not in use.
While camping, having the ability to hang your tools on a storage rack or on the grill is handy and will keep the tools clean.
Things to Avoid When Shopping
We've searched the market to find a good selection of quality BBQ tools at varying price points. In the guide above, we hopefully helped you to understand the importance of good tools, and how to find them.
But, we feel it's equally important to know what to avoid. Therefore, here are five things you should avoid:
Plastic handles. Nope. Won't hold up against the heat of the grill.
Nylon-coated tong tips might be marked as heatproof — but trust me, they're not. From personal experience, they will melt and make a mess.
Aluminum construction. Lightweight, sure, it won't tire your arm, but it will heat quickly and bend. Aluminum tools won't last for long — they might not even make it for the following summer.
A thick and stiff spatula head. How is that supposed to glide effortlessly under a sticking pork chop? Go for thin but strong metal with a beveled edge to improve flexibility.
Sharp metal edges. This might seem like a good thing, right? Nope. Sharp tongs tips and spatula edges can damage coated non-stick BBQ surfaces and even tear up delicate foods.
The bottom line is that it really does pay to spend a few extra bucks on a few quality tools, as opposed to a large set of cheap utensils.
Best BBQ and Grilling Tools – Our Top Picks
If you're a serious griller, then you'll surely want the best BBQ tools to help improve your outdoor cooking experience. Most of the tools we mentioned above can be bought separately, it's often more cost-effective to purchase a set.
Here are our recommendations for the best BBQ tools — we've included various sizes to suit all budgets, hopefully.
We did the necessary research for you and we'll continue to guide you through our hand-picked tools list. No matter what you're after, whether it's a good replacement for the old worn-out tools or the perfect present for a grill-loving friend — you're sure to find it among our top picks here.
Alpha Grillers Heavy Duty BBQ and Grilling Tool Set
Top Pick
BBQ ACCESSORIES GRILL TOOLS: Reliable grill utensils set includes grill spatula, bbq tongs, fork, and basting brush made with extra thick, rust-resistant stainless steel. Includes extra-long 18" Basting Brush with silicone brush head, Ultra-sharp fork,...
DURABLE GRILLING ACCESSORIES: BBQ spatula with handy bottle opener and serrated edge to easily cut & flip with one utensil. Lockable bbq tongs for easy storage with scalloped grips, allow you to pick-up even the most delicate foods with ease.
QUALITY BBQ TOOLS: Extra-sharp stainless steel bbq fork easily skewers meats and veggies without ever losing its point. Silicone basting brush makes cleaning easy and gathers generous sauce for even application.
This very basic BBQ tool set from Alpha Grillers is an excellent choice for any grill-master on the hunt for heavy-duty BBQ tools.
The tools are made of thick metal, making them durable and reducing any risk of bending or breaking — even if you're handling a heavy, juicy steak — well-suited for BBQ professionals.
What's Included
1 oversized slotted spatula
1 spring-loaded tongs with locking
1 two-tine fork
1 silicone basting brush.
Yes, this BBQ tool set is not exactly budget-friendly, but considering the premium quality heavy-duty tools — we'd say it's worth it.
All tools are 18 inches in length, making them ideal for keeping your hand at a safe distance from the fire. The tools are all well-built — the spatula even has a built-in bottle opener that ensures the chef's never thirsty.
These tools are sure to last you through the years — maybe even for the next generation of grill-masters — all thanks to the extra thick stainless steel construction.
And if any of the tools were to break, they're backed by a lifetime warranty.
Pros
Heavy-duty brushed stainless steel construction.
Resistant to rust.
Ergonomic rubberized grip increases safety and comfort.
Long hanging hoops.
Tapered spatula edge glides under food effortlessly.
Scalloped-tipped tongs ideal for handling delicate food.
Easy to clean and dishwasher-safe.
Comes with a lifetime money-back guarantee.
Cons
Tongs tend to "lock" while in use.
Springs in the tongs can feel stiff.
If you'd like to learn more about this tool set and the latest prices, follow this link:
Cuisinart CGS-134BL 3-Piece Grilling Tool Set with Grill Glove
Runner Up
For a barbecue utensil set that goes just beyond the bare essentials, this 3-piece set (plus a bonus grill glove) from the kitchen experts Cuisinart is worth a look.
Including a multi-function spatula, tongs, and fork, you won't find yourself fumbling around the grill with these handy.
All three implements are made from durable, rust-resistant stainless steel with ergonomic, rubberized handles for a firm, safe grip. The handles measure 12 inches in length, and the overall length of each item is over 18 inches. That means your hand stays far away from the heat, even on a deep grill.
The decidedly dangerous-looking spatula has a wide flipping area and a bevelled end for wedging between food and the grate.
You'll find a series of teeth along one edge, presumably for pinning things down, and a bottle opener – because who doesn't like a cold one at the grill?
The opposite edge is serrated for trimming and slicing. At the end of the handle is a hook for hanging when not in use.
The slender spatula is long enough to reach every corner of your grill, while the toothed tips bend in slightly, allowing a tight grip on your food. That's perfect for dragging larger cuts to another part of the grate.
For hanging between uses, there is a pair of holes at the end of the handle.
Rounding out the set is a barbecue fork with long tines. These are perfect for holding food in place while you brush on a sauce or for moving large cuts around.
Like the spatula, the fork sports a hook at the end for hanging.
As a bonus, you also get a heat-resistant barbecue mitt to protect your hands when you're working close to the grill or moving hot items.
Pros
All the essentials in one package
Over 18 inches long to keep hands away from the heat
Ergonomic grips
Hooks/holes for hanging
Spatula is a 4-in-1 tool, including knife edge, fork edge, and bottle opener
Cons
Light material may make them less than ideal for very large cuts
Not dishwasher safe
For a basic tool set, this package deal covers all the basics for the typical backyard, camping, or tailgate barbecue. Good value from a good name in cooking.
Have a closer look here:
Weber 6625 Original 2-Piece Tool Set
Great Value
This 2-piece tool set is brought to you by none other than the self-proclaimed King of Grills: Weber.
Weber has designed this simple yet elegant toolset built with the same quality as in Weber grills. We particularly appreciate the attention to detail when it comes to the design.
If you're grilling big, the 18-19-inch length is ideal — although some grillers might find it hard to control — you get ample reach to fetch any sausage or burger at the back of the grill.
Each tool is made of durable steel construction and fitted with soft-touch handles, while being equipped with hanging loops and includes locking tongs and an offset spatula.
Due to the length of the tools, it's best to hang them instead of storing them in a drawer.
What's Included
This is a very basic set. In saying that, you do get two essential tools to help you get your grilling started. Additionally, the set is an excellent addition to any Weber grill — whether gas or charcoal.
Some grill enthusiasts prefer only to purchase official Weber accessories. Weber's accessories are generally of good quality; however, they tend to be pricier due to the name.
Pros
Durable stainless steel construction.
Dishwasher-safe.
Hanging loops makes for easy storage.
Tongs feature a locking mechanism to save space in storage.
The offset spatula keeps your hand away from the heat.
The soft-touch handles provide a comfortable yet firm grip.
18-inch length keeps you at a safe distance.
Cons
The stainless steel isn't as thick as other sets.
The spatula might bend over time.
You can see more details and the price of this set by clicking the link below.
Grill Heat Aid Stainless Steel Grill and Smoker Set
Recommended
LOOK & FEEL LIKE A PRO: Grill tools feel well balanced, sturdy and solid with a nice heft that makes grilling everything from hamburgers to delicate vegetables to large hunks of meat a breeze.
RUST PROOF – COMPLETE GRILL ACCESSORIES SET: Includes 2 bladed spatula, XL tongs, 3 large thicker skewers, 3 medium thinner skewers, basting brush, BBQ scraper, & ultra-sharp tactical carving knife – all tucked into an IMPRESSIVE GIFT CASE.
DON'T GET BURNED - XL HANDLES – Deluxe stainless steel grill sets long-handled spatula and tongs allow you to manage hefty meats, even at the back corners of extra-large grills, without singing your skin or hair.
NEVER LOSE GRILL TOOLS: Tired of hunting down your grill tools? Stylish, sturdy grill accessories case holds your barbecue supplies snugly in place, then snaps closed for easy storage or travel - HANGING LOOPS keep grill tools clean and off dirty...
Losing your BBQ tools is not ideal — but it can be difficult to keep track of where they're stored. If this relates to you, you're going to like the sturdy carry case this set comes with.
This set is excellent as an early Christmas present for yourself or to gift to another grill-enthusiast in your life.
Weighing a tad over five pounds, this set is lightweight and easy to take camping or tailgating.
The tools are built of solid stainless steel, and the entire set comes with a lifetime warranty.
What's Included
3 thin medium size skewers.
3 thick large size skewers
1 extra-large tongs.
1 long-armed spatula with two cutting edges.
1 tactical chefs knife.
1 meat fork.
1 silicone basting brush.
1 grill cleaner and scraper with brass bristles.
Any griller gifted this BBQ set would be impressed — the tools are of good quality and sturdy. Unfortunately, the same can't be said about the case, so avoid leaving it outdoors with your grill.
Pros
Stainless steel is durable and rust-resistant.
Handles won't get too hot.
Metal hoops make storage a breeze.
Razor-sharp knife.
Two cutting edges on the spatula, one with larger serrated teeth.
Spatula handle with built-in bottle opener.
Stoppers on the skewers to keep food in place.
Lifetime warranty.
Cons
Carry case is hardboard covered in metal foil, not aluminum.
If the case gets wet, the laminate can peel.
Pricy compared to other sets, especially if you won't use the skewers.
If you'd like to know more details about this set and see the latest prices, follow the link below.
Home-Complete Bbq and Grill Tool Set – 16 Piece
Recommended
16-PIECE GRILL SET - These grilling accessories include everything you need for a cookout. Season meat with the BBQ brush, flip burgers or sausages with the grill spatula or tongs, eat corn with the corn holders, or grill kabobs with the skewers.
STAINLESS-STEEL BBQ TOOLS - Each dishwasher-safe barbecue grilling tool is made of rust-resistant stainless-steel with heat-safe handles, making them more durable than wooden types and ideal for use as your go-to outdoor grill tools and camping utensils.
HEAVY-DUTY ALUMINUM CASE FOR STORAGE AND TRAVEL - Neatly store and organize these BBQ grill accessories in the included case, which also makes it easy to take all these grill tools to picnics, campsites, tailgating parties, and other outdoor events.
This large set from Home-Complete not only comes with a smart-looking carry case, but it also has everything you need to grill up a storm.
You get everything from the must-have tongs to the nice-to-have corn-holders and skewers. It even comes with a second brush head for the grill brush! Toss one in the dishwasher while the other is in use.
Keep in mind that these tools are slightly shorter compared to others on this list, so make sure you have a pair of grill gloves at hand. On the plus side, this does mean the entire set is compact, measuring only 1.5-foot, making it easy to store and transport.
The heat-resistant metal handles really caught our attention. They're durable and won't crack or wear down, unlike some wooden or plastic handles.
With the addition of the attractive aluminum hard case, this set is also an excellent gift and at this price point, it gives a good value for money.
What's Included
1 spatula with built-in bottle opener and serrated tenderizer edge.
1 long-handled tong.
1 silicone basting brush.
1 grill cleaning brush.
1 spare head for grill brush.
1 heavy-duty aluminum storage case.
2 skewers with stainless steel handles.
8 heatproof corn holders.
If you're a frequent camper or enjoy the occasional tailgating, this everything-in-one set is a must.
You get everything you need to grill anything from chicken, steak to kebabs and corn on the cob. The addition of the case makes it even easier to transport to and from campsites.
However, remember to keep the case in a dry spot since it isn't waterproof.
Pros
Everything you need to grill in one set.
Sturdy stainless steel construction.
Durable tongs with toothed edges provide a better grip.
Long heat-resistant handles keep your hands away from the heat.
Dishwasher-safe.
Cons
Keep the case indoors as it isn't waterproof.
To learn more about this set and to see its latest prices, check out the link below.
OXO Good Grips 2-Piece Grilling Set
Recommended
OXO Good Grips 2-Piece Grilling Utensil Set is ideal for any cookout
Grilling turner has a wide head with a beveled edge for sliding under foods, and is also great for scraping off the grill
One side of the turner head is serrated for cutting into meat to test for doneness
The tongs feature angled, scalloped heads for lifting even heavy food to remove from the grill
Both tools have long handles and soft, non-slip grips
Long known for excellent kitchen utensils that won't break the bank, OXO also makes some fine grilling gear.
Having the right tools handy makes barbecuing more enjoyable, and this 2-piece stainless steel set has the essentials covered.
A spatula is a must for lifting and flipping flat food like steaks and burgers. The tongs help you grip and maneuver awkward morsels, including veggies, wings, and wieners.
Each item measures 16 inches in length, long enough to keep your hands safely away from the hot grill while you work.
The spatula is thoughtfully designed, featuring a beveled end for slipping easily under your food and a hanging loop for stashing on a hook when not in use. The soft grip is comfortable and prevents it from sliding out of your hand accidentally.
There's even a serrated edge for last-minute trimming or slicing up your food for plating. (But never for cutting open to check for doneness, no matter what the manufacturer says! Don't. Waste. Your. Juices.)
The tongs are scalloped and angled for a solid grip on your food – no more losing your sausage over the edge! Like the spatula, the tongs feature slip-resistant grips and a convenient hanger. Plus, they lock closed for drawer-friendly storage.
Both items are fashioned from stainless steel, so they're rust-resistant and durable. They're lightweight, too, so anyone can use them. Best of all, clean up is a breeze – just remove the large debris and toss them in the dishwasher.
Pros
16-inch total length to keep hands safe
Slip-resistant grip
Rust-resistant, dishwasher-friendly stainless steel
Loops for hanging when not in use
Serrated spatula edge for slicing and trimming
Tongs lock closed for space-saving storage
Cons
Tongs may not be strong enough for very heavy cuts.
Folded metal on tongs makes hand-washing a bit tricky – try the dishwasher, instead
No griller should be without at least these two tools, and it's tough to beat the value for your money in this budget-friendly set.
Click the link and snag a pair for yourself or the griller on your gift list.
Conclusion
Any outdoor chef takes great pride in not only the grill you own, but also all of the finger-licking food that's cooked on it. You most likely spend a significant amount of time and money choosing your grill — so why insult it by using mediocre tools?
We hope you found our detailed guide to the best BBQ tools helpful — we certainly believe that it's smarter to spend a little extra on a few quality tools that can stand the test of time.
As we saw on our list above, for just a few extra bucks, you can get a set of all the essential, premium quality tools you need, whether you're grilling in your backyard, campsite or tailgating with your mates. Your experience is sure to not only be easier but also more pleasurable.
After all this grill-talk, I'm sure you're craving some BBQ — I sure am! Grab a cold one and get that grill fired up!