For those living in apartment complexes, condos, and in areas of the country where there are heavy fire restrictions, getting a good summertime barbecue can seem like more of a hassle than it is worth.
However, there is hope in the form of electric smokers which use a heating element rather than a flame to cook your meat. In our article below, we give you our picks for the best electric smokers for barbecuing.
Advantages of Electric Smokers
One of the biggest reasons that people convert to electric smokers is that these appliances are much cheaper to fuel than traditional grills.
In general, gas and charcoal are used as fuels for these grills, and they can be expensive depending on the time of year and the region where you live. On the other hand, electricity is generally cheap, so even if it takes a lot of power to run your smoker, you will likely end up saving money by making the switch to an electric smoker.

Other reasons that people switch to electric smokers is because these models are often designed with flashier "high-tech" features.
Because they are electric, the temperature is typically easier to control, and so it is common for these kinds of smokers to be coupled with remote controls, Bluetooth, or wifi-controlled applications.
How to Choose an Electric Smoker
When considering which smoker you should buy, you will want to focus on two major factors: the size of the smoker and the amount of power it consumes.
In most cases, electric smokers are cabinet-style appliances with a few grated shelves that give you your cooking space inside. As such, the biggest changes you will see as you compare different models on the market is the total amount of square inches on these shelves.

The second factor to consider is the power consumption of the smoker.
As a general rule of thumb, the larger the smoker, the more power it will need in order to properly function. You will also want to consider the maximum amount of power that is allowed to leave your outdoor outlets. If the appliance demands too much power from the energy source, you will end up tripping your outlets, thus halting your ability barbecue entirely.

Finally, as an added bonus, you can consider if your smoker is capable of cold smoking, a feature that generally requires an external cold-smoke generating source that runs off of electricity.
This technique will provide you with some variety in the kinds of foods you can cook as well as the complexity of flavors you can create, but it may be too complicated for beginners.
The Best Electric Smokers for Barbecuing
Bradley Digital 4-Rack Smoker
This cabinet-style, stainless steel smoker is sleek, and it is reliable enough to smoke your food for up to eight hours with little interference on your part. The heating element runs on 500 Watts, and the smoking element runs on 125 Watts.
Check out our full review of the Bradley Digital 4-Rack Smoker
Pros
This smoker features four removable racks, which can help you to create room for larger cuts of meat like brisket or to have more space for smaller foods like vegetables or sausages.
Cold smoking is possible with the Bradley Digital 4-Rack smoker, so long as you invest in the compatible cold smoke generator.
Using the automated pellet feeder, this smoker auto-regulates its temperature. This can give you more time to relax and enjoy the party with your friends and family.
Cons
You may need to plan enough time in advance to get the smoker ready for your barbecue. While this smoker can maintain a temperature once it reaches the desired smoking range, the Digital 4-Rack smoker does take time to reach this point.
This smoker can only accept pellets manufactured by Bradley.
This smoker does not provide you with many elements to control. While this makes it an easy-to-use option for beginners and for experts who are looking to relax more, it does mean that you have to rely more on seasoning than any other element.
Masterbuilt 40″ Digital Electric Smoker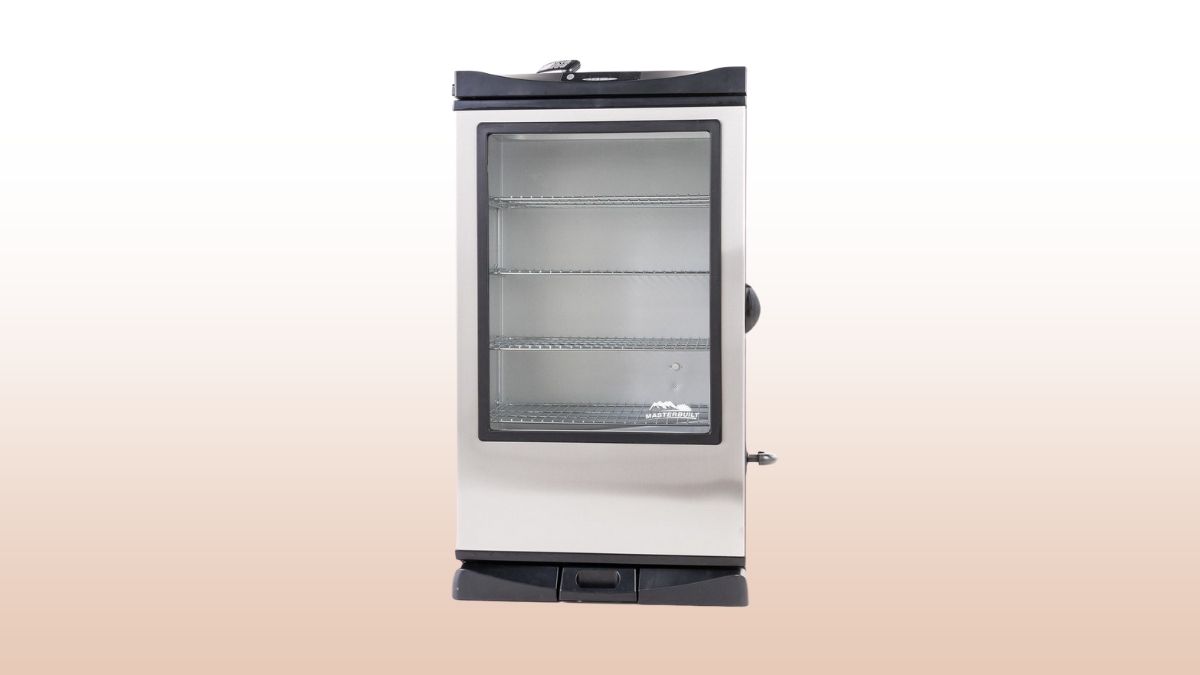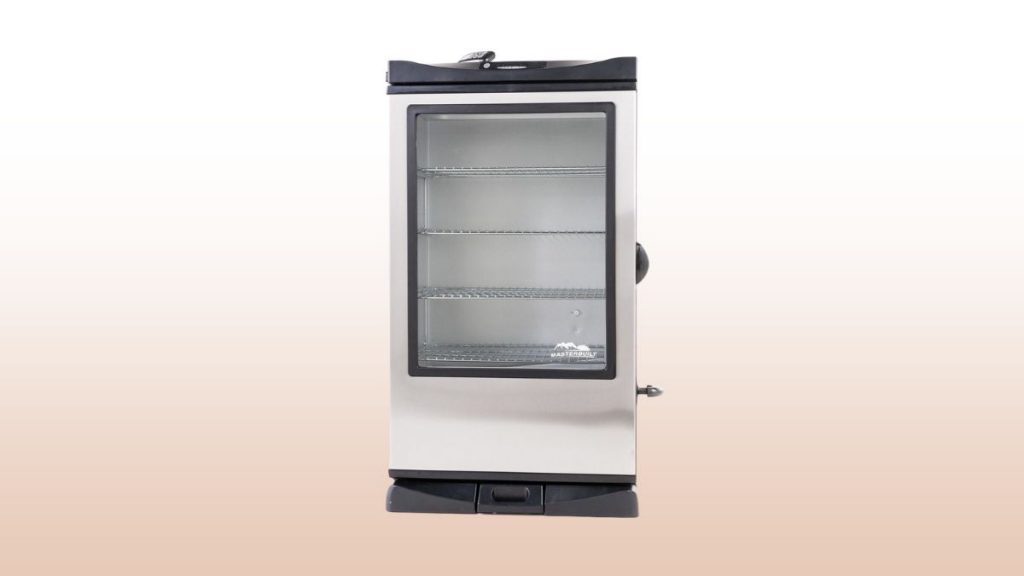 Huge and running on 1,200 Watts of power, the Masterbuilt 40″ Digital Electric Smoker is ideal for cooking for large parties. Check out our full review of the Masterbuilt 40″ Digital Electric Smoker.
Pros
This smoker has a viewing window option, which not only helps you to visually gauge the progress of your cook, but it can also be a fun element for entertaining.
With 975 square inches of cooking space, you can easily handle smoking very large pieces of meats like entire turkeys as well as all the meat you need to cook for a huge party.
You can control the temperature using a remote control that is included with the smoker.
With a side loading system, you can add chips without opening the main door. This helps you to keep your food insulated as it cooks so that you don't have to waste any time getting your smoker back to its ideal temperature.
Cons
The caveat of a large electric smoker is that it will require a lot of power to maintain a temperature that is hot enough for smoking. This can be problematic if you live in cold environment.
You will need to pay extra attention to grease building up in the bottom of this smoker. Because the heating element is at the bottom of the cabinet with the drip tray, the chances of this grease catching fire in the course of a cook is high.
You will likely need to invest in a thermometer. The internal thermometer has been found to be off by as many as 50 degrees Fahrenheit.
Char-Broil Vertical Electric Smoker
The Char-Broil Vertical Electric Smoker is a cabinet-style smoker made of steel with removable, cast-iron grates. Check out our review of the Char-Broil Vertical Electric Smoker.
Pros
With 505 square inches of cooking space, this Char-Broil smoker can help you feed up to eight people. In addition, the removable racks gives you enough room to smoke even the largest cuts of meat, like ham.
The temperature is controlled automatically, but you will still need to keep an eye on how many pellets are left inside the chamber.
The exterior features a thermometer, which means you won't need to open the cabinet and risk losing heat in order to gauge if you need to add more wood pellets.
Cons
To be used as a pellet smoker, you will likely need to invest in a smoke tube that is not included.
There have been many issues reported for the door's design. Most significantly,
you may have some issues getting the door to latch properly. Once it is closed, however, you shouldn't have to worry too much about it staying closed.
There are no vents in the design of this smoker that allow you to control the air flow inside. This can be frustrating if you are used to having this kind of control when you cook.
Char-Broil Deluxe Digital Electric Smoker
Easily the largest cabinet smoker on the market, the Deluxe Digital Electric Smoker runs on 1,000 Watts. Check out our full review of it here.
Pros
There is a stainless steel locking hatch on this smoker to ensure a tight closure throughout the cooking process. This will help you to maintain your desired temperature for up to seven hours.
With more than 700 square inches of cooking space, this smoker has more room than the majority of its competitors. You can take advantage of this to cook for small as well as large groups.
You can adapt the temperature of your smoker via remote control.
This smoker lets you view the progress of your barbecue via a window on the front of the cabinet. Not only will you have an idea of how much more time your barbecue will need, this window doubles as an interesting conversation piece for your party guests.
Cons
The exterior of this smoker is very sensitive to the elements. You will likely want a cover that will protect the metal from sun and rain.
You will need to be sure to only open the door when necessary with a cabinet space this large. Losing heat with an open door is a recurring problem for this smoker.
The timer function on this smoker will pause the cooking process if time runs out.
While this can help you from over-cooking your meat, it can be frustrating if you are relying on the progression of the internal temperature to know how long your cook needs to be in the smoker.
Bradley Original Electric Smoker
While Bradley has since expanded the models that they offer, their Original electric smoker remains one of their most popular items. Check out our full review of the Bradley Original Electric Smoker here.
Pros
Like the other Bradley models, the Original smoker features an automatic briquette feeder. This will help the smoker to regulate the internal temperature and smoke levels even while you are relaxing with your loved ones.
With 570 square inches of cooking space, you'll be able to cook for any range of people, from a small family gathering to a huge party.
Being the oldest smoker made by the brand, the Original smoker has been updated the most. One of the newest features is the change in position for the thermometer, which is less likely to be affected by humidity.
You may be able to do cold smoking with this model if you invest in a cold-smoke generator.
Cons
This smoker is not able to reach temperatures higher than 320 degrees Fahrenheit. While this shouldn't stop you from getting a good cook for the majority of meats, it can be limiting for poultry, especially if you intend to smoke an entire chicken or turkey.
You will most likely want to use this grill in a covered patio setting, as the metal is not very waterproof.
Like all other Bradley smokers, you will need to invest in Bradley-brand briquettes as this appliance is not compatible with any other fuel source.
Conclusion
Ultimately, most dedicated barbecuers prefer to have some kind of "true" fuel source like charcoal or propane, and many scoff at electric smokers because they are perceived as being less able to produce an authentic, wood-smoked flavor.
However, most electric smokers are equipped to work with wood chips or wood pellets, which means that the smoke generated in these completely authentic. Furthermore, electric smokers often feature auto-regulation for the temperature, and often, you can even find these appliances with Bluetooth or wi-fi connectivity so that you can monitor and control the temperature from afar.

Nonetheless, for a quality electric smoker that is durable but easy to use, your best bet is probably the Bradley Original Smoker.
This smoker is more than adequate for cooking for a small crowd, and unlike larger smokers like the Masterbuilt 40″ Smoker, it does not require as much time to pre-heat, and it is more capable of maintaining this temperature without your help thanks to its automatic briquette feeder.
Additionally, the relatively small power requirement of 500 Watts is manageable for most outlet sources, so you shouldn't have to worry so much about tripping your power outlets. And, of course, this smoker can also be updated with a cold smoke generator, making it an interesting and multifaceted tool.
We hope you enjoyed our review of the best electric smokers for barbecuing and feel free to leave feedback below!