In this article, we're going to help you find the best electric smoker that's right for you.
Because if you're loving the idea of smoking your own food but don't want to deal with the hassle of maintaining a fire, then an electric smoker might just be what you need.
Smoking is often seen as a specialty cooking method, but it's actually quite easy to do in your own backyard. It certainly has become more of a hobby for many pitmasters around the world.
Experienced smokers might be thinking that it isn't proper smoking unless it's done over a pit of glowing charcoal — but that's where we disagree.
With a good electric smoker's help, you can achieve great results in less time than charcoal or gas — with a lot less effort.
Enough with the chitchat, we're going to first take you through a helpful buyer's guide before revealing the best electric smokers on the market today.
How Electric Smokers Work
Electric smokers are controlled pretty much the same way as an oven.
An electric smoker consists of an electric heating element. In contrast, a traditional charcoal smoker is fueled by solid fuel and controlled by dampers and vents that limit airflow, enabling you to control the temperature.
As you can imagine, there's quite a lot of guesswork involved when using charcoal smokers — you have to know precisely how to tweak the vents to get the correct temperature.
With a digital electric smoker, everything is done automatically — all you have to do is set your preferred temperature using the controller.
The element will continue to produce heat until the set temperature is reached, then an auto-shutoff feature turns it off. If you find the temperature drops too low, simply turn it back on — just like your kitchen oven.
It's a very hands-off smoking method.
But how does it produce smoke? Above the heating element is a tray where you place your choice of wood chips. As the tray heats, the chips will smolder and produce smoke — they won't burn, so you don't have to deal with an open flame.
The smoke slowly rises and surrounds the food further up in the unit, giving you deliciously-smoked food to enjoy for dinner.
The smoke slowly rises and surrounds the food further up in the unit, giving you deliciously-smoked food to enjoy for dinner.
Buying Guide – Essential Features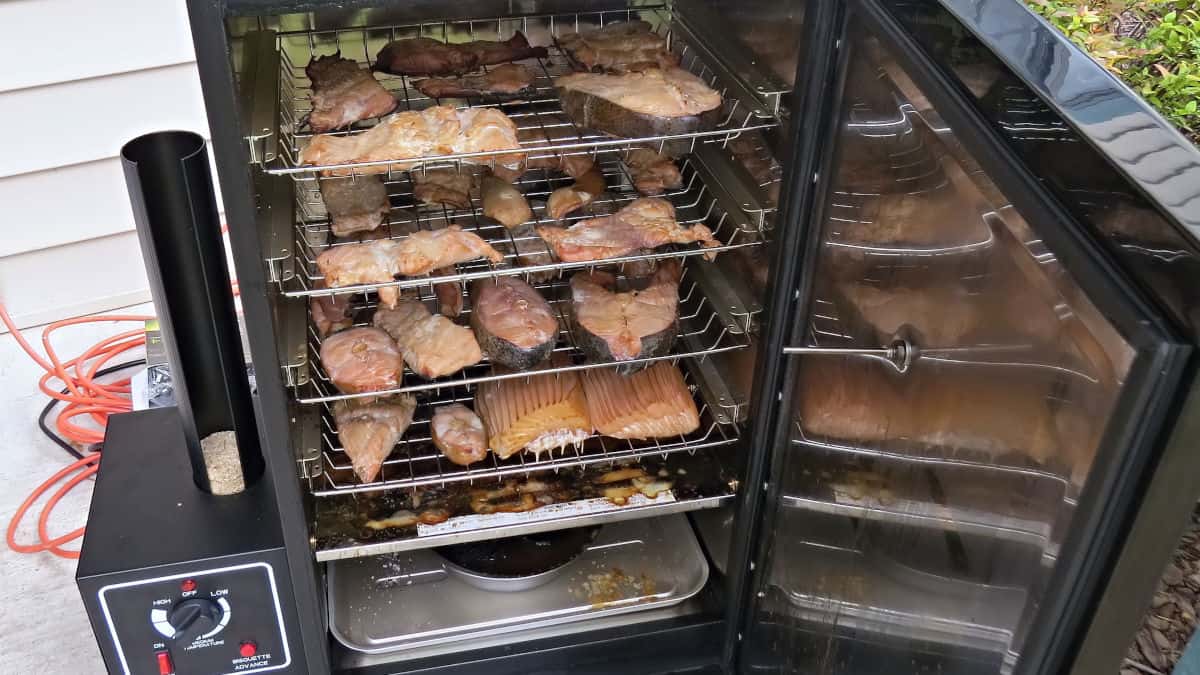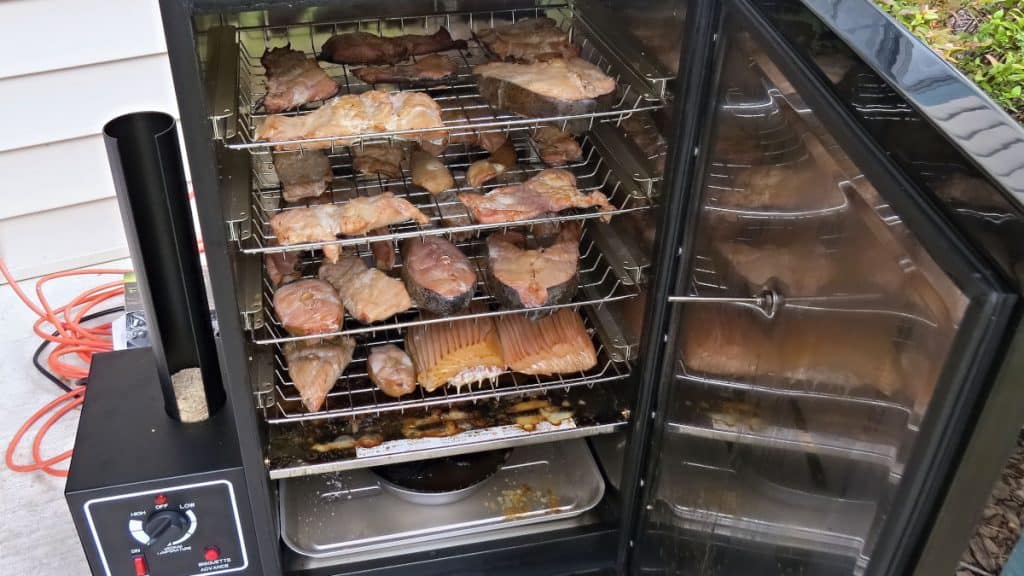 Electric smokers are known for their simplicity and ease-of-use. However, that doesn't mean there aren't any features or qualities that set the various models apart.
Here are some essential features we feel are worth considering before settling on an electric smoker.
Capacity
The capacity is an essential consideration to ensure the smoker will suit your needs. If you're often cooking for large family gatherings or friend get-togethers, you'll need a smoker that can cook an ample amount of food in one go.
Most manufacturers will state the overall cooking space in square inches; this is the combined space you get between the various racks featured. A good medium-sized smoker will be between 700 and 800 square inches — this should be more than enough to feed a crowd.
If you only need to cook for the family, you probably won't need that ample cooking space. Keep in mind that a larger cooking space will require more energy to keep it heated.
Material Matters
Electric smokers aren't the cheapest smokers on the market; therefore, you want to be sure that you get a unit that will hold up.
The materials used will give you a good idea of how well the smoker will hold up. Stainless or powdered steel is often used as well as aluminum — these are durable and resistant to rust.
You should also consider the racks inside the smoker. There are three materials commonly used, including aluminum, stainless steel and chrome.
Stainless steel is the toughest material, but also the priciest option. Chrome is the more common material used, as it's more affordable and easy to clean.
Door Construction
The door in a digital electric smoker differs between the models — they can be made of solid metal with a thermostat or window in place or made of glass. Both of these options work fine, but you should consider how well the door is sealed to keep cold air outside while keeping the heat and smoke inside.
We highly prefer a handle over latches — latches can be very awkward to use, which is even worse when the smoker gets hot and you can't get a good grip.
Pans
A water or drip pan might seem like a pretty simple thing; however, the ones provided with some smokers are far from ideal. Some are poorly made, and others have a much too small capacity, meaning you'll have to empty or refill it more often.
You should consider the size and material of the pan before settling on a smoker. If it's not up to par, but you like the smoker, you can use a baking tray or aluminum tray instead.
Performance and Effectiveness
Many consumers are often drawn towards the biggest and badest option when it comes to power, but that could be a mistake.
An electric smoker's power determines how quickly it can heat up, how long the heat can be sustained, and how much food it can handle at a time.
You'll find electric smokers ranging between 500 and 1500 watts — 500 is a little too low, whereas 1500 is more than the average backyard smoker needs. It's also essential to keep in mind that a high-wattage unit is more expensive to run.
According to to the electric smoker buying guide at FoodFireFriends, 800 watts is a good in-between, giving you enough power without the unit being too costly to run.
If you choose a unit with a lower wattage, be ready to stay patient as it will require more time to heat fully. It might take anywhere from 30 to 45 minutes on average for a smoker to reach the right cooking temperature.
Temperature Stability
Smart features that many electric smokers come with are temperature probes and even wireless thermostats. These enable you to track the temperature of the smoker as well as the meat easily.
Some even allow you to track it from your smartphone, so you don't even have to get up to check!
Some factors will affect the temperature of the smoker. These include the power capacity, outside temperatures, insulation type, and how well the door is sealed.
A common complaint about cheaper electric smokers is the inability to sustain a good temperature between 225 and 250 degrees Fahrenheit as the weather falls below freezing. Pay attention to the thickness of the material and other features that will help keep the temperature stable.
User-Friendliness
Electric smokers are known for their simplicity, but it's still worth considering the number of buttons you need to press to get it started.
Grillers who choose electric smokers often do so because they want a hands-off, easy experience in exchange for amazingly smoked food.
Other features that will make your experience easier include:
Automated wood feeder
Digital timer
Temperature settings
Smoke level settings
Use of vents
Electrical capacity
To make the experience even more hands-off, some electric smokers feature a remote control that allows you to control temperatures, timers, smoke settings, and turn it off or on from afar.
However, with this ease of use does come come sacrifice of food quality!
In an electric smoker discussion at amazingribs, Meathead Goldwyn passionately states that food from a wood burning, charcoal burning, pellet or even gas smoker imparts more flavor to food than an electric smoker.
Ease of Cleaning
Properly maintaining an electric smoker is crucial if you want it to last you through the years — but cleaning and maintenance can be challenging if the unit is complex.
Look for a unit that's easy to clean and doesn't require seasoning or excessive scrubbing after each use. Dishwasher-safe components are always welcome (psst, some of the smokers on our list have this).
Removable water and dripping trays are also ideal for easy cleaning, as you won't have to spend hours scrubbing the bottom of the smoker.
Portability
It has to be easy to move if you plan on moving the smoker from storage to the yard when in use.
Electric smokers aren't the lightest, so you need all the help you can get when moving it. Look for a unit with sturdy handles to help you carry it — or even better, wheels to help you push it to where it needs to be.
Height
Having to bend down or crouch as you're looking into the smoker can be a hassle and downright painful as your back and knees are taking a beating every time.
We highly recommend that you consider the height of the unit you're looking at and how it will suit you. If it's too short, you can place it on a raised surface — some will have the ability to add legs or an added stand.
Electric Cord Length
The length of the cord ranges from 3 to 12 feet. Consider the outlet's location and how far the cord has to be able to reach.
Ensure the outlet is fitted with a ground circuit interrupter, which will protect you against serious electrical shocks. If you're using an extension cord, it must be safe for outdoor use with at least 15 amps.
Warranty
A good warranty will be at least a year. Some manufacturers will go above and beyond this and offer very long warranties, but for a slight cost.
The warranty should cover broken or malfunctioned parts, especially if there are additional features such as thermostats or automated wood chip feeder.
Best Electric Smokers
We've searched high and low to find our top picks for the best electric smokers. We've hand-picked seven great smokers that suit a range of budgets and needs, so you're sure to find one you'll like.
All of the points above were highly considered as we looked at the various options available. The build-quality is important; therefore, we chose only the best of the best.
Without further ado, here are our top seven digital electric smokers:
Best Overall – Masterbuilt 30-Inch Digital Smoker
Top Pick
730 sq. inches of cooking space with 4 chrome-coated racks and 800 watt heating element
Digital temperature and timer controls
Thermostat temperature control for even cooking from 100 to 275 degrees F
Convenient side loading wood chips, removable drip pan and top air damper
Ideal smoker for all experience levels
The Masterbuilt 20070910 is one of the first electric smokers from the brand and many smokers' blueprint to come.
The smoker's cooking space measures 30 inches in height and is made of powder-coated steel. It features a vertical cabinet-style design, making it compact and an excellent choice for anyone with only a small space available. If you don't fancy the powder-coated finish, you can also choose black, stainless steel or silver.
It's powered by an 800-watt heating element that keeps it up to temperature throughout the cook. It heats to temperatures between 100 and 275 degrees Fahrenheit, ideal for smoking anything from a large brisket to delicate foods like fish.
Within the smoker, you get 730 square inches of cooking surface, which is divided over four chrome-plated racks.
Underneath the cooking racks, you'll find a drip/water pan. This makes the smoker incredibly easy to clean as you don't have to spend time scrubbing grease drippings from the bottom of the cooker — if you've ever had to do that, you'll know how big of a hassle it can be.
Like charcoal smokers, the top features a damper that you can adjust to regulate the airflow — this enables you to control how much smoke you want inside the cooker. The entire unit is controlled by a blue-lit digital LED display that's easy to read even as it gets dark out.
You can set and monitor cooking temperatures from the display and set a timer that notifies you when your food is ready. The various settings make this electric smoker incredibly easy to use.
You can add your choice of wood chips through a feeder on the side. This eliminates the need to open the door every time you want to add a few chips.
Pros
Durable and weather-proof.
Top-notch insulation.
Adjustable dampers give you more control.
Various settings for temperature and timer.
Adjustable rack system.
Easy to clean.
Cons
No meat thermometer probe or port, making it difficult to check the internal temp of your meat.
800 watts might be too little for some cooks as it can take a while for it to heat up.
The 90-day warranty isn't as impressive as others.
If you want an effective but simple electric smoker, this is it. It's incredibly user-friendly, making it an excellent choice for beginners.
It's a great size for anyone living in smaller spaces but still want to be able to feed a crowd. Furthermore, the temperature range enables you to cook a variety of meat and vegetables easily.
Best Value – Smoke Hollow 26142E 26-Inch
Runner Up
If you want to smoke, but don't have room for a monster-smoker, this Smoke Hollow 26-inch cooker is for you.
Measuring in at 35.5 x 19 x 16.5 inches, it's quite a compact unit, but that also means you might not get as much cooking space as you'd like. The cooking space height measures only 26 inches; therefore, you might need to cut larger pieces of meat into smaller portions.
Despite the small size, it has lots of power to offer, all the way up to 1500 watts. This high-power heating element means you can be ready to cook in no time with lots of smoke going. Additionally, it has a temperature range between 175 to 325 degrees Fahrenheit.
You get two chrome-plated grids, four sturdy legs, a single-latch and a cool-touch handle on the door. Furthermore, it features a porcelain-coated pan, wood chip tray and an analog temperature controller for precise tweaking.
If you're struggling to reach the outlet, the included extension cord will certainly come in handy.
Pros
Easy assembly and detailed instructions.
Very powerful heating element can reach high temperatures quickly.
Simple to figure out and use.
1-year warranty.
Cons
There's no drip pan, only a water pan — so grease cleanup is still on the schedule unless you DIY a drip pan.
Narrow cooking space won't fit whole large cuts of meat.
This is an excellent budget-pick for any small family who likes the taste of smoked food. It's a compact yet powerful unit that can reach scorching temperatures in no time.
Unfortunately, it isn't quite large enough to fit a whole brisket or pork shoulder, so if you're looking to cook large cuts in one piece, your money is probably better spent elsewhere.
In saying that, if you're on a strict budget or only have limited space for the smoker, this is a great pick.
Char-Broil Deluxe Smoker, 725 Square Inch
Great Value
The Char-Broil Deluxe is probably one of the better-looking units on our list. It's a durable smoker made of stainless steel and offers many features that help you achieve mouth-watering results with nearly no effort.
The unit measures 18.1 x 16.5 x 32.5 inches overall and weighs just a little over 50 pounds. It's about 3 feet tall, making it a good medium-sized smoker with a total of four chrome-plated grates inside, giving you 725 square inches to cook on.
There is a larger model available as well; it offers the same amount of features but gives you a total cooking surface of 1000 square inches.
The smoker is easily controlled using the integrated digital controller located at the top of the unit. It provides you with a simple push-button to set your desired temperature and time.
A feature we highly appreciate is the integrated thermometer probe that you can insert in the meat to keep track of the internal temp as it cooks. This gives you an accurate view of when the meat is ready and to your preferred doneness.
Additionally, it includes a remote control that enables you to monitor the smoker's temperature and meat from afar. You can also set a timer, change temperatures, and even turn the entire unit on or off.
It doesn't get more hands-off than that if you ask us — excellent for any pitmaster who often has guests over and would like to spend more time socializing than staring at the smoker.
Now, it's a heavy unit; therefore, moving it from one location to another isn't a small task. Luckily, this one features wheels that enable you to move it around without breaking your back. There's a relatively large chip box that can provide you with up to eight hours of non-stop smoke and two removable pans; one for drippings and one for water.
If you'd like to see how the meat is doing inside the cooker, you can sneak a little peek through the glass window fitted in the door. You can see how it's browning, check on the smoke and more without opening the door, letting out heat and smoke in the process.
Pros
You get an ample cooking space that can be altered to fit any cut of meat.
Very user-friendly with its digital controller and intuitive remote controller.
Integrated probe saves you the money you'd spend on buying a separate thermometer.
There's no need to hover over the smoker while having guests over, just use the remote!
It provides you with up to eight hours of smoke, more than most other smokers at this size.
No assembly is needed.
Very sleek looking with its black and stainless steel body and glass door.
Cons
It isn't waterproof, so make sure it's not exposed if stored outdoors in the rain.
There's a slight range issue with the remote, especially if indoors and the signal has to travel through walls. But, since it features wheels, you can simply move it closer to where you're at to ensure the signal won't be compromised.
As with other electric smokers, this one is as simple as it gets. It's very straightforward to figure out and use, but it also has the added benefit of arriving pre-assembled.
It's a breeze to clean thanks to the two pans at the bottom; there's no need to worry about baked-on grease and oil or scrubbing until your fingertips are gone.
We also can't resist the design! It looks like it belongs in an exclusive estate in the countryside where the Duke and Duchess enjoy smoked elk on the weekends — I might've gone a bit too far on that one, but you get the point, it's good looking!
It also has a large capacity that's more than enough for most backyard smokers. Then there are the added features of the remote control and integrated thermometer probe, you don't get this in other regular electric smokers.
Masterbuilt 20077515 Smoker
Recommended
730 sq inches of cooking space with 4 chrome-coated racks and 800 watt heating element with full foam insulation
Blue led display makes reading temperatures and cooking time in direct sunlight easy
Rf remote controls and monitors temperature, time, internal light, on/off and meat temperature
Redesigned front access drip pan, smoother operating wood chip loading system and side/top air damper
Handle and rear wheels makes moving easy
If you're in the search for the best of the best, the "creme de la creme" of electric smokers, the 20077515 is the one for you (given you have a budget to match the price).
Electric smokers are simple, and pretty much all do the same thing: smoke meat. But, this one isn't like the others.
First off, it features an RF remote monitoring and control system that enables you to easily track and control the temperature of the smoker and the meat — control the interior light and even turn it off and on from a distance.
Furthermore, it also includes a meat probe that allows you to keep track of the meat as it cooks from a distance as well.
The interior of this smoker isn't that much different from the first Masterbuilt smoker on our list. It features four adjustable chrome-plated racks that you can adjust to suit the height of the meat you're cooking.
You also get 730 square inches of cooking surface, similar to the Masterbuilt above. The unit measures 20.3 x 19.7 x 32.1 inches in total and weighs 53.35 pounds.
Another similarity to the above Masterbuilt unit is the 800-watt heating element — it gives you just enough power to reach and sustain temperatures of up to 275 degrees Fahrenheit without being too power-hungry.
The lockable door plus the added insulation really helps to keep all that heat and smoke on the inside, making the entire unit even more energy-efficient.
You can add wood chips through the side loader, eliminating any need to open up the door to refill the chips. Additionally, you can control airflow via the vents located on the side and top of the unit. This enables you to increase or decrease smoke as needed.
A few last things worth mentioning are the wheels and rear handle that makes the unit super easy to move — there's also a front-access drip tray that makes cleanup a breeze once you're done cooking.
Pros
Sleek-looking.
Portable.
User-friendly.
Easy to clean.
You can monitor the smoker and meat from afar.
Cons
It will need 45 minutes to reach the highest temperature.
Some owners found it very challenging to assemble.
Same 90-day warranty as other Masterbuilt units.
If you want a smoker that impresses even the most skeptical pitmaster, this feature-packed unit is an excellent choice. It's all about making the smoking process a lot easier on you with the ability to monitor everything from afar as well as the easy cleanup and chip loading.
It has plenty of room to cook enough food for a large crowd of hungry guests or you can simply smoke up a storm for a small family.
Yes, this isn't the most affordable option, but it sure is worth it if it fits within your budget.
If you're looking for a true portable electric smoker, this mini model from Masterbuilt might just be what you need.
It measures a total of 15.9 x 23.6 x 23.3 inches, making it just under 2 feet tall. It features foldable metal legs that make it easy to pack away like a little square box inside your RV or the trunk of your car. You can take it on any camping or road trip, given you have access to a power outlet.
Now, despite the compact size, it can actually cook enough food to feed a small gathering of people. You can easily fit two pork butts, some racks of ribs or four medium-sized chickens.
Another surprise is its power. This tiny unit is powered by a 1400-watt heating element — far more power than what you get from the high-end model above. It heats up incredibly quickly and can reach temperatures ranging from 100 to 275 degrees Fahrenheit.
You control the temperature using an analog controller, which isn't as efficient as a digital controller, but we'll take it. You have to guess where the temperature setting is by adjusting the dial between low, medium and high.
Both the water and wood chip tray sit just above the heating element at the cooker's bottom. They're quick to access for refills or to remove when cleaning is necessary but you have to access through the door — so be ready to get in and out quickly so you won't lose too much heat or smoke.
Pros
Packs small and easy to bring wherever you go.
Very powerful.
Excellent capacity to feed a small crowd.
Minimal features to get used to, easy to use and clean.
Cons
The analog dial is only marked as high, medium, low, so you'll have to learn how to tweak it to the right temperature.
Although the extra power is great, it might be costly in the long run, especially if you smoke regularly.
Again, a short 90-day warranty.
If you're looking for a powerful and compact electric smoker, this should be among your top three choices. It's compact, easy to pack, store and transport — it's also an ideal choice for anyone who doesn't have more than a balcony or small patio for the smoker.
We will say, though, if you want to cook large cuts of meat in one piece, this is not for you. Although it can room quite a bit, it isn't grand enough for a whole shoulder or brisket.
However, for those wanting a simple, yet delicious way to smoke your food, this should be given some serious consideration.
Bradley BTDS108P 6-Rack Smoker
Recommended
Large Capacity Smoker: Our digital smoker is specially designed to accommodate the 6 included racks; This meat smoker will let you feed a couple or a crowd when smoking turkey, chicken, ribs or brisket
Professional-Grade Design: Perfect for professional chefs and food smoking fans, our fully automatic electric smokers allow you to simply load in your bisquettes and smoke for up to 9 hours
"Dimensions: Our digital outdoor smokers measure 19 by 22 by 41 inches and feature 6 racks with 11 by 13 inches of cooking space each "
Easy To Clean: Our electric grill features an easy-to-clean stainless steel interior that will not rust; Smoke diffuser system keeps the smoke flowing, eliminating dirty smoke and preventing "black rain" from dripping on your delicious smoked food
Master Smokers: We developed Bradley Smoker products to produce the best smoke flavor possible; As we say, "It's all about the flavor," so enhance your dining experience and enjoy delicious smoked dishes today
You didn't think we weren't going to feature a Bradley on our list, right? Bradley is a house-hold name in the electric smoker industry, so it's only natural that we'd feature the biggest and baddest smoker that Bradley offers.
This giant measures 17 x 14 x 39 inches overall and weighs a whopping 60 pounds. It stands tall and proud as it's made with a powdered epoxy steel exterior with a polished stainless steel interior. Furthermore, it features six removable smoking racks that are chrome plated, giving you a combined cooking surface of 780 square inches.
The unit is equipped with two burners, one for the oven and one for smoking; 500 and 125 watts. Combined, the two elements can produce up to 280 degrees Fahrenheit.
We like the digital temperature controller; it's simple to use and gives you control over the smoke as well. To produce smoke, you need wood; for this, there's a pellet feeder attached to the side of the unit that gives it just enough fuel to produce your desired amount of smoke.
If the feeder were to clog, an alarm will go off to notify you — you'll have to reset your settings once the clog is cleared.
There is some assembly to get through before you can get to cooking; however, it's relatively easy compared to many other electric smokers. Simply insert the racks and connect the smoke generator — it should be ready to go then.
Wood pellets will typically burn for a good 20 minutes before needing a refill. Luckily, because there's an automatic feeder, the smoker is able to produce smoke for up to eight hours.
Pros
You get ample cooking space to cook for a large crowd.
Flexible options in which cuts you'd like to cook thanks to the six racks.
Very simple to operate and easy to set an exact temperature with the digital controller.
Nine different wood flavors are available from Bradley, so you get lots of options to choose from.
Removable parts including the drip pan, bowl and racks are all dishwasher-safe.
Cons
This monster's size could do with some more power than what it gets from the heating elements.
The seal on the door might crumble or separate from the frame with time, but these are fortunately easy and affordable to replace.
Rotating the racks while cooking can be necessary due to the height of the unit. The bottom tends to be hotter compared to further up in the smoker.
There's a limit to the timer at 9 hours and 40 minutes, which means you'll have to reset it for long cooks.
If you're often cooking for a large group or gathering, this could be the smoker for you.
It has minor flaws, such as the small heating elements, but it does offer a large cooking surface and the ability to hold any meat cut, no matter the size.
In saying that, if you're not going to cook for a large crowd, this probably isn't for you. Although it's nice to have the room and opportunity to cook such amounts of food, there are other units with more power but smaller capacity.
Keep in mind that although there are quite a few cons to this one, these are all easily fixable, so don't let them deter you if this is the capacity you're after.
Masterbuilt MES 130P Bluetooth Smoker
Recommended
Bluetooth Smart technology allows you to control temperature, lighting, monitor meat temperature, and power your smoker on or off
Four chrome-coated smoking racks
Patented side wood chip loading system to add wood chips without opening smoker door and losing heat
Built-in meat probe thermometer for perfect results every time
Thermostat temperature control for even, consistent smoking
We live in a technological world, that's a fact — so why not embrace that and go for a smoker that's up-to-date?
This electric smoker from Masterbuilt features Bluetooth technology that allows you to track and control the entire unit from the comfort of your hands — that is, via an app on your smartphone.
This function enables you to set the meat in the smoker and forget about it until it's ready. Go chill on the couch or with your mates, enjoy a cold one! When needed, check the app to see how the smoker and your meat are doing. Keep in mind, you have to remain within the Bluetooth range.
But, as long as you're within the range, you can conveniently use the app to not only monitor the temperature but also adjust it or turn the unit on or off.
Another smart feature of this unit is the top heating element. It works as a broiler that you can use to give your food a nice seared crust to make it even more delicious.
It measures 19.9 x 20.7 x 33.5 inches in total and weighs just under 62 pounds. You get four adjustable chrome-plated racks, giving you a total of 720 square inches of cooking surface. The high capacity enables you to cook up to six chickens, four racks of ribs, two turkeys or four pork butts.
This version is also available as a 40-inch unit, giving you even more room to cook whatever your heart desires.
The smoker is powered by an 800-watt heating element that can generate up to 275 degrees Fahrenheit. You can add your choice of wood chips through the side loader, so there's no need to open up the smoker to refill. Additionally, you can control the smoke flow using the two vents at the top of the unit.
Pros
Easy monitoring and controlling of the smoker via an app on your smartphone — optimal set-it-and-forget-it smoking.
LED display with digital controllers makes it simple to operate.
Large capacity, ideal for feeding a large crowd or family gathering.
Convenient side-loader for the chips means you won't be losing heat or smoke when a refill is due.
Excellent insulation keeps heat and smoke on the inside.
Easy to clean with the removable drip tray.
The added wheels and rear handle makes it easier to move to where it's needed.
Cons
Beggars can't be choosers, but we would prefer WiFi over Bluetooth simply because you get a better range.
Only a 90-day warranty.
Electric smokers are simple and easy to use as you basically just plug it in and you're good to go. This unit does that (and well) with the addition of the Bluetooth feature.
Although we'd prefer WiFi, it's still an excellent addition to an already great smoker — just stay within its range.
You get good power without it drawing too much energy, and the addition of the upper heating element is genius as it only makes it more versatile. And who doesn't love a good crust on the brisket or ribs?
You get a boatload of features that makes it easy and fun to use. The capacity is also excellent for anyone who often has guests over for dinner — and you're sure to have friends inviting themselves over when they hear smoked meat is on the menu.
Advantages of Electric Smokers
One of the biggest reasons people convert to electric smokers is that they are much cheaper to fuel than traditional grills.
In general, gas and charcoal are used as fuels for these grills, and they can be expensive depending on the time of year and the region where you live. On the other hand, electricity is generally cheap, so even if it takes a lot of power to run your smoker, you will likely end up saving money by making the switch to an electric smoker.

People switch to electric smokers because these models are often designed with flashier "high-tech" features.
Because they are electric, the temperature is typically easier to control, and so it is common for these kinds of smokers to be coupled with remote controls, Bluetooth, or wifi-controlled applications.
Keep It Smoking
Sure, electric smokers might not be the "traditional" way of smoking meat, but that doesn't make it any less valid. In fact, you can easily achieve delicious, smokey results with an electric model, and with less effort than charcoal!
As we've seen in the reviews, electric smokers share many of the same traits and features. However, some stand out from the crowd, including the Masterbuilt MES 130P and Char-Broil Deluxe, with their ability to be controlled remotely.
Whether you're an experienced pitmaster with years of knowledge or new to this method of cooking, you're sure to enjoy an electric smoker!
Tell us your thoughts in the section below — which unit on our list would you choose? The large Bradley or tiny but mighty Masterbuilt MB20073716?