This article discusses and reviews the best smoker thermometers for accurate and remote temperature monitoring of your BBQs and grills.
Grilling and barbecuing without a thermometer is like baking without setting a timer – you can only guess when it's done. All this guesswork can result in an uneven cook, under- or overcooked meat that you don't want to serve your guests.
If you'd like your grilling to be consistent, you need to equip yourself with a thermometer.
Keeping track of the meat's internal temperature is the best way to ensure it's cooked to perfection. However, not only is it essential to know the temperature of the meat, but you also want to keep track of the grill or smoker's temperature.
If you have one of those smart smokers with a built-in thermometer in the lid — congratulations, they're almost useless.
Sure, they will give you an approximation of the temperature. Still, most built-in thermometers are located 10 inches or more away from the grill grates — meaning the temperature can be off by 30 degrees Fahrenheit or more.
So, before we get into the best smoker thermometers, let's first go through a quick buyer's guide to help you know what to look for in the right product for you.
Bottom Line up Front: The Best Smoker Thermometers Reviewed in this Guide
The above links take you to current prices, customer reviews, and further information on Amazon.
Why Is a Thermometer Necessary?
Cooking is art and science. You get to use your creativity and imagination as you're putting together a dish, which spices, flavors you're using. But, when it comes to how the food is cooked, science is at the essence.
It's all about getting the right temperature and holding it at that for the right amount of time to achieve a perfectly cooked piece of meat.
When smoking, there are two essential temperatures you have to be aware of: the meat and the grill grates.
You need the temperature of the grill to suit the kind of cook you're going for. You can't cook a brisket low n slow-style on a scorching hot grill — it won't get the time and love it requires to tenderize.
On the other hand, searing a steak on a grill that isn't hot enough, simply won't give you the same results either.
It's crucial to cook meat to its required internal temperature; this will tell you if it's safe to consume or not. Knowing the meat's temperature will also give you a clear indication of its doneness and if it's to your liking.
Keeping tracking of these two temperatures will help you to get a consistent cook every time.
Aside: In this article, we are looking at 'leave in thermometers'. Those that you place into your meat and smoker, and leave in for the duration of your cook to monitor it.
There exists a different type of thermometer, instant read thermometers, that you use to spot-check temps but do not leave in for monitoring. We do not cover those here.
Built-In Thermometer: A Fun but Useless Accessory
Sure, a lid thermometer is a nice accessory to any grill — and surely an excellent excuse for manufacturers to bump up the price tag by a smitch. But, their only reliable job is to let you know whether the grill is hot or not.
As we explained briefly in the introduction, the lid is further up from the grates due to the domed shape. Therefore, any temperatures that the thermometer reads will be off — in some cases, it can be off by 50 degrees Fahrenheit, which is quite significant.
Overall, the temperature of the lid is of no value. You need a better smoker thermometer than that!
Types of Digital Smoker Thermometers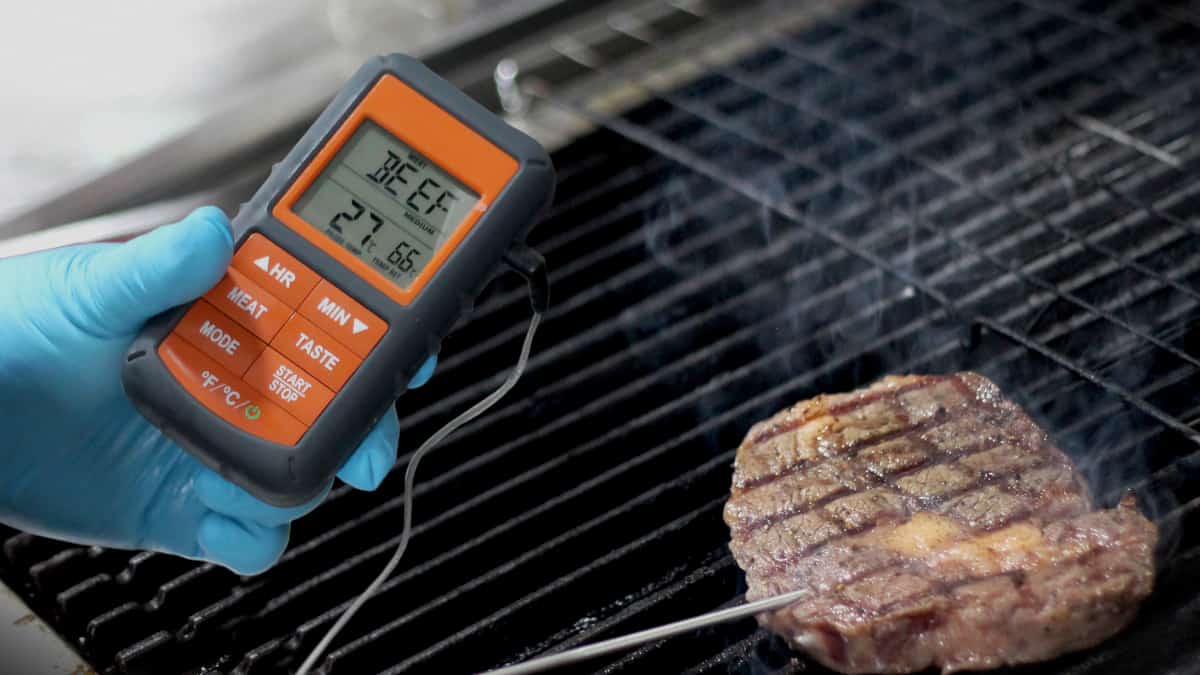 There are many types of digital smoker thermometers available on the market, making it even trickier to find one. Here are the three major types that you're likely to come across:
Single Probe – As the name indicates, this thermometer consists of a single probe that you can use to either measure the meat or the grates — but not simultaneously.
With a single probe thermometer, there's going to be quite a lot back and forth going on as you're checking the grates and the meat. Most people use them as a wireless meat thermometer, relying on skill and experience to set the pit temp themselves without monitoring.
Overall, the price difference between single and dual probes is quite insignificant, so there's not much logic to buying a single probe thermometer.
Dual Probe (or More) – These consist of two or more sensor probes that you can use to measure the meat's temperature and grates simultaneously.
There are thermometers available that feature up to six sensor probes that you can use to check the grates and multiple meat pieces. This is excellent if you can manage all the wires.
Wireless – Wireless remote digital cooking thermometers are convenient and easy to use since you won't be dealing with any wires.
Simply insert a probe into the thickest part of the meat, and it will keep track of how it's cooking. You can then check on it through an included screen in the remote monitoring receiver, or using your smartphone if the thermometer has an app.
With a wired thermometer, you have to be present to take a temperature reading. By using a wireless unit, you can enjoy time with your guests while monitoring your meat through an app on your phone.
Which type would suit you best depends on your cooking style. If you're a very present griller and like to stay close to the 'cue while cooking, a wireless unit isn't necessary.
On the other hand, if you like to spend time with your guests or enjoy a cold one away from the grill, a wireless thermometer is ideal.
Our Recommendation: A Wireless Digital Dual Probe Thermometers
We highly recommend wireless meat thermometers because it just makes the entire process much easier.
When grilling or smoking, you're usually feeding more than yourself; therefore, there's often more food to keep an eye on. A wireless thermometer simply enables you to throw the meat on the grill and then go do the sides in the kitchen — or relax with your buddies!
Digital vs. analog thermometers? A digital meat thermometer is easier to read and more precise — do I need to elaborate?
The price difference between digital and analog isn't as significant as it used to be — in fact, highly accurate analog thermometers can cost more than its digital cousins.
Why dual-probe? It's convenient! You get multiple probes to play with, which allows you to monitor more than one piece of meat in one go. Once your grill is up to temperature, stick a probe in each piece, close the lid and take five.
With multiple probes, you're also minimizing the number of times you'll open the lid to check or move the probe around. This will essentially keep the grill at the right temperature and result in a faster and more even cook.
Choosing the Best Smoker Thermometer for You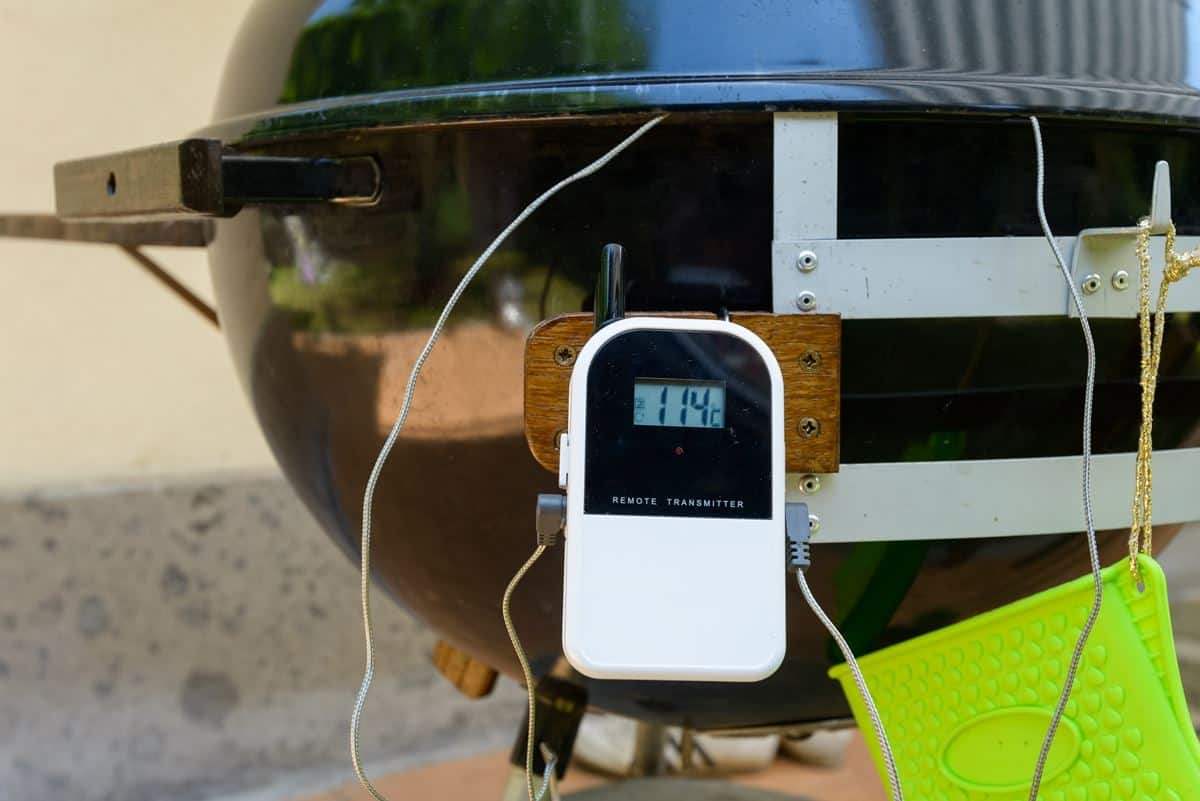 In the following guide, we'll take you through some of the criteria we look for in a good smoker thermometer:
Number of Probes
Two probes are essential in our book. But, it's vital to choose the number of probes that suit your cooking.
For example, if you're only going to be smoking a brisket or pork shoulder, two probes are sufficient; one for the meat and one for the grates.
But, if you're grilling steaks, ribs, and chicken, four or more probes will be more convenient. This will enable you to monitor more items simultaneously and make your job as the master griller much easier.
Accuracy
Choosing a budget thermometer might be good for the bank account, but not so good for your next meal.
Cheap digital thermometers can be inaccurate by a few degrees — which may not sound like much, but it will be the determining factor between perfectly-cooked and over- or undercooked.
You want accurate temperature reading to help you create the best BBQ you can.
Speed
When checking on the meat, we want to be in and out of the grill ASAP to minimize the time the lid stays open.
But, if you have a slow thermometer, the simple process of checking the temperature can be daunting.
Durability
Any tool that's used around the grill has to be durable. A thermometer needs to be able to stand the heat of the smoker as well as the elements. We look for braided cables that flex without kinking and a rubber cover that protects the electronics from bumps.
Functionality and Features
As thermometer technology progresses, new features are added to the average digital thermometer, but what is essential and what is just nice to have?
The ability to change between Celsius and Fahrenheit is handy. A countdown timer, magnetic backing and backlit display are also very useful.
It's essential to consider your needs — will that special feature really be used or is it just a waste of money? All in all, you need a reliable, accurate thermometer that helps you monitor your meat and smoker.
Wireless Capability
This is a preference, but we think a wireless thermometer just makes the job ten times easier. You get to monitor your meat without actually being present — you can be in the kitchen preparing a salad, or chilling with a cold one.
Honestly, would you rather be staring at the smoker for hours or hang with your buddies as the meat cooks itself?
Ease of Use
A good thermometer has to be simple and straight to the point. Having to press multiple buttons while hopping on one leg, singing Mary Had a Little Lamb, just to know the meat's temperature, is a hassle.
We look for clearly marked buttons and large displays that are easy to read and understand. You don't want to have to whip out the manual more than once.
Some thermometers take ease of use a step further by utilizing an app on your smartphone! You can see the best examples of these in our guide to Bluetooth bbq thermometers.
Price
While some people don't mind spending up to $200 on a thermometer, this surely won't suit everyone's budget — and that's fine. It's essential to set a budget for yourself before shopping, but it's also crucial to be realistic.
The fact of the matter is that if you want a durable thermometer with multiple features, the price will be higher. Buying a good smoke thermometer is an investment — it will help to improve your cooking, and it will be the difference between a perfectly cooked brisket and an overcooked one.
Therefore, spending a little extra on quality will only pay off in the future. A durable thermometer will last you for years to come, so you won't have to worry about buying a replacement.
Make sure you find the best quality thermometer that suits your budget.
Manufacturer's Warranty
Malfunctions happen even to the most durable products, but what really matters is the warranty that backs that product.
A good manufacturer warranty will say a lot about the product — it means the company believes in its product and truly stands by it. If this is the case, the manufacturer should have no problem replacing a malfunctioned thermometer.
We recommend looking for products that are backed by at least a one-year warranty.
Best Smoker Thermometer Reviews
Now that we know how to find the right thermometer for you, it's time to take a peek at some of the best smoker thermometers.
We've included simple units that are budget-friendly as well as more technical thermometers — so let's get started.
Best Overall: Fireboard FBX11 Smoker and Grill Thermometer
Top Pick
This thermometer belongs in the future, but luckily, it's already here for us to enjoy!
You get a range of smart features that makes it super easy and convenient to use. It has Bluetooth and Wi-Fi connectivity and a cloud connection, enabling you to monitor it via your phone.
You have to install an app on your phone that enables you to monitor how your meat is cooking and your cooking style. The thermometer records your data, which you can review later to see what worked and what didn't, sort of like a notepad to help you improve your cooking skills.
Apart from the thermometer's smart side, it also has an incredible temperature range that spans 784 degrees Fahrenheit. You can attach six probes that you can monitor over the app.
This enables you to cook various kinds and cuts of meat simultaneously — you can even cook five meats on different smokers and still track everything from your phone.
Another incredible feature is the 8-pin auxiliary port that supports the Fireboard snap-on blower — in other words, you can use this to automate temperature control. It gives you the ultimate set-it-and-forget-it grilling experience.
All of this does come at a higher price, but if you're a serious griller or smoker, this thermometer will become your handy assistant. It really is one of the best smoker thermometers available right now at any price.
Pros
Up to 6 Probes – You will have to buy extra cables, but it's excellent for anyone who often cooks for many people. It enables you to keep track of up to five or six cuts of meat, or multiple smoker temperatures.
Infinite Range – Sit back and relax! Simply check the app once in a while to see how your meat is coming along.
Highly connected – Whether you're on Wifi or Bluetooth, you can connect your phone with the thermometer.
Incredibly accurate – It's easy to get perfectly cooked meat every time.
Extra-long cables – Gives you more freedom to where the transmitter is located.
Cons
Cost – It's an investment, that's for sure. It might not suit everyone's budget, but you do get a good bang for your buck.
Only two probes are included – It's expensive, and you have to buy additional probes if needed.
This thermometer might not suit every budget, but as I said, it's an investment. Not only are you getting a highly accurate thermometer, but also a new, easier way of cooking.
If you're searching for the best, the creme-de-la-creme of thermometers, this is it!
Runner Up: Thermopro TP20 Digital Meat Thermometer
Runner Up
Extended Remote Range: Wireless thermometer with dual probes optimizes its wireless range from up to 500FT to monitor your food or oven/grill/smoker temperatures, enabling you to enjoy the company of your guests without continuously excuse yourself
Hassle-Free Setup: With no synchronization required, say goodbye to the tedious setup steps; Upgraded receiver clearly displays both food and oven temps simultaneously; Backlit display allows use in low-light condition
Kitchen Timer: Food cooking smoker thermometer features count up and countdown setting that is perfect for long-time cooking or vegetable side dishes; Receiver will beep and flash once reaches preset temperature
USDA-Recommended Temperature Settings: BBQ thermometer comes with preset temperatures for 10 types of meat and their respective doneness levels recommended by the USDA; All the preset temps can be reset to your desired tastes
The Thermopro TP20 wireless remote digital smoker thermometer is ideal for anyone looking for a thermometer to take your smoking-game to another level.
It's reliable, durable, packed with features and best of all, it's affordable.
One of the features that we find handy is being able to click a button, and the thermometer will set a temperature target that suits your desired doneness.
Now, don't think this is fooling around — the thermometer is pre-programmed to follow the USDA's guidelines on cooking temperatures, so you know it's safe to eat.
It comes with a backlit digital display that enables you to read the thermometer clearly during dark hours. This is ideal for any griller hosting a late-night BBQ get-together.
Additionally, it features a countdown and count-up timer, and you get to switch between Fahrenheit and Celsius with one button.
Now for the best part! The TP20 is backed by a probe replacement guarantee, which means you'll get a new one, free of charge if the first one fails.
Pros
Wireless remote – Gives you more freedom as you cook.
Long cables – Even more freedom as to where the transmitter is placed.
Rubber case – Provides a durable exterior.
Self-supporting kickstand – Enables you to put the transmitter on any flat surface.
Presets for various types of meat – Set it to your desired level of doneness and once it reaches the right temperature, an alarm goes off.
Cons
Two probes max – It can only connect two probes, so it's not for busy grillers.
Large receiver – Easy to read, but kind of cumbersome to carry.
Overall, this is an excellent thermometer for any griller who needs something that's straight to the point. It's user-friendly and makes it even easier for you to cook your meat how you like it.
If you're already sold, you can follow the link below to check out pictures, videos and the latest prices.
Best Affordable: Thermopro TP-08S Wireless Digital Meat Thermometer
Great Value
Enhanced 500ft remote range: Thermopro wireless meat thermometer adopts the most advanced wireless technology to provide the strongest, and most reliable connection with an out of range alert, allowing you to monitor the progress of your cook up to 500ft...
Dual probe for food and BBQ: Meat thermometer oven safe with highly accurate stainless steel meat probe and oven/ grill/ smoker temperature probe, to allow you to monitor both food and ambient temperature simultaneously, making the smoker thermometer...
Food temp & HI/LOW ambient temp alarm: Digital grill thermometer allows you to quickly and easily set your own cooking temperatures for both probes; Set probe 2 as HI/LOW temp range alarm for your grill or smoker to know when to add more fuel or if your...
Smoking meat isn't just cooking dinner, it's a hobby for many. Because of this, most home cooks aren't too keen on spending over $200 on a thermometer — and you know what? You don't have to!
To ensure you get the best within your budget, you need a thermometer that's accurate, durable and has the right features. The ThermoPro TP08 is just that, a quality budget smoker thermometer, which is why it's our pick for the best budget-friendly smoker thermometer.
The TP08 is an excellent alternative to its more expensive big brother TP20; however, it doesn't come with all the bells and whistles. What you aren't getting is the preset doneness and safe temperature features.
Although the preset features are nice to have, they definitely aren't essential. Instead, you can download a temperature chart and set your desired targets manually.
Let's focus on what you do get. You can choose between Fahrenheit and Celsius, countdown and count-up timers, and a backlit LCD. The entire unit is preserved in a rubberized housing that gives it a good ruggedness — it feels and looks similar to high-end units.
Overall, this thermometer is excellent for any griller who already knows temperature and doneness targets.
Pros
Extra-long food probe – Ideal for larger cuts, such as brisket and pork shoulder.
Ease of Use – Pairs automatically and the buttons are easy to read and press.
Ample features – All of the above mentioned as well as alarms for temperature, lost signal and more.
Cons
Dual probe only – Monitor only one piece of meat and the grill grates.
Short pit probe cable – Measuring only 3 1/2 feet, it might not be long enough for most grillers.
No doneness presets – It's a simple thermometer and doesn't feature any pre-set temperature settings like the TP20.
You get excellent value for money with this little thing. It's straightforward to use and does an excellent job despite the lack of nice-to-have features like the TP20.
The only big issue we have with it is due to the length of the pit probe cable. It's only 3.5 feet long, and the transmitter isn't magnetic. This means you have to have somewhere to place the transmitter, so it's within 3.5 feet of the probe.
If you have a smaller grill with a side table, it works fine, but if you're working with large smokers, the cable might be too short.
With that said, it's still a great thermometer that's reliable and sure to last through years of use and abuse.
Maverick Et-732 Wireless BBQ Thermometer
Recommended
WIRELESS - Monitor your grill and smoker temperatures from up to 300 feet away
PROGRAMMABLE ALERTS - The Maverick meat thermometer will alert you when your meat has reached the temperature you would like. The wireless receiver also alerts you when your BBQ or smoker is above or below the desired temperature range
BACKLIT SCREENS - Thermometer and receiver features back-lit screens so information is easy to read in darker conditions
FEATURES - Count up timer, countdown timer, belt clip and built-in stand
INCLUDED - This most perfect of grill accessories includes: remote receiver, remote transmitter, ambient probe, meat probe, ambient probe clip and 4 AAA batteries for out of box use
The Maverick ET-732 is one of the most popular thermometers in the history of meat thermometers. It's simple to use and works as it should without any nonsense.
Compared to the units we reviewed above, the ET-732 doesn't sport the most intuitive design, and it might require a few peeks at the manual before mastering it.
Unlike the fancy TP20, this unit doesn't come with any pre-set features for USDA guidelines, but this is common griller knowledge that any pitmaster will learn eventually. It has alarms for over- and undercooked temperatures and a lost signal alarm that tells you to get closer to the transmitter.
This thermometer is great for grillers who have a good knowledge of smoking meat and the various temperatures to keep track of. But, if you're a newbie, this thermometer might be a bit too complex to use — the TP20 is just a bit more straightforward despite the additional features.
Durability also isn't as on-point as the TP20. The ET732 doesn't feature a rubberized casing, so it requires extra care when handling.
Pros
Small receiver – Portable and easy to carry.
Audible alerts – Let's you know when the temperature is either too high or too low.
Timers – Countdown and count-up timers.
Belt clip and kickstand on receiver – Easy to carry around or place standing up.
Cons
Only 2 Probes – It limits how many pieces of meat you can monitor at a time.
Low on convenience features – We'd like a few more features, such as pre-set temperature control.
Difficult to set up – You might need to look at the manual more than once.
90-day warranty – Not ideal, but at least it has a warranty that covers manufacturer defects.
If you're a griller with good experience, this simple yet effective thermometer is sufficient for you.
The ET732 doesn't have the bells and whistles you'll find with the TP20, but it certainly gets the job done. It has basic features but might require more time to figure out.
You can learn much more if you follow the link below.
Thermoworks Smoke 2-Channel Alarm Thermometer
Recommended
Thermoworks might be best known for the Thermapen, which is one of the best instant-read thermometers for grillers on the market. But, the Smoke thermometer is more aimed towards professional and experienced chefs — Thermoworks even says it's designed for competitive BBQ teams.
The thermometer features a durable, rugged housing that's ready for use and abuse. The design is sealed completely, making it splash-proof, enabling you to safely use it even when the weather is less than ideal. Furthermore, the probes are commercial-grade, meaning they're highly durable and won't break or fault as easily as others.
The thermometer includes a transmitter and a receiver where you'll get all the information you need to monitor your meat.
The remote features a lanyard, which may not be the most stylish, but it does enable you to hang it around your neck. In this way, you get to keep it close to you at all times and it's easy to check without having to reach into your pocket.
Equipped with an incredibly durable rechargeable battery, this thermometer can run for long hours at a time — more than enough to get you through hours of smoking.
However, all of this does come at a price — and it's quite steep, to be honest. Keep in mind that it is designed for professional chefs, which is part of the reasons why it's so expensive. In saying that, if you're looking for top-quality and you're ready to pay for it, this is an excellent choice as you do get what you pay for.
Pros
Info at Both Ends – All info is available on the remote and receiver.
Lanyard – Enables you to keep the remote close at all times.
Comes in 9 colors – Lots of creativity.
Built to last – Very durable design featuring splash-proof housing and commercial-grade probes.
Cons
Only two probes – For this price, we wish it at least had the option of adding more probes similar to the Fireboard.
Price – Yes, it's more expensive than others on this list and won't suit every budget.
Despite the steep price tag, you do get your money's worth. It's durable, accurate, reliable, fast and it comes with all the essential features required. It might be made for professionals, but that doesn't mean a home cook can't use it.
If you feel the Smoke is for you, choose your favorite color and get the cooking started!
The Meater+ TRULY Wireless Smoker Thermometer
Recommended
[The ideal choice for indoor and outdoor cooking enthusiasts] MEATER Plus is 100% wire-free, allowing you to cook with complete freedom and flexibility. This Long Range Model features Bluetooth 5 with a range over 1000ft. (330m) open air,...
[The perfect gift for the chef in your life] Whether it's for your husband, dad, brother, wife, mother, sister, or a food-loving friend, this versatile kitchen gadget is a must-have for anyone who likes to BBQ or is a home chef in the kitchen. Achieve...
[Say goodbye to guesswork with our Guided Cook System] This innovative feature walks you through each stage of the cooking process, ensuring perfect and consistent results every time. You can even set up custom alerts and notifications based on...
[Extend your wireless range over WiFi with MEATER Link] All you need is a 2nd smart phone/tablet to bridge the connection to your home WiFi network.
Cables and wires are far too often the weakest part — they tangle and aren't as protected against the heat.
And when you're cooking rotisserie-style, having a wired thermometer will end in one of two ways: it tangles as the meat rotates or you have to stop the motor ever so often for a temp check. An inconvenience at its best.
For these reasons, we prefer a completely wireless thermometer for rotisserie cooking — and the Meater+ is one of the best. It's a cool gadget that's also extremely useful, what's not to like?
It's straight to the point — there's no setting up different probes, threading wires or figuring out where to put the transmitter. It simply eliminates all those minor hassles that you find in most wired thermometers.
How does it work?
The Meater+ probe features two sensors, which are located on both ends.
You start by inserting the sharp end into the thickest part of the meat you're cooking, leaving the black end sticking out. The smart thing here is that the sensor in the black end monitors the grill's temperature, while the sharp end measures the meat's internal temperature. This enables you to track your meat and the grill simultaneously using a single probe — neat, right?
The data is then sent from the probe to the wooden block (which doubles as a holder and charger), via Bluetooth. It's then sent to an app that you can access through your smartphone.
It's all connected using Bluetooth, so you can easily use it even if you're grilling in an area without Wi-Fi. What makes the Meater+ extra special, is that the Bluetooth range is incredibly long — up to 165 feet.
The entire set oozes style and class — from the solid wooden holder/charger to the stylus-ish probe.
Additionally, the app is simple to use, yet it gives you a great overview of the meat you're cooking — you can choose what kind of meat you're cooking and which cut. This precision will help you to get the perfect cook no matter the meat or cut you're grilling.
It will even give you a suitable resting period for your meat and alert you when it's ready to carve and serve.
Pros
True Wireless – There really are no wires to worry about.
Intelligent app display – Everything you need to know about your grill and meat is found right in the palm of your hand. The app features a range of intuitive tools and settings to help you achieve the best cook every time.
Presets for doneness – You get to choose what kind of meat you're cooking and which cut.
Cons
Single probe – Unless you buy more than one set, you only get to monitor one piece of meat at a time.
Short-range – 165 feet is impressive, but not as far as others we've reviewed.
Probe battery is non-replaceable – Although it can last up to 1000+ cycles, once it's dead, it's dead.
Won't work at the beginning of the cook – Because the pit end is so close to the cold meat during the start of the cook, the probe gives an incorrect reading. To avoid this, you should allow the meat to warm up a little on the grill before inserting the probe.
The practically of this smart little gadget is undeniable. It's a breeze to use, and you don't have to worry about setting up a transmitter or wires that tangle and kink. If you're an inexperienced griller or smoker, you'll find the app very useful to help you achieve a perfect cook.
If you're a rotisserie cook, a thermometer like this is ideal — the lack of wires allows you to easily track your rotating meat without having to stop the motor to check.
If you feel that you must have the Meater+ for your next cookout, click the link below.
Weber iGrill3 Thermometer
Recommended
SMART THERMOMETER: App-connected thermometer allows you to monitor the doneness of up to four cuts of meat, from beginning to end, and notifies you on your smart device once food has reached the perfect temperature to serve.
PRO GRADE: 250 hours of battery life, this thermometer includes two color-coded, professional-grade meat probes and has a maximum four-probe capacity.
FITS: Genesis II, Genesis II LX, and Spirit II gas grills with an "iGrill 3 Ready" plate on the side table
If you don't own or plan to buy a Weber Spirit II or Genesis II grill (nearly 30 models, total), keep scrolling. Those of you that are left, keep reading – you're going to want this.
The iGrill3 is Weber's latest version in its line of remote digital thermometers. A good thermometer is essential for grilling since doneness is determined by temperature, not time. The iGrill 3 is designed to install easily on one of the aforementioned grills.
To use iGrill, download the free app on your iPhone, iPad, or Android phone. The app connects via Bluetooth to the base unit. Using the app, you can monitor the temperature inside your food, thanks to the two included temperature probes. (Weber provides cable-savers for your probes when not in use.)
The app tells you when your food is ready to serve. It's newbie-friendly, too. For example, if you want to cook medium-rare New York Strip, choose "beef" from the menu and select your preferred doneness. iGrill3 knows what temperature to cook to for the best results, even if you don't. If you prefer, you can set a timer to remind you to check on your food.
iGrill3 supports up to four probes, allowing you to cook several different cuts or types of meat simultaneously, worry-free. Additionally, iGrill3 comes with an attachment to let you know how much fuel is left in your propane tank.
Pros
Allows remote monitoring of food via a smartphone app
Supports up to 4 meat probes
Angled probes for easy insertion
Intuitive app for any skill level
No Wi-Fi required
Cons
Bluetooth has a limited range compared to Wi-Fi
Only designed for Weber Spirit II and Genesis II / Genesis II LX grills
Considering the price, iGrill3 offers a lot of value. You need a digital thermometer anyway. Why not get one that provides so much functionality and installs perfectly on your Weber Spirit II or Genesis II grill?
Highly recommended. Tap that link for all the pics and stats you need and to get yours now.
Tips When Handling a Grilling or Smoking Thermometer
Keep the probes dry: If water finds its way into the place where the braided cable and solid probe connect, some thermometers may fail. For this reason, you must not submerge them under any circumstances, especially when washing. The braid may get a little wet because it has wires within that are coated. The braid and the solid probe junction, however, are vulnerable.
Use the right probe: Some probes like the K-type probes, are interchangeable and can work on any thermocouple meter, which takes K-type probes. This feature isn't the same for most because they cannot be interchanged.
Don't go over the temperature rating: Thermometers that have cables indicate in the manual what the maximum temperature is. Many consumer cables are coated in Teflon, which has a melting point of 500°F. The air on your grill may only be 350°F, but the surface of the oven may be 600°F, which can melt the Teflon.
Always ensure that the tips are clean: It is possible to get a false reading because of Carbon build-up on the tip of a grilling or smoking thermometer probe because it is insulated. Use a soapy sponge putting your focus on the 1 inch that's near the tip when cleaning a smoker probe. Rinse the probe with a wet paper towel or under a faucet carefully keeping the water away from the braid particularly at the junction.
Be sure not to drop them: If you do, it will break. Simple.
Conclusion
Smoking or grilling without a thermometer will involve a lot of guesswork, and often you'll end up overcooking the meat, fearing it might be undercooked. A thermometer will simply-put make the cooking process a lot easier.
It enables you to know exactly what's going on inside the meat as well as the smoker or grill. It's a basic tool that's overlooked far too often. In fact, a meat thermometer is an essential tool in our book.
So, which thermometer impressed you the most? Do you prefer the simplicity of the ThermoPro TP08 or would you rather pay a little more for a wireless unit like the Meater+?
We'd love to hear your experiences and your recommendations, so don't shy away from leaving a comment or two in the section below.