In this article, we're going to share with you the best grill mats available in 2021 that you simply must see for yourself if you want to grill small, delicate items.
We'll also take you through a comprehensive buyer's guide where we'll reveal what you should look for and what to avoid when shopping.
Because do you often end up with scorched meat on the plate or lost veggies that fall through the grates? Lucky for you, grill mats are here to help!
You might've heard a word or two about grill mats but aren't entirely sure if they're useful — we're here to help you discover how a grill mat can help you cook small items to perfection and give you more versatility when grilling.
Bottom Line up Front: The Best Grill Mats Reviewed in this Guide
The above links take you to current prices, customer reviews, and further information on Amazon.
Grill Mats? What are They?
Grill mats are an essential accessory that can help you out a ton when grilling small or liquid items, such as prawns / shrimp, eggs, pancakes, and more.
It's a thin piece of reusable material you place on top of the grill grates. The mat creates a flat, solid surface that allows you to cook small items without the risk of falling through the grates.
Additionally, it will also create a barrier between the flames and your food, preventing your food from burning or scorching, and can also help with preventing flare ups from damaging delicate foods.
Materials Used
Most grill mats are made of a kind of fiberglass.
Fiberglass is a lightweight material that's durable and flexible when rolled into thin sheets. But, fiberglass isn't suitable to cook on; therefore, grill mats are coated in one or more layers of another material called polytetrafluoroethylene, PTFE for short.
PTFE is a synthetic resin that was discovered by accident in 1938 by a DuPont employee. Whenever you see a pan, pot, or other object marked as "non-stick," it usually contains PTFE — including the infamous Teflon.
The coating is nonreactive, non-flammable, and won't get wet.
When and Why are Grill Mats Used?
The beauty of grill mats is how versatile they can be.
You can use a grill mat for many things such as keeping your food away from the fire, preventing certain food items from sticking to the grill (especially delicate fish).
It can help to preserve spices and sauces and will provide you with a flat surface to cook any smaller items such as veggies or even kabobs.
Juices that leave meat as it cooks can cause flare-ups within the grill as it reaches the open flame. This can be particularly troublesome if you're cooking burgers or steaks with the lid closed — you'll have no way of knowing that your meal is being burnt to lump due to flare-ups.
The meat will be cooking in its own juices, which leaves you with juicy, tender meat. Don't worry, though you'll still get grill marks. If you want a little more browning, you can always toss the meat onto the grill directly before it's finished.
Want to cook vegetables? Because there are no holes in the mat, it's super easy to grill just about any type of veggie — they don't even have to be skewered. Grill asparagus, onions, beans, and more — you can also use a mat to grill other things like eggs and even pancakes — these are impossible to cook on a grill otherwise.
Due to the non-stick surface, cooking delicate fish and chicken is a breeze. Fish is notorious for getting stuck on the grates, ending in a huge mess. But, with a grill mat, you can easily cook it a few minutes on each side and preserve that gorgeous crisp skin.
When needed, you can turn the mat over to cook on the other side — this will extend its life as you can use it for much longer.
If you're often out grilling on picnics or using public BBQs, we highly recommend using a grill mat! You won't need to worry about any leftover residues or other factors that could compromise the safety of your food and your health.
If you're still not convinced of the convenience of a grill mat, here's another reason to get one: If you're ever cooking for people of other religions (such as Jews or Muslims), you can use the clean grill mat for cooking halal or kosher meals.
Finding the Best Grill Mats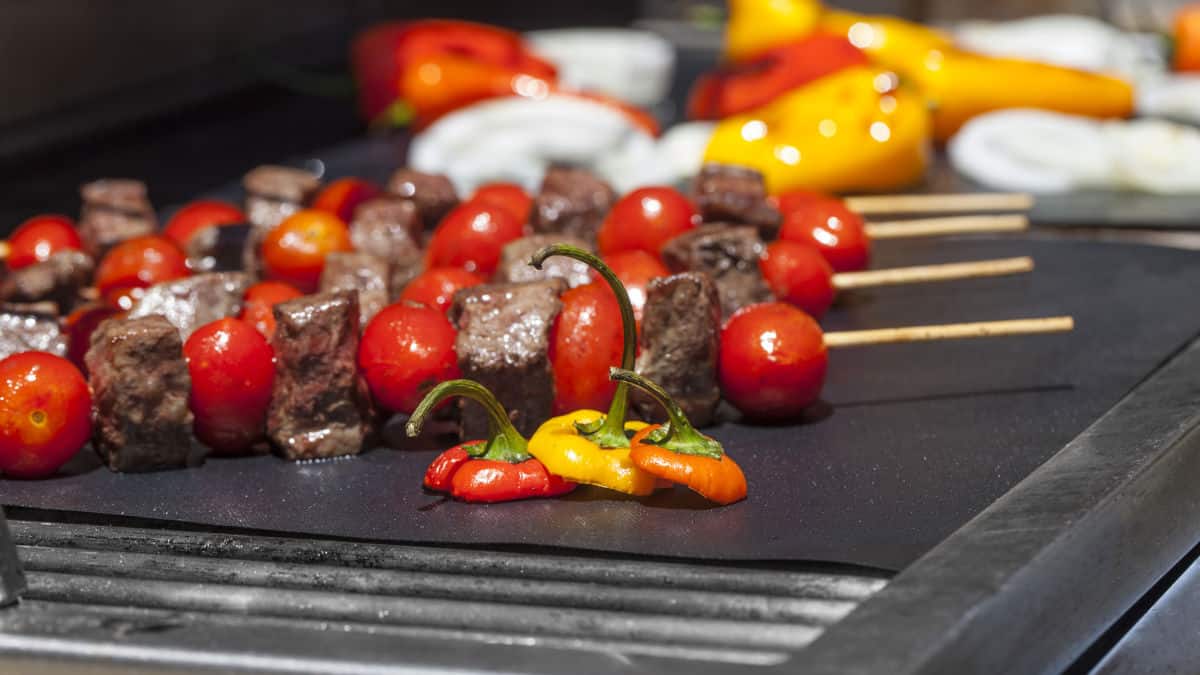 Before you settle on a grill mat, here's what you should consider before making a decision.
Size and Shape
Getting the right size is essential; however, if you can't find one that suits your grill, opt for a larger size.
A grill mat that's too small will leave gaps on either side, causing juices to pour down onto the flames or small items to fall through.
A big mat can be cut to fit your grill size, so this is a definite plus. Additionally, if you have a round grill such as a weber kettle grill, don't think a square or rectangular mat will do — there are excellent round options available.
Maximum Temperature for Use
The grill mat should have a maximum temperature rating of 500 degrees Fahrenheit, ratings above this aren't safe for PTFE-coated mats. A temperature range lower than this will indicate an inferior product.
Grill mats aren't expensive but are super-useful, so don't skimp out when it comes to quality-mats.
How Thick are They?
Grill mats are available in various thicknesses, which you can't always see, but you can surely feel it.
Thin mats heat quickly and risk burning through, whereas thicker mats don't heat evenly, giving you an uneven cook.
We found that the optimal thickness is around 0.25mm. This thickness will heat evenly, won't burn through, and will give you grill marks.
Double-Coated PTFE
A good-quality grill mat will have a double coating of PTFE. A double coating increases the life expectancy and effectiveness of the mat. Although pricier, we think this is a must-have in a good grill mat.
What Else Can They be Used For?
Looking for more ways to use your mat? Here are some suggestions:
Out of parchment paper? Use the grill mat for baking cookies and other goodies.
Place it in the oven to catch drippings — you'll get a sauce and easy cleanup.
Can be used inside a food dehydrator.
Use it on the stove.
5 Best Grill Mats for 2021
Comparing products on the web isn't easy, and you often end up picking whatever as you get tired of searching for that perfect product.
Lucky for you, we made all the comparison for you — we found five of the best grill mats on the market today, and we're going to share them with you:
You get a lot of material from this grill mat, making it an excellent choice for any grill — you might even get two mats after cutting it.
The material is extra thick, making it even more durable and versatile as it can easily be used in the oven as well. If anything were to break, it's covered by a 7-year warranty.
Pros
The extra-large size makes it great for even the biggest grills.
Excellent warranty.
Cons
Due to the thickness, it can take a while for it to heat up.
Grillart BBQ Grill Mat – Set of 2
Runner Up
These industrial-grade reusable grilling mats from Grillart have all the advantages of thinner mats. You can cook delicate items like fish, smaller stuff like vegetables, and runny foods like pancakes and eggs. They have one distinct advantage, though, that sets them apart from many other mats.
Thanks to their heavy-duty build, they can withstand temperatures up to 600F. That means you can grill steaks, burgers, chops, and more without worry.
Why would you do that instead of cooking right on the grate?
I can think of two reasons – you prefer to keep your grates in pristine condition but hate cleaning up, or your grates have seen better days, and you'd rather not put food directly on them.
Expanding on that second reason, these are ideal for public grills and firepits in parks and campgrounds. Do those things ever get cleaned?
Unlike with lower-quality mats, you'll have a tough time scraping off the non-stick coating. (All the same, you shouldn't use metal utensils if you can help it.) These mats are meant to be used and enjoyed over and over again.
As an added bonus, you can use them in the oven for baking. Cookies anyone?
Pros
Heavy-duty material for high-temperature use up to 600F
Free from Perfluorooctanoic Acid (PFOA) and silicone
Good for up to 1000 uses per side
Dishwasher-safe
Protects food from damaging flare-ups
Cons
Requires min. 5" above coals or burners; not suitable for hibachis and other small grills
You'll want to use silicone or wood utensils to avoid scratching the non-stick surface
You'll find they cost a bit more than average for grill mats. Given their durability and high-heat capabilities, they're more than worth the extra money, and they'll pay off in the end.
Grillaholics Set of 2 Round Mats
Best Round
Having to cut a square mat into a circle to fit your round grill is far from ideal (unless you're extremely nifty with a pair of scissors). If you aren't Edward Scissorhands, though, here's your solution!
As we said above, Grillaholics is a brand you can trust, and this set of round mats are sure to become your new favorite grill accessory.
You get two mats; they both come with a lifetime warranty and are featured on Rachael Ray!
Pros
Fits most kettle and round grills perfectly.
The package includes two mats.
Cons
Thickness isn't disclosed.
You do have to trim it if your grill isn't 15 inches in diameter.
Get your round grill mats today!
Chef Caron Non-stick BBQ Grill Mats
Recommended
The size of this grill mat makes it almost a perfect match for any grill. The thickness of the mat is also on-point and will give you an even heat distribution.
Similar to the mat above, this one also comes with a very nice warranty.
Pros
Great size for most grills.
Contains multiple PTFE layers.
Money-back guarantee.
Cons
Slightly thinner than most mats, so keep the temperature low.
This grill mat is available in bundles that come at a bargain price, so make sure you grab a few.
Grillaholics Heavy-Duty Grill Mats – Set of 3
Recommended
Although we aren't sure how thick these Grillaholics grill mats are, we trust that they're of good quality due to the brands' reputation.
Plus, you're getting three mats that are large enough to fit most grills and are covered by a lifetime warranty.
Pros
Will fit most grills without trimming.
You get three mats in a pack.
Cons
We aren't sure how thick the mats are.
Get the latest on the price and more here:
Set of 3 MiTBA Copper Grill Mats
Recommended
These may be called copper mats, but there isn't any copper in them.
Nevertheless, they look very sleek, and you get a good deal for your money with the set of three mats and the added storage container.
Pros
Added storage container.
Modern design.
Three mats are included.
Cons
A smitch thinner than preferred.
There's no actual copper!
There's no warranty, only a 60-day guarantee.
Click the link to get more info:
Renook Grill Mat – Set of 6
Recommended
Unless you have a skillet, many foods are not suited to cooking on a barbecue. I'm talking about vegetables that can slip through the grates or delicate proteins like fish and other seafood that stick like a son-of-a-gun. That's when you need a grill mat.
Tough enough for a 100 uses per side (do the math – that's 1200 uses in a pack!), but thin enough to leave grill marks, the Renook grill mats are a low-cost way to get more out of your grill.
They're made of food-safe material, and you can even cut them to fit your grill with precision.
The non-stick surface rinses off easily with water and a bit of scrubbing. For tougher food debris, you can toss the mats right in the dishwasher.
These mats do not perform their best at high temperatures, so you might not want to use them for burgers and steaks.
Instead, get them out to roast some vegetables, or maybe some skewered scallops or shrimp. Or, whip up some breakfast, including pancakes or eggs; there's no way for anything to slip through.
Pros
Free from Perfluorooctanoic Acid (PFOA) and silicone
Good for up to 100 uses per side
Dishwasher-safe
Protects from flare-ups
Thin enough to allow grill marks to cook through
Cons
Can only be used for a few minutes at 400F+; up to 30 min. at 260F
Not ideal for use with metal utensils
Need clearance of 7" above coals or burners; not good for hibachis and many compact grills
You'll be hard-pressed to find any grilling accessory that offers so much potential for cooking new things at such a low price.
This is basically a no-brainer, in my opinion, but there's more info here if you need it before you order:
How to Use a Grill Mat
You put a mat on the grill and then cook — how hard can it be?
Sure, these are the basics, but there are some things you should be aware of to ensure you're using the grill mat properly.
Safe Operating Temperature
Because of the PTFE coating, you must keep within the grill mat's temperature range, which should be around 500 degrees Fahrenheit.
If PTFE coating is exposed to temperatures above 570 degrees Fahrenheit, it will begin to break down. This is where PTFE can become a health hazard — as it breaks down, the chemical releases a toxic fume that can cause health complications.
Due to this, the FDA determined that the safest maximum temperature is 500 degrees Fahrenheit.
There's really no reason to use a grill mat when cooking over high temperatures — they work optimally at temperatures between 300 and 400 degrees Fahrenheit.
If needed, you can set up two heating zones in your grill — one for searing and the other cooler for the mat to finish off the cook.
Using Utensils
Due to the non-stick coating, it's essential not to use metal utensils when cooking — similar to non-stick frying pans.
Keep those heavy-duty barbecue tools for when you're cooking directly on the grill. If you want your mat to last, use silicone-tipped tools to avoid damage.
For a few suitable options for use with grill mats, you can check out our guides to the best bbq tools, and our article on the best smoker and grill accessories.
Cleaning Your Grill Mat after Use
Before the first use, it's essential to wash the grill mat in warm, soapy water.
After the first use, you can easily hand wash it using a mild soap and a cloth.
If your dishwasher is big enough, you can wash the grill mat on the top rack — even better if your dishwasher has a top rack for flat items!
Never clean a grill mat using abrasive tools or detergents. These will damage the non-stick coating and substantially shorten the mat's life.
Conclusion
Grill mats are excellent tools for any griller! They're incredibly versatile and will give you great results at an affordable price. We certainly think a grill mat should be a part of every griller's essentials.
Now, it's essential to follow the safety guidelines to preserve the life of the grill mat and your health.
We hope you found our buyer's guide helpful, maybe you found the right mat for you in our top 5 best grill mats? Share your thoughts down below.