Owning a quality, instant-read thermometer is a must if you want to up your grilling and barbecue game.
Perfectly cooked meat can only be achieved by measuring the internal temperature precisely. By eliminating any guesswork, you can ensure all food will be cooked to safe temperatures as well as your preferred level of doneness.
We're going to dig deep and explain why an instant-read thermometer is a must-have for every griller.
We'll also help you out with a quick guide on how to find the best instant-read thermometer before diving into our top 6.
Bottom Line up Front: The Best Instant Read Thermometers Reviewed in this Guide
The above links take you to current prices, customer reviews, and further information on Amazon.
Advantages of an Instant Read Thermometer
An instant read thermometer will help you to cook more accurately and consistently. It also eliminates any need to cut open your steak or chicken — letting all those juices escape into the grill.
A recipe might tell you to cook your steak for five minutes, but that doesn't change the fact that the meat is only cooked once it reaches the correct internal temperature.
By using an instant-read thermometer, you can quickly know how your food is cooking, you won't have to guess, and you'll rarely get it wrong.
By cooking your meat to the right temperature, you won't be serving undercooked, overcooked, or dry meat again.
Note: You do not leave an instant read thermometer in during the cook. You insert it to take an instant measurement, then remove it when done.
For leave in thermometers, that you insert and leave in your meat throughout the cook, you should look at our article on the best remote digital smoker thermometers instead.
Who Needs an Instant Read Thermometer?
I think everyone who cooks meat needs an instant-read thermometer. This includes grill masters and even kitchen cooks.
One common "trick" that some grillers and cooks will use is the hand-mimick technique where you match the feel of the meat to your hand's feel. But, this is highly inaccurate as not all hands feel the same.
My advice? Don't waste your time; whip out your instant-read thermometer — that's all you need.
Using a good thermometer is the best way to ensure your meat is cooked to a safe temperature.
Why Digital, Not Analog?
Prior to digital, there were analog thermometers — these consist of a probe with a dial thermometer on the other end. They get the job done, but digital thermometers are slightly more precise and easier to read.
Another disadvantage with analog thermometers is that they take longer to sense a temperature before settling on a proper reading.
Furthermore, cheap analog thermometers are notorious for giving an inaccurate reading when compared to digital thermometers. They also usually only offer an estimated temperature range as opposed to specific results.
Choosing the Best Instant Read Thermometer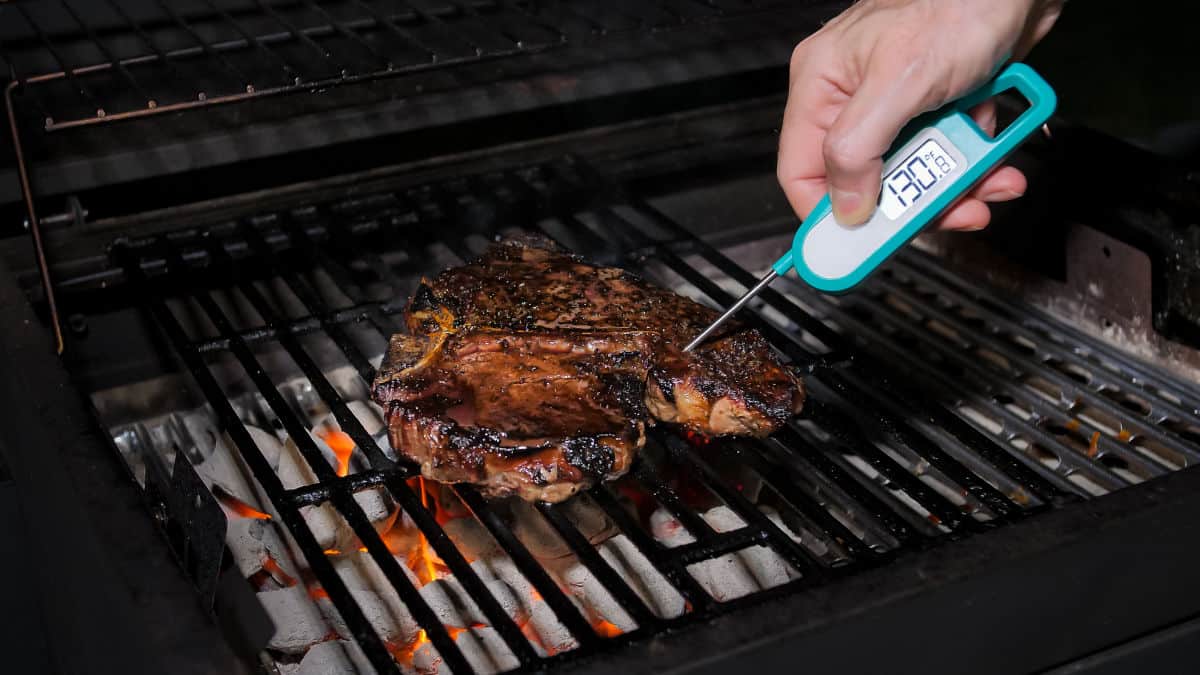 There's a wide range of instant-read thermometers available on the market, so it can be challenging to know what to look for to find the best.
But, before you head out to purchase your new thermometer, you should consider a few things while shopping.
You Need Accuracy
First and foremost, the thermometer needs to be accurate.
Choosing one that you can either calibrate yourself or one that comes with an accuracy guarantee is important. With a guarantee of accuracy, you can return the thermometer to be calibrated by the manufacturer.
A thermometer is no good if it fools you into thinking your steak is done when it actually is a bit too rare.
You Want Speed
Although speed might not be as crucial as accuracy, it's definitely handy to get a quick reading.
Every time you open the lid to your grill, heat escapes. This will cause charcoal or wood fires to fluctuate once the lid is closed, which will lead to an inconsistent and slower cook.
A Good Temperature Range
How high and low do you need to be able to read?
If you're cooking steaks, the thermometer needs to be able to read 145 degrees Fahrenheit. On the other hand, if you're cooking larger cuts such as brisket or pork shoulder, the thermometer should be able to read to 205 degrees Fahrenheit.
If you're looking to do more with your thermometer than grilling — let's say candy-making? Then the thermometer needs to be able to read even higher temperatures.
Make sure you're buying a thermometer that suits your cooking.
Easy to Use
If you're feeding a hungry crowd or juggling several grills, meats, and sides, you don't want to have to fiddle around with your thermometer. It should be easy to turn on, use, and put away.
Note: You would probably benefit from a remote wireless thermometer too, so you can see pit temp, and meat temp, on a little display you carry around while enjoying the party, instead of being at your grill checking temps!
Added Features
As with all modern gadgets and accessories, instant-read thermometers also include various handy features that make them great.
One of the most useful and universal features is the ability to go from Celsius to Fahrenheit with a single button. Many will have backlit displays that enable you to read the thermometer during dark hours easily — some are automatic, meaning they turn on as the light level falls.
Another handy feature is auto-rotate, which enables you to get an easy read from every angle. You can also find thermometers that show readings in tenths of a degree for higher accuracy. Waterproofness is ideal if you're worried about the thermometer getting wet.
Before buying a thermometer, consider which features are most important to you. Keep in mind, though, with added features comes an added price, so be ready to pay a little extra.
Best Instant Read Thermometers in 2022
The following are 6 of the best instant-read thermometers available on the market, in our opinion. They're the most feature-packed, durable thermometers that give you the most value for your money.
We've tried to include the best thermometers of various price points to suit all budgets.
1-3 second ultra-fast response time with an accuracy better than ±0.9°F.
Large 2" auto-rotating ambidextrous backlit display and IP65 splash-proof construction.
Intelligent stabilization alert and read-out hold function with integrated magnet for convenient storage.
Used by professional chefs, BBQ competitors, cooking show hosts, and award-winning baristas.
NSF certified superior build quality like nothing else on the market. Backed by an industry-leading 3-year limited warranty.
If you want a good but affordable thermometer, the Lavatools Javelin Pro Duo is a great choice.
Not only are you getting a high accuracy at ± 0.9 degrees Fahrenheit, but you'll get the results in a matter of 2 to 3 seconds. Ideal if you're looking to check on your steaks without letting too much heat out.
The incredible temperature range between -40 and 482 degrees Fahrenheit makes this thermometer very versatile in the kitchen and on the grill.
It's even oil-safe, so if you're deep-frying chicken or other foods, you can easily check the oil temperature.
It comes with a three-year limited manufacturer's warranty, which will give you some peace of mind if anything were to malfunction.
All in all, this thermometer is an excellent choice for anyone looking for quality at an affordable price. Although it isn't waterproof, it is splash-resistant, so it should be able to handle a rainy day of grilling.
Extra Features
This thermometer comes with multiple handy features, such as the backlit display that automatically turns on when light is low.
The auto-shutoff will help to preserve battery life, and the auto-rotate accommodates lefties and righties! When it's time to put the thermometer away, it can attach to the fridge or any other metal surfaces for easy storage.
The one noticeable feature is the Intelligent Stabilization Alert and Hold. This feature might sound complicated, but it's a simple little beep that lets you know when the temperature reading is ready.
Last but not least, the thermometer can display both Fahrenheit and Celsius to suit your preferences.
Pros
Great performance for a decent price
Fast and accurate
Simple, easy to use uncomplicated design
Packed with useful features
3 year warranty period
Cons
Some have found the hinge to be stiff to open – though rarely mentioned, it may have been an unlucky batch
Thermopro TP03 Digital Instant Read Thermometer
Runner Up
If you haven't heard us go on about it yet, let's say it loud and clear – cook your meat to temperature, not to time.
Knowing the internal temperature of your meat is the only accurate measure of doneness. To do this requires a probe-style thermometer. The ThermoPro TP03 is one of the best bargains on the market in this category.
With a range of -58F to 572F, you can use this thermometer for anything from grilling to smoking to candy and deep frying.
It's fast and accurate, too, which is important; you don't want to hold your hand over the heat for more than a few seconds, and you don't want under- or overcooked food.
The most important part of a thermometer is, arguably, the probe. The probe folds back into the thermometer's body to protect its slender tip when not in use.
You can further protect it by using the built-in magnets to keep it on the fridge instead of tossing it in a drawer.
If you sometimes find yourself grilling after dark or checking on a late-night smoke session, you'll love the backlit LCD display. And if you're prone to forgetting to turn off your devices, the 10-minute auto shut-down will save your AAAs.
Pros
Unfolds to 180 degrees
Magnet for easy storage
Backlit LCD screen for night cooks
Readout in 3-5 seconds
Accurate to +/- 0.9F
Probe folds fully inside for protection
Cons
No "instant-on" feature
Body not as ergonomic or robust as more expensive units
A good digital instant read thermometer is a must-have for every griller, no matter what you like to cook. If you've balked at the price, give this budget-friendly unit a try.
Follow this link for more specs and purchase info:
The Thermoworks Thermapen MK4 is the Golden Standard when it comes to digital thermometers! It's even been copied multiple times.
With accuracy at ±0.7 degrees Fahrenheit, the MK4 is the most accurate model on our list. Furthermore, it will give you a quick reading in a matter of 2 to 3 seconds, similar to the Lavatools we reviewed above.
If you need a thermometer that you can use around the kitchen and outdoors by the grill, this is an excellent choice. It has a wide temperature range between -58 and 572 degrees Fahrenheit — ideal for grilling, barbecuing, and candy-making, if that's what you're into.
It's accurate and fast, It's also highly durable, made of hard resin plastic that makes it waterproof as well. Don't let a little rain get in the way of your grilling!
The MK4 is all about user-friendliness and saving the battery! It will automatically turn on and off as the probe is opened and closed. If you forget to close the probe (it happens), the unit will automatically turn off until you pick it back up, where motion sensing will turn it back on again. This saves A TON of battery over the life of the unit.
The auto-rotate feature lets you get a clear view of every reading, no matter how you tilt the unit. Additionally, as the night creeps in, the backlit display is automatically turned on to help you see the temp of your meat.
As with the Lavatools thermometer, this one can also be switched between Fahrenheit and Celsius as needed.
This really is one of, if not the best instant read digital thermometer. It's pricy, but is still great value.
Pros
Class-leading build quality, truly built to last.
Industry-leading accuracy and speed of leading
Auto-backlight is a nice touch for when grilling in the dark
Screen rotates for ambidextrous use
2-year warranty period
Cons
Pricy compared to most other competing products – though you do get what you pay for!
Lavatools PT12 Javelin Digital Instant Read Meat Thermometer
Recommended
3-4 second ultra-fast response time with an accuracy better than ±0.9°F.
Large 1.4" easy-to-read display and IP65 splash-proof construction.
Integrated magnet for convenient storage on refrigerators or ovens.
Meat thermometer also perfect for liquids, fryers, bread, chocolate, yogurt, and cheese.
NSF certified superior build quality like nothing else on the market. Backed by an industry-leading 3-year limited warranty.
If you liked the Lavatools Javelin Pro thermometer we reviewed above, but want something a little smaller and simpler, the PT12 is excellent.
It has the same accuracy at ±0.9 degrees Fahrenheit but it's slightly slower, giving you your results within 3 to 4 seconds.
In saying that, it can read the same temperatures between -40 and 482 degrees Fahrenheit, making it a good choice for a simple grill master.
Pros
Fuss-free, simple operation with less used features not present to complicate use
Accurate and fast reading
A great price for the budget conscious shopper
Cons
A backlit display would be nice. We know it's a stripped down economic unit, but this will be a missed feature, we feel.
Taylor Precision Products Dual Infrared and Thermocouple Thermometer
Recommended
With this dual-function thermometer, you'll be able to read not only the internal temperature of meat but also surface temperatures.
Let's say you're planning to sear a juicy steak, use the infrared thermometer to make sure the grill surface is hot enough to give a good sizzle.
The infrared thermometer can read temperatures ranging between -67 and 482 degrees Fahrenheit. But, the thermocouple thermometer can read temperatures between -67 and 626 degrees Fahrenheit. The best part? The results are ready in a second — yes, 1 second.
Now, the accuracy of the thermometer varies slightly depending on the temperature. Anything below 14 degrees Fahrenheit has an accuracy of ±2 degrees, whereas, above 14 degrees, the accuracy is at ±1 degrees Fahrenheit.
Taylor is a brand you can trust, with over 150 years of experience in the industry — this thermometer was built to last, just like most other Taylor products.
We've already been over the most significant feature: the infrared thermometer.
Apart from that, you also get three LED lights that change to show you whether the food is safe for cold or hot holding. Another useful feature is the hold setting that allows you to freeze the last temp. There's also an auto-shutoff that helps to preserve battery life.
Pros
Internal and surface temperature measurement makes this a truly versatile thermometer
Fast and accurate readings
Comes from a well known and trustworthy brand
Has a set of features not seen on competing thermometers.
Cons
Screen is a little small, so not the easiest to read
No backlit screen so harder to read in the dark
Surround Point Digital Thermometer Talking Instant Read Thermometer
Recommended
If you're on a budget but want something you can trust, the Surround Point Digital Thermometer is it. With an accuracy of ±1 degrees Fahrenheit, it enables you to cook with confidence. It's not the fastest reader on this list, but you will receive your trusted result within 4 seconds.
A smart feature of this unit is its ability to read out temperature readings. This makes it ideal for anyone who is visually impaired.
It has a good temperature range between -58 and 572 degrees Fahrenheit, enabling you to use it in the kitchen or out on the grill.
Keep in mind, this is a budget thermometer — it's durable but not waterproof, so make sure you keep it inside or protected if it's raining.
Apart from the unit's ability to read out the temperature readings, it comes with a simple on/off button as well as a button to switch between Fahrenheit and Celsius. Additionally, it also has a backlit display and auto-shutoff feature.
Pros
For the price, you get excellent value.
It's a simple thermometer with minimum but essential features.
As a talking thermometer, it's great for those with impaired vision
Cons
An auto-rotate feature would be handy
We wish the entire unit were at least splash-proof.
Made by Thermoworks, the Thermopop is another high-quality product that was built to last next to the grill or in the kitchen. It's not as accurate or fast as the Thermapen, with an accuracy between ±2.0 and ±4.0 depending on the temperature. The reading will be ready in 3 to 4 seconds.
Although it's less accurate than the Thermapen, it can handle a wide range of temperatures between -58 and 572 degrees Fahrenheit.
The Thermopop features a backlit display, auto-rotate and it's splash-proof. There are also nine colors to choose from, which is a nice touch.
Pros
This thermometer does what it has to do and does it well.
It's not as fancy as the Thermapen, but it's more than enough for the average griller.
Cons
We have to mention the lack of accuracy here — it would score higher in our book if it was slightly more accurate.
How to Use an Instant Read Thermometer
Using a thermometer isn't rocket science, and an instant-read thermometer is no different. Here some things you should keep in mind to ensure you get the most accurate results:
Find the thickest part: Always insert the probe into the thickest part of the meat.
Avoid the bone: Keep the probe away from the bone since the reading won't be as accurate.
Turn thin items sideways: If you're cooking thin items such as burger patties, turn it sideways and insert the probe lengthwise.
Give it time: Despite being instant-read, most thermometers require 4 to 5 seconds to get an accurate reading.
Instant Read Thermometer Care and Maintenance
Proper maintenance is essential with meat thermometers, as it is with any other item that comes into contact with food.
Keep in mind, not all thermometers are waterproof, so you have to be careful when cleaning. After every use, wipe the probe down to get rid of any germs or bacteria.
For a more thorough clean, you can clean the tip of the probe with soapy water, just be careful not to get the body of the thermometer wet.
Never leave the thermometer outside. It will get damaged if exposed to heavy rains, cold or hot temperatures, depending on the season. Never leave the thermometer in direct sunlight as it can quickly destroy the electronics.
Whenever the thermometer is stored away for long periods, make sure it's turned off.
Don't hesitate to replace the batteries as soon as you notice they're wearing down — old batteries might leak acid into the internal parts of the thermometer.
Conclusion
Our top pick for the best instant-read thermometer has to be the Lavatools Javelin Pro. It's durable, quick, accurate, packed with features, and comes at an affordable price — no need to ask for more.
The Thermapen MK4 is a close second. It's also durable, quick, accurate, and comes with a range of handy features, but it's rather pricey.
Which one was your favorite? Do you agree with us? Share your opinion and, if we didn't mention it, your favorite instant-read thermometer in the section below.