In this guide, we're going to help you figure out the best wood pellets for smoking that will work best for the food you're smoking.
That's right, different pellets create different flavors, so choosing the right one for the job is crucial! Below, we review five common and popular brands to find the best smoking wood pellets for you.
Are you getting more into smoking on your pellet grill? Pellet grills are easy and convenient to use and don't require constant babysitting.
But in today's article, we aren't going to be focusing on the grill — we're putting the spotlight on what really matters: the pellets!
At the end of the day, it's the wood pellets that produce the flavor, not the grill itself — and there are many brands and types to choose from.
Without further introduction, let's get this show on the road!
Heating Pellets vs. Barbecue Smoking Pellets: There's a Difference!
Unflavored wood pellets, also known as heating pellets, aren't meant for grills — they aren't meant for cooking at all (although it's perfectly safe).
Heating pellets are mainly used in pellet stoves to heat homes — they won't produce flavor or smoke.
On the other hand, smoking pellets – used inside of bbq pellet grills – are made to infuse your food with aromatic smoke and flavor, giving you mouthwatering food to enjoy.
Bottom line: Next time you're buying wood pellets, double-check the bag to ensure you purchase smoking pellets, not heating pellets!
Best Pellet Flavors for Smoking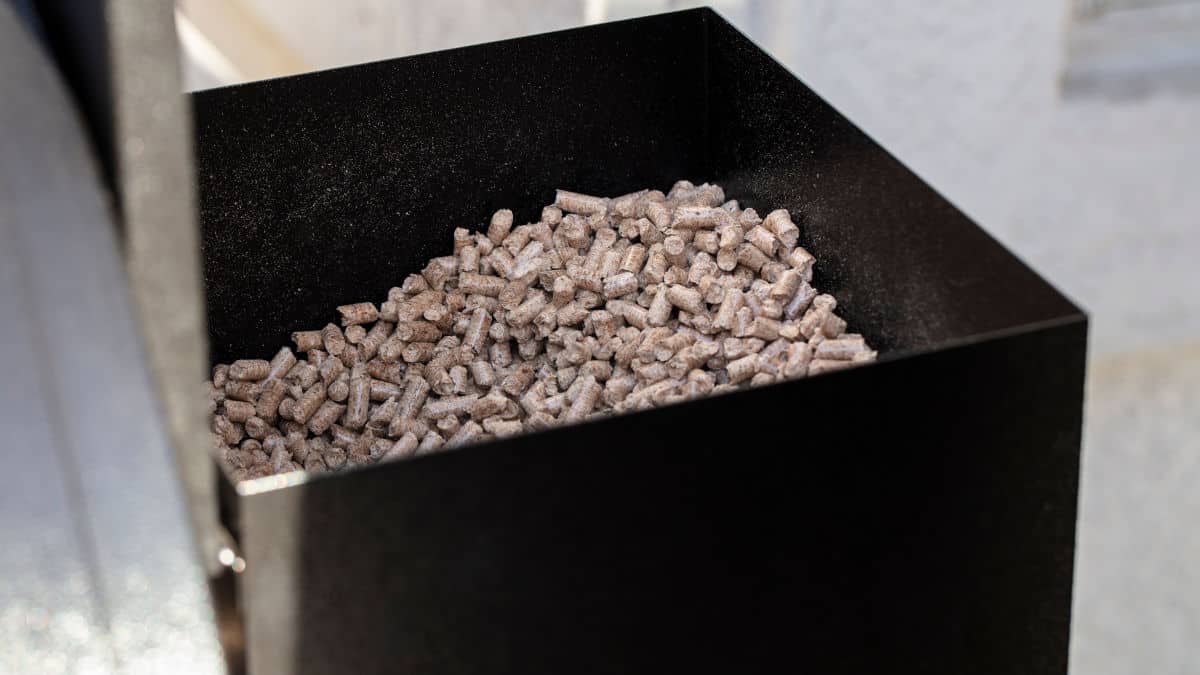 The flavor of wood might seem like an odd thing to discuss, but it's essentially what sets smoking apart from grilling!
Different Smoking Pellets – Different Flavors
With wood pellets, you'll never be bored or out of options! Not everyone has similar taste, so it's hard to say which smoke flavor is best — that's entirely up to you.
In saying that, some wood flavors tend to complement certain foods more so than others:
Oak — all meats
Alder — poultry, salmon, game birds
Cherry — all meats
Apple — pork, poultry, seafood, lamb
Maple — cheese, poultry, vegetables
Hickory — ribs, pork
Mesquite — red meat
Pecan — poultry
Walnut — game, red meat
You can also mix various woods to create new flavors.
Types of Smoker Pellets
There are loads of flavors to pick from, but only three main types of pellets:
Standard: Made of wood with very little or no flavor properties. These are usually only used for heating.
Blended: These pellets are a mix of flavored wood and fillers, which keeps the cost down. The ratio is usually around 70 percent filler to 30 percent wood. The filler used is generally oak since it burns decently and adds a little flavor.
Flavored wood: Made up of 100 percent flavored wood with no filler, also the most expensive type.
Pellets Can Cause and Fix A Lot of Pellet Grill Problems!
Automated pellet grills are the epitome of set-it-and-forget-it smoking — they monitor the temperature and add pellets when needed — seems bulletproof!
However, many smokers and grillers end up dealing with fluctuating temperatures — which is the absolute last thing you want during a 12-hour smoking adventure!
Many cooks will often blame the grill, saying it's defective or broken; however, the problem is actually more often caused by the pellets themselves.
You Want a Bark on Your Brisket, Not Your Pellets
Seeing a nice bark on your pellets may seem like an indication that they're natural and of higher quality — but that's not the case.
Pellets with bark aren't unusual, nor is it an indication that they're bad — in fact, you can buy pellets with bark or barkless.
We recommend going for barkless pellets because the bark can cause issues.
The bark doesn't burn at the same speed as the wood, which leads to temperature inconsistencies — pellets with bark also tend to leave behind far more ash.
Not only can this cause the grill to misread its temperature, but it will also create a bigger mess that you need to clean.
Wood Pellets Vary in Quality
As with most other grill- and smoke-related stuff, pellets vary in quality, which is an area where you don't want to skimp.
Pellets that are poorly compressed won't keep their shape and are likely to fall apart as the auger pulls them, or they might crumble as you scoop them out of the bag. Broken pellets won't burn as efficiently, which results in low temperatures, less smoke, and frustration on your part.
It's essential to check the bag before purchasing — if you see a significant amount of dust at the bottom, leave it be.
5 Best Wood Pellets for Smoking: Top Picks and Recommendations
You want good quality pellets that keep their shape as they make their way from the bag through the auger and into the firebox.
We're listing five of the best wood pellets for smoking so that you can steer clear of the poor ones.
CookinPellets Perfect Mix Smoking Pellets
Recommended
Size: 40 pounds
What's in them: Hickory, Hard Maple, Apple, and Cherry
CookinPellets started in a small wood mill after the founder had an unsatisfactory grilling experience. The brand's Perfect Mix blend is a combination of four popular smoking hardwoods, giving you a flavor explosion that works well with virtually any food.
Because the pellets work so well with various foods, it makes them excellent for new smokers who still aren't entirely sure about which flavors go with certain foods.
The pellets are true to their name; this blend really is a perfect mix — you get nothing but pure flavored smoke. The pellets are high-quality and will give you a consistent burn with minimal ash to clean — another reason why these pellets are suitable for beginners.
Pros
100 percent flavored hardwood.
No bark.
Minimal ash.
Cons
Since it's pre-mixed, you won't be able to experiment with combining different flavors.
A 40-pound bag may be too large for the average home-smoker — make sure you close it up properly.
Is the Perfect Mix the perfect match for you? Follow the link to place an order:
BBQr's Delight Cherry Smoke Pellets
Recommended
Size: 20 pounds
What's in them: 2/3 oak, 1/3 cherry
The BBQr's Delight is a favorite pellet mix among competitive grillers. The pellets are of high-quality and made of 100 percent natural flavored wood.
This variant is a cherry and oak blend, making it an ideal choice for any kind of meat you might have on the grill.
The oak ensures a steady smoke that infuses into the meat along with the cherry, giving you an aromatic, irresistible flavor.
We like how nicely formed these pellets are and the fact that they're made filler- and oil-free, ensuring a clean burn.
You get a 20-pound bag, which is manageable for regular smokers — it also gives you the chance to experiment with different foods without feeling like you'll be stuck with this flavor long-term.
Pros
Burns hot, giving you a steady and consistent heat.
100 percent wood without filler or oil.
Low ash, easier cleanup.
Cons
It has a milder flavor compared to 100 percent flavored wood.
Pricy.
Are these pellets right for you? Follow the link for more and to see the latest price:
BBQr's Delight Apple Flavor Smoking BBQ Pellets
Recommended
Size: 20 pounds
What's in them: 2/3 oak, 1/3 apple
Another option from BBQr's Delight and another favorite among competitive grillers, these pellets are well-made and have a low moisture content, meaning they burn hot and clean — ideal for smoking delicate foods.
The pellets have a similar formula as the BBQr's Delight we reviewed above, but instead of cherry, this one uses applewood. Apple is excellent with poultry, pork and seafood as it adds a slight fruitiness and acidity, which complements the foods' flavors nicely.
If you'd like to experiment further, BBQr's Delight offers a range of flavors in manageable bags, giving you more freedom to try out different flavors without wasting money or pellets.
One thing to keep in mind is that they have a mild flavor. Depending on your personal taste, this can either be bad or good.
Pros
100 percent hardwood.
It burns hot and clean.
Manageable size bag.
Cons
Mild flavor.
Apple isn't the ideal for red meat.
An apple a day keeps the doctor away — does applewood smoke count? Either way, you can check out the latest price here:
Traeger Pel319 Hickory Pellets
Recommended
HICKORY WOOD FIRED FLAVOR: Traeger Hickory Hardwood Pellets are great for naturally enhancing beef, chicken, pork, and veggies with full-bodied, bold flavor. So it should come as no surprise that Hickory's assertive flavor is one of the most popular...
NOT ALL PELLETS ARE CREATED EQUAL: The best wood-fired grill on the market demands the best wood pellets on the market. Real taste doesn't just happen, it's tied to quality materials and achieving perfect smoke. It starts with all-natural hardwood...
TRAEGER HAS SPENT YEARS DEVELOPING THE PERFECT PELLET: Our hardwood's unique compact cell structure results in a balanced, dependable burn. Traeger has spent years mastering the development of hardwood pellets that have just the right amount of moisture...
PAIRS WELL WITH EVERYTHING: Pairs especially well with Beef, Poultry, Pork, Vegetables
FEATURES: Made in USA, Premium Quality, All-Natural, Clean Burn, No Binders, Low Ash, 20lb Bag. PLEASE NOTE: Pictured with new packaging, you may receive old packaging.
Size: 20 pounds
What's in them: 100 percent hardwood
Traeger is a trusted brand in the grilling and smoking industry, manufacturing everything from grills and smokers to rubs, sauces, and pellets.
These pellets are made of 100 percent hardwood. Hickory is one of the most popular flavors for grilling and smoking due to its natural taste and enhanced burn quality, similar to alder or oak.
Pros
High quality.
Pure wood.
Burns clean with a thin blue smoke and minimal ash.
Cons
It's not hickory, pellets are made of oak and/or alder with natural oils.
Are you a Traegermeister? Maybe you're already determined to get these pellets — follow the link for more:
Lumber Jack Apple Blend Pellets
Recommended
Size: 20 pounds
What's in them: 60 percent red oak, 40 percent apple
With Lumber Jack, you can be sure to receive premium quality pellets, ideal for any kind of griller or smoker.
The formula is somewhat unique, as Lumber Jack leaves the bark on the flavor wood (apple) for an intense flavor, but de-bark the oak used in the blend for a cleaner burn.
Moreover, it's important to note that Lumber Jack doesn't use leftovers from sawmills — the brand is a dedicated wood business, so it uses its own trees for pellets; this goes for smoking and heating pellets. The company even produces shavings for pet bedding — every last bit of the trees are used.
These tend to produce slightly more ash than other brands; however, we think it's worth it for the added flavor. Furthermore, because the pellets are 100 percent wood, they will burn good while producing excellent smoke.
Lumber Jack offers a wide range of products, so you can pick and choose which flavors you'd like to give a go. The quality is something you can trust; therefore, we highly recommend this brand.
Pros
Stronger flavor than other blends.
Tested in an independent lab.
Burns well.
Cons
Produces slightly more ash compared to other brands.
Conclusion
Pellet grills are among our favorite types due to their convenience and top-notch results! By adding the right kind of pellet to your grill, you can achieve out-of-this-world flavors.
But, choosing the right pellet flavor for the food your cooking is essential. Not all wood flavors complement all foods, such as apple is best for poultry and pork, whereas mesquite works best with red meat — when in doubt, go for oak as this wood complements most foods and meats.
Do you know anyone who struggles with finding the right kind of pellets? Help them out and share this article.
As always, leave us your questions, comments, tips, or even recipes in the section below. We'd love to hear your input.