In this guide, we're going to help you figure out the best wood pellets for smoking that will work best for the food you're smoking.
That's right, different pellets create different flavors, so choosing the right one for the job is crucial! Below, we review five common and popular brands to find the best smoking wood pellets for you.
Are you getting more into smoking on your pellet grill? Pellet grills are easy and convenient to use and don't require constant babysitting.
But in today's article, we aren't going to be focusing on the grill — we're putting the spotlight on what really matters: the pellets!
At the end of the day, it's the wood pellets that produce the flavor, not the grill itself — and there are many brands and types to choose from.
Without further introduction, let's get this show on the road!
Heating Pellets vs. Barbecue Smoking Pellets: There's a Difference!
Unflavored wood pellets, also known as heating pellets, aren't meant for grills — they aren't meant for cooking at all (although it's perfectly safe).
Heating pellets are mainly used in pellet stoves to heat homes — they won't produce flavor or smoke.
On the other hand, smoking pellets – used inside of bbq pellet grills – are made to infuse your food with aromatic smoke and flavor, giving you mouthwatering food to enjoy.
Bottom line: Next time you're buying wood pellets, double-check the bag to ensure you purchase smoking pellets, not heating pellets!
Best Pellet Flavors for Smoking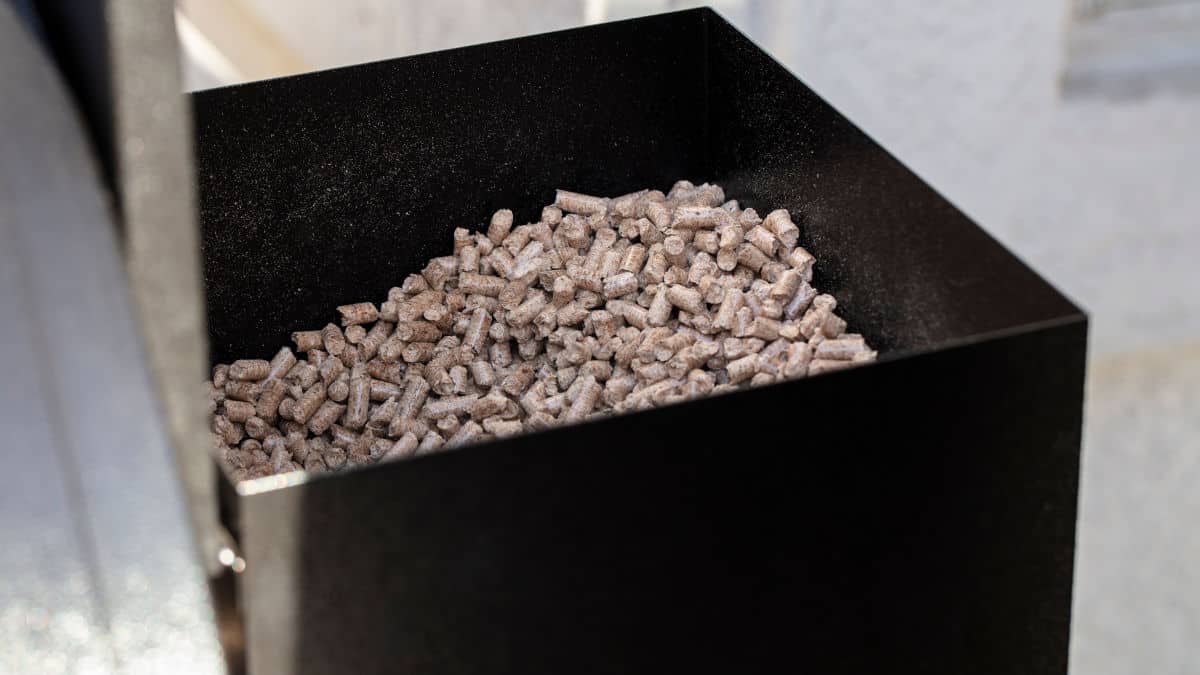 The flavor of wood might seem like an odd thing to discuss, but it's essentially what sets smoking apart from grilling!
Different Smoking Pellets – Different Flavors
With wood pellets, you'll never be bored or out of options! Not everyone has similar taste, so it's hard to say which smoke flavor is best — that's entirely up to you.
In saying that, some wood flavors tend to complement certain foods more so than others:
Oak — all meats
Alder — poultry, salmon, game birds
Cherry — all meats
Apple — pork, poultry, seafood, lamb
Maple — cheese, poultry, vegetables
Hickory — ribs, pork
Mesquite — red meat
Pecan — poultry
Walnut — game, red meat
You can also mix various woods to create new flavors.
Types of Smoker Pellets
There are loads of flavors to pick from, but only three main types of pellets:
Standard: Made of wood with very little or no flavor properties. These are usually only used for heating.
Blended: These pellets are a mix of flavored wood and fillers, which keeps the cost down. The ratio is usually around 70 percent filler to 30 percent wood. The filler used is generally oak since it burns decently and adds a little flavor.
Flavored wood: Made up of 100 percent flavored wood with no filler, also the most expensive type.
Pellets Can Cause and Fix A Lot of Pellet Grill Problems!
Automated pellet grills are the epitome of set-it-and-forget-it smoking — they monitor the temperature and add pellets when needed — seems bulletproof!
However, many smokers and grillers end up dealing with fluctuating temperatures — which is the absolute last thing you want during a 12-hour smoking adventure!
Many cooks will often blame the grill, saying it's defective or broken; however, the problem is actually more often caused by the pellets themselves.
You Want a Bark on Your Brisket, Not Your Pellets
Seeing a nice bark on your pellets may seem like an indication that they're natural and of higher quality — but that's not the case.
Pellets with bark aren't unusual, nor is it an indication that they're bad — in fact, you can buy pellets with bark or barkless.
We recommend going for barkless pellets because the bark can cause issues.
The bark doesn't burn at the same speed as the wood, which leads to temperature inconsistencies — pellets with bark also tend to leave behind far more ash.
Not only can this cause the grill to misread its temperature, but it will also create a bigger mess that you need to clean.
Wood Pellets Vary in Quality
As with most other grill- and smoke-related stuff, pellets vary in quality, which is an area where you don't want to skimp.
Pellets that are poorly compressed won't keep their shape and are likely to fall apart as the auger pulls them, or they might crumble as you scoop them out of the bag. Broken pellets won't burn as efficiently, which results in low temperatures, less smoke, and frustration on your part.
It's essential to check the bag before purchasing — if you see a significant amount of dust at the bottom, leave it be.
5 Best Wood Pellets for Smoking: Top Picks and Recommendations
You want good quality pellets that keep their shape as they make their way from the bag through the auger and into the firebox.
We're listing five of the best wood pellets for smoking so that you can steer clear of the poor ones.
Conclusion
Pellet grills are among our favorite types due to their convenience and top-notch results! By adding the right kind of pellet to your grill, you can achieve out-of-this-world flavors.
But, choosing the right pellet flavor for the food your cooking is essential. Not all wood flavors complement all foods, such as apple is best for poultry and pork, whereas mesquite works best with red meat — when in doubt, go for oak as this wood complements most foods and meats.
Do you know anyone who struggles with finding the right kind of pellets? Help them out and share this article.
As always, leave us your questions, comments, tips, or even recipes in the section below. We'd love to hear your input.