In this article, we present to you the best pellet smokers available in 2021.
With such a wide variety of available on the market, it can be tough deciding which one is right for you. We're here today to take you through a thorough guide on buying the pellet grill that's exactly right for you.
Pellet smokers are somewhat pricier than most other types, but you do get your money's worth when choosing the right model.
One significant advantage of pellet smokers is how easy they are to figure out, get started, and manage during the cook — plus, you get that irresistible real-wood flavor directly from the pellets.
We're going to first help you out by sharing a few key points you should consider while shopping for a pellet smoker. Then, we'll reveal the all-time best pellet smoker on the market today, as well as a few other favorites.
If you're ready, let's dive straight into it.
Bottom Line up Front: The Best Pellet Smokers Reviewed in this Guide
The above links take you to current prices, customer reviews, and further information on Amazon.
Finding the Best Pellet Smoker for You
Here are the features and factors you want to consider when going through all the various models to create your shortlist.
Size and Capacity
Pellet smokers come in a range of sizes, from portable models to monster-size 1000 square-inch cookers. Because pellet smokers can be quite expensive, especially the bigger models, it's essential to choose one that suits your needs — and your budget, but we'll get to that.
The first thing you should do is consider how many people you'll be cooking for. Are you cooking for you, your partner, and your kids, with maybe a few relatives coming by on the weekends — let's say two to six people? In this case, you won't need a pellet smoker that can cook four full briskets simultaneously.
For families, a cooking space of 500 to 820 square inches is more than enough for you to cook for everyone. If you need to cook for a larger crowd, go for a model above 800 square inches to be sure you have enough room to cook more food in one go.
The Pellet Delivery System
For the pellet delivery system, there are a few things we recommend that you look for:
Auger and tube: these should be large enough to ensure it won't jam. There should be ample space between the tube and the firepot to ensure fire can't go back into the hopper.
The hopper: Look for a large hopper since this means it requires less attention. The hopper should also be able to stay dry even in wet conditions. How can you clean it? Is there a door that allows for easy cleaning, or do you have to scoop it out?
Also consider the hopper size. It's convenient to have a hopper that can hold a full bag of pellets so you do not have half empty bags laying around.
To see the average size of of a standard bag, check out our article on the best wood pellets for smoking.
The Combustion System
The combustion system is made up of two parts: the igniter and the firepot. The firepot is a simple thick steel can with a few ventilation holes. The igniter rod is similar to a cigarette lighter in the car — it becomes red-hot during the initial start-up and shuts off once the controller senses the heat.
Thick metal or stainless steel firepots are ideal, as these materials will last longer. Keep in mind that the igniter can burn out with use, so we recommend that you seek advice on how to replace it and its availability before purchasing a smoker.
Construction
Stainless steel is a commonly-used material because there's a smaller chance for corrosion; however, it is also pricier, which means the smoker will be more expensive. Most steel used is either painted or powder-coated, a form of enamel that's baked on.
Internal parts should be made mostly of stainless steel, such as the grill grates and firepot. If stainless steel isn't an option, go for porcelain-coated iron grates instead.
Controls and Extra Features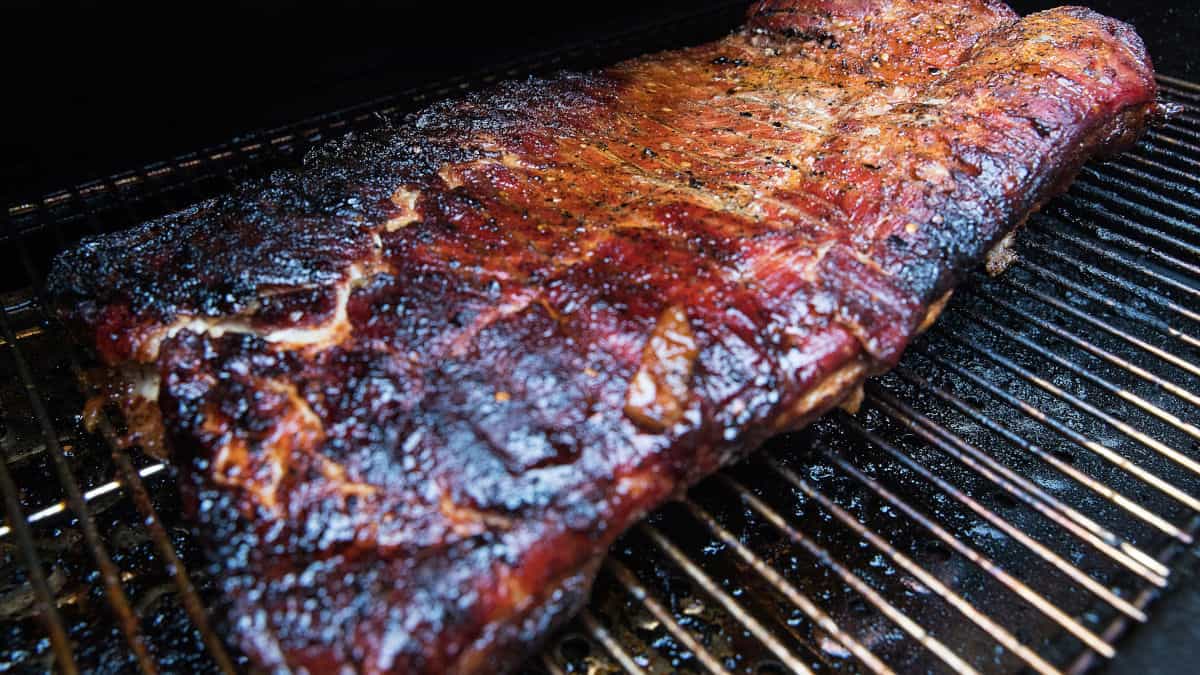 Most pellet smokers are equipped with programmable digital controllers in today's modern world to set a precise temperature.
Some pellet smokers will even have a WiFi feature that makes it accessible and programmable from your smartphone to take things a little further.
Another feature we'd like to mention is a PID controller, which stands for proportional-integral-derivative.
It keeps track of the grill's temperature and ensures the temperature doesn't fluctuate more than 5 degrees under or above the set temp.
Temperature fluctuations are a significant issue in pellet smokers, and they can often be as much as 20 degrees outside of your settings. With the PID controller, the temperature is even more under control — it's like an auto-pilot.
We do have a few PID-controlled pellet smokers featured in our review section further down, so make sure you stick around.
Older controllers (also found in cheaper models) include the simple 3-position controller that usually have three temp settings, and the multi-position controller, which features 5 to 10-degree increments.
If you're on a budget, these will do, but be sure to have a good thermometer on hand as the temperature can be off by 15 degrees Fahrenheit either way.
We also recommend that you find a smoker with at least one meat probe.
A meat probe will allow you to keep track of the meat's internal temperature during the cook. There are pellet smokers with up to three probes available, enabling you to monitor up to three cuts of meat simultaneously.
User-Friendliness
As we mentioned just above here, there's the super simple three-position, analog dial smoker and then there's the all-out smoker featuring all the bells and whistles.
In general, pellet grills are easy to use, but some are just a tad easier than others. However, it also depends on how easily you adapt to new equipment — you don't want to have to whip out the instructions every time you go to smoke.
Versatility
Pellet smokers smoke, that's what they do, but do you need a smoker who can do just a little more? Look for one that can reach high temperatures if you'd like to sear or can fit attachments if you want to add a top griddle.
Consider what you want from the pellet smoker before starting your search; this will make it much easier to determine what you need and don't need.
Easy to Clean Features
Cleaning the smoker after a long session isn't something many enjoy doing; therefore, you should look for features that make cleanup as easy as possible.
Look for a removable firepot or at least an easy access door. There should also be direct access to grease and ash cleanout and an entry for the hopper.
Again, older or cheaper models will often simply feature a lid that you open and then you'll have to scoop out pellets to empty it. Some models require you to disassemble the internal parts to clean the firebox — this is not recommended as it will be time-consuming and frustrating in the long run.
Warranty
A good warranty means the manufacturer believes in their product, meaning it should last you through thick and thick. Warranties can run anywhere from one to 10 years, depending on the manufacturer.
Due to the many mechanical and electrical parts of a pellet smoker, we feel that a good warranty is essential simply because more things can break or malfunction.
Other Essential Considerations
Power – Pellet smokers require 110/120v AC power to work and, therefore, need to be near an outlet. You can install the pellet smoker permanently by a professional electrician. Still, if you plan on moving it in and out of storage, you will need a heavy-duty extension cord with a minimum 12-gauge wire.
Replacement Parts – Things break and malfunction, and they're likely to do so in a pellet smoker with frequent use. Therefore, you want to make sure replacement parts are easily available. You can reach out to the manufacturer to get the exact details, we recommend asking whether the parts are common or custom-made. If you're buying an older model, custom-made parts might not be available.
Your Cooking Style – Consider how you're going to use the pellet smoker — are you opening a restaurant and need to cook for lots of people? Or do you simply want to smoke a brisket, ribs or other foods for the family on the weekends?
Grilling — Keep in mind that pellet grills are best at smoking, that's what they were designed to do. They contain a small burn pot, limiting the number of burgers and steaks you can grill at a time. Most models can cook a couple of burgers at a time, even smaller portable pellet grills.
The 6 Best Pellet Smokers to Choose From
Now that you know what makes a good pellet smoker, we're going to step it up a notch and reveal six of our favorite pellet smokers on the market. We tried to include options that would suit different budgets and needs while only choosing quality products that you can trust.
Without further introduction, let's get started.
Top Pick – Camp Chef Woodwind WiFi Pellet Smoker with Sear Box
Top Pick
ALL NEW WIFI & Bluetooth PID controller automatically maintains cooking temperature with 4 meat probe ports, 4 meat probes, Sear Box which gets up to 900 F.
160 F to 500 F temperature range from slow smoking to grilling (25,000 BTU).
Dial in your smoke level with our Smoke Control with settings 1 - 10.
Slide and Grill technology that allows for direct flame cooking with temps up to 650 F.
Patented Ash Kickin' Cleanout system that allows you to dump the ash after every cook.
Camp Chef was founded in 1990 and has since provided grill-enthusiasts with top-quality equipment — and the Woodwind 24 isn't an exception.
This smoker/grill is one that can do it all! Being part of the Woodwind WiFi-enabled series, this means you can monitor the smoker and meat temperatures via an app on your smartphone.
It features high on many others lists of the best grills, including the best pellet grills from foodfirefriends, and amazingribs.com.
It also enables you to control the smoker's temperature and notifies you of any changes happening underneath the lid so that you can spend more time with your guests.
You simply download the Camp Chef Connect app, connect the smoker to your home WiFi, and start smoking. It's the ultimate set-it-and-forget-it experience.
The smoker/grill offers more than 800 square inches of cooking space, divided over two full-size cooking grates — this is quite impressive considering that the entire smoker has the footprint of a medium-sized unit.
A unique feature of this smoker is the 'Slide and Grill.' This feature enables you to move the flame deflector, allowing flames to come through the drip tray to reach the meat — all done with a simple pull of a knob. By removing the deflector, you can increase the temperature to 650 degrees Fahrenheit, which is ideal for searing.
If the Slide and Grill feature wasn't enough, it also comes with an added 16,000 BTU sear box on the side that's powered by a tank of propane gas. It gives you an extra 180 square inches of cooking space and can reach a whopping 900 degrees Fahrenheit — ideal for getting that Maillard reaction going.
With the sear box's addition, you can easily smoke large cuts of meat on the main smoker while cooking up burgers and steaks on the sear box. There is also a range of other smart attachments, such as a pizza oven and a top griddle, so you can customize it to suit your exact needs.
The main smoker/grill gives you a temperature range between 160 and 650 degrees Fahrenheit — to assist you in keeping a steady temp, the unit is fitted with a PID controller. It will help keep temperature fluctuations under control and give you smoke options with settings between 1 and 10 (10 being the smokiest).
Additionally, the PID controller allows you to turn the smoke setting down during the cook — this is an energy-saver as meat usually stops taking in smoke at around 145 degrees Fahrenheit. The unit will then focus on burning the pellets for optimal heat control, rather than smoldering them for smoke.
Other features worth mentioning:
Ash Cleanout: Pull a knob and the ashes will fall straight into a removable cup.
Meat Probes: You get four meat probes with this smoker that enables you to monitor up to four pieces of meat simultaneously.
Extra-Large Hopper with 'Easy Empty': Considering most pellet bags contain 20 pounds, you could simply dump the entire bag into the hopper and then some. Check on the pellet level through the window and empty the content out of a chute when needed — make sure you keep some form of container underneath it to catch the pellets.
Pros
Full-size cooking space fitted into a medium-sized smoker.
Easy temperature control and good range (160 to 500 degrees Fahrenheit, 650 degrees without the deflector in place).
You can monitor and control the smoker and your meat from your phone.
Added sear box for super-hot 900-degree searing.
Durable and stable.
Various features that help make cleanup a breeze.
Large hopper with window.
Very versatile.
Includes a 3-year warranty.
Cons
The unit features quite a lot of new technology, so it's hard to pinpoint longevity.
If you want versatility, there really isn't much to dislike about this smoker. It has an excellent temperature range for both low n slow-style smoking and fast n high-style searing. The addition of the sear box is unique and offers even more possibilities.
Controlling the smoker and monitoring your meat couldn't be easier as everything is accessible from your phone, thanks to the WiFi ability. And once the night is over, and it's time to clean, simply pull a few knobs, and you'll be done in a jiff.
As we mentioned in the cons, because the unit features newer technologies, it's hard to say how long it can last. Fortunately, the 3-year warranty will keep you covered if anything were to malfunction.
Runner up – Traeger Pro 575 Smoker
Runner Up
NEVER USE GAS OR CHARCOAL AGAIN: Traeger created the original wood-pellet grill as the ultimate way to achieve wood-fired taste; The Pro 575 takes it to the next level with precise temperature control. 500 °F Max Temp
WIFIRE TECHNOLOGY: WiFIRE technology connects your grill to home WiFi and the Traeger app allows the user to control the grill from anywhere.
VERSATILE BARBECUE COOKING: The Pro 575 pellet grill offers 6-in-1 versatility to grill, smoke, bake, roast, braise, and BBQ all on the same grill; The Porcelain grill grates makes clean up a breeze
THE MARKET LEADER IN PELLET GRILLS: The Traeger Pro Series is the best-selling pellet grill; The upgraded Pro 575 with D2 drivetrain starts quicker, heats up faster, and puts out better quality smoke
When mentioning pellet smokers, it's hard not to utter the word 'Traeger,' considering this is the industry's leading brand. The company produces some of the best grills and smokers that are sold worldwide.
One of the newer models and additions to the Pro Series is the Pro 575 smoker, it's highly rated in the NYTimes / Wirecutter recommended pellet grills. It's packed full of top-notch features that enable you to do so much more than simply smoking — we're talking grilling, roasting, braising, and baking.
The Pro Series is a slightly more affordable line than the brand's Timberline range; however, the Pro 575 comes with many of the same "high-end" features you'd get from a Timberline model.
Before we get more into the features, let's quickly go over some of the specs — for starters, you get a total of 575 square inches of cooking space divided over two racks (top rack is 154 sq.inch, the lower rack is 418 sq.inch.). Although this isn't as grand as the Camp Chef above, it's still plenty to feed a family.
Furthermore, the hopper has a capacity of 18 pounds, so you can nearly fit an entire bag of pellets in there, and you get a maximum temperature of 500 degrees Fahrenheit.
Now for the features. The Pro 575 includes three major features that we feel are important to point out. These include the new D2 controller, a PID controller that keeps the temperature steady whether you're smoking low n slow or searing at high temps.
There were a few fluctuation complaints in previous models, but the issue is fixed with the upgraded controller.
The entire unit can connect to your home WiFi, using a new technology Traeger has named 'WiFire Controller.' The WiFire Controller enables you to monitor and set timers and change the smoker's temperature from your phone. You could basically control the entire smoker from the other side of the world, given you'd have access to the Internet.
Traeger also provides you with access to more than 1,500 grill recipes via the app. Here's the smart part: you can select a recipe through the app, and it will upload the required settings directly to your smoker.
This means you only have to pay attention to the rubs and spices required; the app will handle the smoker. If needed, you can make some changes throughout the cook.
Did I mention it's also 'Alexa Enabled'? "Alexa! Fire up the smoker!"
If you often get impatient waiting for the smoker to heat up, you're sure to like this next feature. Turbotemp combines the D2 drive train motor and the PID controller with the speed fan to speed up start-up and warm-up times.
Not only does it shorten the usual time it takes for smokers to heat up, but it also increases smoke production.
It creates a powerful vortex of heat and smoke that blasts through the cooking chamber, infusing and cooking your food. Furthermore, it helps to create an even steadier temperature, giving you more consistent results.
Another common problem with pellet smokers is pellets getting stuck and clogging the auger. This results in pellets not being fed to the firepot, and you won't be able to cook. Traeger has upgraded the pellet system by giving it a higher torque D2 Direct Drive Auger Motor and drivetrain.
This means there's a less chance of clogs, and it makes it stronger and more resilient to damage, giving you a longer time frame between maintenance.
Pros
Simple operation with push-button ignition.
Super quick start and warm-up.
Consistent temperature throughout the cook.
Great size to cook for a crowd.
Improved efficiency and very cost-effective when it comes to fuel.
The WiFire Controller enables you to basically cook from anywhere in the world — or just keep it simple and enjoy a cold one with your mates.
Cons
You only get a single meat probe.
The Traeger Pro 575 is an excellent smoker for beginners and pros — it's affordable yet packed with great features that make it easy to use and produce fantastic smoked food.
We highly recommend this grill for anyone looking for something that simply gets it done — without fuss, without testing your patience or wasting your time.
You can learn more about the 575 by following the link here:
Budget Pick – Z Grills ZPG 550B Pellet Grill
Great Value
★ ULTIMATE 8-IN-1: Barbecue wood fire pellet grill: bbq✓bake✓roast✓braise✓smoke✓grill✓sear✓char-grill
★Pellet Grill Technology: There just isn't an easier way to get the flavor of wood smoked food than with a pellet grill. Try it, you'll taste the difference from a GAS or CARBON grill.
★ Set the Temperature, Relax, and Enjoy: Z Grills pellet grills will do all the work for you once you set the temperature. No labor-intensive start-up. No babysitting the grill. Enjoy the cooking!
★538 sq. in. Cooking Area: Two tiers of grill rack offer 538 sq. in. of total cooking area to feed 4 to 5 people. The removable upper rack gives the extra height for the main surface when removed.
If you thought pellet grills were out of your price range, Z Grills wants to change your mind. The ZPG 550B is out to prove that pellet grilling benefits are not just for some elite club of barbecuers.
Looking a lot like a traditional offset smoker, complete with cone-topped stove pipe, the ZPG 550B is a fine-looking grill. A newly redesigned digital controller offers precise control between 180F and 450F for everything from smoking to grilling, including roasting and baking. Pellets feed automatically from the 10-pound hopper into the firepot for consistent temperatures.
There's a 399 square inch main cooking grate for all your big slabs of meat and whole birds under the hood. Up top, you'll find a 139 square inch secondary rack for additional smoking space, or for warming when you're in grilling mode. That's a convenient feature you don't find on all pellet grills.
In terms of features, the Z Grills ZPG 550B is a bit bare-bones. Most notably, there is no port on the digital controller for a meat probe. That means you'll need to own your own digital thermometer, but that's not a bad idea, anyway.
Pros
Approachable price compared to many pellet grills
10-pound hopper should be enough for most smoke sessions
Simple grease collection system
Easy-to-use digital control knob
Redesigned controller for 2020 based on customer feedback
Bottom shelf on cart is great for extra bags of pellets
Cons
No built-in temperature monitoring for meat probes
Flimsy-looking tubular supports don't inspire confidence (I'm sure they're fine, though)
Z Grills may be last on an alphabetical list, but this one should be first on your shopping list for an affordable new pellet grill.
Click the link to give it a closer look and get yours now:
Large capacity pellet hopper with exclusive ash cleanout system
Electronic auto-start ignition for quick and easy start every time
Dual LED temperature readout shows internal cooking temps and food temps
Simple temperature selection system maintains heat
Automatic auger dispenses pellets as needed for improved smoker efficiency
The SmokePro DLX is an excellent smoker for families as it gives you a combined cooking area of 570 square inches divided over two racks. The top rack measures 141 square inches, and the lower measure in at 429 square inches.
A unique design feature is the squared back — as opposed to rounded as usual — it gives you slightly more room on the upper rack.
This ample cooking area allows you to cook two large chickens or even three baby back rib racks. It also comes with a few optional attachments, such as a pizza stone, sear box and top griddle.
The smoker includes a built-in meat probe that conveniently runs through a port on the side, giving you direct access without the need to open the lid.
You can also set your preferred settings using the smart digital controller, enabling you to set a precise temperature for your cook. The smoker's temperature ranges between 160 and 500 degrees Fahrenheit.
Despite the more compact size, this smoker is equipped with an 18-pound hopper. The hopper features an easy-release door that enables you to empty it fast and effortlessly.
Additionally, the ash pan is released by a lever and emptied into a removable cup fitted underneath the smoker. The hopper is also easily emptied through the trap door.
Being able to remove the pellets easily is a small but significant detail that we highly appreciate. Pellets will become damp when left in the hopper; this can cause them not to burn as usual. The trap door also allows you to change pellet-flavor to change the smoke.
Although the hopper does feature a lid, it isn't rain-proof, so it's essential to empty it and store any extra pellets in a suitable container.
Camp Chef offers various online training videos to help you get the most out of your smoker.
Pros
A built-in probe and port for a meat thermometer enable you to check on the meat easily.
Easy to empty burn pot and hopper.
You can change pellets quickly and easily.
Side shelf area for easy prep.
Ample cooking area and space.
Cons
There's some slight insulation issues with the lid, it leaks a bit of smoke and has trouble maintaining its temperature when it's cold out. You can use a windbreak or welding blanket to help it out.
Hopper lid is not waterproof, so if the smoker is left out, empty the hopper.
Requires more monitoring than others on the list because the controller isn't programmable.
If you want to keep within budget but want a smoker that can keep up with the big guys (looking at the two above), the DLX is the one. It's simple to use, produces excellent smoked food, and is a breeze to clean — what more can a simple pitmaster ask for?
It might not be as "technologically-advanced" as some of the pricier units, but that doesn't make it any less good. You get excellent cooking space that allows you to cook for the entire family (and I mean the entire family).
Learn more here:
No products found.
If luxury is what you're after, then luxury is what you're going to get. The REC TEC RT-700 screams quality and luxury from every angle — it's made of durable stainless steel, and as REC TEC puts it, it doesn't feature any gimmicky parts that become weak points.
A majority of the internal parts are made of stainless steel, including the cooking chamber, grates, controller shelf, hopper lid, towel ring, handles, and more. Additionally, the hopper can hold a total of 40 pounds of pellets!
You get an incredible 702 square inches of cooking area, enough to cook six racks of ribs or two pork ribs and a brisket at the same time. If you're having a large gathering of people over for dinner, you can add the second shelf to increase the cooking area to a whopping 1045 square inches.
One of the more significant features of the RT-700 is the Smart Grill Technology™. It's a PID controller that helps to keep the temperature at a steady level. The smoker has a temperature range between 200 and 500 degrees Fahrenheit, which you can program in 5-degree increments for precise adjustments.
A few other nice-to-have features include the internal hood light that gives you good visibility when cooking in the evening. There's also a control box that doubles as a shelf featuring hooks for your tools. Additionally, the hopper lid can be used as a warming shelf.
Pros
Extra-extra large 40-pound hopper, enough to cook for a crowd.
Durable construction, inside and out.
Sleek look.
Convenient internal hood light.
Impressive 6-year warranty.
Cons
40 pounds of pellets but no easy way to get them out of the hopper? A release button or chute would have been nice.
The firepot can't be removed for cleaning, so you'll have to vacuum the content out.
The durable stainless steel construction is hard to argue with, and the extra-large cooking space? It's an excellent choice for any griller who likes to have friends and family over for dinner on the weekends.
The RT-700 scores big in nearly every aspect, but it seems to fall short when it comes to cleaning. There are no trap doors, pellet chutes or removable parts that would make cleaning easier.
You can read more here:
Green Mountain Grills Davy Crockett
Recommended
There's only one thing that can make camping better — smoked meat! The Davy Crocket Grill is sure to be envied by the entire campsite once you fire it up.
Don't think that because it's light and portable that it doesn't have any special features — you'd be surprised! This smoker features a digital WiFi controller that enables you to monitor it via an app on your smartphone. You can adjust the temperature using 5-degree increments, and it has a range of up to 500 degrees Fahrenheit for searing.
The 'Sense-Mate' feature consists of thermal sensors that monitor the grill's temperature and that of the meat. You can then monitor and make changes from your phone.
It's not the biggest smoker on the list, but you should be able to fit a couple of steaks, burgers or even a brisket for the ultimate campsite comfort food.
There are three options for power: a 12-volt cigarette lighter, 12v jumper cables (included) or a 110-volt converter. Overall, it weighs a good 69 pounds and sports a compact construction that easily fits in the back of a car.
The lid is peaked, not rounded to add a little extra cooking space. There's also an attachable tray featuring tool hooks and a cup that catches grease to help make cleanup easier.
Pros
Versatile power options, enabling you to grill almost anywhere.
Convenient WiFi-enabled controller means you can monitor and adjust the smoker from afar.
Despite the compact size, it can easily hold a good amount of food at one time.
The open flame option enables you to sear.
Lightweight.
Cons
Due to the size, pellets in the auger might self-ignite.
8-pound hopper capacity.
It tends to go slightly hotter on the left side.
If you're a frequent camper and want to eat like a king or queen when on the road, this is an excellent option. The compact size and light weight make it easy to take to and from the campsite — and once you're there, you get plenty of space to cook up a storm.
See more details and the latest price here:
Traeger TFB29PLB Bronson 20
Recommended
Never use gas or charcoal again: cooking with wood just tastes better. Traeger created the original wood-pellet grill as the ultimate way to achieve wood-fired taste
Versatile Barbecue Cooking: Hot and fast, or low and slow, the Traeger Bronson 20 pellet grill offers 6-in-1 versatility to grill, smoke, bake, roast, braise, and BBQ food to juicy perfection
Precision temperature control: The Digital Elite Controller rocks Advanced Grilling Logic, which maintains a +/- 20 degree F temperature control to guarantee precision grilling
This compact pellet smoker measures 22 inches deep and 38 inches wide, making it ideal for anyone with not a lot of room to spare.
You get a total of 300 square inches of cooking space, enough to hold around four chickens or a 20-pound brisket.
The smoker is durable and made of powder-coated steel and features a "sawhorse" frame design for added stability. The grates are made of porcelain-coated steel, making it resistant to rust and a breeze to clean.
It features an oven-type knob to control the settings, and there's an LED display for the temperature. Unfortunately, this smoker isn't as precise as others with its 25-degree increment settings. This also means there's a 15-degree fluctuation that you have to deal with during every cook.
The hopper can hold a reasonable 10 pounds of pellets, providing you with eight to 16 hours of smoke depending on the temperature.
A smart feature is the 10-minute cooldown cycle at the end of every grill. Here, a fan will cool the smoker, enabling you to get cleaning sooner, the fan will also blow out excess ash.
Pros
Ideal for small families or grillers who don't have room for a full-size whopper.
There's no open flame, so it complies with HOA rules for use on balconies — a plus if you live in an apartment.
Large wheels make it easy to move.
Durable construction.
1-year warranty covering the grates and a 3-year warranty for the smoker.
Cons
Not as precise when it comes to controlling the temperature.
No meat probe option or port.
Need for an improved pellet hopper design as they don't all enter the auger without assistance.
There aren't many options for smoke-enthusiasts to roam when living in a tight space or an apartment. But, this compact model will give you lots of cooking space for you to smoke a range of foods on the balcony or patio.
Read more here:
Advantages of Pellet Smokers
Let's take a quick look at how pellet smokers compare to other types of smokers, just to make sure you're making the right decision.
Ease of Use
The first advantage of pellet smokers is their ease of use. The push of a button ignites most. A feeder will automatically feed pellets to the firepot, keeping the heat and smoke going. There's no charcoal, wood chips or chunks to refill or manage.
As we saw in the reviews above, there are many smoker options with smart features that make smoking even easier. We're talking WiFi-enabled controllers, PID controllers and more.
Versatility
Most pellet grills have a pretty decent temperature range, usually between 150 and 500 degrees Fahrenheit. These temps enable you to smoke low and slow or sear over high heat easily.
If you want to grill at higher temperatures, we recommend a smoker such as the Camp Chef Woodwind 24 or the SmokePro DLX as these have the added sear box (or as an option).
Low Maintenance
Filling a pellet smoker is easily done by simply pouring the bag into the hopper — once the grill is over, cleaning is easy as pellets don't leave as much ash compared to charcoal.
Most units will feature one or more access doors for you to remove ashes from the firepot with ease. If there's no door or flap you can open, you need to vacuum out the ashes.
Many units will also feature a grease pan where oil and grease are collected throughout the cook. This minimizes the mess and makes it simple to clean afterward.
Fuel-Efficient
Because of wood pellets' density, they're more cost-efficient to burn than lump charcoal or briquettes. Running costs are somewhat similar to that of gas smokers.
Unlike gas smokers, pellet smokers are generally well-insulated, sealed and constructed for optimal heat and smoke retention. A convection fan will also help to keep the heat circulating within the chamber throughout the cook.
Prompt to Start-Up
Charcoal smokers are known to be time-consuming and patience-testing when it comes to heating up — in some cases, it can take close to 40 minutes before it's ready to cook.
However, a good pellet smoker can be ready in a matter of 15 minutes from the time you turn it on. This saves time and avoids frustration.
Disadvantages of Pellet Smokers
Of course, there are some downsides of pellet grills when compared to other types. Let's explore that now.
Not Ideal Grillers
Pellet smokers are often referred to as grills, but this can be quite misleading. Pellet smokers smoke, that's what they're good at. On the other hand, grilling isn't one of their strong points, mainly due to the difficulty of reaching and maintaining high temperatures.
Most pellet smokers are limited to 500 degrees Fahrenheit, which can work for searing, but it won't be as great as what you'd get from a charcoal or gas grill.
There are modifications and attachments to some pellet smokers, as we saw in the reviews above — so make sure you look for these options if grilling is important.
Expensive
Pellet smokers can cost between $500 and $1000; some will cost even more than that. This is quite expensive, considering that you can easily find great charcoal or gas options between $200 and $400.
Availability of Fuel
Charcoal and gas refills are easily available in most convenience stores, so there's always a way to source your fuel. Pellets, on the other hand, aren't as easy to get your hands on.
Buying your wood pellets online is often the only choice you have — so be sure to stock up and create a little reservoir to ensure you never run out mid-cook.
Less Smokey Taste
If you're used to charcoal smokers' powerful smokey flavor or offset burners, a pellet smoker might disappoint you. Although pellets are made of pure wood, they don't provide the same kick of smokiness that most of us crave.
In saying that, how you perceive it depends solely on your taste. Some smoke-enthusiasts say that the delicate smokiness allows the rubs, seasonings and natural flavor of the food to shine more.
Limited Maneuverability
Since pellet smokers run on electricity, you will be limited by the cord or extension cord's length. It's not always as straightforward to move to another location.
The Smoldering End
Pellet smokers are easy to use and are excellent for both beginners and experienced smokers and grillers. The wood pellets add just a delicate smokey flavor to the food, and you get to play around with different wood flavors.
Now, finding the best pellet smoker for you might seem like a straightforward deal, but there are essential considerations to be made if you want a smoker that suits you. Not to mention, pellet smokers aren't the cheapest type, so if you want a unit packed with features, you need a budget to match.
Pellet smokers are best at smoking — even though they're often called pellet grills — it's essential not to get your hopes up if grilling is mainly what you want to do. In this case, consider a unit designed to do both, such as the Camp Chef Woodwind.
Do you think pellet smokers are worth the expense? Let us know in the comments below.