In this short guide, we're going to share the most commonly-used methods on how to pull pork.
Pulling or shredding pork isn't hard! However, the difficulty depends on the technique you use.
Yes, shredding pork might seem like child's play, but if you google the topic, you can find some crazy ideas such as using an electric drill.
But there are actually two different techniques and methods that are easy to do, do not involve potentially ruining expensive equipment, and can be done safely by anybody. That's what we'll be discussing today.
Feeling ready? Let's go!
Pulled Pork – What is it?
Pulled pork is a staple in the barbecue world.
It starts as a pork butt or shoulder that's sometimes injected, always given a dry rub, then smoked low n slow-style for hours until tender and falls apart.
After the pork butt is done cooking, it's pulled or shredded before it cools, has moisture added such as apple juice and BBQ sauce, and is insanely delicious.
Pulled pork is often served with coleslaw or pickles, or used to make sandwiches, to fill flatbreads on in tacos.
'Pulled' Meat – A Definition
By pulling meat, you're separating the meat from the bone, skin, and fat, why separating the muscle strands and sinews into strand-like pieces.
But, why is it referred to as pulling and not shredding? It's because hands pull things apart, while machines shred. The process of separating meat into fibers was initially done using hands; therefore, it was pulled, not shredded.
When the meat is pulled, it's broken into longer strands than you would typically get if shredding by machine.
The meat strings or strands are formed because of the natural grain of the meat. For the best-pulled meat, you have to work with the grain.
Although pork is the usual meat to pull, you can use any other type of meat that you prefer, such as beef, lamb or poultry.
Because you start the pulling process while the meat is still at its cooking temperature, gloves are an essential tool. It's done while the meat is still hot because fat and connective tissues will harden and solidify as the meat cools, making the pulling harder.
Pulling the meat while it's hot also allows you to serve clean meat, free of connective tissues, skin, and fat.
Pulling Pork – Step by Step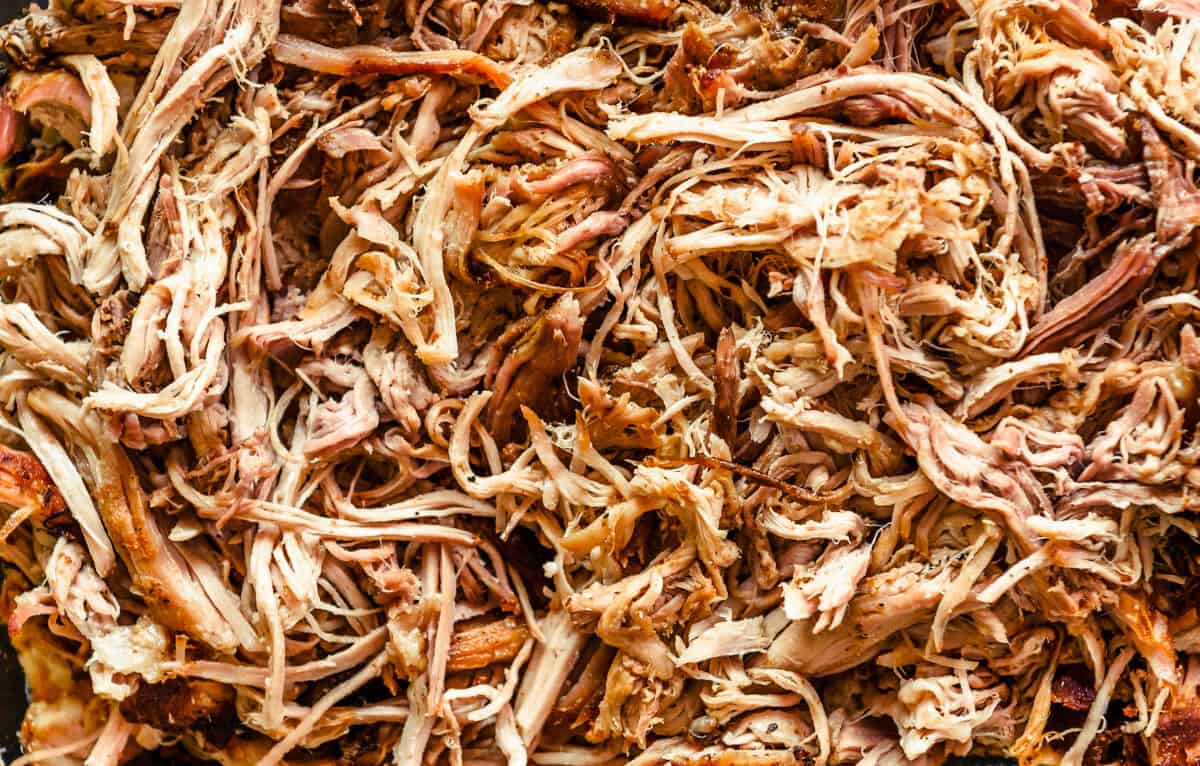 We've already covered the process of how to pull pork in the explanations above, but to make it simple, here's a quick step-by-step:
Start when the meat is still hot but cool enough for you to handle. Identify the way the grain lies.
Use your hands or another tool to pull the meat with the grain.
Place your pulled meat into a container. Make sure it's large or deep enough also to hold some liquid.
Pour enough liquid over the meat to moisten it. Ideally, it should be warm or hot when poured over the meat.
Serve.
You can store any leftovers in the refrigerator, and it also freezes well and maintains quality when thawed and reheated.
Three Methods for Pulling Pork
We're now going to go through three common methods of pulling pork.
There are many other ways to do it, but we found these to be the most effective.
Pork Clawed to Shreds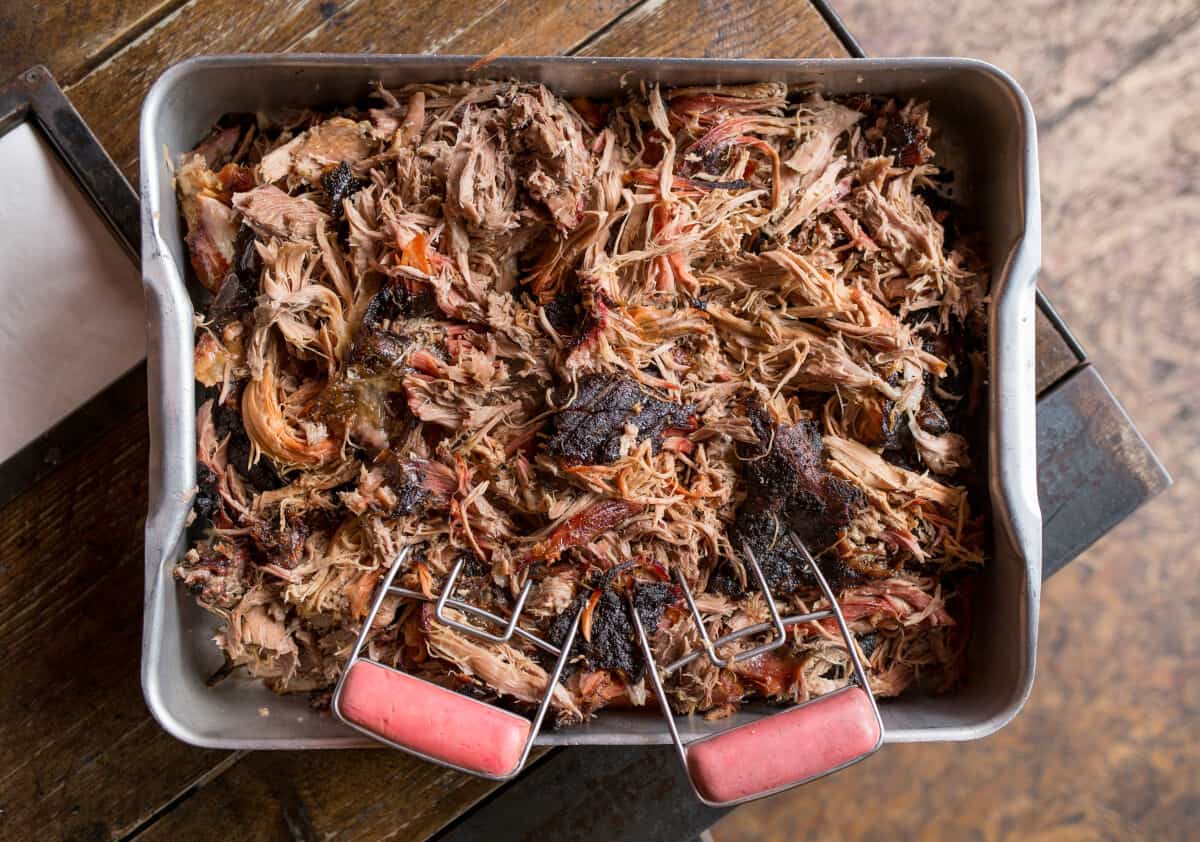 This might sound brutal, but meat claws are incredibly effective when pulling meat.
Meat claws look like large metal combs fitted with a handgrip.
Simple meat claws are light, metal tines fitted with a cushioned handgrip. Another type, called bear claws, are made of titanium or BPA-free nylon — they're heat-resistant up to 475 degrees Fahrenheit.
Bear claws have a certain shape and heft that enable them to lift a large roast. A bear claw is also a useful tool to hold a roast in place as you're carving.
Bear claws are the most effective way to pull pork manually.
Double-Fork Method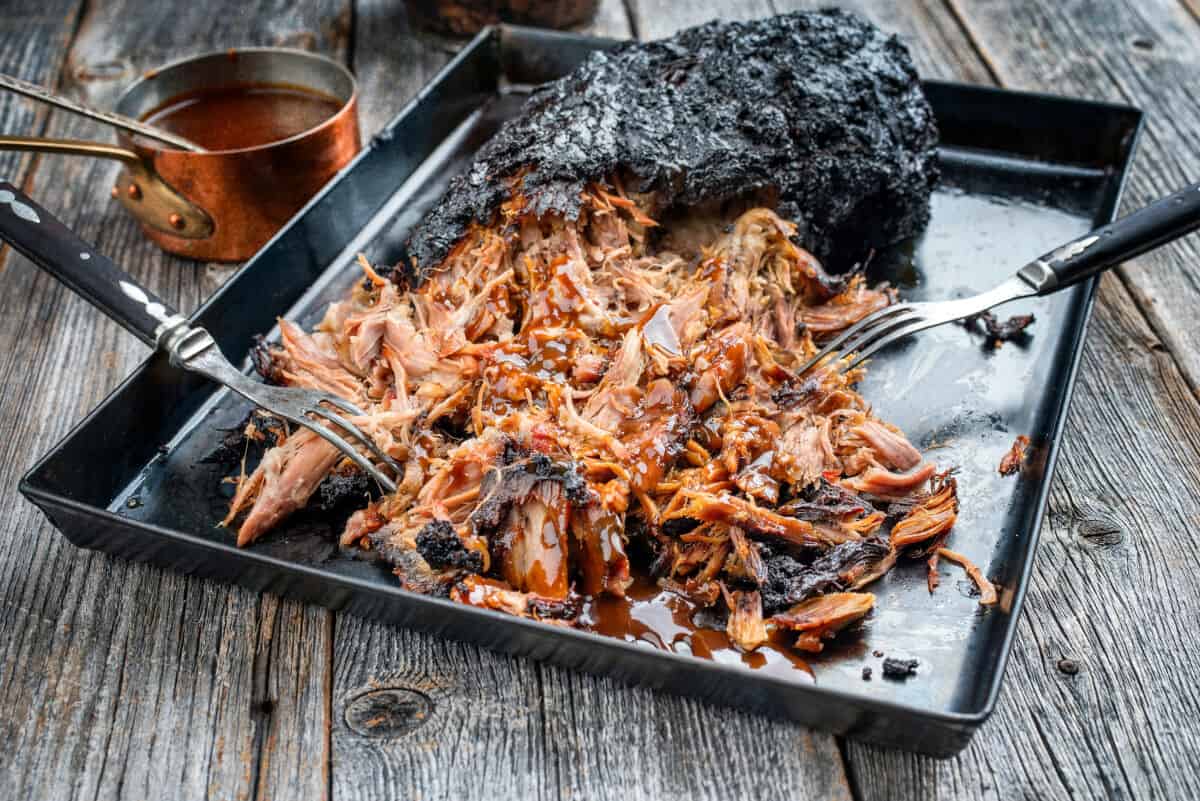 If you're a simple fella, using two forks is a straightforward method that can be done using one of two ways.
You can dig the forks together and then work them away from each other.
You can also use one fork to hold the meat while the other shreds it.
It's recommended that you work chunk by chunk, instead of simply going to town on the meat. This will prevent the meat from looking like it was shredded in frustration.
Using a Stand Mixer
If you have mobility problems with your hands or are otherwise unable to use a manual method, you could use your heavy-duty stand mixer to do all the hard work.
Make sure you remove all bones, then place the meat in a stainless steel mixing bowl and use a flat beater attachment to do the shredding. Within a few seconds, you'll have your pulled pork.
Add Moisture to Prevent Dryness
Did you know that meat dries out incredibly quickly once cut? Pulled pork is essentially a roast that's been cut multiple times, which means it can become quite dry.
The best way to keep your pulled pork moist is by adding some form of liquid to the serving pan or storage container. Here are a few common choices:
BBQ Sauce
BBQ or other sauces can be made specifically for this stage of pulled pork, or you might borrow from the marinade stage (set aside a bit of the marinade, refrigerate it, then heat prior to use).
Apple juice
The mild flavor and sweetness of apple juice make it a popular BBQ. It also complements the flavor of the meat excellently.
Pork Drippings
Using the drippings produced during the cooking process is one of the most common ways to keep the meat moist — although this can be very smoky, so use it wisely!
If you're saving the pulled pork for later, cover it with plastic and aluminum and refrigerate or freeze within 4 hours of the pork being pulled.
Conclusion
Barbecue is one of the best types of foods…am I right? Of course, you agree, that's why you're here! And pulled pork is right at the top of the list when it comes to the best BBQ foods.
Hot meat, smoked to perfection, with a spicy and sweet rub and a sauce of your choosing! How can this not be anybody's favorite?
Pulled pork is also versatile and can be used in various ways: As a part of a BBQ platter, in sandwiches, in a salad, in tacos…the list is endless. And that's why you should master this cut, and of course, learn how to pull pork.
If you have any additional tips, or simply want to drop us a comment, please do below.