Trying to simultaneously cook the main course on the grill outside while preparing side dishes and veggies inside in the kitchen can be a hassle.
However, with the right preparation, help from your partner and the use of one of the best grill baskets on the market — you have all the things you need to succeed.
We're going to be discussing the many uses of this incredibly handy tool that enables you to prepare fish, veggies and side dishes right on your grill. The basket will keep everything in place, so you don't have to worry about small items falling through the grates.
We'll take you through all the advantages of using a grill basket, what you can cook in them and how they can help you to stay organized — even during stressful grill parties.
Bottom Line up Front: The Best Grill Baskets Reviewed in this Guide
Note: The above links take you to current prices, customer reviews, and further information on Amazon.
What is a Grill Basket?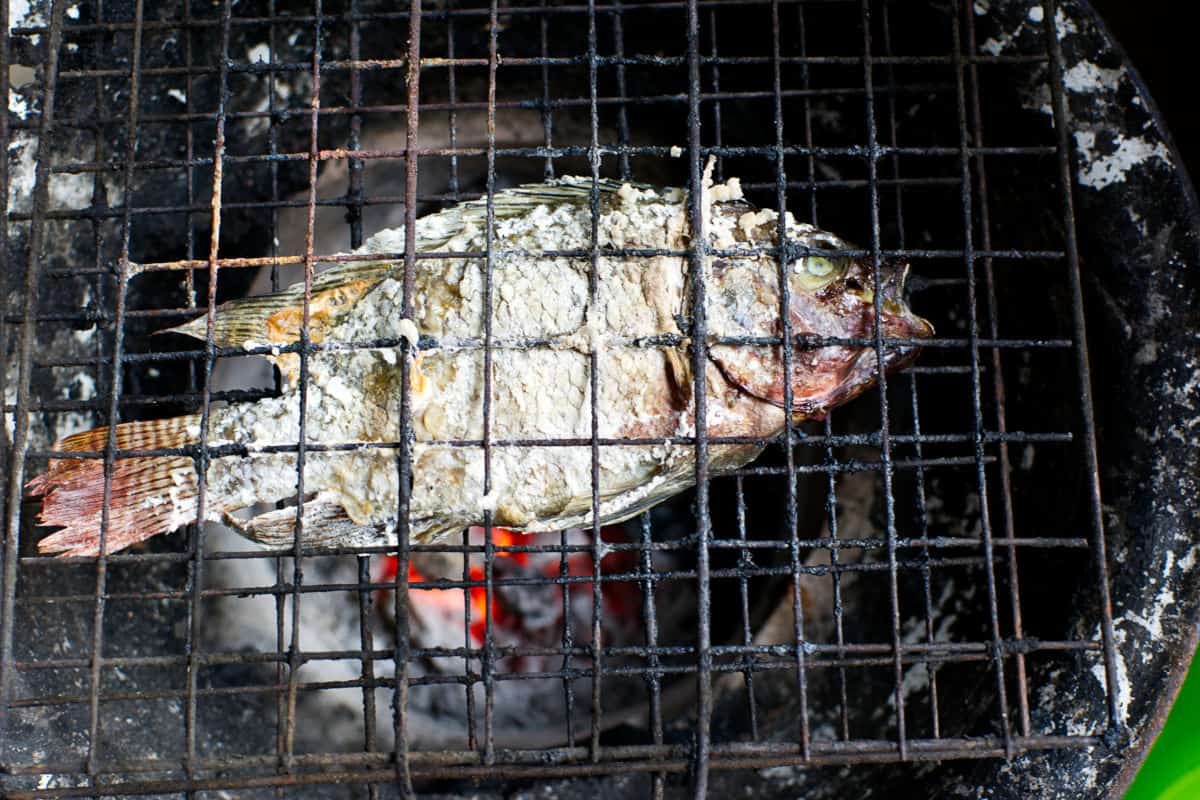 The usual grill basket is made up of two rectangular pieces sturdy wire mesh — the two are hinged together on one side and fitted with a long handle on the other. The food will be sandwiched in the middle — similar to a waffle iron — by closing the two handles.
Any marinade or sauce will be able to drip down through the wire mesh but the food will stay in place. This allows you to cook delicate and small items on a grill or even over an open fire.
Apart from the traditional basket, there's the grill wok. It's shaped similar to a shallow pan or bowl.
A grill wok is made of perforated sheet metal, usually stainless steel. It's got raised sides and open tops — resembling a square metal bowl with holes.
Grill baskets are commonly made of chrome or nonstick coated steel or simply stainless steel.
A grill basket will save you time if you're frequently grilling multiple items of veggies or seafood. There are also cast iron grill woks available; however, these are heavy and contain fewer holes to allow smoke permeate the vegetables.
What Can You Cook in a Grilling Basket?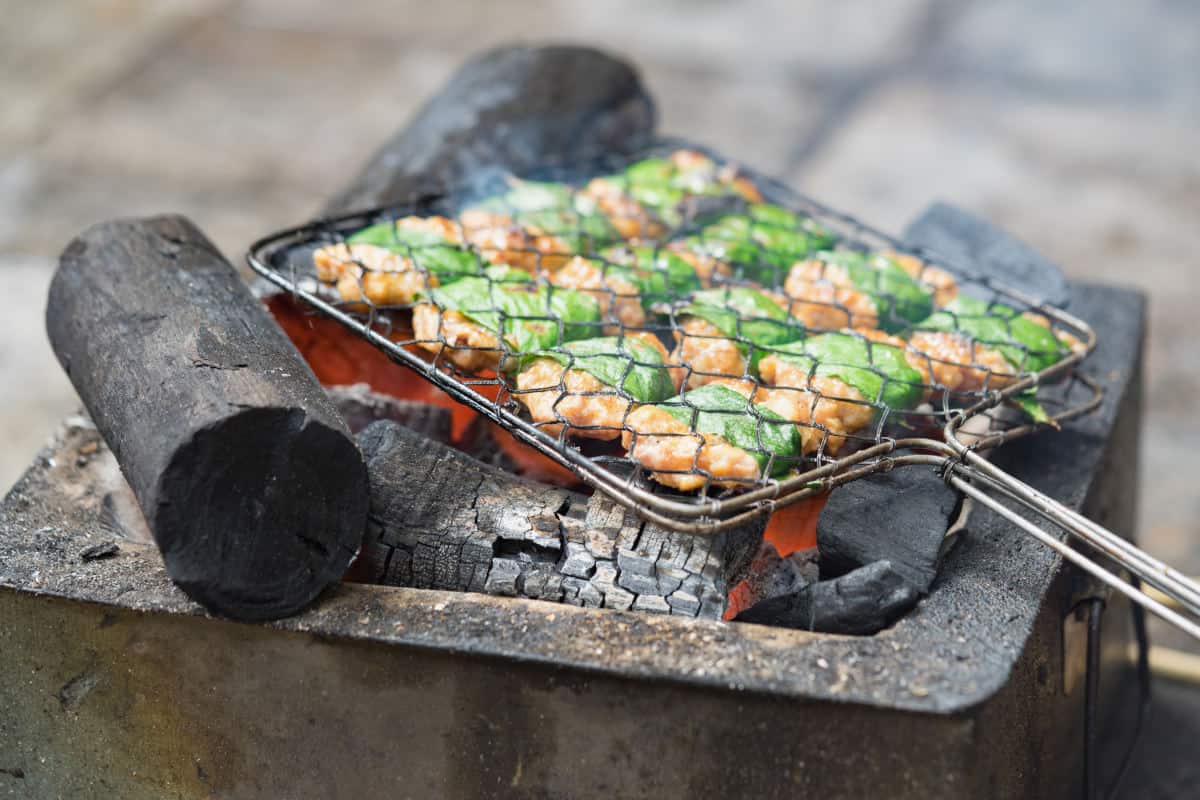 Grill baskets are incredibly versatile. Anything that fits inside the basket is suitable — there are no rules except for soft foods, such as burgers or skinless chicken. These might stick or even fall through the mesh wire.
Another slight disadvantage of using a grill basket is that you won't get those beautiful grill marks as you'd get if the food were directly on the grates. In saying that, if you're cooking on an open fire, a grill basket is a must-have.
So, besides vegetables, what else can we cook in a grill basket?
Larger Foods Like Chicken Pieces
A hinged basket fitted with a handle is a must for fish, wings and quartered chicken. This type of basket will keep your glazed chicken in place while turning it back and forth for a nice char on the sides.
You can grill a whole fish in a grill basket — it will effectively help you to flip it without tearing the fish apart. However, make sure the basket is deep enough not to crush the fish like a garlic press.
Additionally, it's best to coat the grill basket with a nonstick cooking spray to avoid any of your food sticking to the wire mesh.
Skewered Foods
Shish kebab, satay or any other food on a skewer is always a hit at any BBQ. Unfortunately, it's not always fun to be the one making them as they do require hours to prepare. To make the job easier, a satay grill is ideal as you can cook and flip them without torching the skewers or your hand at the same time.
But, if you don't want to use skewers, here's a nifty tip to try out. Toss your meat or vegetables with your marinade and place them in your grill basket. Cook them over the grill and easily flip all at ones — you'll have ready kebab in no time.
If you're cooking marinated vegetables like onions mushrooms or tomatoes, a grill wok-style basket is ideal. This allows you to toss and turn the veggies for an even cook similar to a stir-fry. For larger veggies, use a hinged basket and flip as they brown.
Side Dishes
Side dishes such as broccoli, beans, potatoes, peppers, zucchini, tomatoes or onions are must-haves at any grill party.
Make your job easier by cutting them into equal sizes, spice them up with seasoning and cook them in the grill basket. You can do it simultaneously with the meat so you won't have to cook twice or run between the grill and the stove. You'll be the catering master!
Root vegetables are especially delicious when grilled — it adds another dimension to the flavor that simply can't be achieved on the stove. You can see more about a grill basket stew recipe that's worth a try. Note, the recipe calls for 'Beefalo,' but any red meat will do — the grilled vegetables are sure to steal the show.
They Can Be Used Instead of Grill Mats
Grill mats are also a must-have for many home cooks, you can see our best grill mats roundup here. But, we have to say that grill baskets are far more effective at giving your food that grill flavor as the smoke rises from the coals. Grill mats are effective as well, but they tend to shield the food slightly.
Virtually all foods can be cooked on the grill using a grill basket — well, except for eggs. The grill basket will allow any type of food to absorb some smokey flavor without falling through the grates.
They're Great for Flipping Multiple Burgers at Once!
If you're cooking burgers for a hungry crowd, flipping each patty individually will take time — why not cut time and effort in half by flipping them all in one go?
A regular grill basket can hold around six-regular-sized patties — imagine being able to cook six patties at once? Much better than having to sweat over the grill for hours.
Make sure you prepare the patties carefully, so they're all the same size and thickness. This will make them cook evenly and at the same rate.
Benefits of Using a Grill Basket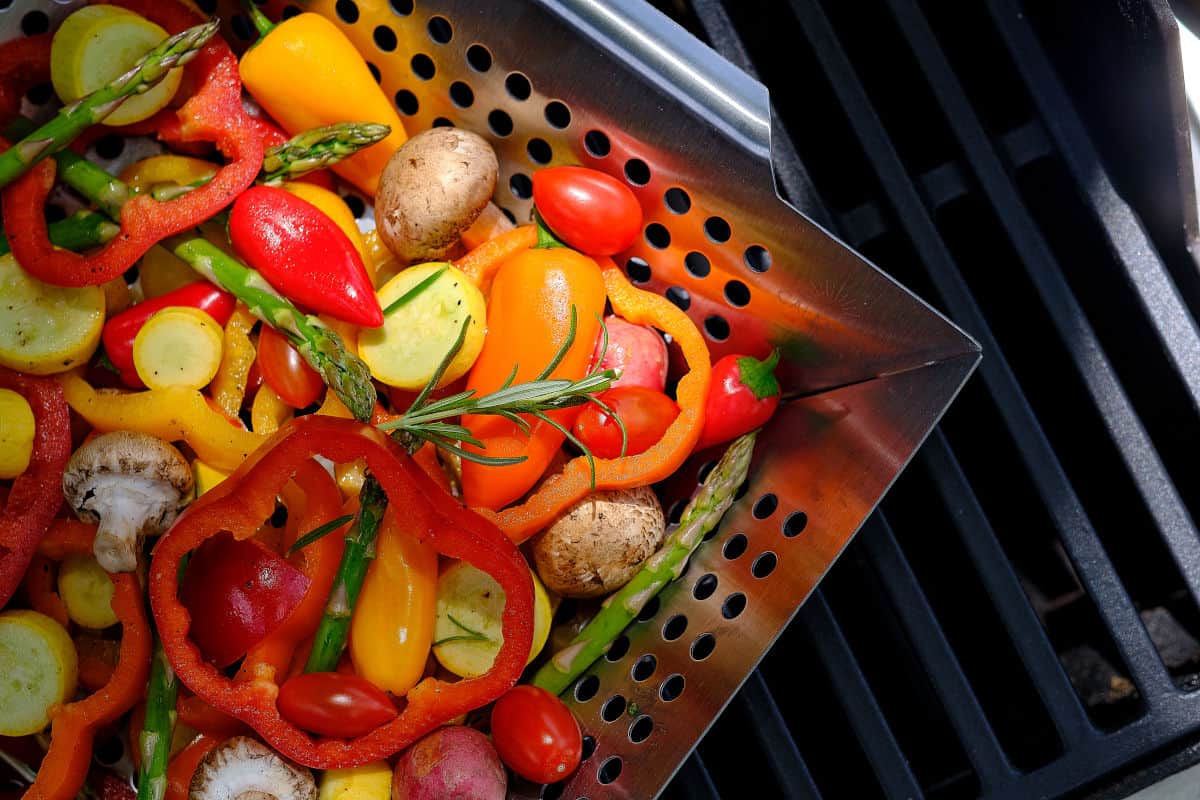 We might be repeating ourselves slightly here, but the benefits of using a grill basket are worth mentioning more than once!
Grill baskets will make your cookout or BBQ more manageable. Not only can you cook everything on the grill, but you get to cook more food in one go. You get to flip fish, chicken, burgers and more simultaneously — no more rushing, messy hands or even burnt food.
A quality grill basket is sturdy yet lightweight as well as durable and able to withstand high temperatures. Most can hold four to six portions of veggies or seafood.
Your food will taste ten times better as its prepared on the grill and gets that char and smokey flavor.
You get much better control over your sliced, diced and chopped ingredients — and you won't have to worry about pieces falling onto the coals.
Most grill baskets are suitable to be used over an open fire or on the BBQ.
A grill basket will make your job as the grill-master a breeze. You get to flip your food every few minutes without anything burning and you won't have to watch it like a hawk, so you get to enjoy time with your guests.
What to Consider When Choosing the Best Grill Basket
When you're grilling, you're dealing with very high temperatures. Any grill basket or wok you choose must be made of thick metal wire or sheet metal to be able to withstand the heat without warping or burning through.
Go for models with smaller holes. Larger holes might allow small items to slip through into the fire. Give the wire mesh a feel with your fingers — ensure it's smooth with no sharp or rough edges.
If you have your eyes on the bowl-type baskets, go for one with higher sides. This will allow you to toss your veggies without them escaping. Long handles are preferred as they keep your hands further from the heat.
If you're faced with a choice between finishes, go for non-stick as this is easier to clean compared to bare metal, although not all manufacturers make non-stick grill baskets.
A Basket with a Hinge Can Do More
A hinged-type is the way to go if you're looking for a grill basket that can do it all. These enable you to cook anything from veggies to seafood — you can even cook them simultaneously if they're the same thickness.
A grill wok is an excellent addition to any grill as it enables you to cook meat on one side of the grill while preparing your veggies on the other. The perforations will remove excess water while allowing the smokey flavor to enter.
Best Multi-Purpose Grill Baskets
These are our picks for the best grill baskets that can do it, cooking veggies, meat and fish.
Charcoal Companion Non-Stick Grilling Basket With Rosewood Handle
Top Pick
This basket from Charcoal Companion was designed to suit the grill or camping fire. It's made with a non-stick coating, making cooking and cleaning a breeze. It features a long handle made of rosewood — it provides you with a comfortable yet secure grip as you're cooking.
You can remove the top half to load the food easily. The basket will adjust itself to suit the thickness of the produce inside, the front tabs will lock in place to accommodate the height of the food. It measures 12.6 x 24 x 2.4 inches, without the handle.
One slight drawback is that one side is of the basket is higher off the grill compared to the other. The food in the other side might require a little longer to cook.
Pros
Easy cleanup with the non-stick coating.
Deep pan enables you to cook food up to 2 inches thick.
Cons
Hand-wash only.
One side will always be closer to the grill, so you have to be more careful when cooking.
Char-Broil Non-Stick Grill Basket
Runner Up
Who better to buy your barbecue accessories from than one of the better-known barbecue manufacturers? This true non-stick basket combines the best of grilling and oven "technology" in one product.
Made of stainless steel for durability, the entire basket features a non-stick coating like you frequently see on frying pans and ovenware. This makes it even less likely your delicate fish, chicken, and more will leave chunks behind. It also helps make clean-up a snap.
And speaking of snaps, the two halves of the basket lock together to keep your food safely inside when you flip the basket or remove it from the grill.
The diamond-pattern mesh will keep even the smallest bits of food securely inside the basket, while also leaving appealing grill marks.
While the outside dimensions of this basket are a bit smallish (10.08 inches by 9.21 inches), it's over 2 inches deep. That means extra-thick cuts, like fish steaks and chops, will fit with ease, as will sausages, fingerling potatoes, and more. As well, the basket opens fully, allowing you to use it as a mesh cooking sheet and grill on both sides at the same time.
There's no extended handle, but the sides are extra-wide, enabling you to get a solid two-handed grip with your mitts on. It's kind of like using a baking sheet in the oven. Plus, there's a loop where the two sides lock together you could hook into for repositioning with a barbecue tool.
Pros
Stainless steel construction
Tight mesh for even the smallest veggies
Locking lid to keep food inside
Non-stick coating prevents delicate foods from sticking
Deep basket for thicker cuts and sausages
Cons
No handle – has to be gripped from the sides with heatproof gloves
Not recommended for the dishwasher (but non-stick coating should hand-wash easily)
If unknown brands aren't your thing, stick with the tried-and-true. Learn more and get yours here:
Best Grill Baskets for Fish
These are, in our opinion, the best grill baskets for fish.
They can be used for other things, but for fish is where they excel.
Weber 6471 Original Fish Basket
Best for Fish
The 6471 fish basket was designed by Weber to suit the smaller Q 300 range. It doesn't have a handle, so you'll need gloves to turn it, but on the plus side, you can cook with a closed cover.
It measures 18 x 2.3 x 10.5 inches, which is enough to cook six portions of fish fillets.
Pros
Holds the fish securely without crushing it.
Simple to use, only flip once.
Can hold enough fish to feed six people.
Dishwasher-safe.
Cons
Tricky to clean after the use of cooking spray.
Won't make grill marks as the fish will be above the grates.
The mesh isn't attached, allowing food to fall out the ends.
Penobon Stainless Steel Fish Grilling Basket
Recommended
✔ Product Information: The Grill Basket and Basting Brush are made of 430 food-grade stainless steel, which is reusable and strong, also rust resistant for long term use. Weight of brush is 2.11 ounce and the grill basket is 16.22 ounce.
✔ Large Grilling Surface: This Grilling basket provides a generous cooking surface of 12.99 x 8.66 inch to accommodate foods for 2-3 people .
✔ Lockable and Grid Gap: Lockable grill basket locks foods in place and promotes easy flipping of grilled foods. The grid gaps are perfectly sized to provide even heat distribution while preventing small pieces of foods from falling through grill...
✔ Folding and Portable: Come with a storage bag, folding and easy to carry. Take it on weekend and enjoy the delicious BBQ foods(such as fish, shrimp, vegetable, corn, steak and so on) with your friends.
This generously sized grilling basket is ideal for expanding your barbecue menu beyond the usual. The cooking surface measures 12.99 inches by 8.66 inches, providing ample space for smaller whole fish, larger filets, vegetables, chicken pieces, bacon-wrapped anything, and more.
Made from rust-resistant 430 stainless steel wire, the grid is tight enough to keep most small items securely caged in. Speaking of security, the two sides of the basket lock together at the handle, preventing your cooked food from falling out while moving.
The wooden handle will stay cool if near the heat. Even better, though, is you can remove it entirely while your basket is on the grill. Just use your tongs or other tools if you need to move the basket around the grill, and reattach the handle when it's time to turn it over or take it off the heat.
You get a couple of bonus items with your purchase. The first is a carrying and storage bag. It's a simple solution for preventing scratches and other damage to the basket that might reduce its life. Definitely use this every time you put it away or if you plan to take it on a road trip.
The second item is a stainless steel basting brush with silicone bristles. Even if you already own one, having another is great for those times when you're applying more than one kind of sauce. For example, you might add BBQ sauce to chicken wings with one and lemon butter sauce to fish with another.
Pros
Prevents small items slipping through the grate and delicate items from sticking
Removable handle for easier cleaning
Basket locks shut
Made of light, durable stainless steel
Includes a basting brush and a storage/carrying bag
Cons
Lid does not lay flat when open
Wooden handle likely not dishwasher-safe
If you're done with sticking chicken and floppy fish, give this basket a once over. It's a worthwhile investment, especially with the added bonuses.
Follow the link for pricing and availability:
The Two Overall Best Baskets for Vegetables
Grilled vegetables are fantastic, but you often lose many through the large grill grates, or they break apart while flipping.
Not so with one of these grill baskets, specially made for grilling perfect veggies.
Smaid Stainless Steel Vegetable Grill Basket
Recommended
BEST GRILL BASKET - Grill Basket is ideal for barbecuing small foods such as onions, mushrooms, peppers and shrimp, Grill small veggies like Brussel sprouts, asparagus, fruit & fish without losing it through the grates!
EASY TO CARRY: Raised edges keep food safely inside the topper. Handles let you easily transport it to and from the grill.
EASY TO USE - The curved handles enable carrying the grill basket with ease, in addition the bakes doubles as a Wok pan to stir & fry chopped chicken, beef, wings and other similar foods, nothing tops great smoky BBQ flavor
EASY TO CLEAN: Quick spray of cooking oil makes it nonstick. When you're done, put it in the dishwasher or hand wash.
The SMAID vegetable basket is like a rectangular wok, unlike the usual closeable options. The addition of the perforations will allow excess juice and moisture to run down while the smoke flavors the vegetables.
Our favorite thing about this type of basket is that you won't have to worry about your smaller diced or sliced veggies falling through the grill.
This model is made of stainless steel and measures 13.1 x 11.6 x 3.3 inches and is equipped with two curved, built-in handles.
Pros
Durable stainless steel construction.
Ideal for smaller items such as diced veggies or shrimp.
Deep pan enables you to cook more at once.
Cons
There's no non-stick coating so keep the cooking spray close at hand.
Weber Style 6434 Professional-Grade Vegetable Basket
Recommended
Say goodbye to aluminum foil and hello to this all-stainless-steel Weber basket. It's a combination of a bowl and pan, enabling you to easily cook the smallest diced or sliced veggies while providing that delicious smoky flavor and sear.
It measures 2.5 inches in height, 11.8 inches in width and it's 13.8 inches deep.
Pros
All stainless steel construction for years of use.
It features slots instead of perforations, enabling you to cook the smallest items.
Easy to carry thanks to the handles.
Cons
Food can stick to the stainless steel surface and it's tricky to clean.
A few sharp edges, so be careful when cleaning.
Conclusion
My all-time favorite best grill basket is the Charcoal Companion Rosewood Handle Grill Basket. Not only is it non-stick, but the long handle is sturdy and gives you a good grip. It's deep enough for thick foods such as steak and can be adjusted to suit thin items such as fish fillets or even asparagus.
Share your thoughts in the section below, I'd love to know which grill basket you would choose.
Pass this article along to your other grilling friends!