In this article we take a look at the best smokers for beginners, recommending and reviewing the best in a few categories, that are perfect for the beginner pitmaster due to their ease of use, while still giving fantastic results.
Feeling eager to get the smoker started? Smoking food is one of our favorite ways to cook and add flavor to our meal — and with the right smoker, anything is possible.
But, if you're new to smoking, it's essential to get the right start — and you do this by choosing a suitable smoker.
Smoking is much more than simply throwing a few wood chips on the grill; it takes time, effort and the right equipment. We're here today to help you out by sharing a few considerations one should make before settling on a smoker.
We're also going to go over the various types of smokers available on the market before revealing our list of the best beginner smokers.
We want you to get the best start possible in your smoking journey, so if you're ready for some knowledge, we're going to lay it all out. Let's go!
Bottom Line up Front: The Best Smokers for Beginners Reviewed in this Guide
The above links take you to current prices, customer reviews, and further information on Amazon.
Smokers vs. Standard Grills: What's the Difference?
Smokers are specifically designed to cook your food via convection and indirect heat — enabling your food to cook low and slow.
Depending on the smoker, the heat source will be located to the side or underneath the food. A heat deflector will keep radiant heat far from the food.
A grill is the opposite of this. A grill is designed to cook your food directly over high heat quickly.
In a nutshell: A grill is generally used for fast, high-heat cooking over direct heat. Smoking is done over low temperatures and indirect heat for long periods.
Types of Smokers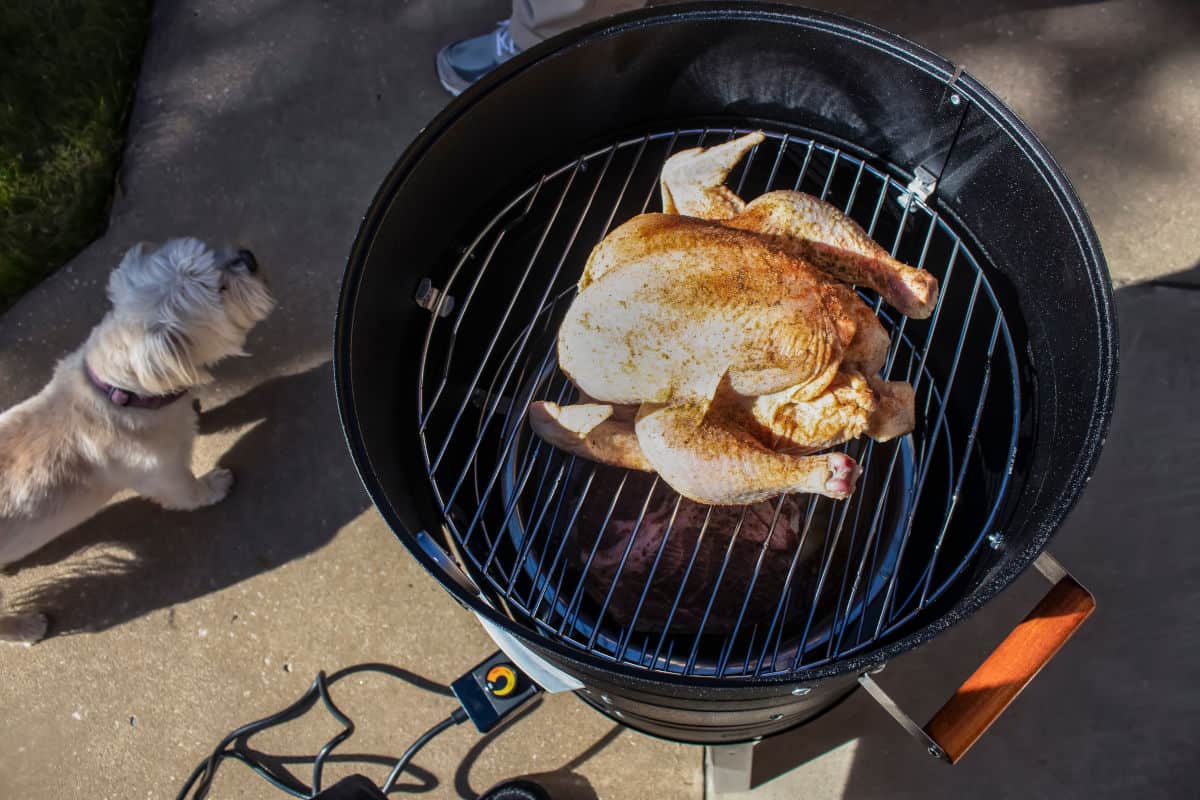 Similar to grills, there are various types of smokers — so let's take a closer look:
Charcoal Smokers
Nothing beats the best charcoal smokers — hands down they are the best way to smoke food, which is why most pitmasters favor charcoal smokers.
In saying that, mastering a charcoal smoker requires some practice. Yyou have to learn how to control the fire, airflow, which wood works best and how to time your cook precisely for the best results.
This learning curve can mean charcoal models aren't the best smoker type for beginners, but, it's an excellent choice for any budding pitmaster up for the challenge.
Advantages
Charcoal adds a subtle wooden smoke that works with pretty much any type of food.
Affordable fuel option.
Disadvantages
Requires some practice — some grillers find it difficult to master.
It is not an option for people living in apartments and within certain city limits and residential arrangements due to the risk of fire.
Messy cleanup with, sometimes, dangerously hot ashes to deal with.
Electric Smokers
Electric smokers are one of the easiest ways to produce epic BBQ. Simply load your food, set your preferred settings, load in some wood chips, and it will take care of everything.
They work similarly to kitchen ovens with a regulated and consistent temperature throughout the cook, so there is very little to learn.
An electric smoker may well be the best smoker for beginners who want it all as easy as possible.
Advantages
Easy setup.
Safe to use where gas and charcoal aren't allowed.
Versatile.
Disadvantages
Difficult to use away from home.
Challenging to do a smoke ring.
Best suited for beginner smokers willing to try smoking foods but don't want to deal with messy ashes and possibly dangerous fuels.
They're also ideal for people living in apartments or other restricted areas when it comes to grilling and smoking.
Gas Smokers
Gas smokers are fueled by propane or natural gas, eliminating the risk of unpleasant chemicals, making their way into the smoke and onto your food.
According to the U.S. Department of Energy, liquid petroleum gas, otherwise known as propane, is a natural gas by-product that's stored in pressurized tanks. What's better is that it's extremely easy to create a gas-fed kitchen outdoors if your house is already heated by natural gas.
A typical gas smoker looks similar to a locker or thin refrigerator with multiple racks above a tray for the wood sitting above the heat source.
If you want to get a quick smoking start, a gas smoker may be the way to go — it's also super easy to learn if you're a beginner.
Advantages
Reasonably affordable.
Small learning curve.
Easy to get going and easy to clean.
The smaller design is easier to fit into compact spaces.
Disadvantages
Lacks the charcoal flavor.
Banned from most balconies, porches, tents and picnic shelters according to city and country regulations.
You'll have to cut larger cuts of meat into smaller pieces to fit the smoker.
Best suited for homes that are fueled by natural gas. Ideal choice for anyone who doesn't want to deal with charcoal, lighting fluid, starter chimneys and matches.
Pellet Smokers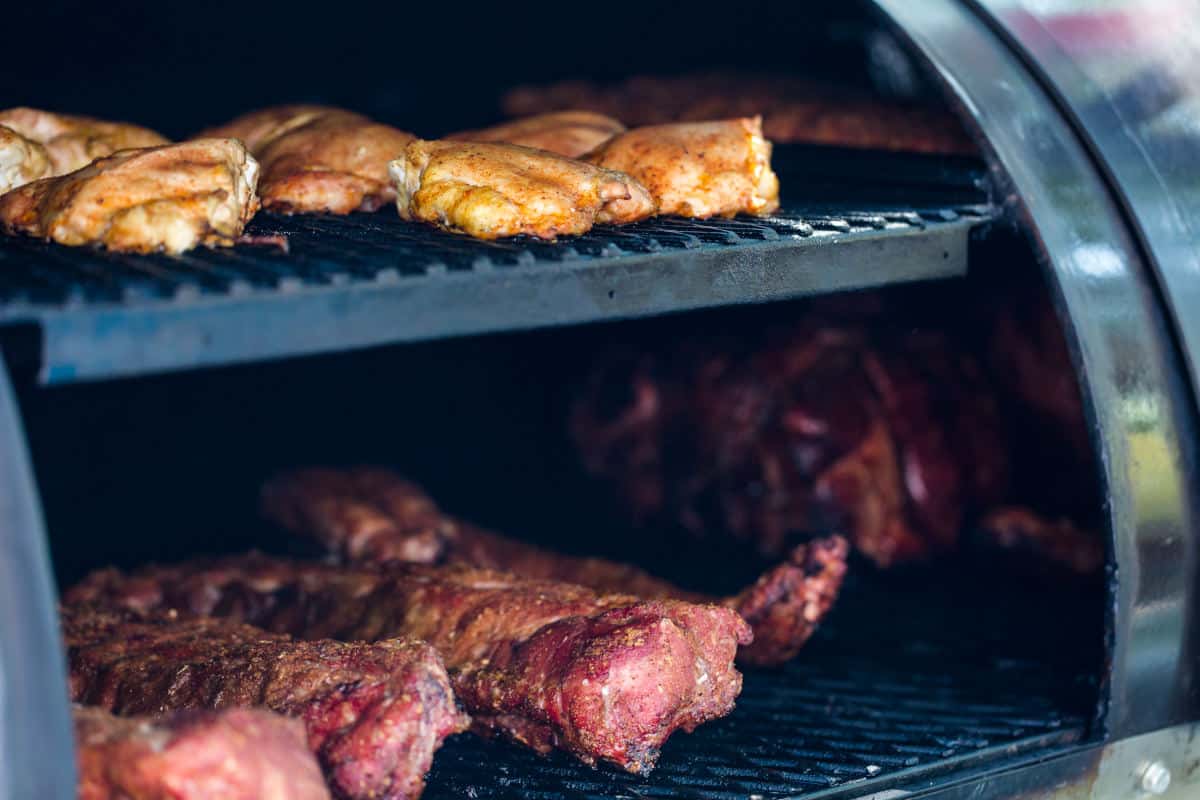 As the name indicates, pellet smokers and grills are fueled by pellets that create both heat and smoke.
Pellets consist of compressed sawdust and other added materials. Some pellets contain added flavorings that flavor your food, but the best pellets for smoking are all-natural hardwood that imparts enough smokey flavor on their own.
A pellet feeder is attached to the smoker's side, where the pellets are slowly added to the smoker at your desired rate to achieve the right heat and smoke.
Modern smokers include digital temperature controllers that allow you to set a temperature, and then the pellet smoker feeds pellets at a certain rate to hold that temp. This makes them almost as push button easy as an electric smoker.
This gives the pitmaster more control over the temperature, lowers the learning curve, and makes the unit easier to operate. Hence these are a great smoker for beginners.
Advantages
Super easy to use.
Versatile — it can smoke, roast, barbecue, bake, braise and kind of grill.
Wide temperature range, usually between 175 and 500 degrees Fahrenheit.
Disadvantages
Is often pricier compared to other smoker types due to the added mechanical and technical parts.
Requires a nearby outlet as it runs on electricity.
Best suited for beginner smokers who want a reliable smoker that offers more versatility and are ready to pay for those extra perks. Pellet smokers are easy to use and relatively hands-off by working similar to kitchen ovens.
Pellet smokers are also best for people who have ample space to fit the unit and its pellet feeder. Living in a compact space, you might find it too cumbersome, and you won't have much room to move around as you cook.
Kamado Ceramic Smoker
Kamados are one-of-a-kind smokers.
They are a type of charcoal smoker, versatile and able to grill, roast, smoke and even bake. Most kamado grills also come with a variety of available accessories to help you achieve the best results in the cooking style you're doing.
Kamados are generally made of high-quality ceramic, but other materials such as terracotta, cement, tile and stainless steel are also used at times.
Similar to charcoal smokers, there's a slight learning curve to overcome in order for you to use a kamado grill correctly. It might test your level of commitment compared to electric or gas smoker, but if you stick with it, it will be worth it.
Kamado grills are fueled by charcoal, which means you get an authentic wooden scent from the smoke.
The unique design of kamado grills creates an optimally sealed low-oxygen and high-moisture environment, ideal for cooking moist, tender meat. The best thing is that a kamado grill is able to maintain this kind of an environment for 12 to 16 hours.
Advantages
Durable material that will last for years.
Excellent versatility.
Fuel-efficient.
Retains a consistent heat for hours.
Disadvantages
Maybe not the best beginner smoker due to an icnreased learning curve over types, but still a fantastic smoker if you are willing to learn.
Extra cost for the accessories.
Heavy.
Requires careful maintenance as the ceramic can crack.
Heats slowly.
Best suited to the griller who want a smoker that can do it all. It's also an ideal type for anyone looking for a high-quality unit that will last a long time.
Finding the Best Beginner Smokers – What You Should Consider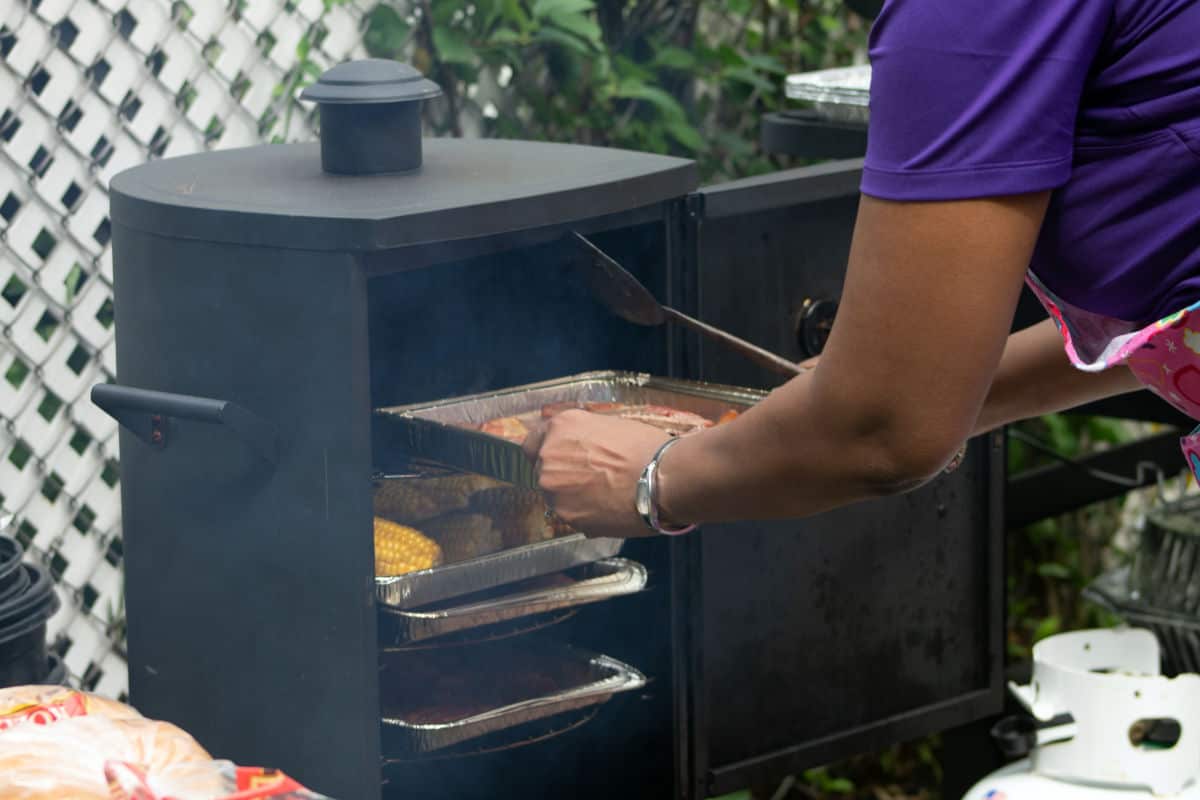 As Elvis once said: 'Only fools rush in.' And you know what? He's right!
Before jumping headfirst into the unknown of buying your first smoker, it's essential to take your time and make sure you get what you need.
One of the main reasons some grillers give up on their smoker is because it was too complicated to use and they couldn't get the hang of it.
Here are some key points to consider when looking at a smoker for beginners:
Type
As talked about above, there are multiple types of smokers on the market, making it even trickier to choose.
Our advice is to consider how much space you have available, your budget, what fuel would work best for you and how much cooking space you want.
Another important consideration is the learning curve — as we discussed, some smokers (particularly charcoal and kamados) can be trickier to master than others.
You should also consider what type of foods you want to smoke — some smokers can cook various foods using different methods (hint: kamado). Other smokers are just that: a smoker.
These are essential points to consider as you begin your search for your first smoker to ensure you get what you need.
Fuel Type
There are two things to consider here: convenience and preference.
What fuel type is the most convenient for you? Charcoal is a plentiful fuel wherever you go — even 7-11 offers bags of this black gold.
If your home runs on natural gas, it will be super easy and convenient to attach a gas line to your smoker — then you'll have a constant supply.
Pellet smokers are tough to fit into a budget — they run on specialized pellets that aren't as easily sourced as charcoal.
When doing long smoking sessions, you're going to burn through the bag rapidly. But, pellets also offer an aromatic smokey flavor that's, otherwise, only achievable with charcoal.
Now for preference — deciding between gas or charcoal is a tough one. It depends on the flavor you want to achieve.
Do you taste a difference between meat smoked in a gas unit versus charcoal-smoked meat? I do, and I won't hide the fact that I much prefer charcoal.
Build Quality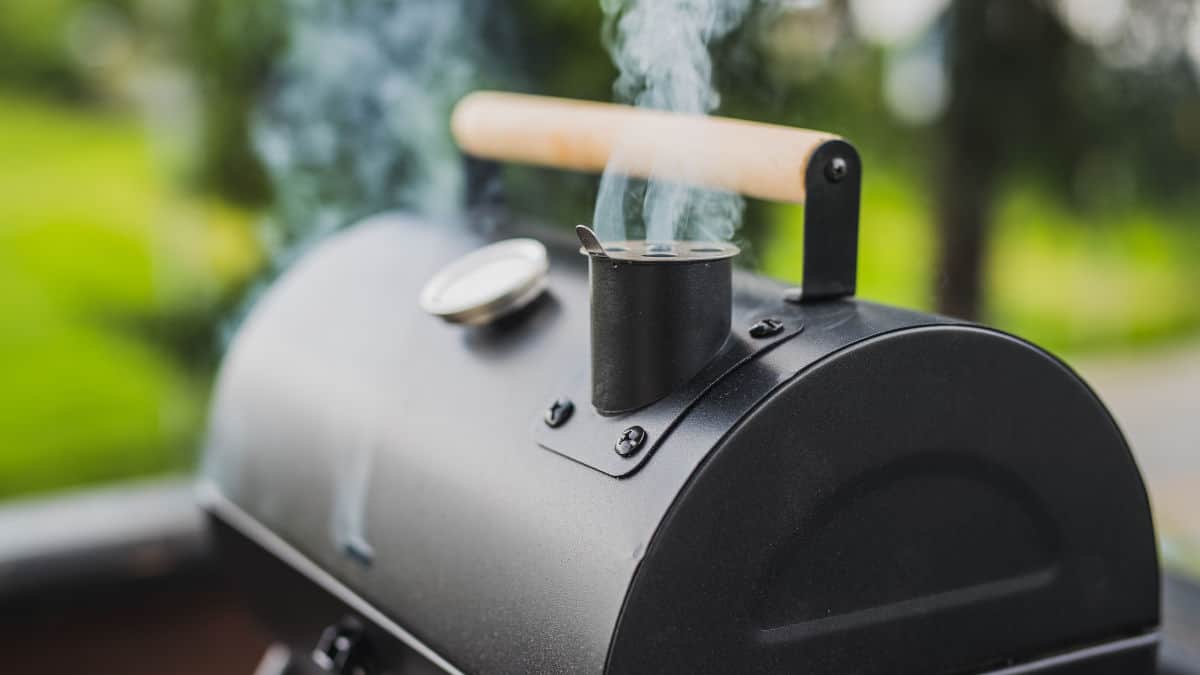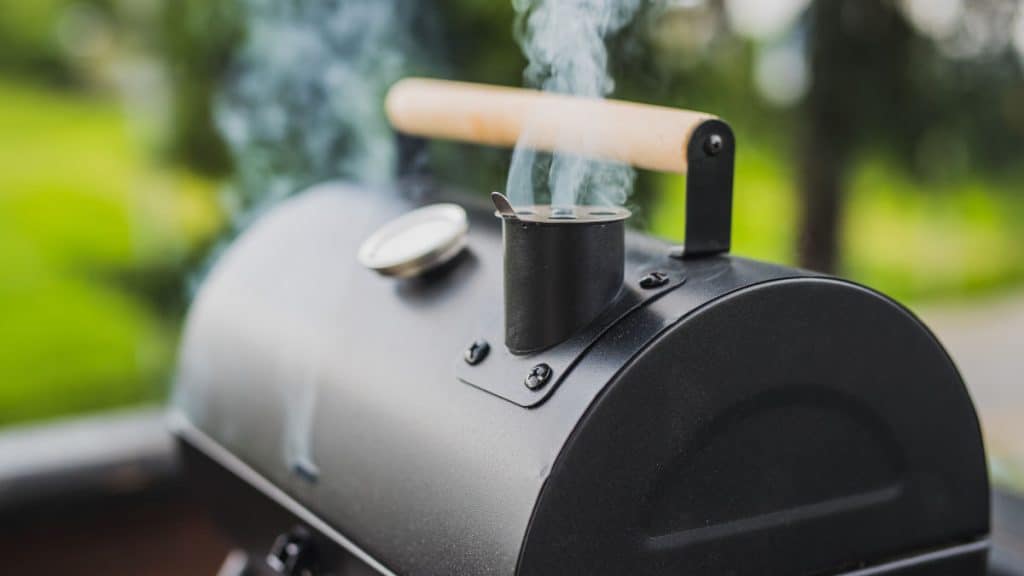 Inexpensive smokers are often made with thin materials that end up leaking smoke and heat during the cook, giving you an inconsistent result. A lesser-quality smoker also won't be able to hold up outdoors on windy or rainy days.
Now, we're not saying you have to abandon your budget and choose the most expensive model on the market. We want you to find the correct balance between inexpensive but well-built, and well, cheaply-made.
Attempting to smoke meat on a poor smoker will often end up with the smoke going everywhere but on the meat. This let down is sure to land that smoker in the garage, along with other regrets and broken dreams.
It's also essential to note that if the smoker is poorly insulated, heat will escape during the cook. This will require you to refill it often to keep the temperature consistent — with a gas smoker that's hooked up to a line directly, it might not matter as much. But, if you're using charcoal or pellets, you're likely going to spend any savings on extra fuel.
So, what makes a well-built smoker? It should be well-insulated and sealed to help keep the heat and smoke inside the smoker; this will also make it more fuel-efficient.
Efficiency
How well does the smoker do what it should do?
If there's a leakage issue, the food won't be getting the correct amount of constant heat flow and smoke it needs to cook. This will result in wasted fuel and inconsistently cooked food.
Size/Capacity
Consider how many people you need to cook for — are you cooking for the family or a group of friends? Or are you going to cater for larger groups?
Answering these questions should give you a good idea of the size you need.
Features and Bonuses
As with so many other pieces of cooking equipment nowadays, smokers are also available in various colors. Of course, this does depend on the manufacturer — but common colors include black, green, red, silver or even terra cotta/earthenware colors.
Many smokers also come with the ability to bake, grill and cook. But, you'll likely need to purchase a few accessories on the side to make other cooking methods possible. Some accessories will also help to make smoking a lot more manageable.
Materials available depend on the smoker type and manufacturer as well. But, common materials include stainless steel, porcelain-enameled steel, ceramic, tile and wood. Steel liners and glass doors are also options.
Choosing Your First Smoker: Summary
Determine your budget before you start: This will help prevent any impulsive buy that you might end up regretting, especially if you decide smoking isn't for you. We recommend that you consider what would serve you the best: Learning to smoke on an inexpensive model that you can upgrade later, or splurge a little on a pricier model that's going to last you through decades of smoking.
Deciding on a fuel type: Consider what's convenient for you and what suits your preference. Keep in mind that fuel will affect a few factors such as the initial cost, running costs, how much effort is required when cooking and the results.
Versatility: Do you want a dedicated smoker, or would you like to be able to grill and cook using other methods as well.
How much food will you smoke: There's a significant difference between cooking for a family of four and cooking for a group of 10 and more people.
Best Beginner Smokers
Now that you know how to choose a suitable smoker for you, we're going to share six of the best beginner smokers on the market.
The ones we chose are easy to get the hang of, which is essential when you're just starting — they will also produce great results with little effort.
Masterbuilt Digital Electric Smoker
Top Pick
730 sq. inches of cooking space with 4 chrome-coated racks and 800 watt heating element
Digital temperature and timer controls
Thermostat temperature control for even cooking from 100 to 275 degrees F
Convenient side loading wood chips, removable drip pan and top air damper
Ideal smoker for all experience levels
Is it a safe? Is it a fridge? Nope, it's an electric smoker — and a good one of that!
The Masterbuilt Digital Electric Smoker is a standard in the grill/smoker industry with its solid build and easy-to-use configurations. Although it's electric, this unit shouldn't be used indoors — not even in the garage, as it does produce some amount of carbon monoxide.
It's a sturdy, well-built unit that weighs in at 45.9 pounds. It's made of high-quality materials and includes four chrome-plated grates that give you up to 730 square inches of cooking surface. Additionally, the grates can hold up to 80 pounds of meat — very impressive!
You control the smoker using digital controls — it's a breeze to get started, making it a good choice for beginners and experienced chefs alike.
For an aromatic smoke, you can add wood chips through a loader located on the side — the chips should be added every hour for optimal smoking flavor.
The door is 100 percent insulated with rubber seals to make it even more energy-efficient. Furthermore, there's an auto-shutoff feature that prevents your meat from overcooking.
All buttons and settings are marked clearly on the control box and you get to set your desired time and temperature to suit the meat you're cooking.
Cleanup is also made easy with the drip pan catching all the grease that's escaping the meat as it cooks.
Pros
In our opinion, the best electric smoker for beginners.
Durable construction.
User-friendly.
Efficient.
Cons
The display can be hard to read.
There are no handles, making it tricky to carry or move.
The drain pan has a small capacity.
It shouldn't be left outside as the control panel isn't waterproof.
If you want to smoke but don't want to deal with the hassle of starting a fire or managing a fire, this is an excellent option. It's straightforward to use and will impart a nice wooden smoke to your food.
Material Type: Steel
The Weber Smokey Mountain charcoal smoker helps you achieve an authentic smokehouse flavor at home
It can accommodate a whole turkey and an entire ham at the same time. Item weight- 39.1 pounds
Made of porcelain-enameled steel, this smoker comes with 2 nickel-plated 18-1/2-inch-wide cooking grates
Includes a water pan, thermometer, individual vents on bowl and lid, and heat-resistant nylon handle
The Weber Smokey Mountain cooker is a classic charcoal smoker. It can run on basic lump charcoal or briquettes (which we recommend). Add in your favorite chunks or chips of aromatic wood, and you're ready to get started.
As with most Weber grills, build quality is top-notch — it's made of porcelain enamel-coated steel, inside and out, making it incredibly durable, long-lasting and rust-resistant.
The grill can fit two plated steel grates, each providing 18.5 inches of cooking surface. This enables you to do layered smoking and, in fact, it can accommodate a turkey and pork shoulder simultaneously.
You can control the airflow using two aluminum dampers in the bottom of the smoker and through a vent in the lid. The vents enable you to achieve a precise temperature, which will result in a better smoke and cook.
If you need to add additional fuel while cooking, you can easily access through a convenient aluminum side fuel door. You can detach it to get direct access to the firebox so you can refill without disturbing the food.
In order to help stabilize the temperature and keep the inside moist, there's a water basin made of porcelain steel fitted at the bottom. It has an incredible 3-gallon capacity, which means it's unlikely that a refill is needed during a smoking session.
The handles are made of glass-reinforced, heat-resistant nylon, but we still advise that you wear protective mitts just to avoid any accidental burns.
You can check on the temperature using the built-in lid thermometer or attach an automatic temperature controller or remote digital thermometer through the silicone probe port. The port is built into the smoker's side, giving you direct access to the meat without lifting the lid to check the temperature.
Getting the hang of the Weber Smokey Mountain grill will take some practice — it's easy to use and get started, but you have to learn how to use the vents to control the temperature for the best low and slow cook. With a few tries, however, you should have this under control.
If you need any visual help, there's an abundance of YouTube videos with simple steps to follow when using this particular grill.
Overall, we think this smoker is excellent for beginners looking to learn more and evolve.
Pros
Often lauded as the best smoker – full stop – it's great for beginners and professionals alike.
One fill of fuel can easily last for 8 to 12 hours.
Built-in thermometer ports.
Ample cooking surface.
Cons
Difficult assembly instructions.
You have to stick a large part of your arm into the smoker to reach the bottom rack — making long mitts ideal.
The door can bend, which causes slight leakage. There are aftermarket doors available if needed.
The Weber Smokey Mountain smoker is a great starting point for any budding pitmaster who wants to evolve. It has a straightforward design, yet it gives you lots of room to smoke a range of foods and large cuts of meat.
EFFORTLESS: Whether you're new to outdoor cooking or an expert trying to perfect your craft, cook perfectly every time with the Pit Barrel's 360º All-Round Heat Dynamics. Our vertical barrel cooker technology produces consistently great-tasting,...
VERSATILE: The cooking possibilities are endless. For the perfect smoked meat, grill or hang ribs and brisket using the hooks and steel grill grate or use our custom GrillGrate for sear-marks and to smoke everything from burgers to desserts
DURABLE: Each Pit Barrel Cooker is made with a superior-grade porcelain enamel finish that looks great and is designed to withstand everything from the internal heat to weather conditions
PORTABLE: Our cookers are made to be lightweight and compact to fit in most vans, SUVs, and truck beds. Use the handles on the side to easily lift and transport to wherever your grilling skills are in demand. Easily fits 8 Racks of Ribs, 2-3 Pork...
THE COMPLETE SMOKER STARTER: Everything you will need to get started: The barrel (33" tall, including the lid and stand, and 21.25" wide, including the side handles), 2 Hanging Rods, 8 Stainless Steel Hooks, Standard Grill Grate, Charcoal Basket, and...
The Pit Barrel Cooker is a tough-looking smoker that's sure to attract a few looks and compliments from your guests.
It's not your typical horizontal smoker — it uses a hook-and-hang method that is ideal for large cuts of meat. It looks similar to a vertical rotisserie, which is what the manufacturer compares it to as well.
The Pit Barrel is one of the most durable smokers on the market, made of porcelain enamel-coated steel, making it resistant to rust and damage.
Furthermore, its one-piece, solid construction topped with a tight-fitting lid, makes it super easy to set up.
Fueled by charcoal and wood chunks or chips, it produces a high amount of smoke. It measures 31.1 x 21 x 21 inches in total and weighs 57 pounds — not the lightest option, but this also means it won't be knocked over when the wind is howling.
It's an excellent medium-sized smoker with room to cook two to three pork butts simultaneously — or four racks of ribs.
One of the features we enjoy about this smoker is the large coal basket — it can hold enough fuel for six to eight hours of cooking without refills. The basket is simple to load and light to carry.
If you're interested in a smoker that can do more than simply smoke a few racks of ribs, you're going to like this next feature. It includes a grate that enables you to grill different types of meat and veggies — you can do so directly on the grate or using available stones or planks.
The large size enables you to smoke meat vertically on the hanger and grill food horizontally on the grate simultaneously.
Although this is a smart feature, we don't find this to be the best for direct grilling. If a smoker and grill combo is what you're after, you might want to check out our other article.
We will classify this as a dedicated smoker — and boy, does it do a good job! It's a breeze to set up and operate with no dampers or vents to adjust, making it great for beginners.
Pros
No necessary temperature controls after fire up, making it the simplest and one of the best charcoal smokers for beginners.
Set up is a breeze — no seasoning or assembly.
Simple design, not much can break or ruin your smoke.
Cons
Natural temperature range is limited.
You have to lift the entire smoker to dump the ashes. There is a basket available, but you have to purchase it on the side.
For straightforward smoking, the Pit Barrel Cooker is it. For some reason, the way you hang the meat over the fire makes it so much more appealing, wouldn't you agree?
Kamado Joe Classic Version III
Recommended
Premium 18″ ceramic grill with heavy-duty galvanized steel rolling cart with locking wheels.
Patent pending SlōRoller Hyperbolic Smoke Chamber - The first of its kind, the revolutionary SlōRoller leverages Harvard science that transforms a Kamado Joe into one of the world's most optimal smokers. By distributing smoke and heat in rolling,...
3-Tier Divide & Conquer - Divide & Conquer Flexible Cooking System transforms the humble grill grate into the most powerful cooking tool in your arsenal. The revolutionary multi-level, half-moon design frees you to cook different foods in different...
Kontrol Tower Top Vent - Maintains consistent air setting for precise airflow management during dome opening and closing. Constructed of powder coated cast aluminum, the patent pending dual-adjustment top vent is rain and mold-resistant and allows you to...
Patented Air Lift Hinge – Reduce dome weight by 96% with the Patented Air Lift Hinge. The grill dome can be lifted with a single finger giving the most comfortable grilling experience there is. W/ 3 Tier Divide & Conquer- 510 square inches
Kamado cookers are some of the best-looking smokers on the market — they're also some of the most versatile options.
One kamado smoker we just can't get enough of is the Kamado Joe Classic III. It's one of the easiest kamado grills to use and highly efficient, which is why we had to feature it on our best beginner smokers list and the best BBQ smokers.
There are different versions of the Kamado Joe, but version three is complete with every accessory and attachment you need to grill, smoke or even bake.
You get a ceramic grill, divide and conquer cooking system, a slo-roller system that provides an even and efficient smoke, a grate gripper tool, ash tool and flip-up side tables for added workspace. We also really enjoy the durable galvanized steel cart with caster wheels, making it easy to move the smoker around.
We can't argue with the thick, heavy-duty materials used, but the materials do make it quite the whopper, weighing in at no less than 250 pounds! It measures a total of 46.5 x 50.5 x 30 inches, make sure you have enough room for it.
You get a single set of grates made of thick stainless steel, but you can expand it to three sets instead if you want more cooking surface.
The thick materials make the Kamado Joe an ideal outdoor cooker as it keeps the interior temperature up, unaffected by the outside elements.
All of this is undoubtedly attractive, but we do have to mention the quite steep initial price. However, because it's so fuel-efficient, you will save money on fuel — making it a good economical choice, and one that will last for years to come.
We briefly mentioned the Slo-Roller system above, but we feel it's worth a few more details. The system is designed by Harvard University and is an insert that creates re-circulating heat and smoke waves surrounding the food in the cooking chamber. This ensures every part of the food gets a taste of that aromatic smoke. Additionally, it removes any hot spots that can lead to uneven results.
Another smart feature is an air-lift hinge that enables you to lift the heavy lid using one finger. You also get a multi-piece firebox that won't crack even when exposed to extreme temperatures.
If you're missing something, you get a wide range of available accessories, including a pizza stone, rotisserie attachment, chicken holder, soapstone, cast iron cooking surface and much more.
Pros
Highly fuel-efficient.
Incredibly versatile.
Attractive ceramic red finish.
Durable rolling cart with locking wheels.
A wide range of available accessories for even more versatility.
Cons
Steep price.
You only get 18 inches in diameter of cooking surface (it can be expanded if needed).
If you want an all-purpose smoker, and you're ready to pay for it, the Kamado Joe Classic III is the one for you. It's incredibly versatile and super easy to use — it's also an excellent choice for anyone living in colder climates. The heavy-duty construction keeps the inside unaffected by the outside elements.
Char-Broil Deluxe Digital Electric Smoker
Recommended
This smoker has 2 features to help you lock in the heat and smoke during your cook.
The first is a double-wall design that will help you insulate your barbecue as it cooks, and therefore helping you maintain a constant cooking temperature.
The second feature is an oversized wood chip box that holds more wood chips than its competitor.
As a result, you won't need to open this smoker as frequently to replenish its wood chip supply, thereby helping you to trap the smoke in with your barbecue.
This smoker also has a number of high-tech accessories. For instance, it has an integrated meat probe that allows you to monitor the internal temperature of your meat without having to open the chamber of the smoker. In addition, this smoker has a remote control monitor that allows you to keep an eye on your barbecue even as you are socializing with your friends.
Finally, this smoker is on the larger end of smokers, coming in at fifty pounds with over 700 square inches of cooking space. This makes it ideal for larger parties.
Check out our full review of the Char-Broil Deluxe Digital Electric Smoker
Pros
Double-wall design and oversized wood chip box helps maintain temperature and smoke.
This smoker also has a number of high-tech accessories.
Over 700 square inches of cooking space
Cons
Accessories has many electrical accessories which may need to be replaced over time
Btn5
Bradley Digital 4-Rack Smoker
Recommended
With the appropriate attachment, this electric smoker is able to go from hot smoking to cold smoking.
The reason that this is possible is that the smoker has two heating units: one unit is to heat the briquettes to their smoking temperature, and the other unit is used to heat your food.
By using only the briquette heating unit, you can preserve your food with the smoke in the smoker without any additional heat.
This smoker is almost entirely automated. You can set your desired temperature and cook time, and then you can simply wait until the time is up for your barbecue to be finished. In addition, you can adjust the smoke timer, which means that you can also adjust just how smokey your barbecue is.
The interior of this smoker is lined with stainless steel. This conductive metal helps to insulate the body of the smoker, and it also helps make cleaning the interior of this smoker easier.
Check out our full review of the Bradley Digital 4-Rack Smoker
Pros
Can convert to cold smoking with the appropriate attachment
Almost entirely automated, just set the temperature and timer
Stainless steel helps insulate and makes cleaning easier
Cons
Only compatible with Bradley briskets which are only available online
Getting the Best Start
That was it, our picks for the best beginner smokers — we hope you might be feeling better prepared now before making your first purchase.
If you're looking for a nearly automated smoking process, hands down, the best value you can get is the Masterbuilt Digital Electric Smoker.
This smoker is incredibly easy to use not only because it is electric, but also because it has many automated features, including a wood chip dispenser and internal temperature control.
This is useful for beginners and experts alike who may not want to spend a lot of their time kindling a charcoal fire as you will need to with the Weber Smokey Mountain smoker, or feeing the wood chip box in a propane smoker.
This smoker is also great because it can accommodate just about any kind of meat you may want to cook, unlike a smaller electric model like the Char-Broil Deluxe Digital model.
That being said, all of the smokers on this list are good value, and you may prefer one of the charcoal ones instead? After all, they do produce a better taste in our opinion!